11 Beautiful Handmade Plates for More Instagram-Worthy Eats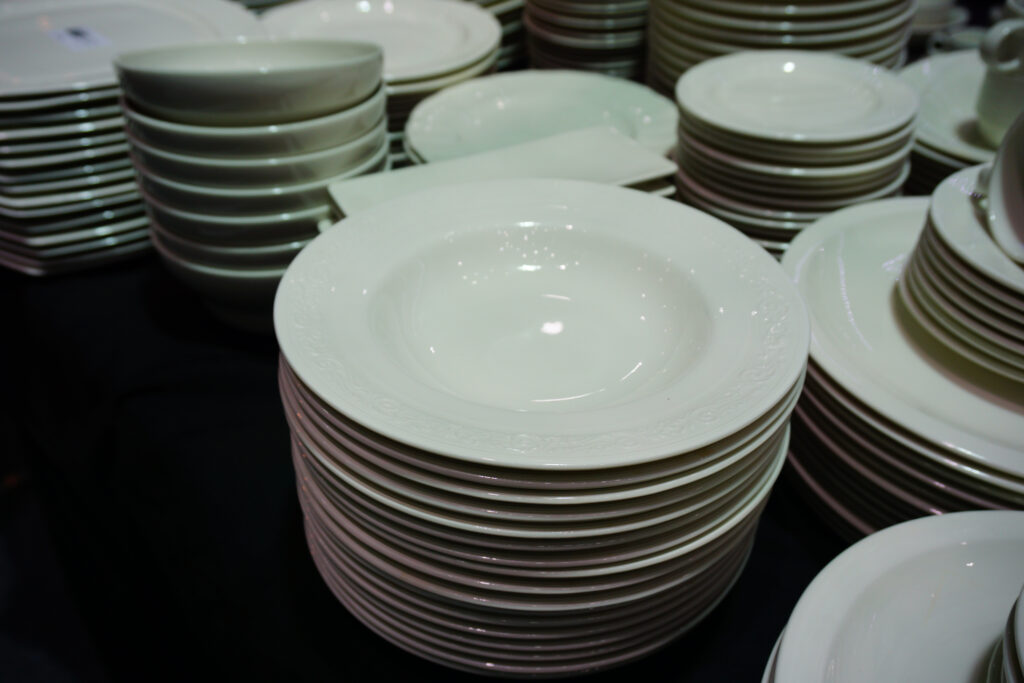 One thing we're constantly doing in our homes is eating. We spend countless amounts of time cooking: some playing chef for creative multi-course meals, some eating toast and eggs for dinner more often than not. No matter your culinary confidence, preparing and eating food deserves more decoration and recognition than we tend to give them. And that's where ceramic tableware comes in.
We can't always have food that's homemade, but we can always have dishes and plates that are handmade. An investment in handcrafted ceramics is a splurge we're quick to call unnecessary, yet it's a purchase we're bound to use more often than anything else we could add to our homes. Why is it that we place so much emphasis on the food we eat, and so much less on what we eat it off of?
In today's world of mass production, there are so few things we can still make entirely with our own hands. Pottery is one of history's oldest trades, and ceramicists are still as busy as ever today creating stunning works for the modern home. It's art you can eat off of.
So whether you're serving up beef bourguignon to your in-laws, or just making yourself a really nice bowl of cereal, treat yourself to plates and dishes that make your food (and your home) more beautiful.
11 handmade plates and dishes for more Instagram-worthy eats:
Supersmario / Getty Images
A gray for everyday
These monochromatic plates come from the Etsy shop GoldenBiscotti, and they are handmade in Switzerland. What makes these pieces particularly special is that the color is blended into the porcelain before they are molded and fired. The plates remain unglazed, giving them a matte and textured surface that is perfect for a simple, minimalist table.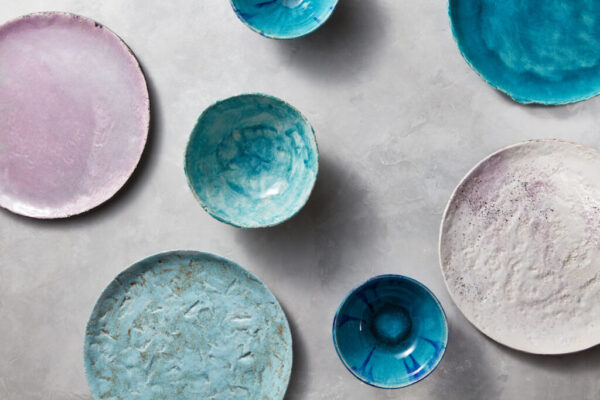 artJazz / Getty Images
Lovely lace
We love the delicate and one-of-a-kind look of these lace ceramic plates by Etsy shop ignata ceramics. They are 100% homemade in Moscow and can be customized in a variety of colors and sizes. What's more, the artists will even inscribe the reverse side for free, making it a sweet personalized wedding or housewarming gift. Combined with matching bowls, serving plates, tiny saucers and cheese plates, you're guaranteed to have the cutest serveware around.

MirageC / Getty Images
Lines and circles
Geometry may not have been fun in high school, but it can certainly be on your table. Each design from ignata ceramics is hand drawn and totally unique. A black matte finish gives these ceramic plates and saucers a cool, not overly done look. Are we the only ones who see abstract constellations in these pieces? Talk about contemplating the universe.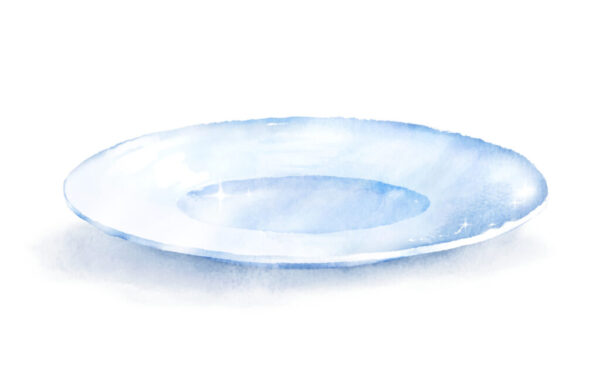 Sonya_illustration / Getty Images
Watercolor wonderful
No two green watercolored dessert plates are alike in this beautiful collection from suite one studios. Each piece is touched with a faint stroke of watercolor before being fired and glazed for a shine that reminds us of sea glass. The gold rim is the perfect finish on these highly sought-after plates. And for good reason, because we can't think of a dessert that wouldn't look delicious atop them.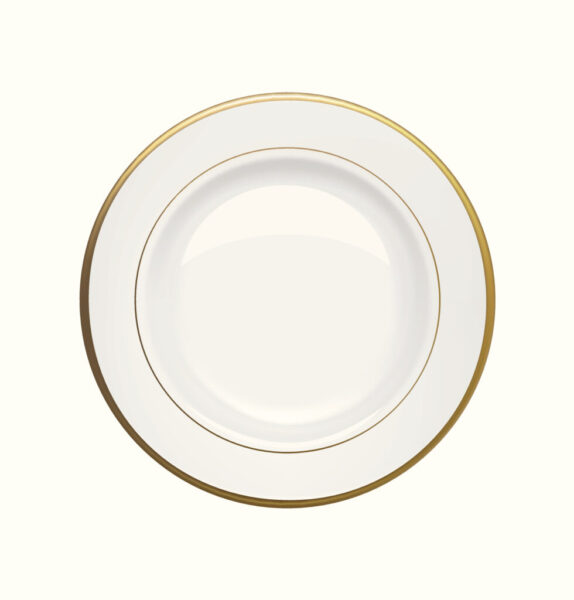 olshole / Getty Images
A touch of gold
Love the gold edge on suite one studio's plates? Then you're bound to adore this delicate set from American photographer-gone-designer Laura Letinsky. The metallic accent looks especially sweet with the organic, uneven shape of the Molosco collection. These plates and bowls are available for sale in a few color options from Artware Editions.
Veni vidi…shoot / Getty Images
Soft speckle
There are so many things to love about these Slab Bowls from BDB Designs. Made in Brooklyn, NYC where collections are "produced in small batches in-house overlooking the East River", they get their unique look from the glossy white glaze tossed inside them with a subtle red speckle. Paired with the natural edge, we're confident these bowls would make a pretty addition to any table and serveware.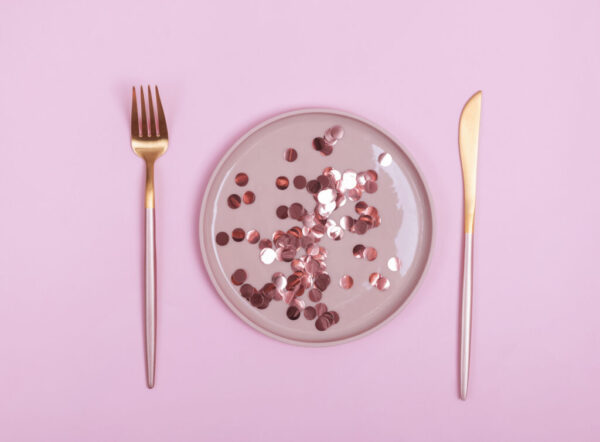 Chiociolla / Getty Images
A case for confetti
These playful mini bowls from suite one studio are a whimsical addition the dinner table, kitchen prep, even a bedroom vanity for earrings and bobby pins.  They're hand painted with a gold confetti brushstroke and rim, glossed on the inside and left rough on the outside. Are these adorable because they're mini, or because they look slightly similar to frosted animal crackers? You decide.
A blue streak
Same name, different look. These confetti bowls by Japanese design studio Koromiko are another example of how lovely abstract brushstrokes can look. Hand thrown and hand glazed, this blue and white design is so easy on the eyes that the most difficult aspect would be deciding what to eat first out of this bowl.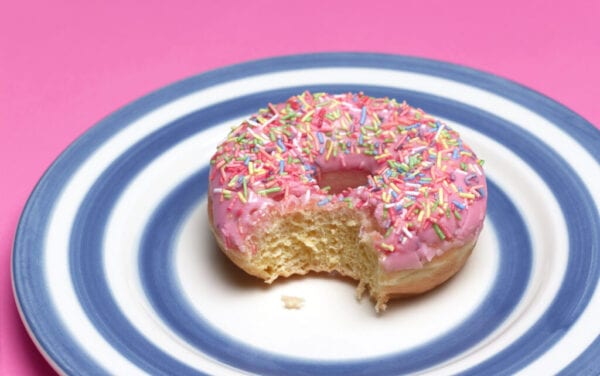 Peter Dazeley / Getty Images
Stunning stripes
We can't talk about Koromiko without mention of their iconic colored bowls. Each hand-thrown piece is one-of-kind, with brilliant colors that strikingly resemble rainbows and sunsets. With so many variations to choose from, there's one (if not several) for everyone. Beyond being works of art, these bowls are perfectly sized for soups and cereals and mostly anything that can be eaten from a bowl. Which, honestly, is everything.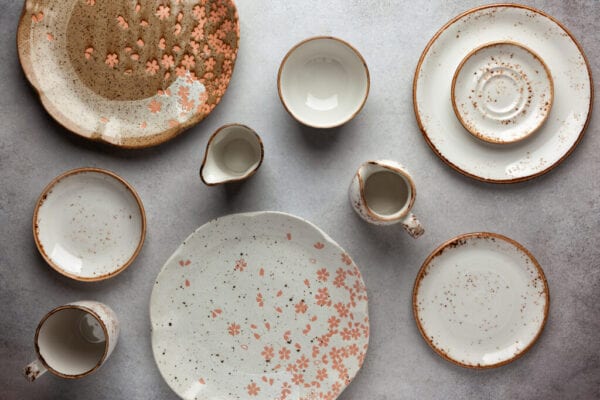 Sarsmis / Getty Images
Wild for wildflowers
For a modern twist on your grandmother's heirloom china, enter the wildflower collection by Dorotea ceramics. Each textured piece is hand drawn, then carved into the clay before being glazed. Including a large plate, small plate, and bread bowl, the ornate set would be a welcomed addition to any bohemian-inspired table.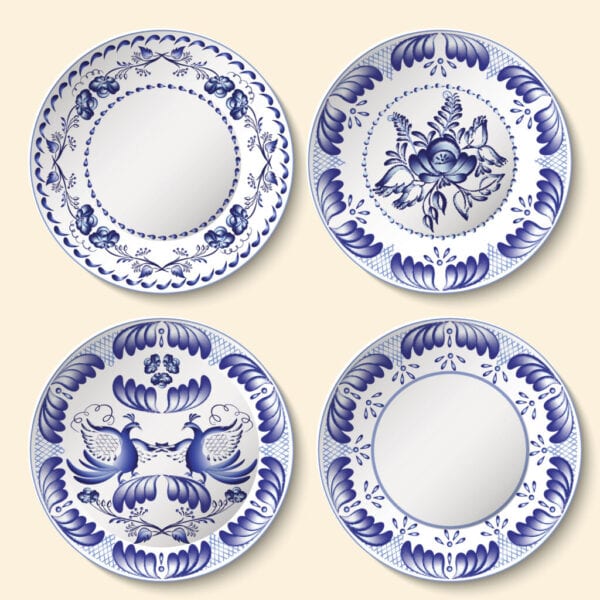 Irina Prudnikova / Getty Images
Animal style
It doesn't get much more whimsical than this. These handmade animal plates by yvonneellen come from a studio in Stoke-on-Trent, England. They're made to make a statement and as good a reason as any to cook up a meal requiring two plates. The set is crafted of bone china with a gold gilt edge. Giraffes not your thing? There's a whole zoo available, from stags to flamingos, whales and more.
---
Which one of these sets is your favorite? Personally, I love all of the plates and dishes with gold edges. There's something so simple and elegant about them. Let me know what you like best on social media or in the comments below!