The Ultimate Guide to Green Living Using 10 Stylish, Eco-Friendly Apartment Ideas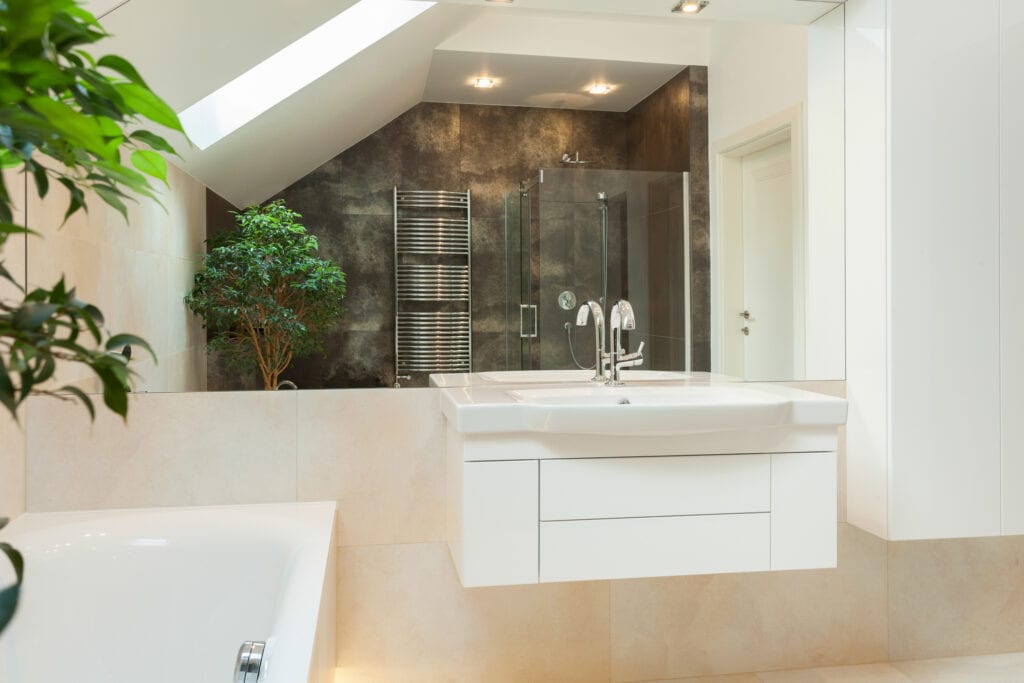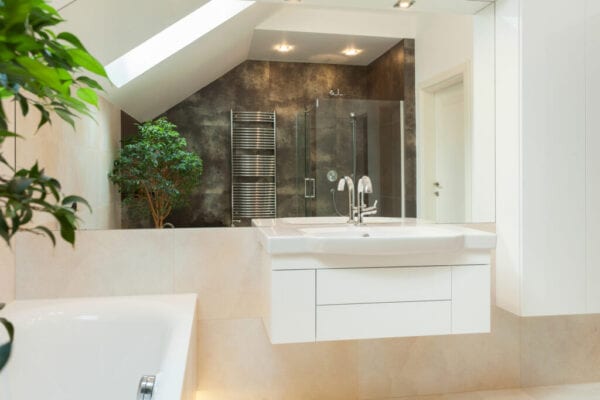 KatarzynaBialasiewicz / Getty Images
Our home is our sanctuary away from the chaos of the world outside. But is it really a sanctuary? How much pollution and toxic chemicals are you bringing into your apartment without even realizing it? You'd be surprised that in many cases, it's not even what you're bringing in — the culprits that affect the air quality of your home may be the very items you live with!
According to the World Health Organization, 1 in 8 global deaths are due to air pollution exposure. Luckily, it's not hard to "green" your apartment. Small changes can make a huge difference. And there are three added benefits to striving for an eco-friendly apartment space:
1. Eco-friendly apartment ideas are often cheap or free.
People who insist on an eco-friendly apartment will find that they save big bucks by recycling existing materials, choosing vintage furniture or skipping finishes and materials that are often more expensive and loaded with less-than-green chemicals. Creating an eco-friendly apartment is all about going "back to basics." Natural materials, plants, sunlight and fresh air are low cost or free design options.
2. Eco-friendly and incredibly stylish living go hand in hand.
Uncluttered minimalism is on point. And nothing looks more contemporary than bare floors, glass furniture and other alternatives to traditional wood or dark and lacquered furniture.
3. Eco-friendly apartments are low maintenance.
When you choose durable, natural furniture and materials, you essentially simplify your life–and your cleaning routine. A perfect example of this is carpet. If you avoid wall-to-wall carpet in your home, you not only save yourself from dust allergies but also the exposure to the chemicals that are constantly off-gassing out of the carpet. No carpet? No daily vacuuming, giving you time for more important things in life.
Ready for some high style, earth-friendly apartment ideas? We've collected these high-end designs from some of the most stunning homes. We hope to inspire you to apply a version of them in your apartment or space.
Here are our ten earth-friendly apartment ideas to make your space chic, clean and green (and why they make our list):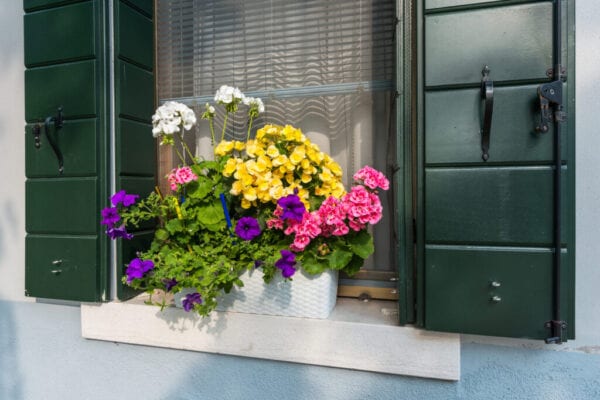 omersukrugoksu / Getty Images
1. Add plants to your space.
VOCs (volatile organic compounds) are released by most synthetic products. They're not good for us and build up in our enclosed spaces. Studies by the EHP and NASA show that plants are better and cheaper than the HEPA filters you can buy for your vacuum or ventilation system to filter out these toxins.
Plants take in carbon dioxide and return oxygen to the air instead. They also absorb toxic chemicals and release harmless by-products, as well as soaking up heavy metals deep into the plant tissues–away from you.
Add some plants to each room in your apartment. Choose plants that are indoor friendly and easy to maintain. A herb garden can serve double duty as food and air filter. For a cool design statement, hang a wall herb garden or a version of a "living wall" like the main bathtub image at the top of this guide.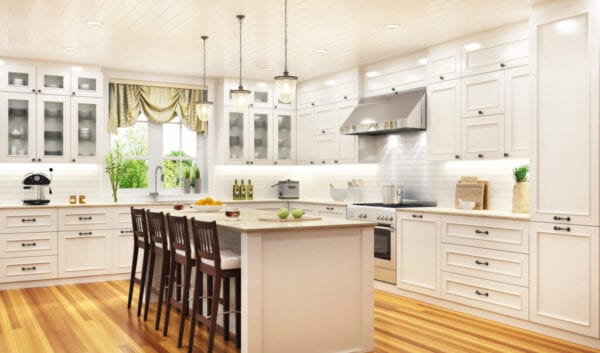 sl-f / Getty Images
2. Choose natural floor coverings and textiles.
Off-gassing happens when an item gives off chemicals over time. Have you ever bought an  area rug that smells odd for weeks? What you're smelling is the chemicals releasing or off-gassing from the item. But just because you can't smell it doesn't mean it's no longer off-gassing. In fact, some of the most dangerous chemicals don't have an odor.
To be safe, skip the synthetic materials in area rugs, sofas and bedding and go with natural, washable fibers. Because area rugs are often the top offenders of off-gassing, if you do nothing else, swap your area rug for one made of jute, sisal or wool. These materials are not only earth friendly but add design and texture to your space.
And if other fabrics in your home have that chemical smell, wash them or hang them outside to air out a couple of days.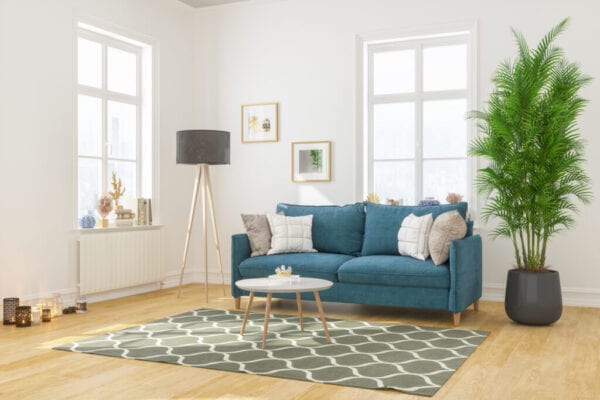 onurdongel / Getty Images
3. Embrace vintage or retro furniture.
New furniture may contain chemicals that have years of off-gassing into your space ahead of them. Vintage or recycled furniture is less likely to give off chemicals for 2 reasons: vintage furniture is often free of toxic chemicals and vintage or retro furniture has probably off-gassed any chemicals years ago.
Retro styles like Mid-Century Modern, Vintage and Art Deco are big now. And it's still easy to score a great deal on select pieces at flea markets, thrift shops and antique dealers.
4. Use low-VOC paints.
You've learned that area rugs can be toxic. Another VOC culprit is the paint on the walls. Luckily, there are paints on the market today that are easily found and not outrageously expensive that keep some of these toxic chemicals to a minimum. Three of the best low VOC paint options you can find at most home improvement stores are:
It never hurts to request that your landlord gets your apartment move-in ready using a low VOC paint. And if it's not possible, let the apartment air out a few days before you move in.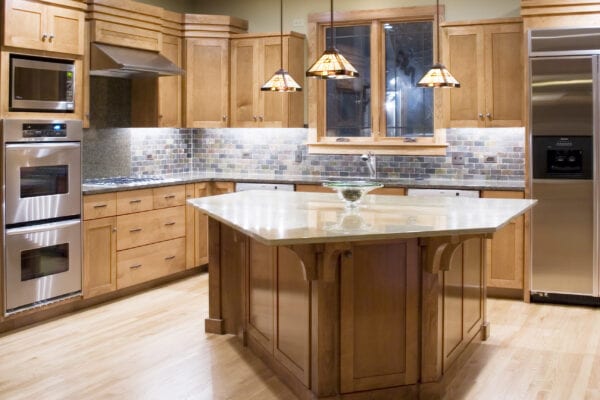 kaleenakatt / Getty Images
5. Decorate with alternative materials like bamboo, stone, steel and glass.
Wood is beautiful but comes with a host of issues. Chemicals that coat and seal the wood are big VOC offenders. Deforestation and irresponsible wood harvesting are other problems. But alternatives like bamboo, metal, stone and glass are plentiful. And they require a lot less care and maintenance, due to their hard, durable surfaces.
Some great places to work with alternative materials include:
Kitchen counters and other surfaces
Floors
Walls
Cabinets (bamboo kitchen cabinets shown above)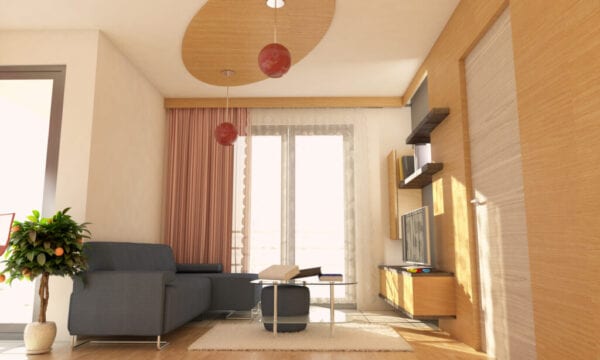 Eoneren / Getty Images
6. Control room temperature with curtains.
A simple fix to drafty or hot rooms is the use of curtains or window treatments. Window treatments insulate a room by blocking out cold drafts and keeping heat from escaping during the winter and shading against the hot sun in the summer.
According to energy.gov: "Studies demonstrate that medium-colored draperies with white-plastic backings can reduce heat gains by 33%." That will save you some cash on the air-conditioning bill. Not to mention that window treatments add a good design element to a room.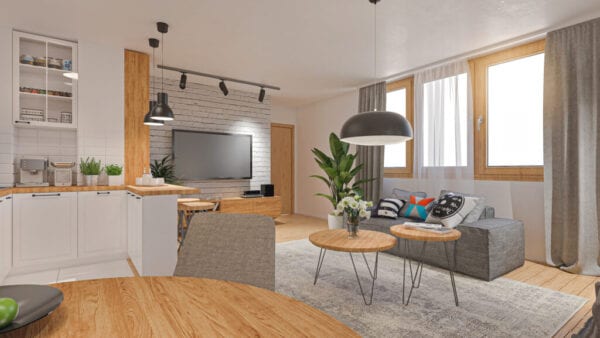 FluxFactory / Getty Images
7. Skip wall to wall carpet.
New carpet is perhaps the most toxic item in your house. According to Mercola: "The 'new carpet' aroma is the odor of 4-PC off-gassing, which is an eye and respiratory-tract irritant that may also affect the central nervous system. The adhesive used to affix the carpet to the floor typically contains benzene and toluene, some of the most harmful VOCs."
Avoid carpet if you can. Go with greener flooring materials like concrete, stone, tile, bamboo or wood. They'll add a contemporary look to your apartment and be far easier to keep clean.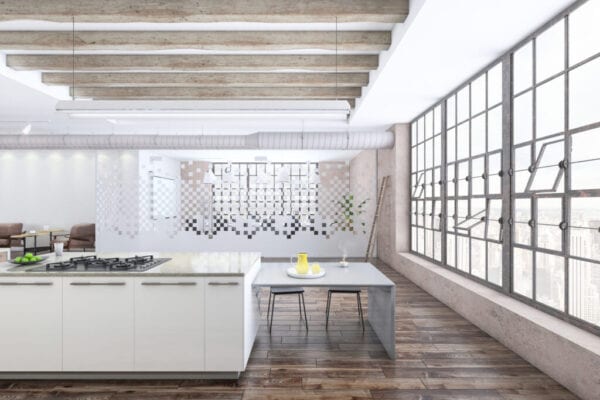 ExperienceInteriors / Getty Images
8. Ventilate
Today's windows are so energy efficient that they seal your home too well. Which means indoor toxins and chemicals never have a chance to escape. The Consumer Product Safety Commission suggests you make it a habit to open the windows or doors and let fresh air circulate regularly. Even in the cold winter, if just for a few minutes.
TheItern / Getty Images
9. Pick furniture made with certified materials.
Retailers today love to tout the eco-friendly label. But what makes their product eco-friendly? Ask and many may not have an answer for you. Luckily, you can look for certification.
If you really love the element of wood for your furniture and can't live without it, look for the Rainforest Alliance's little green frog seal on furniture. Or shop for products that are FSC certified. FSC certified products ensure that the wood was grown and harvested responsibly. West Elm and Crate and Barrel are two top retailers selling FSC certified wood furniture.
Other certified, alternative materials on the market today include soy-based foam and water-based, low VOC finishes.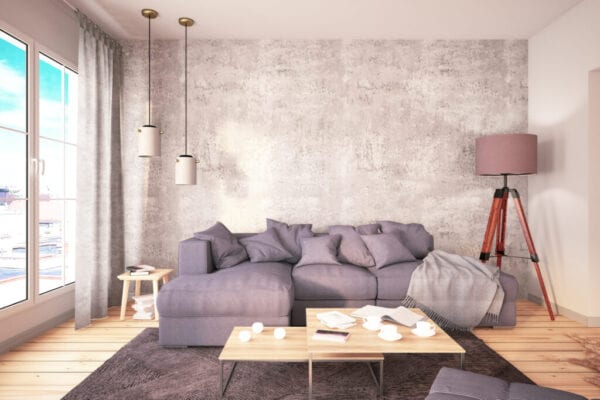 asbe / Getty Images
10. Be mindful of the candles you're burning.
Candles add ambiance to a space. They cast a warm glow and are relaxing. But do you know that the cheaper waxes are made of petroleum? Some candle companies add a bit of metal to a wick to keep it burning upright. And scented candles may not always use the best quality fragrances. In fact, a study found that selected scented candles and products emitted more than 100 volatile organic compounds (VOCs), including some that are classified as toxic or hazardous by federal laws.
Lighting a beautiful candle can mean you're heating and releasing diesel fumes, chemical fragrances and metals into your home. Choose candles made with natural materials like soy, vegetable or beeswax. And avoid the gimmicky metal wick–it's not necessary for a safe burn. Skip the scent or choose one that's made with essential oils or better quality fragrance.
You now have some good, eco-friendly apartment ideas that are study-backed to help you make the right decisions for your health and home. Which small changes will you make today? Cheers to green living!