How to Love Your Tiny Kitchen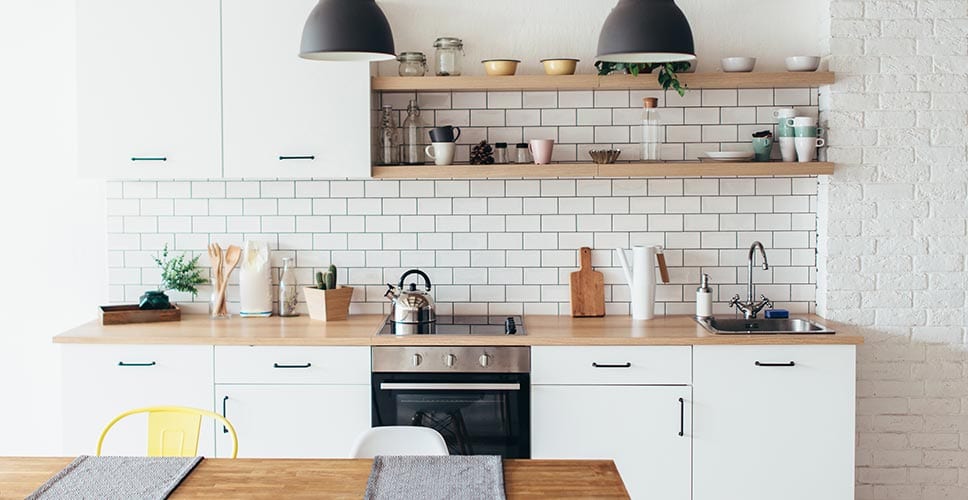 Kitchens are the heart of the home, but if you're working with a small space, it's easy to get discouraged. No one likes to fight for counter space, and entertaining may seem like it's completely out of the question. But fear not, small kitchen owners. There are ways to work with what you have and even, dare we say, fall in love with your tiny kitchen.
If you're moving into a place with a modest kitchen, here are three ideas for making it your own:
1. Turn Your Essentials into Art
Cabinet space is a premium in a small kitchen. Beyond the usual strategies of using drawer organizers and stacking plates as high as possible, there are some creative things you can do to store kitchen items.
For starters: think about turning your essentials into display pieces. Hang pots and pans from a ceiling or wall rack. This simple solution frees up a lot of space, and Good Housekeeping even considers it one of the best ways to store cookware. A few more suggestions:
Never miss an opportunity to hang wine glasses and mugs from beneath your cabinets.
Swap knife blocks for strong magnets on the wall that will hold up your best cutlery without taking up counter space.
Install open shelves on any available wall space to store cups, bowls, or small appliances.
2. Extend your Counter Space
You can always extend your counter space, even if you're renting. Moveable islands and breakfast bars are easy to come by and give you a few feet of countertop for meal prep or storage. They often fit nicely at the end of a counter in a galley kitchen, or you can move your island in and out of the kitchen as need be. Even the pros at HGTV love a moveable island!
3. Get Creative with Seating
The average kitchen only has 100 to 200 square feet, and this sometimes includes dining space! Many small kitchens leave little to no room for a table, and eating in front of the TV can get annoying. There are a few ways to maximize your seating so that it's useful but doesn't get in the way:
Position your seating against the wall. This might mean sticking a few of your chairs in storage, but it leaves a lot more floor space.
Use a table with leaves for expansion. Do you really need seating for 6 every day? If the answer is no, get a table with a removable leaf.
Consider fold-down tables. For truly tiny spaces, use a table that folds down from the wall like a murphy bed.
Tiny kitchens can still receive big love. Upgrade your counter space and downside your table, and you'll still have room to cook in comfort. Whether you're in an apartment or a cozy house, thinking outside the box pays off big when it comes to turning a small kitchen into a space you're happy to hang out in.