4 Ways to Align the Design in Your Sloped Ceiling Room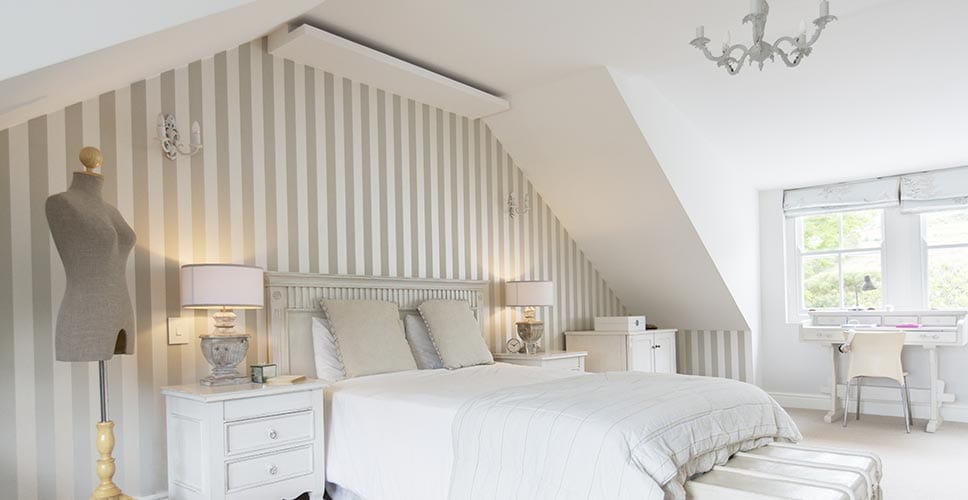 Does your new home have a room with a sloped ceiling? It can be a difficult element to design around, which is why we spoke with an interior designer to learn some insider tips and tricks to help you make the most of your space.
Special Considerations
Sloped ceilings present a design challenge that either lead to frustration and headaches (literally), or they evoke notions of cozy reading nooks, a master bedroom oasis or a whimsical bedroom for children. The latter can be achieved when you start designing using the right formula. "There are four main factors to consider when designing a space with sloped ceilings: furniture selection, ceiling size, lighting, and storage," says Dawn D. Totty, interior designer and owner of Dawn D. Totty Interior Designs. "When each component is suited for the space, it becomes a cozy and inviting room instead of one you just have to live with."
Low-Profile Furniture
Most sloped ceiling rooms don't boost a vast amount of open space, which can create a feeling of claustrophobia if too much furniture is used. "The standard slope-or knee wall-is typically at a height of 36-42 inches, making the size and shape of the space's furnishings essential," says Totty. "Using streamlined pieces-such as low-profile beds and dressers with clean, simple lines-will make the room appear clean, uncluttered and more spacious." Go easy on patterns when choosing bedding, chairs or sofas. If you have big, busy patterns, your eye tends to stop at those, creating that cramped, closed-in feeling. "In this case, less is best. A few pillows with contrasting patterns are a perfect way to create personality in the space, without overwhelming it," advises Totty.
Seamless Ceilings
Sloped ceilings inevitably mean ceilings that aren't very wide, which can cramp your space (and style). One way to eliminate that is to go for a monochromatic paint scheme. "By keeping the walls, ceiling, trim and doors all in the same color, the angles are no longer a main focal point; they now blend with a clean and seamless appeal," says Totty. Too conservative for your taste? Contrary to how it sounds, monochromatic can also include more than one color, creating a harmonious look. It's just that one color has a lot of family members in the way of tones, shades and tints: think white, off white, and beige. Use these colors for the walls, trim, ceiling, and decor. Luckily, paint stores make this process incredibly easy with paint cards including multiple shades of one color. When considering colors, Totty recommends light, bright colors to give the illusion of a larger and more balanced space.
Illuminations
A sloped ceiling presents another challenge when it comes to lighting, but your light sources are only limited by your creativity. There are plenty of options for task and mood lighting. "In the case of a bedroom, try wall sconces on both sides of the bed: they eliminate the need for table lamps, and they give a beautiful glow to the room. "A pendant light hung from the ceiling, or from the knee wall, is another great way to illuminate the space while keeping it clean and simple," advises Totty. A ceiling fan with a light is an option if the floor-to-fan distance is at least 7-9 feet. "I suggest a small blade base, and two or three blades; anything larger will simply overwhelm the space. The fan should also be similar in color to the ceiling," says Totty.
Storage Secrets
Storage space is at a premium in just about any room, let alone a sloped room. But there's more storage than you think-and it's right under your nose. Seek out the secret storage waiting in the knee walls. These are ideal spaces to create storage nooks and built-in bookshelves. If DIY isn't your thing, optimize the space with a long and narrow free-floating shelf to display knick-knacks, and add wicker baskets to stash personal items. The foot of your bed is often overlooked but Totty recommends adding a pretty bench here, as a stylish focal point and source for additional storage. And of course, there's the window seat: the quintessential hallmark of a cozy attic bedroom. Nestled between a dormer, it serves as comfy additional seating and storage, worthy of the cost to build it. Put this designer know-how into practice and you'll create a cozy retreat you'll never want to leave!