Add Color and Drama to Your Home With These Painted Ceiling Ideas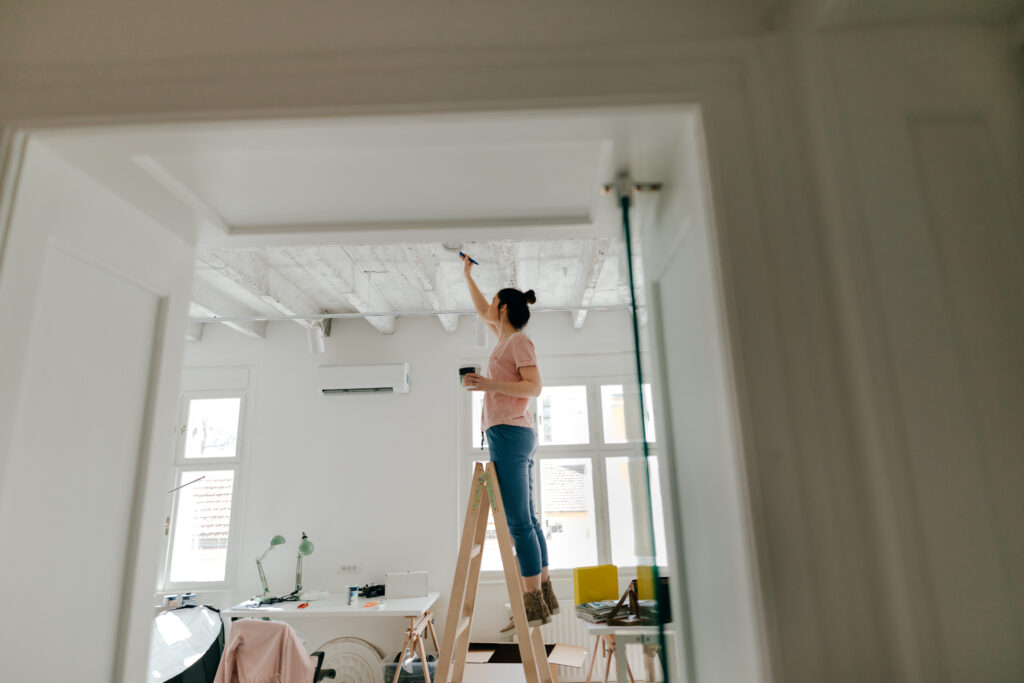 Most of us have stuck to the safe choice of a white ceiling. After all, it goes with almost everything in the room — and someone once said a white ceiling makes a room feel bigger and brighter.While this is often true, painting your ceiling a color other than white isn't necessarily a bad choice. In fact, its dramatic effect has many design benefits. If you're tempted to step out of your comfort zone, we have some tips on adding some color to your ceiling and transforming your space.
Read on for our painted ceiling ideas.
Dark Colors
Ceilings painted dark gray, navy, or black create a dramatic and intimate feeling in a room. Since they can make the ceiling feel lower, spaces with high ceilings or abundant natural light are an excellent choice to experiment with a darker color.To highlight your dark ceiling, select a pale color for your walls that nicely contrasts with the ceiling, and opt for furnishings that are lighter or neutral in color. Add a glittery or contrasting light fixture to properly showcase your dramatic ceiling.
Bright Colors
Painting the ceiling a bold or bright color, such as turquoise, orange or yellow, adds energy and interest to any space. This is a great choice if you have white walls and neutral furniture. Brightly colored ceilings are perfect for fun, happy spaces, and also terrific in bathrooms or kitchens where the finishes and furniture (tile, counter, floors, tub, sink) are usually white or monochromatic.
Wall Color
Painting the ceiling the same color as the walls create a beautiful atmosphere that envelops you and allows you to really feel the color in the room. The space will appear a bit smaller, so keep a few things in mind. If the room is small — for example, a bathroom or powder room — choose a subdued color such as gray or muted blue so the space will feel intimate and serene. In a larger room, carefully select your furniture and accessories, since each piece will stand out against the paint in the room.
Paint Finish
Regardless of the color you choose, be sure to consider the finish of your paint. A matte or flat finish on a ceiling conceals imperfections such as cracks or pipes. Eggshell or glossy paint shows blemishes but also adds dimension to the ceiling, giving it a subtle reflection.
Architectural Details
If you have architectural details on or around your ceiling — such as crown molding, tray ceilings, or skylights — painting the ceiling a contrasting color is a fantastic design feature. Darker or bolder colors work well in this case, as the typically white architectural detail helps to break up the deeper hue.
Specific Suggestions
While keeping these tips in mind, here are some inspiring color ideas for your next ceiling adventure:
Pale aqua. A pale aqua or turquoise (think Robin's Egg or Tiffany Blue) is a fantastic color choice for the ceiling in almost any space. From the bedroom to the bathroom or even the kitchen, a ceiling this color gives a light and airy feel to the plainest space. It also adds an appropriate amount of fresh color to existing neutrals such as white, beige, gray, and wood tones.
Metallic. A shimmery ceiling not only adds a little glitz to any room but also adds depth, thanks to its reflective quality. Muted silver and gold are on-trend and will glam up almost any room in your house.To transform your powder room into a reflective jewel box, replace your chrome fixtures with brass elements, and give the ceiling a coat of gold paint. The same can be done to almost any room in your home. Just make sure you carefully select the right golden touches — and don't overaccessorize.
Black. It's not the most obvious choice for ceiling color, but a black or charcoal gray ceiling definitely has its benefits. For one, it's an inexpensive way to conceal unwanted elements, such as pipes or old beams. Many basement rec rooms have matte black ceilings. A black ceiling adds elegant drama to a refined room such as the dining room or bedroom, especially if it features details such as decorative crown molding. It also superbly highlights existing black accents in the room, like a black lampshade, or can help tone down high-contrast colors such as gold or yellow.
Navy. As with black, a navy ceiling can add depth and drama to a room while giving it a more regal feel. Navy looks absolutely brilliant with shades of white or gray; if your walls are already one of those popular colors, try infusing navy into your design scheme by starting with the ceiling.
Yellow. A yellow ceiling brings a bright, refreshing punch of color to any room. With its warmth and energy, yellow transforms an ordinary space into an interesting and happy space. A yellow ceiling allows your eye to dance around the room. It can amp up a stark white space or complement an already colorful room.
Patterned. For the more adventurous design enthusiast, painting a pattern on the ceiling makes an uber-stylish statement. Whether you pick stripes or a geometric pattern, try to maintain a monochromatic color scheme with all the other elements in the room. This way, your ceiling won't compete with, say, a geometric rug and make the room feel chaotic. Are you ready to take your ceiling on a colorful journey? Use these tips to find the best-painted ceiling ideas to punch up your home!