10 Unique Ways to Green your Outdoor Eco-Friendly Home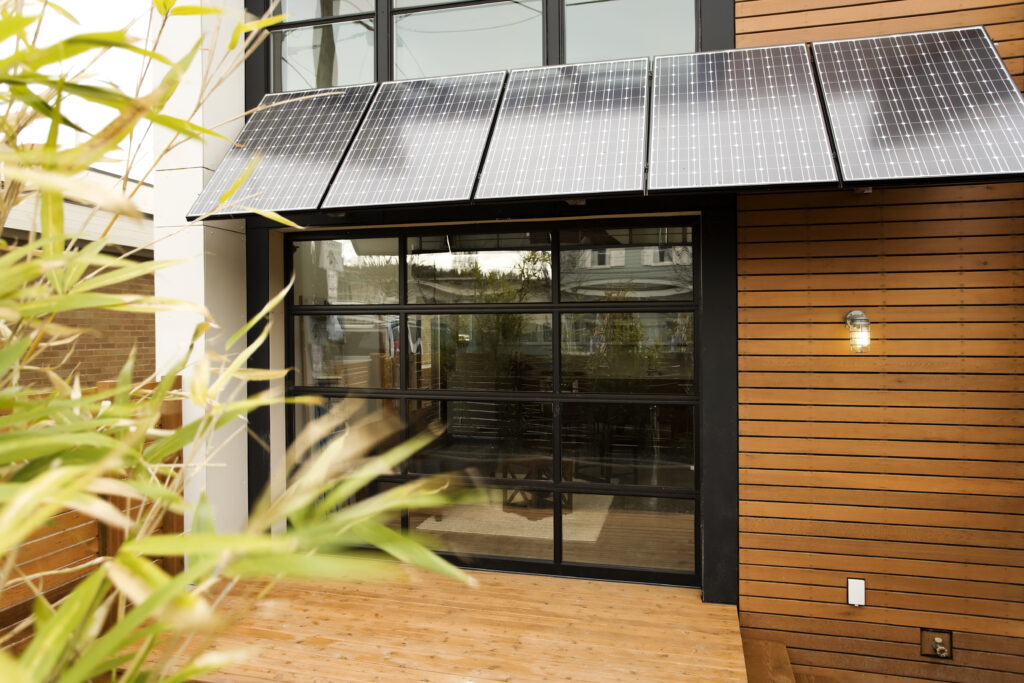 Summer is a great time to spend more time in your outdoor home. Whether you are working on your landscaping, enjoying entertaining family or friends, or resting and soaking up the summer sun – your outdoor home is the hub for it all! It also is the perfect place to carry your eco-friendly lifestyle to your outdoors with green outdoor decor, repurposed amenities and taking advantage of sustainable design ideas that you and the Earth will love. If you've been trying to think of unique ways to green your outdoor home, here are 10 eco-friendly ideas to get you started.
1. Marry the outdoors with your interior home:
One of the easiest ways to green your outdoor home is to blur the lines between your interior and exterior home. While opening up your windows and doors is a great way to let in fresh air, architectural options such as window walls that open up to the outdoors as well as glazed doors with operating windows can let in a fresh breeze without allowing pests in during hot and humid summer months.
2. Use green materials when remodeling and renovating:
If you are considering adding a wood deck – consider using recycled or reclaimed wood from other buildings for your exterior deck project.  Many lumber yards have suppliers to provide a great selection of reclaimed and recycled timber for your outdoor home projects. Concrete, wrought iron, and even railroad ties are becoming gorgeous materials to use throughout outdoor projects.  You will be surprised how your garden or DIY outdoor home project will be enhanced with one-of-a-kind green materials.
3. Replace worn out lighting fixtures with energy-efficient ones:
Your outdoor home can have an aesthetic eco-friendly appeal as well as a functional appeal, and that's where lighting fixtures are essentials. While you may not think about it outdoor lighting, especially old fixtures use a lot of energy and they can drive your energy bill soaring! Replace old fixtures with energy-saving varities or even solar powered fixtures. Old incandescent bulbs can be replaced with LED lights that burn cooler and give off a brighter glow of light. Consider using these for lighting your walkways, front and back entryways, as well as illuminating your garage and landscaping around your home. 
4. DIY Outdoor home ideas using repurposed decor:
If you love to repurpose household items and use them in new and inventive ways, what better place to start than your outdoor home?  Repurposing can be as simple as using an old piece of furniture that has been sitting in your garage and now using it for a decorative planter for your front porch. Repurposed home decor you see at your local yard sale or salvage yard can be painted, refinished, and given a new purpose in your outdoor home. This outdoor butler's pantry table adjacent to a summer kitchen is made from a salvaged wrought iron balcony and a slab of bluestone.
5. Install innovative technologies to save energy
Some of the most eco-friendly options for your outdoor home have to do with systems and technology as opposed to physical embellishments. Motion detectors placed near your exterior lighting will help save electricity. This will enable your lighting to only come on when a person, animal, or other motion is sensed. These detectors work best on floodlights in the rear of your home as opposed to architectural and landscape lighting.  Consider having your home security and outdoor lighting systems connected to a "smart-home" technology. There are many examples of your electronic or e-home being able to be controlled through internet access. Turning off and on your home from your smart-phone, tablet and anywhere around the world can help save energy as well.
6. Beautify your exterior home with reclaimed water solutions
While you may love having luscious greenery around your home, you may not enjoy the high water bill that is associated with keeping your lawn looking gorgeous. Try installing reclaimed water solutions when designing your outdoor home. A drainage system that collects the rain runoff from your roof and down from your water and downspouts can be transported to feed your lawn and landscaping is one solution. Consider hiring a landscape architect or sustainability specialist in your area to see what green solutions can be devised in your outdoor home.
7. Decorate children's play areas with eco-friendly materials 
Ensure your children's outdoor area is built with the same sustainable ingenuity as the rest of your outdoor home. Schools and playgrounds have been using recycled rubber tires for years and rubber mulch as ground cover. Consider this option for your child's playground. Rubber is softer underfoot than traditional wood mulch and the recycled tires last longer and come in colorful varieties to appeal to children's imaginations!
8. Create soil naturally for your landscaping
Many homeowners spend a fortune at their local nursery or home improvement store each season buying mulch, soil, and other ground cover for landscaping. Instead of purchasing all of your ground cover and soil consider making a composting pile from food scraps and remnants in a composting area in your backyard. This helps create nutrient rich soil, helps keep landfills clearer from throwing out food and your plants will grow more bountiful and beautiful in return.
9. Install energy efficient heating and cooling systems
While your heating and air conditioning units work to control the temperature for your interiors, ensuring you invest in ones that are energy efficient and don't emit dangerous greenhouse effect gasses is important. In the United States Energy Star certified units will help you choose systems that are better for the Earth and help save you energy. Look for a product with a higher SEER rating (Seasonal Energy Efficient Ratio). The higher the number, the better energy efficiency it should have.
10. Choose outdoor furniture that is eco-friendly
When greening your outdoor home, don't forget about your leisure areas – patio and garden furniture. Consider second hand patio furniture from a garage sale that you repaint and give it a new look – or look to the Forest Steward Council (FSC) certified wood or recycled plastics. Your outdoor home should be a comfortable and relaxing place to enjoy – but also should take into consideration the Earth's resources.
What outdoor tips do you practice at your home to practice a sustainable  and eco-friendly lifestyle?