How to Trick Out Your Outdoor Grill Using 10 Essential BBQ Accessories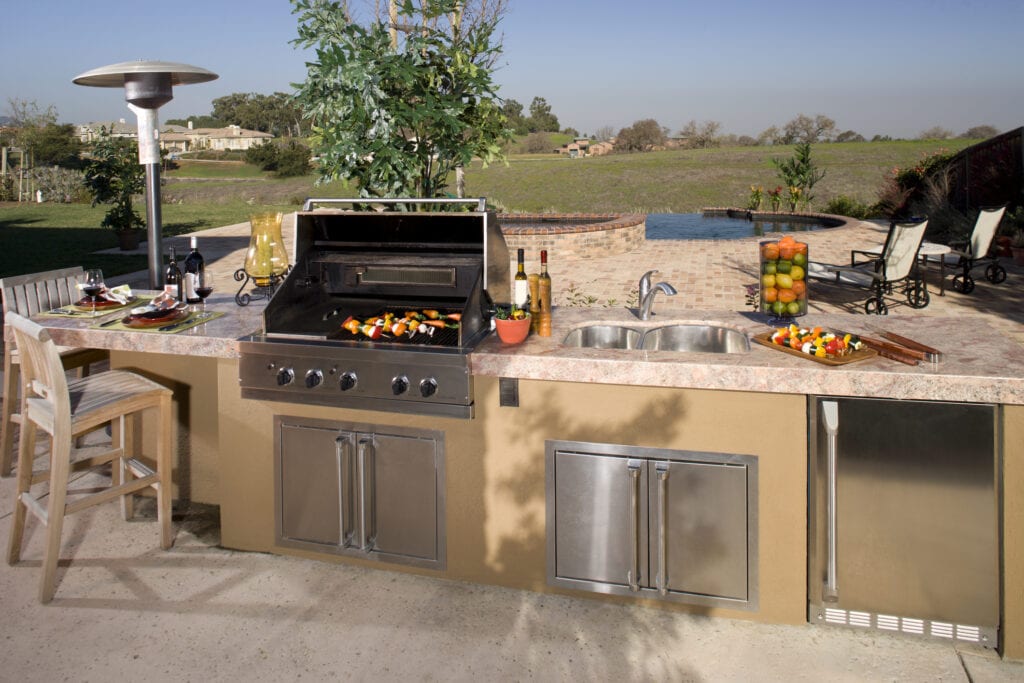 We hope you like the products we recommend. Just so you are aware, Freshome may collect a share of sales from the links on this page.
We've collected some of our favorite outdoor grill ideas to get you ready for summer. Setting up your barbecue area to function as efficiently as a professional kitchen will make the whole grilling process easier. And having a place for everything, as well as some seating, is possible even in a small patio or balcony.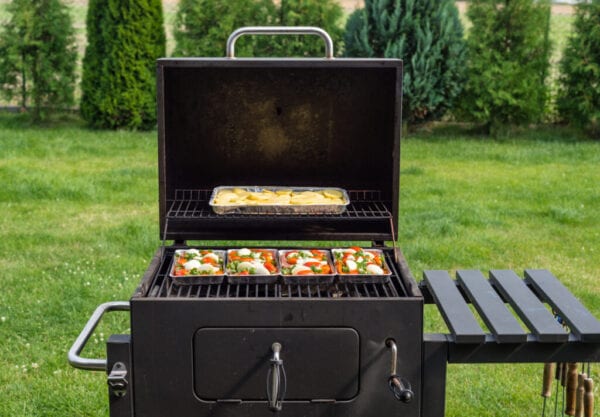 Michal Kin – EyeEm / Getty Images
We've broken down the outdoor grill setup to 10 essential BBQ accessories and components that trick out your outdoor grill and make barbecuing a snap.
1. The grill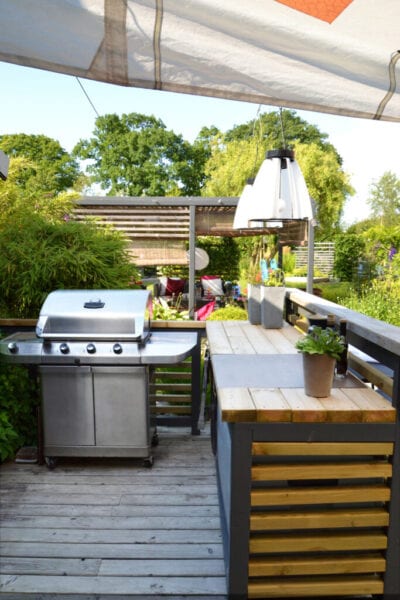 Eirasophie / Getty Images
What's your favorite grill? Are you old school and a charcoal purist? Or do you love a modern, state-of-the-art grill like the Wolf barbecue above? Depending on space and budget, there's a variety of grill options out there.
2. Outdoor grill ideas that add counter space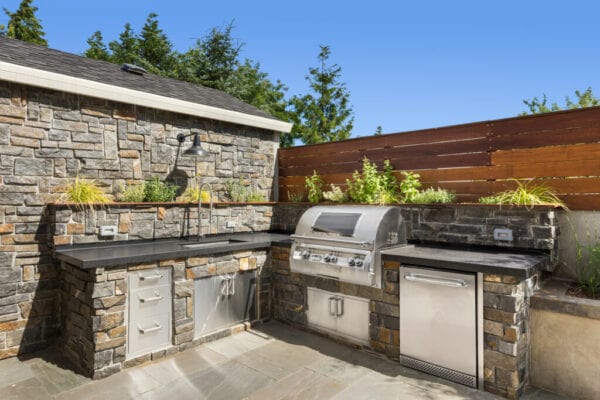 hikesterson / Getty Images
Nothing makes your barbecue area more functional than extra counter space. If you can't add a built-in cabinet and countertop, consider adding a rolling cart, butcher block or stainless steel restaurant prep table next to your grill.
3. Grill lighting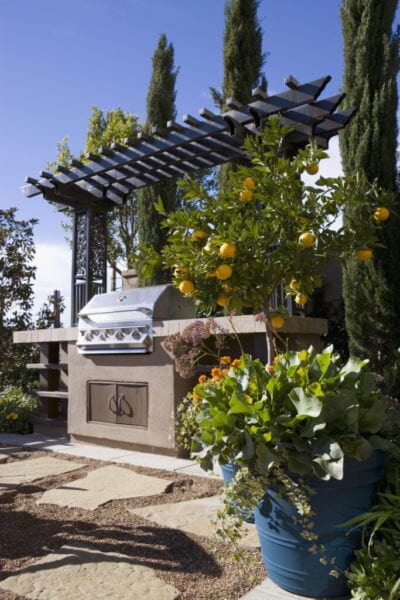 LOOK Photography / Getty Images
Why stop the grilling party just because it's getting dark? Add some task lighting near the grill to help light the area. If there's no electric connection, consider using a battery-powered LED light.
4. Storage
chandlerphoto / Getty Images
Any grill master will tell you that the BBQ accessories and grilling gadgets take up space. Add some storage to your grill area by making a spot for an outdoor cabinet, cart or shelving.
5. Essential grill tools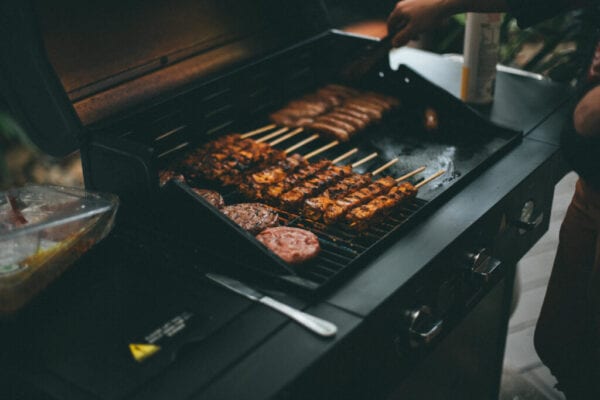 James Harber – EyeEm / Getty Images
For a tricked out grill setup, you'll need some key accessories and grilling tools to make the job easier. These include:
A heat-proof basting brush
6. Grill-side dining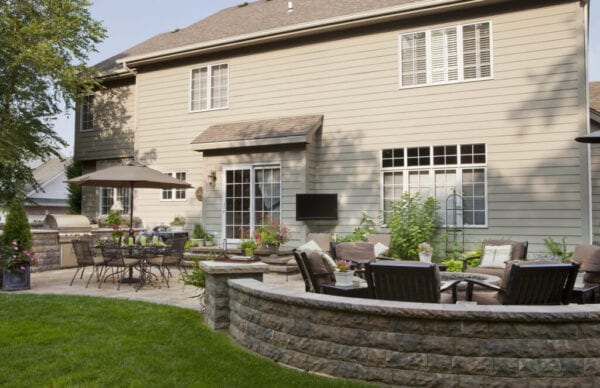 TimAbramowitz / Getty Images
Much like in the kitchen, people love to gather around the cooking area. Have a table and chairs nearby. The table can serve as outdoor counter space and you're likely to have an audience sitting with you when you're grilling. If your space is limited, try using a long, narrow console and barstools or a wall-mounted ledge with stools as your outdoor dining setup.
7. Cool grill accessories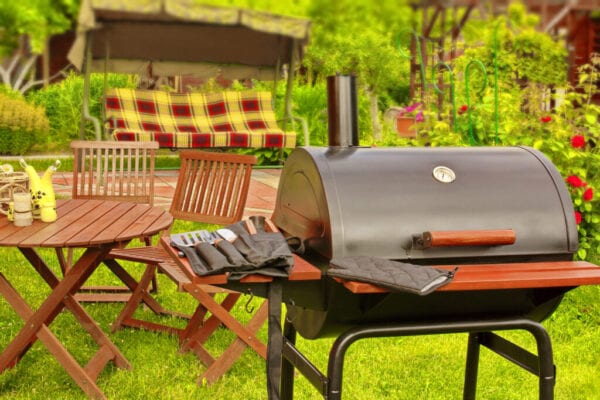 AVNphotolab / Getty Images
Grill accessories are optional but add a personalized touch to your barbecue. A pizza oven would be the ultimate, but smaller accessories like a custom branding iron with your initials or a hot plate for warming food would be a great addition.
8. Safety items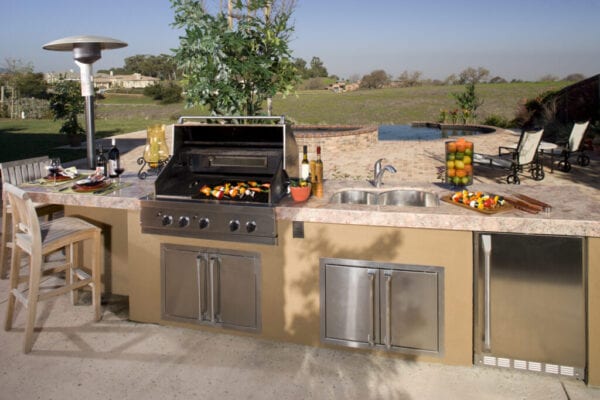 jimkruger / Getty Images
Safety is always a priority, especially when working with fire. Mitts are essential for keeping your hands safe when handling hot surfaces. A fire extinguisher mounted nearby is also a good idea.
9. Serving items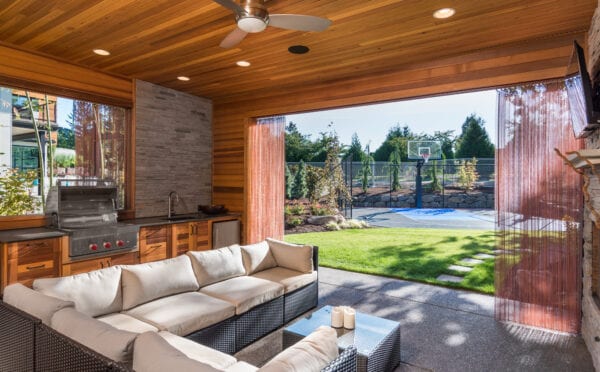 hikesterson / Getty Images
Having serving platters and trays handy make serving your grilled foods stylish and easy. Trays make it easier to carry several items at once, saving you time when you need to go in and out of the house.
10. Garbage and cleanup
Make cleanup quick and easy by keeping the right items nearby. A good trashcan for trash, a grill brush for scrubbing the grill while it's still warm and a roll of paper towels are a good start.
How will you trick out your grill area