Winter Garden Gloom? Three Colorful Flowers That'll Rise Above Cold Weather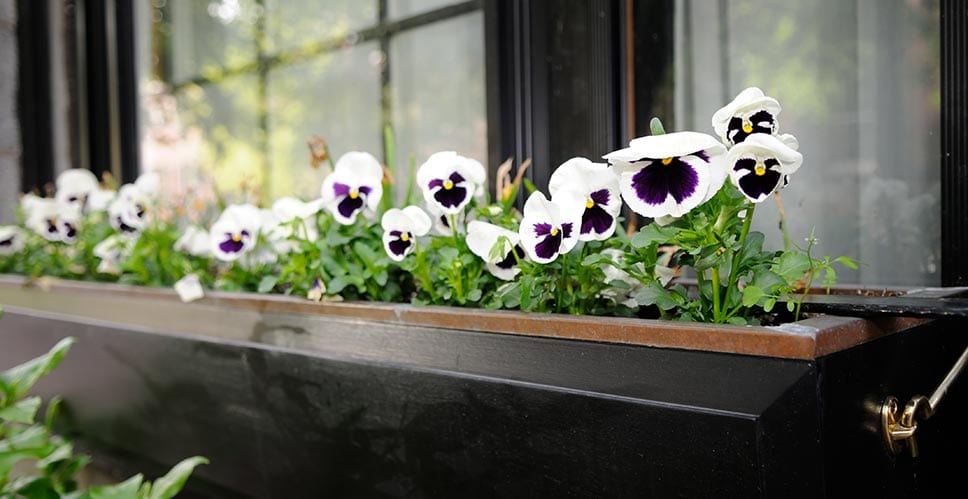 You've just finished perfecting all the interior touches in your new home. It's feeling cozy (hygge-approved even), sophisticated and fully embracing of the upcoming winter season, if you do say so yourself. How's that outdoor lead-up to the front door looking, though? Gulp.
If the "appeal" in your curb appeal is still pending, you may be looking for a nudge. But wait-winter is coming (Game of Thrones watchers unite). What now? Should the seemingly daunting cold weather steer you away from creating your own colorful garden glory? Absolutely not.
Though it's always best to align flowers with your region's hardiness zone and frost dates, we've hand-picked three resilient, brightly-colored contenders to bring your winter garden to life.
Purple Pansies for the Winter Win
Name: Winter pansies, often known as "violas" originated in Buckinghamshire, England.
Defining characteristics: Marked with bright bi-colors, heart-shaped petals and dark centers some call "faces" these short (4 to 8-inch-high) flowers pack a vibrant punch.
Personality: Winter pansies are bred specifically to survive just that. They thrive off cold weather (but dislike being over-watered and soggy) and hibernate during the summer.
Best time to shine: Experts say that the extra weeks or months before cold weather allows winter pansies to develop strong roots in warm soil, prepping them for winter survival. The earlier the better-early fall being the best time to snag that warm soil. If you live in a region expecting to experience heavy cold, the smaller the bloom the better: pansies with smaller blooms are more tolerant of the cold than larger versions.
Needs: Though winter pansies can rebound from cold snaps, they grow most ideally in temperatures between 45º F and 65º F in full sun to partial shade. They require well-drained, loose soil, making raised beds an appealing choice. Mulch and fertilizer cultivate an ideal environment, and regular manicuring of old blooms and stems promotes continual growth in cold weather. Avoid over-watering to prevent rotting.
Bonus: These dark-faced flowers are also edible (like their cousins violas and violets).
Think Pink with Cyclamens
Name: The cyclamen, sometimes colloquially known as the sowbread, swinebread, Persian or alpine violet, is a flower indigenous to Europe and the Mediterranean Basin.
Defining characteristics: The cyclamen boasts petals in pinks, purples and whites, alongside green, silver-streaked, heart-shaped leaves. Do they have your heart yet?
Personality: Don't let their dainty-looking blossoms fool you. Cyclamens are winter warriors that can withstand near-freezing temperatures and dry weather conditions. This resilience is thanks to its signature hardy tuber (thickened underground stem).
Best time to shine : Midwinter is when cyclamens start to blossom into their full potential. Experts say they're at their peak with four petals up and one petal down.
Needs: Cyclamens grow best in areas of half-day sun to heavy shade. Experts recommend a mid-sized to small cyclamen for gardens (larger for planters).
Bonus : Mid-sized cyclamens have a fragrance. Sweet victory for your front door leadup.
History buff bonus : The cyclamen was said to be one of Leonardo Da Vinci's flowers of choice-one which he used to cover his manuscripts with.
No Yellow Light for the Winter Aconite
Name: Winter aconite, a part of the buttercup family, is native to southern Europe.
Defining characteristics: The tuberous-rooted winter aconite boasts upward-facing, cup-shaped yellow blossoms-said to be surrounded by a "jester's collar" of green.
Personality: Versatile and extremely frost-tolerant, winter aconite is known to peek its cheerful yellow head out of snow still on the ground in late winter. Surprise!
Best time to shine: Because winter aconite blooms in very late winter near January, these flowers have gained the reputation as the first spring flower to appear.
Needs: Winter aconite requires full sun or light shade, in addition to well-draining and medium-moisture soil. Experts recommended soaking bulbs overnight before planting.
Bonus : The bonus here is that winter aconite is deer-resistant, but the reason why is worth emphasizing. All parts of this flower are poisonous if ingested-the rationale behind why deer have learned not to bother it. If planting winter aconite, be sure to avoid any areas where pets or children could attempt to eat this sunshine-colored flower.
Another bonus for the award-winner: Winter aconite has been honored with the Royal Horticultural Society's Award of Garden Merit.