15 Stylish Pool Ideas That Make a Statement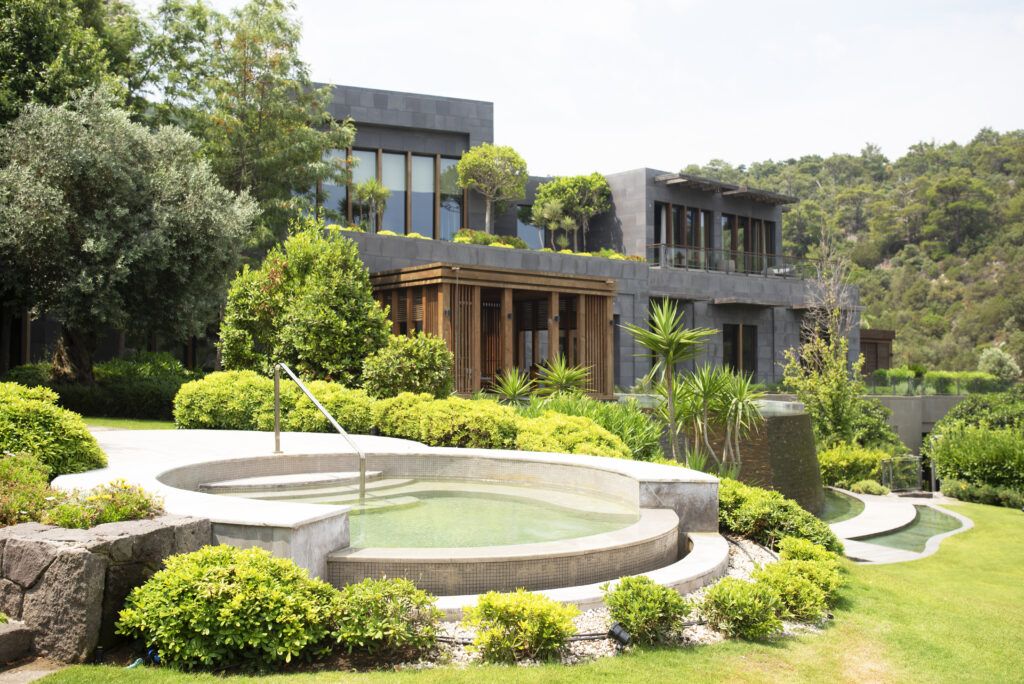 The decision to put a pool in is undoubtedly a big one. No doubt you and your family had been toying with a few pool ideas for some time before finally deciding to take the leap. However, now that you've all reached a consensus, it may seem like your decision-making process has only just begun.
The reality is, when you're putting in a pool, there's so much more to consider than just the initial hole in the ground. For many years to come, your pool area will serve as a source of amusement, a place to entertain your family and friends, and, of course a relaxing oasis away from the stress of everyday life. It's only natural that you would want the entire space to flow together as one cohesive and aesthetically pleasing unit.
But, when you're in the midst of choosing all the tiny details that eventually will come together to create your backyard escape, there's no question that it can feel overwhelming. In an effort to guide you through the process we've narrowed down the most important pool ideas that every homeowner should take into account.
Focus on Function
One of the first decisions you'll be asked to make regarding your new pool is what shape you would like it to be. Focusing on how you and your family are most likely to use the pool may be the key to narrowing down your options.
If you're the type to love swimming laps as a workout, you'll obviously want a rectangular shaped pool where your distance can be easily measured. If you have your heart set on an in-unit hot tub, L-shaped pools can provide a ready-made section for placement. Additionally, if your family needs a clear shallow area for young children, choosing either a figure 8 or kidney shape may be your best bet.
Remember Materials Matter
This is especially true when deciding upon a material to line the bottom of your pool. There are three main options when it comes to standard in-ground pools and each has its advantages and disadvantages. Keep them in mind as you decide which option works best for your home:
Fiberglass: Fiberglass is considered the most low maintenance material, but it often comes with the highest initial installation cost.
Concrete: Concrete gives you lots of flexibility to choose exactly the shape and size pool that you want, but there is regular maintenance involved and the cement will probably need to be replaced every 20 years.
Vinyl:  Vinyl comes with the lowest initial cost, but the liners are prone to rips and will need to be replaced over time.
Weigh the Value of Extra Features
Let's be honest, when most of us picture our dream pool area we see an expansive space with tons of add-on features like waterfalls and diving boards. Odds are that you won't be able to include every element on your wish list, so you'll want to it back and think about which ones make the most sense for you.
Make sure to research each feature before agreeing to have it installed. Some may not be aware that while putting in a slide for your kids may seem like a great idea, it can also increase the liability on your homeowners' insurance. Similarly, while a hot tub may seem exceedingly like a great way to unwind, the elevated temperatures will have an impact on your utility bill.
Consider These Pool Deck Ideas
After you've thought extensively about the pool itself, the next area that needs to be taken into consideration is the pool deck. Again, you have a few common decking materials to choose from. Here are the key factors:
Concrete: The most inexpensive option, concrete can be colored or stamped to give you more design options. But, it requires regular upkeep and may eventually need to be replaced entirely.
Paving Stones: Whether you choose a natural or synthetic variety, paving stones are a good choice for pool decks because they are fade-resistant and non-slip. They also come in a variety of colors and textures to suit most personal tastes. However, pricing varies greatly according to the type of paver chosen.
Tile: Tile has the highest installation cost, but is the most durable. It requires little maintenance aside from replacing grout and is suitable withstanding harsher winter climates.
Don't Forget About Landscaping
The last piece that you need to take into account when planning your pool area is the landscaping. This step is really what will truly highlight the other pool ideas that you've already put into place.
Focus on using plants to create a boarder around your pool area. Not only will this eventually leave you with coveted a privacy barrier, but the plants' roots will help guard your pool against dangerous overflow in the event of bad weather. Remember to choose a variety of heights, shapes and colors to maximize the amount of visual interest, but stick to breeds that are known to flourish in your area's climate.