How to Prepare your Pool Area for Entertaining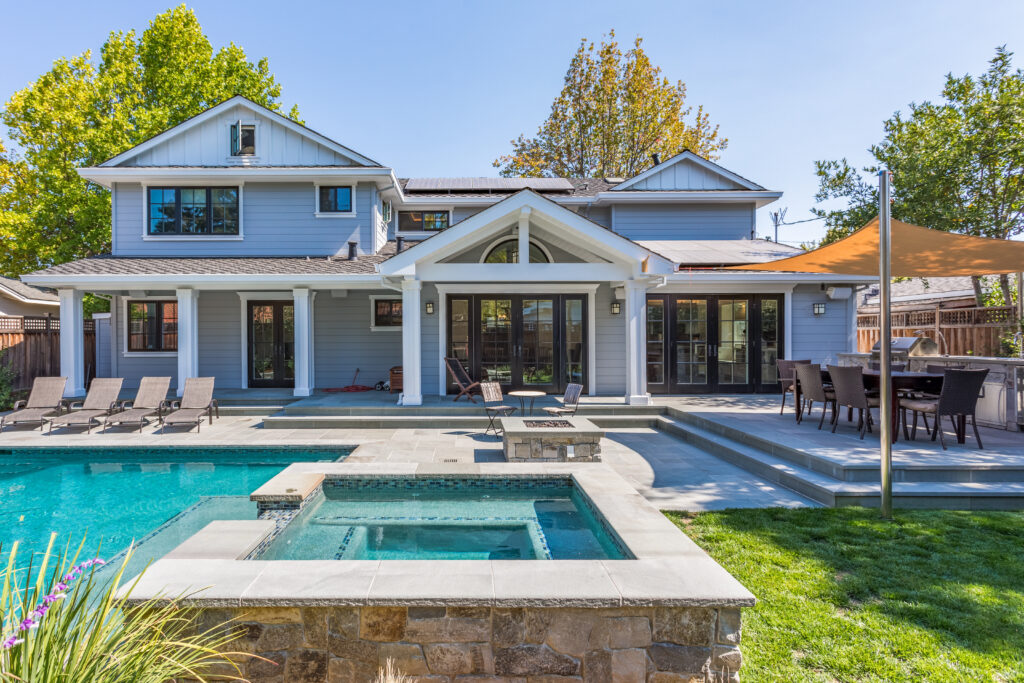 Springtime is the perfect time of year to start pre-planning your outdoor activities and your outdoor home. While it may not be time to jump into the pool just yet, it is the perfect time to think about what type of entertaining you will be doing around your pool. For many, the pool is the center of attention of the backyard, and therefore needs seating, lighting, and amenities around it. While for others, the pool is only one aspect of their entertaining lifestyle, and cooking, gardening, and children's play areas may be factors to consider as well. Here are tips to help you prepare your pool area for entertaining.
Assess your pool entertaining lifestyle: Is your house the one on the block that all of the neighborhood children and teenagers flock to for your pool? If so, consider investing in pool sports activity recreation gear like beach balls, flotation devices, and fun games to do around and inside the pool to keep kids busy. While if your pool area is geared more towards evening adult entertaining, lounge chairs and nighttime lighting around the pool area may be important. Assess your lifestyle, to ensure you are using your pool to its best capacity.
Deck out your pool with fun color inspiration: Making your guests feel comfortable and relaxed is your sole purpose when you entertain around your pool. Bringing fun and inspiring colors to your textiles, seating, and garden furniture cushions can instantly add pizzazz! Opt for colorful oversized pillows for lounging, bright beach towels displayed in outdoor credenzas, and outfit your pool deck area with easily movable ottomans and seating options. For versatility, consider having varieties of mix and match patterned and colored cushions for outdoor furniture to add versatility depending on the guests that will be attending.
Plan your activities beforehand: Ask any event planner the secret to entertaining without stress, and they will say, 'plan out your activities in advance'. While this doesn't mean you have to have a strict itinerary of the day, it does mean that an idea of what your guests will eat, where they will dine, lounge, play, and interact will help you and your guests enjoy themselves around the pool. If you're planning on barbecuing, have dishware, cooking utensils, and ample room for dining and mingling adjacent to the pool area. The more separate activities you plan, the more space guests need around the amenity areas to mingle and move around without feeling crowded.
Nighttime pool entertaining: While daytime pool entertaining is a must, so are evening parties and fun around the pool. Remember to consider what type of activities will need separate lighting sources. Use lanterns and tabletop lighting for dining areas, and overhead lighting hung from trees and garden furniture umbrellas to provide ambient lighting. Ensure your pool has adequate lighting inside and outside of the pool to ensure safe footing, as well as gorgeous views and ambiance. Consider lighting landscaping and surrounding architectural elements to bring the total pool experience to life!
Entertaining around the pool is one of life's great treasures to spend with friends and family. Follow these simple tips to make your backyard oasis a memorable experience for all. Regardless of your budget, or the size of your pool area, entertaining is about the people you share it with, and the great time had by all. For more pool entertaining ideas, look through spring and summer outdoor furniture catalogs and online stores.  You will get plenty of inspiration!
Freshome readers do you have any ideas for pool entertaining that are always a big success at your home?