Modern Patio Furniture That Brings the Indoors Outside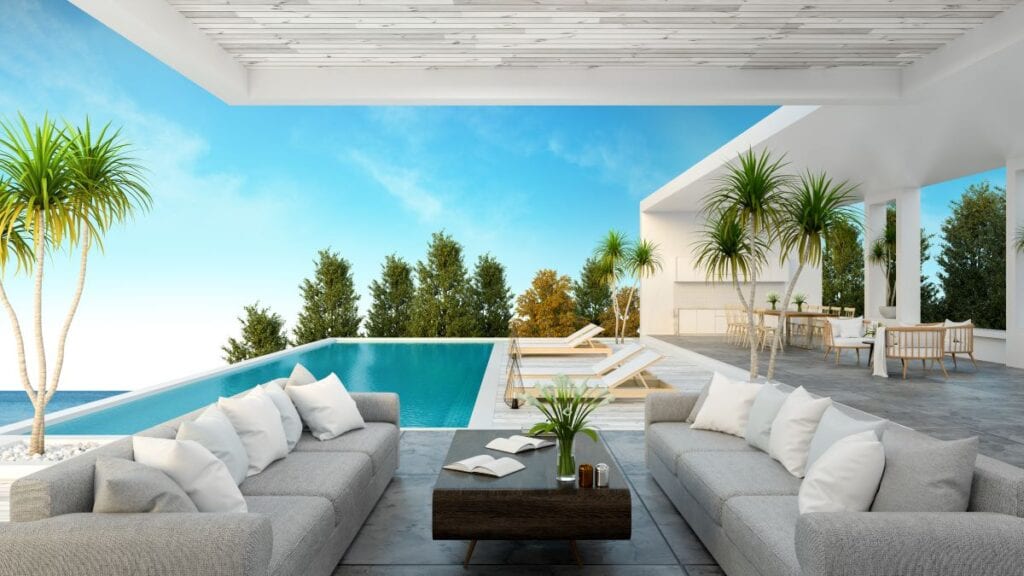 Thanks to technology and innovation, patio furniture has evolved dramatically to keep up with the growing trend of outdoor living. Patio furniture used to mean a charcoal grill and a few plastic folding chairs. Today, the outdoor space is an extension of our home and includes sophisticated appliances and comfortable, modern patio furniture.
According to a survey of home builders conducted by the Hearth, Patio and Barbecue Association, a patio or deck is among the top three features that new home buyers request. Furniture that looks as good in the living room as it does in the backyard is the biggest trend in patio furniture ideas.
Contemporary design is the top style of the latest outdoor living trend. Here are our picks for the best modern patio furniture pieces that are versatile, comfortable and beautiful enough to live inside, but durable enough for your outdoor space.
Modern Outdoor Chairs
As in interior design, your chairs don't have to match the sofa. Whether you already have an outdoor sofa or you're starting from scratch, here are some chairs worth adding to your patio seating mix.
Dimensions: 30″ W x 33″ D x 36″ H
Innit is offering colorful reproductions of this surprisingly comfortable chair ($430), which was introduced in the 1950s. It's available in several configurations, with 15 vinyl cord colors and four metal frame colors (black, white, chrome and copper) to choose from. Rockers, rounded backs, kid-size versions and tables also are available.
Dimensions: 39″ W x 39″ D x 77″ H
Add fun and relaxation to sitting around by adding a swing chair to your patio space. Modway's Encounter Swing Chair ($660) features synthetic rattan seating topped by a washable, weather-resistant green cushion suspended from a white aluminum frame.
Multi-Purpose Patio Furniture
These patio furniture picks made the list because they're not only contemporary, but also have several uses. When investing in modern patio furniture, add modular or multi-purpose furniture to your outdoor living space.
Dimensions: 37.5″ W x 44″ D x 13″ H
This coffee table ($1,107) gives your patio a modern, Zen look thanks to its minimalist Italian design and LED lighting that casts a beautiful glow from within. The removable, transparent plexiglass top allows for storage inside the table and comes in six colors to adapt to your outdoor decor.
Dimensions: 18″ W x 18″ D x 17″ H
Architect Frank Gehry — known for his twisting, unconventional buildings including the Guggenheim Museum in Bilbao, Spain, and the Walt Disney Concert Hall in Los Angeles — created this cube ($250), available in a rainbow of colors. Made in the USA of durable plastic, it can be used as a seat, a side table, a foot stool, or group a few under glass for a creative and colorful coffee table.
Dimensions: 29"/48″/60″ W x 15″ D x 16″ H
A minimal design offering several uses, the Cooper Outdoor Bench ($399-$599) can be used as seating around a dining table or in a sofa area, or as a side table or coffee table (indoors, too!). Made of solid aluminum and given a durable powder-coated finish, this bench is available in three sizes and eight colors.
Modern Outdoor Sofas
These sofas offer modern and versatile pieces for your patio area. Regardless of the style you like, add some throw pillows to give your seating area a customized look.

Dimensions: 48″ W x 29.5″ D x 35.5″ H (sofa), 31.5″ W x 31.5″ D x 28.5″ H (table)
This seating set ($1,450) provides an instant contemporary outdoor lounge. It includes not only the three sofa pieces, but also the coffee table and throw pillows. The outdoor fabric is removable and washable, and the frames are white rust-proof aluminum.
Dimensions: 71.5″ W x 31.5″ D x 38″ H
Made of all-weather cord hand-woven around a lightweight aluminum frame, the Huron Sofa ($1,399) comes with a seat cushion and three throw pillows (like the one on the right) in seal gray. Its rust-resistant materials and modern style will be right at home on any patio.
Dimensions: 72″/84″ W x 35″ D x 28″ H
A perfect example of the indoors-out furniture trend, the Palm Sofa ($2,299-$2,399) — available in two sizes — looks like a modern living room sofa. The secret is in the construction: marine-grade plywood, a barrier-wrapped foam cushion and water-resistant Sunbrella Canvas fabric in 18 color options. The tailored slipcovers can be machine washed or simply hosed down.
Dimensions: 43.5″ W x 28″ D x 22″ H
Following the trend in indoor contemporary furniture, add some curves to your patio area with the modular Palmetto rounded sectional ($849). Group as many pieces as you like into a seating arrangement; nine are shown above. Each unit, made of all-weather wicker, includes a quick-drying seat cushion and two scatter-back pillows in a natural-color, water-repellent polyester canvas.
Patio Dining Furniture
Enjoying a good barbecue outdoors is the highlight of outdoor living. Whether you have a small or large outdoor space, add one of these dining sets to update your patio area.
Dimensions: 26.75″ diameter x 29.75″ H (table), 23.75″ W x 22.75″ D x 34″ H (chair)
BoConcept's Adelaide bar-height table ($559) and chairs ($339 each) are perfect for smaller spaces or simply enjoying a great view. The two-tone modern furniture features eucalyptus wood legs and white seats and table top, and also works well indoors.
Splurge-Worthy Finds
We think the following high-design items are worth the cost. They're unique, fashion-forward and contemporary, creating a memorable outdoor space.
Dimensions: 88″ W x 88″ D x 104″ H
The contemporary version of a wigwam, the Tipi Outdoor Tent ($6,620-$7,260) comes with a floor mattress and six throw pillows. Built for the outdoors in an aluminum frame, plastic fabric and vinyl mattress cover. A double-sized "gigante" version also is available for family campouts in the backyard.
Dimensions: 52″ W x 33.75 D x 18″ H (medium), 67″ W x 43″ D x 18.5″ H (large)
These rounded lounge "islands" ($2,328-$3,072) are made from a fiberglass shell covered by a foam surface and removable weather-resistant fabric. They act as artistic furnishings, adding an organic vibe to any outdoor setting.
The bottom line
We hope these modern patio furniture ideas have gotten you in the mood for spring. What plans do you have for your patio? Let us know in the comments below!