How to Add Modern Elements to Your Landscape Design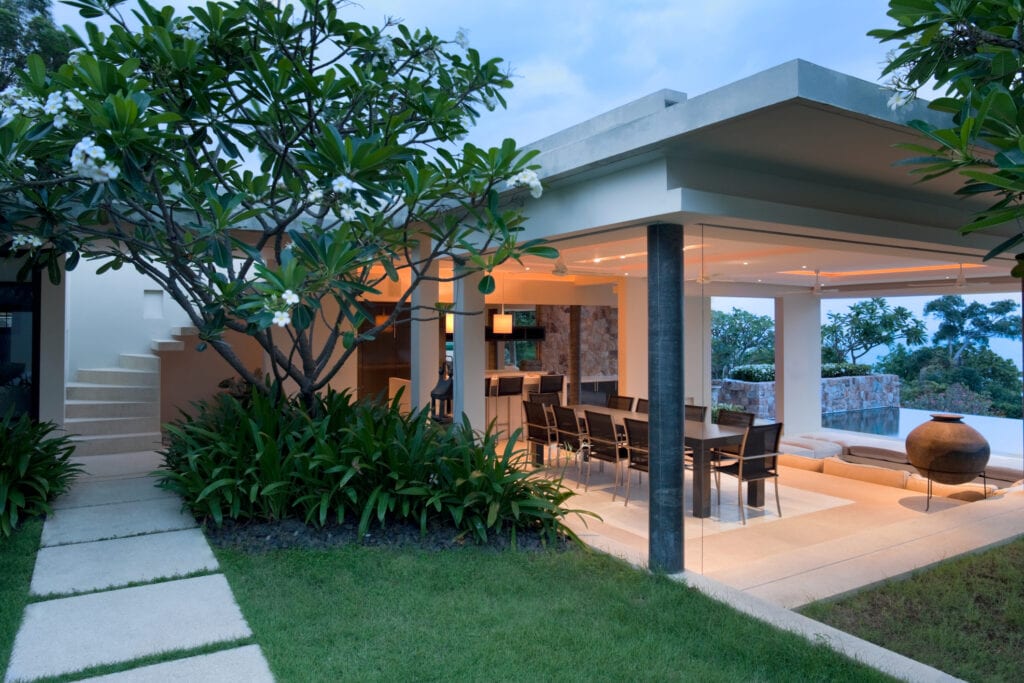 Designing a modern home seems almost 'old hat'. We have so many resources available to us that offer multiple techniques for achieving a clean-lined, contemporary home. But what about the outside of our home—in particular, our landscaping?
Our homes exterior often gets ignored, leaving our personal style statements for the interior. We think your style should shout from the rooftops, allowing passerby to immediately admire your personal style.  Your landscape design is the perfect avenue to state your personal style, telling others what they should expect to see inside your home, without ever entering your doors.
Here are some great tips to create a modern landscape for your home: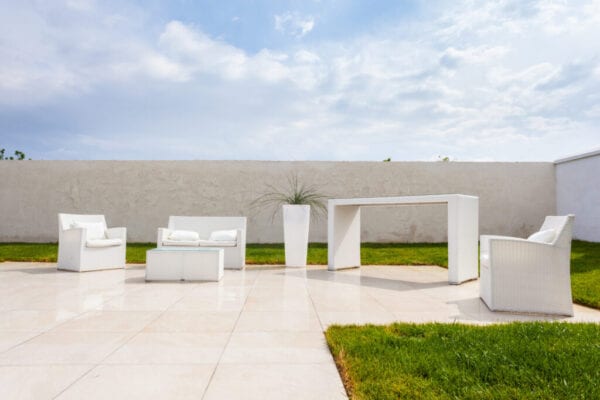 Porpeller / Getty Images
 Manicured Gardens Are Modern
Inside a modern home  everything has its place and everything stays in its place. Clean lines rule and clutter is forbidden. These same design principles should be applied to your exterior landscape as well.
Essentially, a modern landscape is the opposite of an English garden where it is elegant to let plants roam free and take over. Plants in a modern landscape are controlled and told where to go, and through manicuring they are forced to stay put. Akin to a bird in cage where we can admire its pretty plumage, but the bird is not allowed to fly free.
Modern landscaping is broken up into clearly defined, tidy spaces. At this point, some of you may be feeling sorry for the modern landscape, thinking how boring and controlled, but please read on—a modern landscape offers a quaint, unique and pristine aesthetic that most other landscape designs cannot achieve.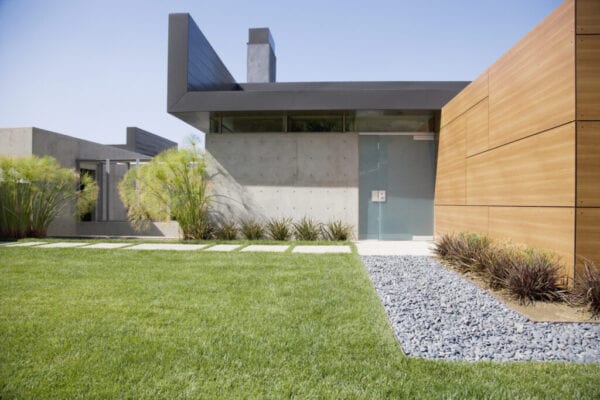 Tom Merton / Getty Images
 Geometry in the Modern Landscape
Squares, rectangles, circles, triangles…all of these simple shapes have a place in a modern landscape design. These shapes have multiple roles, but aside from adding that clean-lined modern aesthetic, they allow you to define areas in your garden and create individual vignettes.
For instance, a straight-lined stone path can lead you to an outdoor sitting area that is defined by a squared boxwood enclosure, then perhaps circular stepping stones lead to an outdoor pool area, and so on. Geometry is not reserved for ground cover and stones, it should also be seen in the plants.
It is best to choose plants that are open to pruning. Here are just a few modern garden plants that you may want to consider: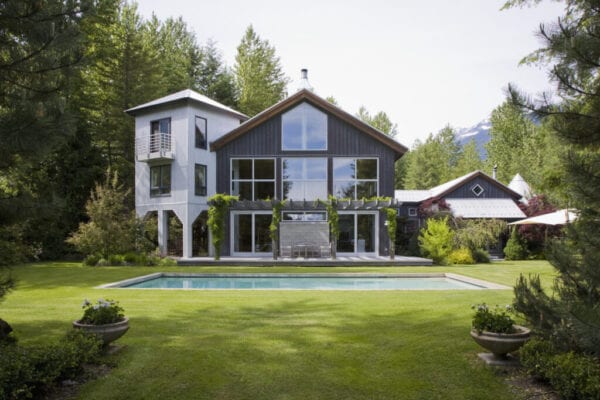 Roger Brooks / Getty Images
 Adding Modern Zen to Your Garden
Most modern homes have a bit of a zen quality to them. They offer a place of refuge; a quiet place to sit back and relax, forgetting the worries of your day. Your outdoor landscape should most definitely offer the same zen-like atmosphere.
Here are a few tips that help add zen to your modern garden:
Water features are paramount. Add fountains, streams, pools, and ponds with Koi fish.
Incorporate privacy barriers and walls using textural elements such as bamboo, or hedging.
Add elements of a Japanese garden with raked sand or stone, incorporating a few well-placed succulents.
Omit showy plants with bright colors. Stick to neutral greens for a soothing atmosphere.
Use mostly evergreen plants that offer year-round color.
Incorporate stones, benches and perhaps statues, giving vignettes for the eye to enjoy.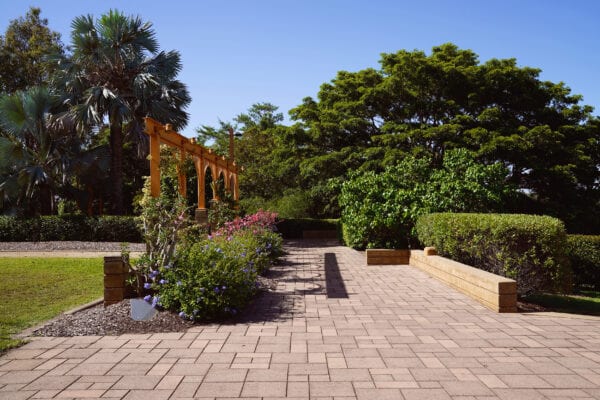 Michele Jackson / Getty Images
Ground Cover and Stone To Shape Your Garden
Ground cover and stone are essential tools for a modern landscape design. They are used to segment the landscape into areas and lead the eye from one outdoor 'room' to another.
For instance a low strip of planted ground cedars can create a border around a pond or garden pathway. And concrete can be used to create a squared, grid-like path to a pool or pond. These features don't always have to lead you somewhere—they can be used simply as visual tools that unify the design, as well.
Consider incorporating a square sand garden with just a few well-placed rocks. Rake lines into the sand garden, swirling them around the stones, making a very zen, calming space. The picture below is a perfect example of how stone and ground cover can define a modern garden.
As you can see, a modern garden has many elements, but it is not actually that hard to create a landscape that reflects your modern tastes—and we suggest your home exterior should always reflect who you are, just like your interior does. Just remember to incorporate clean, straight lines, lots of geometry, stone paths, borders, and don't forget to add a little bit zen!
Have you succeeded in creating your own modern landscape? Please share with us how youd it!