Here Are the 6 Best TV Wall Mount Systems on Amazon and Why They Rock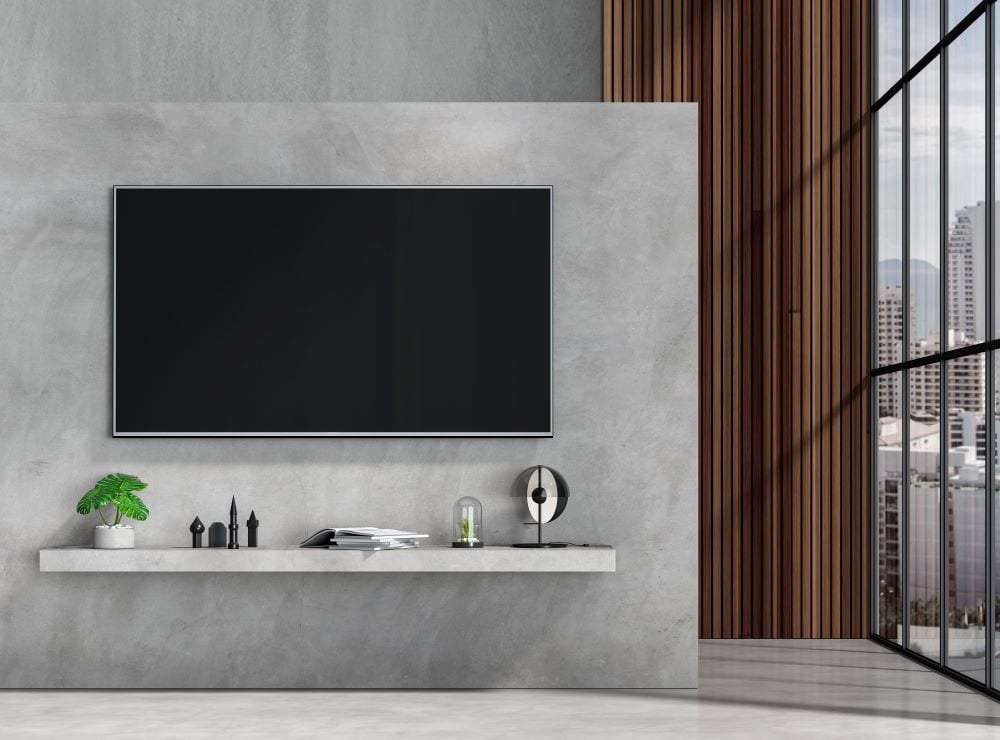 We hope you like the products we recommend. Just so you are aware, Freshome may collect a share of sales from the links on this page. 
Amazon is a great place to source and buy a multitude of products. Most items ship free if you're a Prime member, and Amazon boasts fast delivery, unbeatable prices and real reviews you can trust from millions of fellow shoppers. One of the biggest sellers on Amazon is the
TV wall mount
. Wall-mounting your flat-screen TV is a great way to save space. Some places you can wall-mount your flat-screen include:
Over your fireplace mantel
In one of the cubbies of a built-in wall unit
In an outdoor lounge or patio area
On your kitchen backsplash
Many TV wall mounts can articulate — swing out and pivot up and down. This adds flexibility to your wall-mounted TV system because you can angle the TV for the ideal viewing angle, or to avoid glare from a sunny day. For all of the details on how to best hang your TV and what tools make installation easier, read our detailed guide on best TV wall mount systems.
How we chose the best TV wall mount system
To find the best TV wall mount systems, we looked at
Amazon's best-selling TV wall mount rankings
, which it updates hourly. By analyzing user reviews (at the time of research), number of sales and flat-screen TV wall mount features, we narrowed down the extensive list to feature the best TV wall mount models for different purposes. Here are the six best TV wall mount systems on Amazon, with photos showing how you can use each TV mount:
Average review:
4.5 out of 5 stars
Number of customer reviews:
24,039
Perfect for:
Thanks to heavy-gauge steel supports, this supports any flat-screen between 25 and 88 inches. This is the most versatile flat-screen TV mount on the list.
Why it rocks:
This is Amazon's No. 1 product in the best TV wall mount models. The kit comes with 
mounting hardware, a removable VESA plate (for eight different hole patterns) to make one-person installation easy, a 10-foot HDMI Cable and a magnetic bubble level. Post-installation level adjustment makes hanging your TV perfectly a no-brainer. 
A l
ow profile mount design retracts to 2.2 inches from the wall to save space but can extend up to 20 inches from the wall for viewing. The versatile tilt angle of 15 degrees/-5 degrees with a swivel of up to 180 degrees offers you great viewing flexibility.
4.4 out of 5 stars
17,205
Perfect for:
This TV mount is one of the few that can accommodate standard TVs as well as curved TVs. We focused on the tilt versions, available in a VESA 400 or 600 plate. These are great for heavier TVs; the VESA 600 supports up to 165 pounds.
Why it rocks:
This TV mount can be mounted to nearly any surface and comes with anchors for a variety of wall materials. It sits flat at 1.3 inches from the wall and can tilt up to 10 degrees. It includes a Twisted Veins 10-foot HDMI cable and a three-axis magnetic bubble level. The TV and wall plate can be attached via an easy lift and lock system.
out of 5 stars
Number of customer reviews
:
3,141
Perfect for:
The heavy-duty steel construction is precision-based and can handle the weight of plasma TVs up to 55 inches or other heavy TVs (up to 99 pounds). It's great for corners, thanks to the generous articulation.
Why it rocks:
This TV mount received near-perfect reviews thanks to the clear, pictorial three-step installation guide and U.S.-based customer support ready to answer all of your pre-purchase and installation questions. It comes with all the mounting hardware you'll need, as well as VESA 400 mounting for either 16- or 24-inch wall studs. Adjustment of up to three degrees allows you to level the TV post-installation. You can tilt your TV up 5 degrees and down 15 degrees to reduce glare, and you may use the left or right swivel capability to move the TV closer as needed. It sits three inches flat from the wall, and the dual arms can pull out up to 15.2 inches. The kit comes with a six-foot HDMI cable, a handy mounting template and a level.
4.7 out of 5 stars
Number of customer reviews
:
252
Perfect for:
 The unique design of this model allows for better viewing of a flat-screen TV that is mounted high over your fireplace. You can pull your TV down closer to the ideal eye-level viewing area, swivel it as needed and push it back up over your mantel when done. Check out
this video on how it works
.
Why it rocks:
Besides the fact that bringing your TV down effortlessly is a cool hat trick, it comes with 
adjusting stops, cable management and unique, patented auto-straightening and gas piston auto-stabilization to keep your TV perfectly level. The f
ull range of motion includes up to 29 inches of vertical travel, plus 16-inches distance away from the wall and 30 degrees of swivel ability to the left or right.
Average review:
4 out of 5 stars
Number of customer reviews
:
25
Perfect for:
When you want to hide your TV behind a cabinet, piece of furniture or even wall art, this model accommodates. The lift can be mounted right side up or upside down to raise or lower the TV magically from behind your item of choice.
Why it rocks:
Besides the cool lift/lower mechanism, it works with nine different VESA sizes. The unit can travel vertically 29.5 inches and move a TV of up to 145 pounds. A wireless remote controls the movement of the unit.
4.5 out of 5 stars
Number of customer reviews:
598
Perfect for:
 Sometimes it's impossible to mount a flat-screen on the wall. Perhaps the walls aren't level or the plaster is old. Maybe you don't want to damage the walls. Or maybe you want your TV in the middle of an open loft and visible from any direction. This TV mount hangs from the ceiling and can do it all.
Why it rocks: It fits nearly any TV and most VESA patterns. It supports up to a 66-pound LCD, LED or Plasma flat panel TV, and you can attach the adjustable ceiling plate to a sloped or a flat ceiling. The TV height may be adjusted between 19.4 inches and 34.7 inches from the ceiling and it features a 15-degree tilt and 360-degree swivel.
Hanging your flat-screen is a great way to reclaim valuable floor and counter space, and if done creatively and cleverly, it can add a unique design feature to your home. And thanks to the variety of excellent TV wall mount models on the market, getting the TV room of your dreams is more attainable than ever before. If you're inspired by any of the best TV wall mount models featured abe, we'd love to hear about it.