How to Achieve (and Love) Open Shelving in Your Kitchen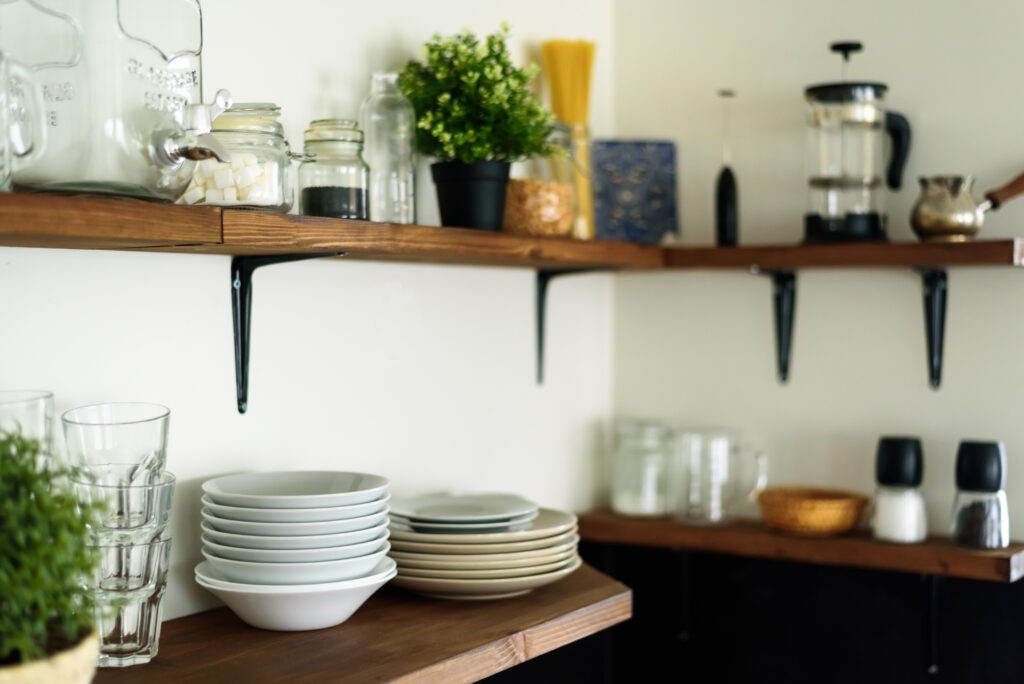 Like Skippy or Jif, Team Edward or Team Jacob, everyone seems to have a firm opinion about open shelving.
Some love the modern trend; using open shelving not only in the kitchen, but throughout their homes displaying nicknacks, keeping track of necessities, and storing collections in a creative way.
Others abhor the open option; I've heard their concern about grease, bugs, and worse of all, clutter. Are these cons worthy of consideration? Yes. Are they deal breakers for the open shelving design trend? Absolutely not.
When done right, open shelving does double duty as both storage and decor in the kitchen. It makes locating and grabbing often used dishes and utensils a breeze. It creates a brand new look with things you already own.
Here are some of my favorite ways to achieve open shelving in your kitchen:
Make the most of your most-used
Plates, bowls, glasses, and mugs. The things you use every day should be the things that play starring roles on your shelving. Not only does this make things easier to get at daily, it also combats the biggest complaint of open shelving: dust and other icky things finding their way into your tableware. Constant use will keep them clean, as most things should end up going through the dishwasher in a weeks time. Keeping your open shelves further from the stove also will keep the grease down.
Stay accountable
We could all use something to keep us a bit more accountable, right? Give editing your clothes a break and take a turn filtering through your kitchen collection. Putting your items on a display means you'll have to curate what you have to keep from looking cluttered. That's a designer's way of saying you need to get rid of things that aren't useful or necessary.
Embrace the ease
Open shelving gets a bad rap because we tend to associate things that are artistic and arranged with being fragile and permanent. Lay out your open shelving in a way that makes sense to you. Get a stepstool if you need to for reaching higher shelves. Make things convenient, and change them up if they aren't. After all, this is how restaurant kitchens do it (and they're in the business of making cooking easy).
Make room for the ugly
While you're "being accountable", don't worry too much about pitching every kitchen staple. It won't all look good on display, and that's OK. In my ideal kitchen, a mixture of cabinets and open shelving wins out — a bit of relief from having everything out in the open. My Tupperware doesn't need to see the light of day.
And the heavy
Inconvenient, unattractive, and dangerous. Three reasons as to why you shouldn't be putting your blender, your Kitchenaid, or other heavy items up on an open shelf. Save the bulk for the bottom, where it's easier to retrieve when you need it and hide when you don't.
Showcase your serveware
Open shelving is a way to decorate with your dishes. Chances are you still love the dining set that you got from your wedding or scored from a sale at Crate and Barrel. Personally, I dream of a kitchen with a few pops of color a la Anthropologie bowls. Vary the heights of your objects, and don't be afraid to color coordinate your collections.
Buy in bulk
Save all kinds of green — both your wallet and the environment benefit when you buy dry goods in bulk. Find a few perfectly mismatched glass jars, or take a trip to The Container Store and give a new home to your pastas, nuts, beans and other pantry essentials. Your investment in a few reusable, stylish storage containers will more than pay off in the long run.
Get artsy
Open shelving shouldn't cause stress, it should inspire creativity! Perhaps the best part about it is the way you can personalize it with small decorations. Cookbooks, vases, and my favorite of all, plants, are all simple ways to jazz up your kitchen. Change up the details with the seasons, or with your mood. Above is my ideal setup — I adore all-white kitchens.
I'd love to hear from you about your experiences with open shelving, or what you plan to do with your kitchen storage in the future. Reach out to Freshome on social media or in the comments below!
Want more? See more tips and inspiration for open shelving from Freshome here: Cleverpen Shelving Ideas to Divide and Conquer Your Space