Keeping Your Kitchen Neat with Open Shelving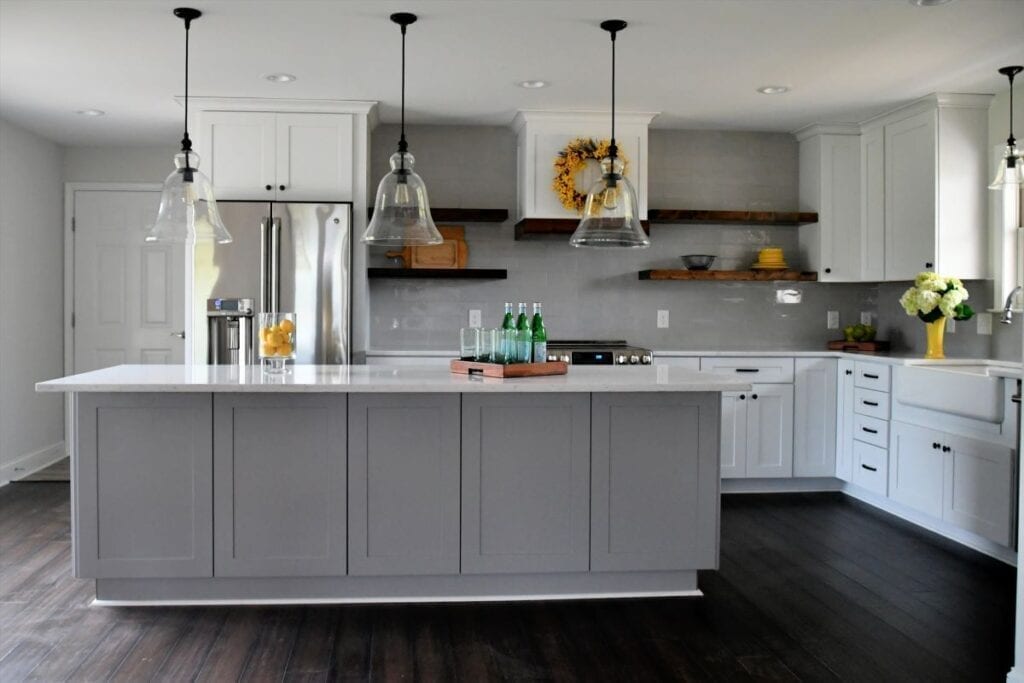 Open kitchen shelving is so "in" right now, and we understand why. It's a great way to create a more organized, efficient cooking space, and let's be honest: is there any sight more satisfying than row after row of exquisitely styled shelves, accented with pops of color here and there, and a perfectly-placed knick-knack or two for a fun touch of personality? It truly is a beauty to behold.
Maybe you're considering open shelving for your kitchen, or maybe you're still on the fence about whether or not open shelving is right for you (or your dining space). We've put together a list of pros and cons to help you decide, as well as some tips to help you make it work.
The Case for Open Shelving
The appearance of more space: Losing the cabinets lets your kitchen "breath." Open shelving creates an airy, relaxed feel that makes the space seem roomier and larger-especially if your kitchen is on the smaller side.
Actual more space: Do you have upper cabinets with high top shelves you can't quite reach? How about awkwardly designed corner cabinets? Open shelving replaces wasted, inaccessible space with surface area you can actually use.
A more functional kitchen: Open shelves give you easier access to things you use every day, and allow you more freedom to group items together to arrange a system that works best for you. "Open shelving adds ease of reach," says Trevor Morton, of Fantastic Handyman Australia. "Everything is at hand's length, and in plain sight."
Edit, edit, edit: Open shelving can be just the excuse you need to cut out clutter and edit down what you own. If you just can't bear to part with certain pieces, here's a good rule: if you use it every day, it can go on open shelves. If you use it every week or more, put it behind a cabinet.
Show off your style sense: You've got it-flaunt it. Open shelving puts your impeccable taste in décor on display. "A well-placed set of shelves really adds to the aesthetics of the kitchen," say Nathan Outlaw, CEO of Onvico Engineering and Construction. "The shelving can become a focal point that draws the eyes to something you want to show off."
The Case Against Open Shelving
Your dust is as visible as your dishes: You want to show off your beautiful dinnerware, not the grime that accumulates on it. You may find yourself having to wash dishes much more often, especially on the lower shelves where dust tends to settle.
Your dishes aren't display-worthy: Open kitchen shelving looks amazing in magazines, but your daily dishes might not be center-spread worthy. You don't want to be stuck with nowhere to store less-than-attractive dishes that would best be left behind closed doors.
You just don't like the look: Stacks of bowls. Rows of jars. To some, it's a thing of beauty. To others, it's disheveled clutter. If you think the only thing open shelves show off is a mess, the organizational benefits and added space they create might not be worth it.
Create Open Shelf Excellence
You've decided to say, "so long" to your cabinets. Here's some tips, guidelines and styling suggestions to help you create your most organized, efficient, best-looking kitchen.
Stack smartly: To maximize kitchen functionality, arrange your most-used dishes on the bottom shelves, with the top shelves reserved for lesser-used items. Stack plates, teacups and saucers to make the most use of your space. However, open shelving isn't all about stacking. Display a showpiece dish or two vertically, for visual variety.
Go high… Add visual height to your kitchen by stacking your items high. Adjust shelf height according to the size of the stacks or the items you're showing off.
…and look low: You don't have to limit open shelving to the walls. Take advantage of islands, counters or bookshelves for extra storage space.
Give yourself space: If you have an under-utilized area of your kitchen, consider installing a couple of shelves there to create storage opportunities you never had before. "Shelving can be useful for adding in a corner or part of the kitchen where nothing else fits," Outlaw says.
Color pops: White pieces are timelessly elegant and always in style, and they look great on your shelves. Accentuate stacks and rows of white pieces with a bold burst of color, whether it's one brilliant piece or a stack of brightly-colored items.
Like attracts like: Create visually-pleasing symmetry by repeating similar items, or groups of items, and by grouping like items together. Also, mix in big statement pieces or things you don't use a lot, so your shelves look styled even when your most-used items are in the dishwasher.
If you love the aesthetic, and you're looking for a way to streamline your kitchen, open shelves are an easy, inexpensive way to add some much-needed organization to any space.