Modsy Review: This 3D Rendering Service Is the Next Step in Interior Home Design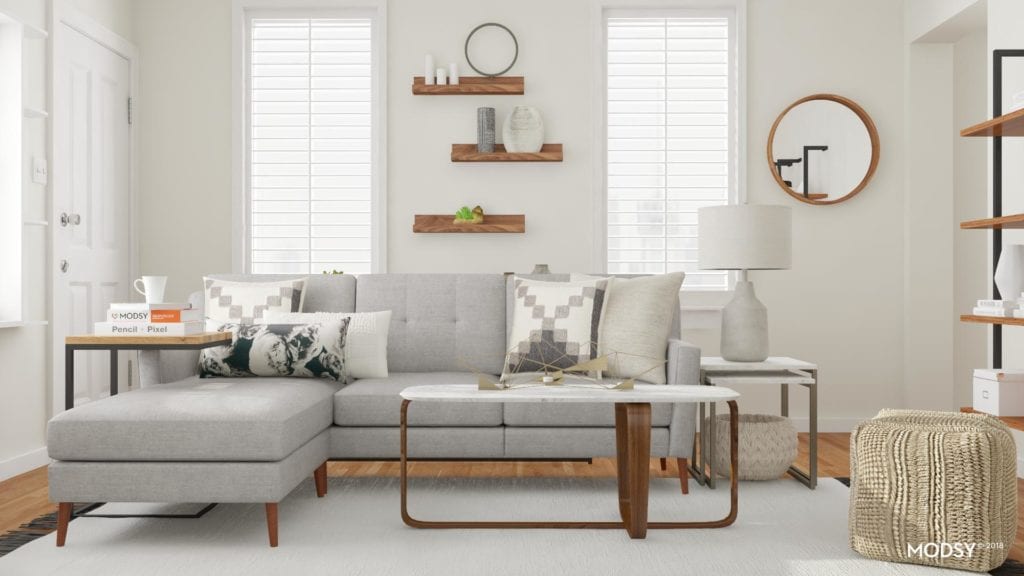 This article is sponsored by Modsy. While our team received this service free of cost, the opinions and statements below are those of our writer's experience. Freshome may collect a share of sales from the links on this page.
Let's face it: Designing a room can be difficult, especially if you're working from scratch. After all, there are so many different details and moving parts to consider. With that in mind, we decided to take a look at a service that promises to make things easier: Modsy. Modsy is an interior home design service that offers 3D renderings, merging professional and DIY design.
Read on below to find out how our experience went.
What is Modsy?
Modsy acts as a middle ground between designing a room on your own and hiring an interior designer. This service takes into account your design preferences and budget in order to deliver you a 3D rendering of a newly decorated space that matches your personal sense of style. From there, you can make edits to the design and purchase individual pieces of furniture to bring it to life in your own home.
The Modsy design process
Step 1: The style quiz
The first step in receiving a Modsy rendering is taking its style quiz. This helps the team get an idea of your personal design style.
The quiz is super easy. You look through some photos of rooms and pick the ones you like. From there, Modsy uses your top three picks to help you create a mood board. You have the opportunity to like or dislike specific items, as seen in the photo above.
Step 2: Photos and measurements
Next, it's time to help the folks at Modsy get an idea of your current space. To do this, I took a few simple measurements of the width and length of the room, made an (optional) drawn floor plan and uploaded eight photos of my current living room from various angles.
As you can see, the photos don't need to be high-quality. They just need to be good enough to give Modsy's designers a full sense of the space.
Eight photos seemed like a lot to me at first, especially for a room as small as mine. However, since Modsy's designs include a 3D rendering of the space, all of that info is necessary to get a sense of how the room fits together. Trust me when I say that the effort is worth it for the end product.
Luckily, there are step-by step guides to help you through every part of this process. Below is the guide on where to stand to ensure that you capture every corner.
Somehow, even with the numbered spots, I missed one angle of the room when I took my photos. However, the Modsy support team was very nice and reached out to me right away to help fix the problem.
Step 3: Your design vision
Finally, Modsy has you answer some questions about your vision for your room. You can specify things like your budget, how you plan to use the space, if you'd like to see any specific brands incorporated or if you'd like them to work around your existing furniture.
Depending on which Modsy package you choose, you also have the option to talk one-on-one with a designer about your vision in more depth.
I live with a roommate, and we primarily use the living room to unwind at the end of the workday or to host friends. For my design vision, I told them I was hoping for a relaxing space that is still fit for entertaining. Even though my requests were simple, there were also opportunities to get a lot more specific about kid-friendly spaces, extra storage and more.
Since our living room is still a hodge-podge of post-college furniture, I also opted to have the Modsy team redesign the space from the ground up. That said, if you've invested in more upscale furniture already, it's nice to know that they're willing to work around what you already own.
Step 4: Receiving your designs
Now, the fun part. After several days, you'll receive an email with your completed designs. Each Modsy package comes with two initial designs options.
Here's what the team came up with for my Scandinavian-inspired living room:
Design 1:
As you can see, Modsy provides renderings from a variety of angles, including overhead, to give you a full sense of how the space fits together. There's also an option to look at the room in 3D, which was cool to play around with.
That said, this initial design wasn't my favorite. The furniture and layout felt a bit too traditional, and I wasn't a fan of the accents, especially the throw pillows. It felt more like something I would put in a formal living room, rather than my main living space.
I knew that this was only a first try, but I was still glad to have a second design option.
Design 2:
I love the second design they put together for me. It's spot-on to my personal style.
I'm a big fan of the combination of light wood and natural textures, plus all of the different textures in the wood grains, rug, and woven throw pillows. I'm also a sucker for the addition of a few vibrant plants and accent chairs. With just a few changes, I'd definitely make it part of my home's overall design.
Step 5: Editing and purchasing
Which brings me to the last step in the process: editing. Modsy is big on giving you opportunities to edit your design until it's exactly what you want.
Once you've received your designs, you'll have access to a dashboard where you can either make changes yourself or request them from Modsy's designers. Modsy also offers unlimited redesigns with each package. You can choose your favorite design to work off of or tweak them both until there is a clear winner.
However, the most interesting part of the service, in my opinion, is that the rendering is only part of the deal.
Once you've perfected your design, you can actually buy the furniture that's been picked out for you, all in one place. Plus, if you're not a fan of those pieces, you also have the ability to shop other, similar products until you find exactly what you're looking for. You have the option to shop for similar items in different colors, materials and price points.
After you've made all of your selections, Modsy's team of personal shoppers will take care of the purchasing and ship your new pieces to you. All you have to do is set everything up when it arrives to your home.
The bottom line:
Will I use Modsy in the future?
Honestly, yes. Even though the service chose pieces that were a bit too pricey for my current budget (I chose the cheapest option, which was $2,500 or under for the room), I'll be back. That couch in the second design is my dream couch. The woven basket and ottoman are also big contenders. They may be coming with me next payday.
All in all, I really enjoyed the easy navigation, the opportunities for customization and the one-stop-shop aspect of being able to get all of my furniture in one go. For me, it takes a lot of the legwork — and guesswork — out of designing.
If you have the money to spend, I highly recommend checking this one out.