How to Design your Room Decor around your Bold Area Rug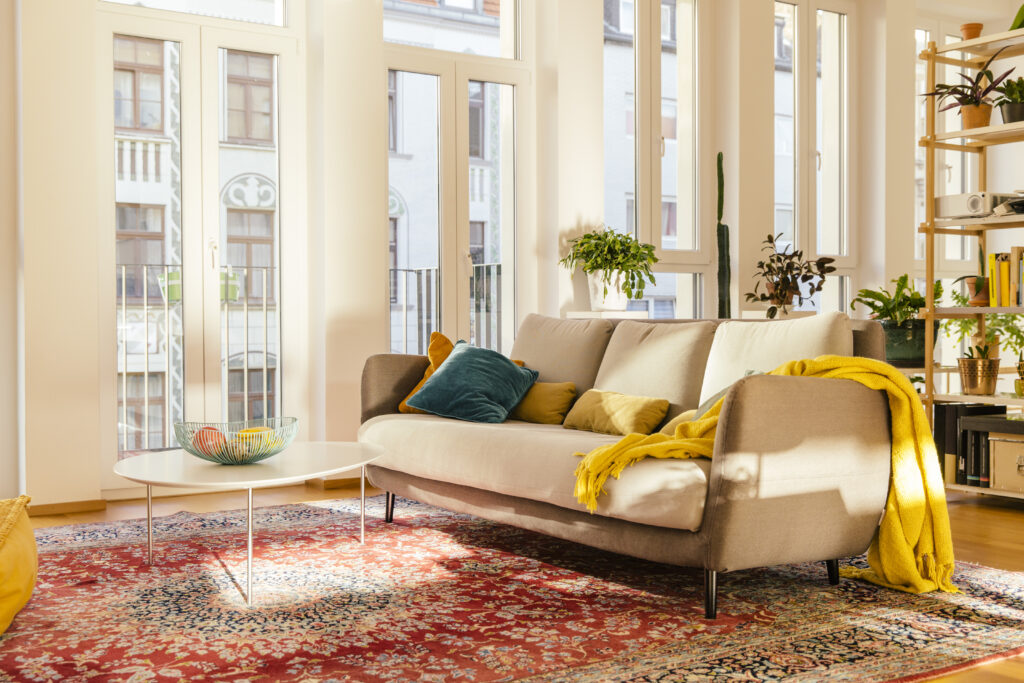 Have you ever come across a beautiful and bold area rug that you had to have and once you got it home you thought, "How am I going to design my room around this?" Bold area rugs can be a bit menacing if you aren't sure how to pull the complementary colors from it, or how to bring your overall design style to coordinate with the rug. Instead of passing up that gorgeous rug, look at these tips to help you design your room decor around your bold area rug.
How to choose a bold area rug: If you're trying to figure out how to choose a bold rug for your home, determine what colors already dominate in your room. If you already have dark hardwood floors or a deep burgundy wall color, then you already have colors to contend with when choosing your perfect bold area rug. Try and choose a rug that has at least one to two colors in your current room, or colors that will easily coordinate with others. Ideally, if you can choose your furniture and area rug together, it will take the hassle out of finding the perfect match later on.
Bold patterns with neutral color: When most of think of bold we think of bright colors, bold patterns, and over the top graphics. Bold can actually use neutral colors but have very large and powerful images to make it become the focal point of the room. Rooms that already have a bold wall or furniture colors such as red, burgundy, or even turquoise or royal blue tend to have heavy saturation in them. The way to unite the floor with the bold walls is by using bold patterned neutral area rugs. The look is pulled together and not overpowering to the eyes.
Design your room around the rug: If you are fortunate to have a blank slate in your room, why not start with the rug, and build the decor around it? This is a great way to start with a bold color, such as orange, yellow, or red and then bring in pops of color in home decor accessories around the room. Consider using neutrals on the walls in whites, beiges, grays, or coffee tans to make the dominant color sing throughout your space. The wonderful point about starting with the floor is it gives you a chance to build a space piece by piece, rather than getting overwhelmed with the rug, furniture, walls, and window treatments all at once!
Pick where you go bold: While your style to bringing in a bold rug probably goes along with your powerful personality and lifestyle, choose carefully what areas of the room to continue your bold aesthetics. If you choose to do a bold area rug, then keep your furniture neutral with patterned accent pillows. If you choose to have patterned wallpaper, use it as an accent wall adjacent to a wall of windows letting in plenty of light and new focal points. Going bold in your interiors is also about balance and still making your guests feel comfortable in your home.
Designing your room around your bold area rug just got a little easier by following these simple tips. Remember the challenge is not what can go with it, but what lifestyle and feeling you want to convey when inhabiting the space. Your space should feel welcoming and perfect with the addition of a great rug. If you are shopping next week and see an area rug you have to have, don't shy away, it will probably make your space amazing and unique!
Freshome readers do you have any tips on choosing a bold area rug? Have one in your home; we'd love to hear how you chose it!