Defining a Style Series: Modern Coastal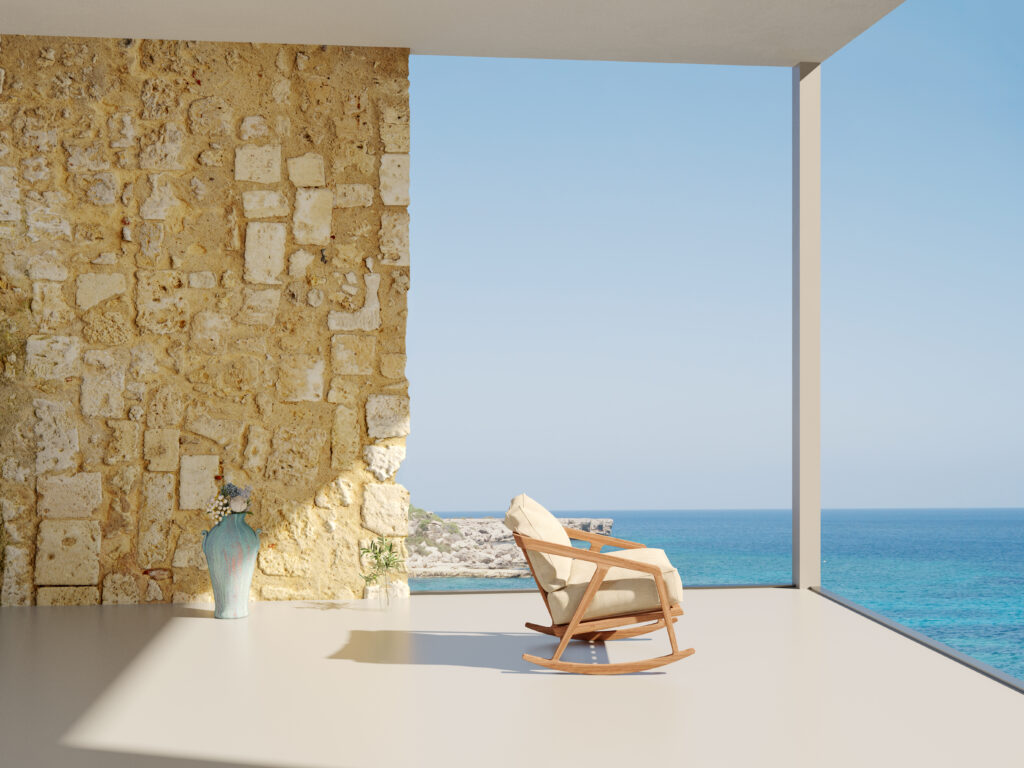 Over the years, coastal design has gotten a little bit of a bad rep. This light and breezy style has become synonymous with overstuffed rooms and kitschy, dated accessories. However, that assumption could not be further from the truth.In reality, this aesthetic is the epitome of simplistic elegance. Every detail of these rooms is geared toward creating a haven from the hectic pace of day-to-day life — and who doesn't want that? When done right, even the most coastal spaces feel current.If you're on the fence when it comes to this type of interior, hear us out. We're going to show you how to pull off modern coastal design like you've never seen it before. Trust us when we say this isn't your grandma's beach house anymore.
Choose a soothing color palette
One of the best aspects of coastal design is its ability to make you feel relaxed. Whether you're only a few feet from the waves or a thousand miles away, stepping into one of these rooms should make you feel as though you're on vacation. The easiest way to achieve that outcome is by using color psychology to your advantage.Start with a base of neutrals. However, rather than using monochromatics to create a stark contrast, focus on including more muted tones. Try sandy tans, off-whites and soft grays to create an environment that feels equally soothing and inviting.Normally, we would tell you to offset your neutral foundation with a bold pop of color, but in this case, even your accent shades should be more subdued. Focus on pastel hues that have beachy connotations like aquamarine and coral.
Stick to a simple layout
The layout is where modern coastal design really differs from its predecessor. In this case, rather than sticking to the overly filled floor plans that were popular in the past, embrace a minimalist approach that conveys a sense of modern sleekness.To do this, allow the room's function to be the star. When designing each room, make the furniture — whether it's a large dining table or cozy seating area — the focal point. Be sure to leave lots of negative space around it so people can move comfortably around the room.Keep in mind that, with layouts like these, the furniture you use is especially important. Since there will be fewer accessories to drive home the space's style identity, choose pieces that are truly in tune with your coastal aesthetic.
Play with plenty of textures
Where coastal is concerned, visual weight — or how the design elements look like they feel — is crucial. Going to the beach is a tactile experience (think about digging your toes in the sand or the feel of rocks in your hand) so you want to do your best to re-create those sensations with your design choices.Start by layering lots of different textures together. Take the picture above as an example. See how the area rug looks like it's woven, the wooden pieces seem to have a bit of a rough finish and the clayware appears smooth? You want to choose pieces like these, with textures that are visually obvious.In addition, include plenty of soft elements. The goal of coastal design is to make people feel comfortable, so be sure to include plenty of plush cushions, throw pillows and blankets to make the space welcoming.
Use both modern and traditional accents
The accessories are where you put final coastal touches into your aesthetic. In modern coastal design, you want to stick to fewer accent pieces than you would use in a more traditionally coastal home. That said, don't be afraid to blend more trendy pieces with one or two statement items that infuse the room with a hint of beachy nostalgia.For an example of what we mean by "modern" vs. "traditional," consider this photo. Traditional is the sign proclaiming "beach" or items such as sand dollars or driftwood crafts. In contrast, modern pieces include the chevron pattern, decorative lanterns and shiplap dècor.
Over the past couple of years, coastal styles seem to have fallen out of favor. However, we're here to tell you not to write off the seaside look just yet. Gone are the overstuffed and over-accessorized rooms that may fill your memory banks. These days, modern coastal design is bringing understated comfort into the 21st century. Use these tips to give your interiors a beachy style that feels unquestionably current.What do you think of modern coastal design? Will you try out thisook in your interiors? Share your thoughts with us in the comments below.