5 Easy Ways to Bring The Feeling of Fall Indoors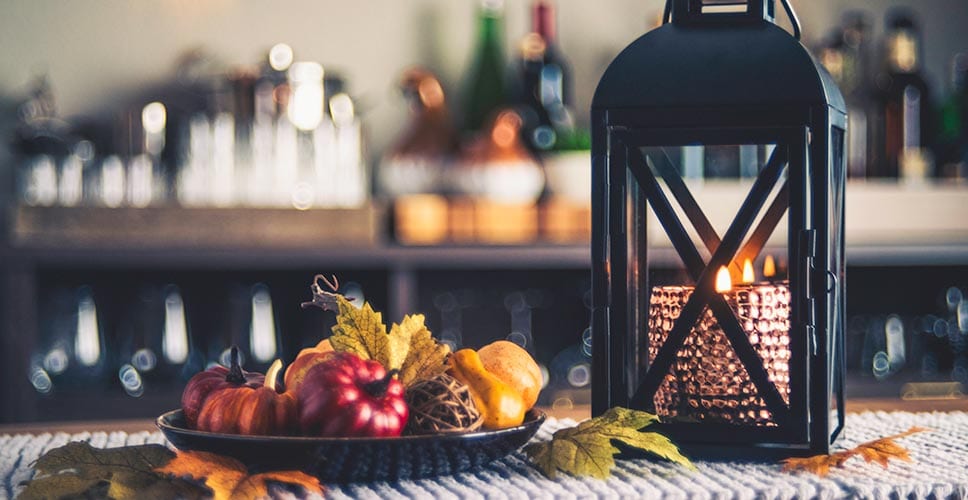 Are you an avid fall fan? Spruce up the inside of your home with some seasonal spirit. There are so many ways to bring fall elements into your home without clearing out all the aisles at your local craft store. Here are five ways you can bring the feeling of fall right into your home.
1. Expand your fall color palette
Fall doesn't need to charge its way into your home through powerful, bold colors. The fall palette is capable of so much more than orange, yellow, red, and brown. Any colors that embody abundance and warmth can invite cozy fall feels into your home.
Think of natural elements like salmon, cinnamon, olives, roses, almonds, wheat, and honey. Consider implementing soft-dusted blues, oranges, and yellows in your fall decor. If you're a neutral color lover or want the seasonal decor to flow seamlessly with any aesthetic — and into the next season — consider a white and gold color scheme.
2. Up your pumpkin and gourd game
Punch up your pumpkin game beyond just placing a few here and there. If you're after a vintage vibe, try whitewashing or distressing them. Dress them up by adding jewels, confetti, or ribbons. You can also turn them into a house number display or affix letters on them to spell out seasonal words.
If succulents are your style, create a pumpkin succulent planter. Not pumpkin obsessed? Use apples and corn husks, a basket of apples, boots stuffed with corn husks, or dried oranges to create little displays.
3. Bring pieces of the great outdoors inside your home
Ready to get literal with bringing the outdoors into your home? Incorporate dried branches, pine cones, acorns, and birch wood into seasonal centerpieces and scenes. Antlers can make a rustic statement that's seasonal and evergreen, as can faux bird feathers. Mason jars and woven baskets are organizational and on-theme with fall as well.
Do you prefer more of a glamorous aesthetic? Add gold to your decorative elements. If you can get your hands on a wood pallet and you're not afraid to wield a paintbrush, try creating your own custom design with a fall flair.
4. Embrace fall's floral and fauna
Nature is at the heart of fall, so it should play a starring role in your fall aesthetic. Tuck a few popular fall florals, such as chrysanthemums or sunflowers, into a DIY gourd vase or a fall-themed basket. If you want to showcase florals as the main event, string some onto an open picture frame for a breath of fresh air.
Not a flower fan? Place a bundle of cotton or wheat in a vase. If you want something to keep year-round, go for the wheat. Adding touches of decorative woodland creatures here and there will also up your outdoor-ante by making your space feel aglow with life. Add plaids, flannel, and faux furs to tie the look together.
5. Spice things up with a fall aroma
Let's be honest, candles are amazing no matter what time of the year it is. You've got the visual down, so now it's time to complete your seasonal atmosphere by lighting some fall-scented candles. Feel free to experiment a little and combine scents as you please. You may find a mainstay aroma that you love in the process. Here are a few fall candle scents to start you out on.
Spiced apples
Apple cider
Pumpkin spice
Cinnamon
Maple
Caramel
The bottom line
There are no limits when it comes to bringing the feeling of fall into your home How long you decide to keep your fall decorations out is up to you. And don't forget, it's never too late to celebrate the fall season.