How to Bring The Feeling of Fall Indoors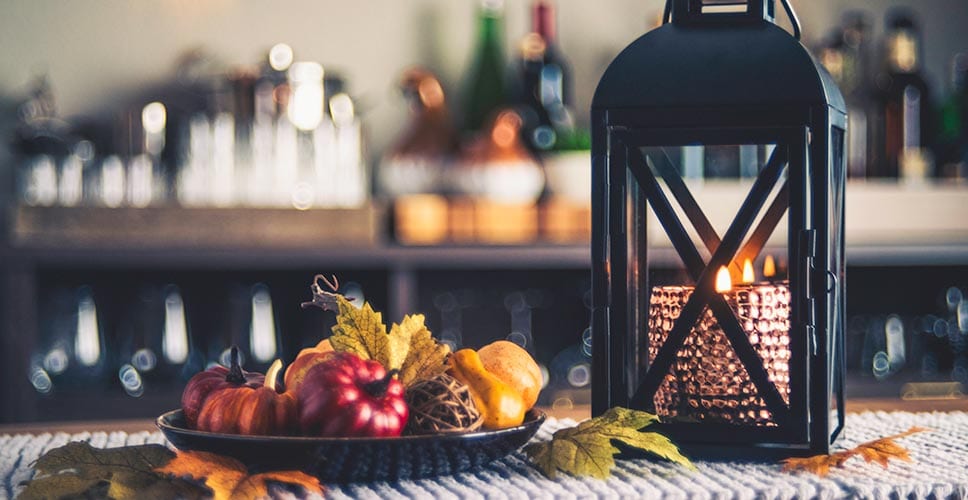 If you're an avid autumn lover, why not bring some of that seasonal spirit inside? How can you bring some of the fall's quintessential elements in —without mindlessly clearing out the craft store aisle's generic decorations? Here are some hints for indoor fall feels.
1. Give color to the season by expanding your decorative palette
Not one to have fall scream its arrival through primary colors in your home? The autumn palette is capable of so much more than orange, yellow, red, and brown. Any colors that embody abundance and warmth can invite coziness into your home. Think of natural elements like salmon, cinnamon, olives, roses, almonds, wheat, and honey. Take note of the soft dusted blues, oranges, and yellows from this decor. If you're a neutral color lover or want the seasonal decor to flow seamlessly with any aesthetic — and into the next season — consider white and gold.
These 25 autumn palettes will get your creative color combinations flowing.
2. Embrace fall's quintessential florals, fauna, and fabrics
Nature is at the heart of fall, so it should play a starring role in your autumn aesthetic. Tuck a few popular fall florals, such as chrysanthemums or sunflowers, into a DIY gourd vase. If you want to showcase florals as the main event, string some onto an open picture frame for a breath of fresh air.
Are flowers too feminine for your taste? Place a bundle of cotton or wheat in a vase. Bonus: wheat won't go bad from year to year.
Adding touches of woodland creatures here and there (like this autumn fox printed on a vintage book page) will also up the outdoors-in ante by making your space feel aglow with life. Plaids, flannels and faux furs will tie the look together.
3. Get literal with bringing the 0utdoors inside your home
Ready to get literal with bringing the outdoors in? Incorporate dried branches, pine cones, acorns, and birch wood into seasonal centerpieces and vignettes. Antlers can make a rustic statement that's seasonal and evergreen, as can faux bird feathers. Mason jars and woven baskets are organizational and on-theme.
More into glamorous aesthetics? Add gold to any element. Consider giving rarely used items, such as wheelbarrows or ladders, a chance to seasonally shine as the foundation for a decorative display. If you can get your hands on a wood pallet and you're not afraid to wield a paintbrush, try one of these 27 designs with a fall flair.
4. Punch up your pumpkin and gourd game
Punch up your pumpkin game beyond placing a few here and there. Whitewash or distress them if it's a vintage vibe you're after. Dress them up by adding jewels, confetti, and ribbons. Turn them into a house number display or affix marquee light letters on them to spell out seasonal words.
If succulents are your style, create a pumpkin succulent planter. Not pumpkin obsessed? Use apples and corn husks (corn husk wreath, anyone?). A basket of apples, boots stuffed with corn husks, and a dried orange garland collectively create an instant vignette.
There are no limits when it comes to bringing the fall feels into your own home — including how long you keep the decorations up to enjoy the coziness of the season. It's between us if the displays stay up all year long!