The Best Items In Scary Halloween Decor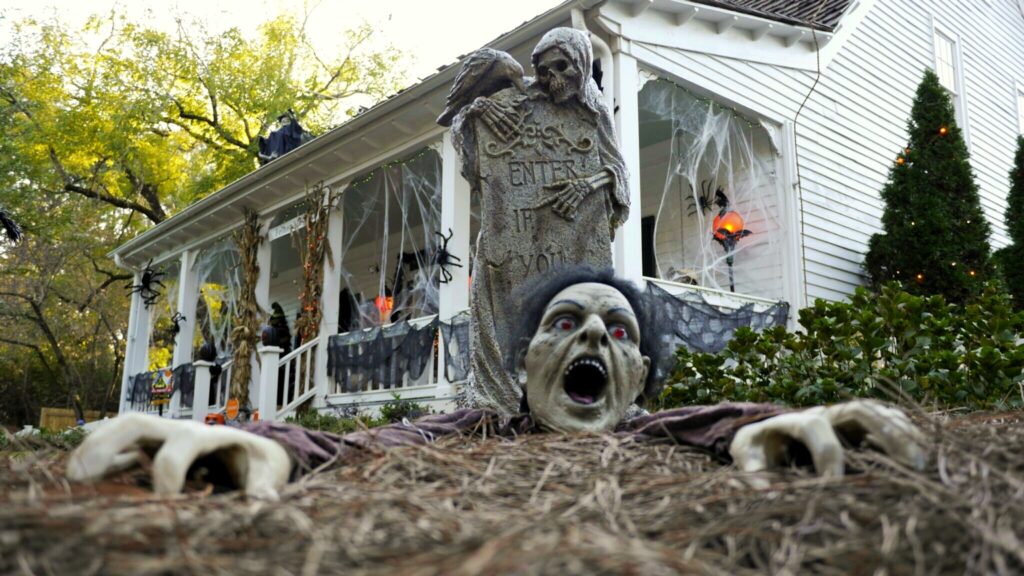 The products featured here are independently selected based on thorough research from our editorial team. If you buy something through links on our site, we may receive a commission.
One of the best parts about Halloween is getting to build a horror movie set right in your home. It's especially fun when you're using scary Halloween decor to set the stage for your haunted house party. With so many different Halloween decorations out there, sometimes it's hard to find the actually scary Halloween decor. We've picked out a few items that we think are some of the best items in scary Halloween decor.
Jump to:
Animated Candy Bowls
Looking for a new way to scare your neighborhood trick-or-treaters this year? A great way to catch them off guard is with an animated candy bowl. These bowls are usually motion activated and will move, light up, or scream (even better if it's all three) when someone reaches their hand near or into the candy bowl. Bonus points if you find one that walks too.
Crawling hands
It turns out that creepy-crawlies aren't just limited to bugs and insects. A crawling animatronic hand manages to be scary and fun at the same time. You could let your animatronic hand crawl around inside your home and become the life of your Halloween party, or let it roam free out on the front porch to scare trick-or-treaters and neighbors. Anywhere you put one of these hands guarantees a fun and spooky time.
Window watchers
We all know the feeling of our 'sixth sense' where we feel a human presence or the feeling of someone watching us. One of the best ways to make your guests' sixth sense go wild is by simply sticking a peeper decoration (that's the name, don't blame us) on your window or front door. Some peepers will also tap the surface their on when they detect movement. Now that's scary.
Motion-activated Halloween decor
Scaring your guests means catching them off-guard. Walking past a stationary object that suddenly moves or screams can be truly terrifying, which is exactly what makes motion-activated Halloween decor so scary. Whether it's ground-breaking zombies, screaming dolls, or simply just spooky eyes that follow your movements, you're sure to find something that will strike fear into your guests and trick-or-treaters.
Spiders
Not many people like spiders. In fact, they are one of the most common fears out there. Thankfully, there's never a shortage of scary spider Halloween decorations. Big or small, realistic or not, spiders are a classic in scary Halloween decor.
Halloween inspiration for your home
With so many options and opportunities for Halloween decor, it can be hard to decide on the right Halloween aesthetic for your home. And sometimes all we need is a little inspiration to get our creative juices going.
Check out a few scary Halloween decor ideas for your home. 
1. Band of the year
2. Monster house
3. Skeleton security
4. Now it's a party
5. Spider takeover
6. Light up the night
The bottom line
Halloween is the one time of the year when it's perfectly acceptable to have a spooky set up in your yard, so take advantage of that and go all out! Just remember that scary Halloween decor is subjective and you should pick whatever decor feels right for your home.