Carpet Flooring is Back — and It's Better than Ever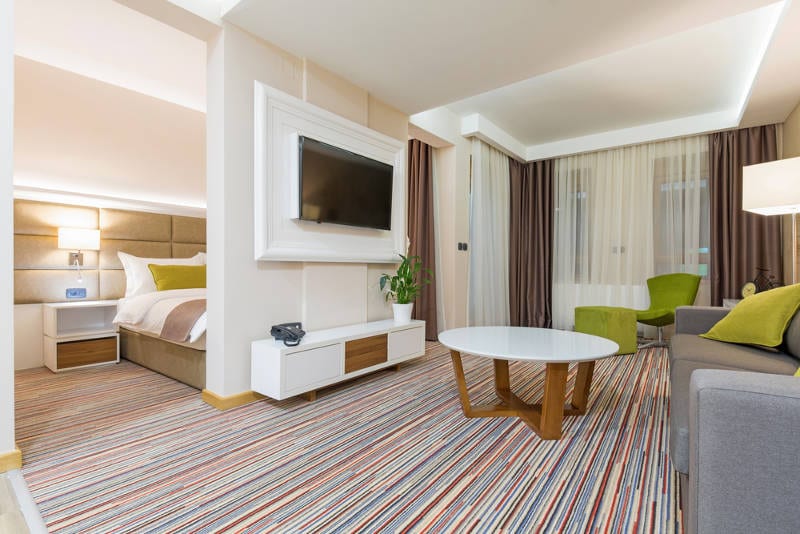 We've been obsessed with wood floors for the last decade, sending wall-to-wall carpet flooring straight to the dumpster. There's been good reason for the decision, too. Carpets can trap dust and dander that aggravate allergies. Carpet stains easily and can look (and smell) dingy after a while. And many carpets off-gas harmful chemicals into your space.
But the latest carpet flooring options are made from eco-friendly materials like natural fibers or recycled materials that are low-maintenance and easy to clean. Plus, carpet tiles by companies like FLOR are modern and easy to install. If one section of your carpet tile floor is damaged, just replace the damaged tile(s) with a fresh, new piece.
Vacuum cleaners are also more efficient nowadays, making it easier to vacuum up any allergy culprits. And thanks to HEPA filters, the latest vacuums can effectively trap those harmful allergens in the vacuum bag.
Wood or tile flooring may be low maintenance, but there's nothing like the warm and cozy feel of a plushly carpeted floor. Here are 10 of the best new carpet flooring ideas:
Patterned carpet flooring ideas
Contemporary, low-pile, striped carpet flooring expands a space visually. A varied stripe also hides stains and imperfections well.
Patterned carpet flooring designs are a good way to add depth and texture to a room. Look for a pattern featuring multiple colors to pull a room's accessories together.
If your walls and furnishings are neutral, a geometric and colorful carpet design adds a fresh, contemporary look to your space. Image:
When working with a bold carpet pattern, consider creating a visual border around the room by ending the carpet tile 12 to 18 inches away from the walls.
A large-scale pattern like this matchstick design makes a room look larger than it actually is.
Carpet tile
A geometrically patterned carpet tile adds dimension to an understated, neutral room.
Carpet tiles with a high-texture design are easy to install because you don't have to worry about matching edges.
Carpeted staircase
Add carpet to your stairwell for a modern design feature that's also easy underfoot.
Layered carpeting
To add color or contrast to a carpeted room, layer an area rug over the carpeting. A rug pad underneath the area rug keeps it firmly in place.
Designated carpet area
Create designated zones in an open floor plan by carpeting a spot and adding wood floors or tile for the high-traffic area.