5 Indoor DIY Projects to Instantly Boost Your Home's Value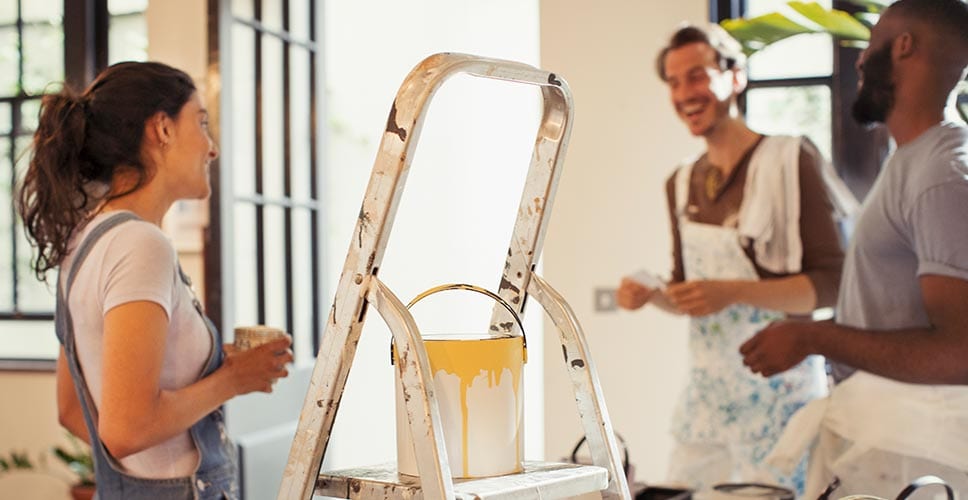 Looking to immediately boost the value of your home? No need to hire a contractor! You can increase your home's value this weekend with any of these do-it-yourself interior projects.
Paint
Very few home improvement projects offer a better return on investment than a new coat of paint. Paint covers so much space in the home, buyers can't help but notice it-and fresh paint makes the home look (and smell) extra clean.
Just choose your colors carefully. A recent Zillow study found that a light gray and blue color palette can increase the value of your home by up to $5,440! These cool-tone neutrals make the home feel larger and brighter than warm, dark colors. And they appeal to the greatest number of buyers, increasing your chances of selling your home quickly.
Update your kitchen
If you've spent any time watching HGTV, you already know kitchens sell homes. Don't have the time or money for a full kitchen renovation? No problem. There are several DIY projects that can make a huge impact in your kitchen:
Give the old cabinets new life with paint. Today's kitchens are all about light and bright. Cover those dark cabinets in (several layers of!) white paint for a crisp, modern look.
Update the fixtures: door pulls, plumbing fixtures, and lighting. Fixture trends change quickly, so it doesn't take long for your once-trendy fixtures to look dated. And you don't need to be a plumber or electrician to do this. You just need an afternoon and a how-to video on YouTube. Trust me, if I can do it, so can you!
Add a tile backsplash. With all the pre-fab mosaic backsplash tiles available to DIY-ers, anyone can rent a wet saw and install their own backsplash. It will completely change the look of your kitchen (and it's a lot of fun to do!).
Replace outdated appliances. If you have the budget for it, new appliances are a huge selling feature.
Give your bathroom a makeover
A "Real Estate 101" article on Trulia.com points out that master baths are nearly as important to buyers as kitchens. Use that to your advantage to quickly increase your home's value.
Those DIY kitchen makeover tips can also be applied to bathrooms: paint cabinets, update fixtures, add some tile work. Replacing the mirror will also instantly update the look and feel of the bathroom.
But my favorite DIY project to increase your home's value via the bathrooms? Simple staging. Brand new fluffy white towels, a candle, and a little life (like bamboo, artful branches, or an orchid) are all your need to go from bathroom to spa.
And of course, you want to give your bathrooms a deep clean to really sell the spa feeling.
Install crown molding
Nothing says I live in a fancy house like crown molding. USA Today reported earlier this year on crown molding being a selling feature that increases the value of your home. But just as importantly, it evokes an emotional response in buyers to make them act quickly and get you an offer ASAP.
You can rent a saw and a nail gun. Pick up some ready-to-go molding and some finishing nails and you're in business. One afternoon of work, and boom – immediate value-add.
Add storage space
There are a few DIY ways to add storage and increase your home's value. Simple floating shelves in small spaces, especially bathrooms, are inexpensive and take just minutes to install.
Or try this killer IKEA® hack for easy "built-in" bookshelves: Pick up a few BILLY Bookcases at IKEA for about $30-70 each and add crown molding to make them look floor-to-ceiling. This makes a great focal point in the living room or home office!
Why would you settle for a lower value on your home when a few DIY projects this weekend can increase the value immediately? Grab your tools and get to work, weekend warrior. You got this!
While there are many online guides and resources available to help you through the projects mentioned above, all DIY projects should be attempted at your own risk, based on your level of confidence in successfully completing them.