Transporting Food Around The Table By Train : TrackTile Tables [Video]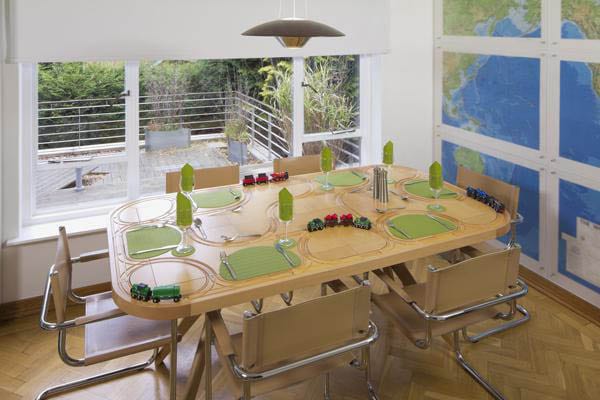 Entertaining dinner guests can be easy and fun for them and for you at the same time. The challenges encountered while trying to make guests as comfortable as possible transform into a fun evening with the TrackTile Table. This unique mixture of handmade furniture and playful train tracks can be just the thing you were looking for to keep your house guests amazed before dinner and prepare them to enjoy a unique ride – mints and chocolates can be transported via mini-trains around the table. Imagined by Three Foot Three Design, these fun tables combine railroad patterns to shape modern entertaining possibilities.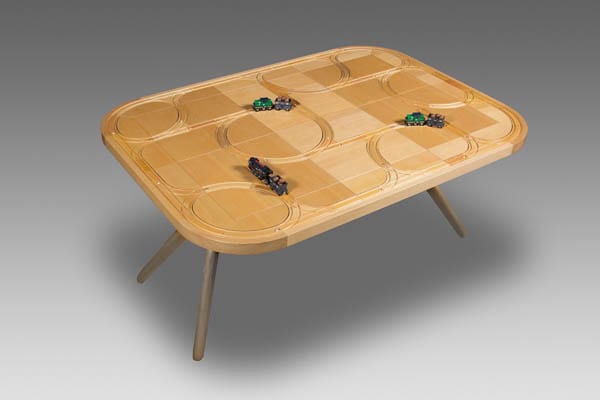 Made from furniture grade veneered ply that don't warp under heat or humidity, the TrackTile Tables spotted on Monkeyzen give a new depth to "playing with your food" scenario. Here is how the tables meet your entertaining needs: "All the tables start with a table base 'tray' that accept a selection of reversible square wooden TrackTiles™. Finger holes in each table base allow for easy access to lift out and rotate each TrackTile™ or you can turn all the tiles completely over to form a smooth, plain conventional dining table. All the tiles are inlaid on one side with removable BRIO® track pieces. These wooden tracks guide small motorized trains and their delicious cargo around to each of your dinner party guests." Are you ready to play?
---
Everything for your move, all in one place
Curate your personalized moving checklist, set up TV & Internet, and more with a free MYMOVE account.
Save on your move and tackle upcoming to-dos with your free MYMOVE account.