5 Tips to Remove the Musty Smell from Wood Furniture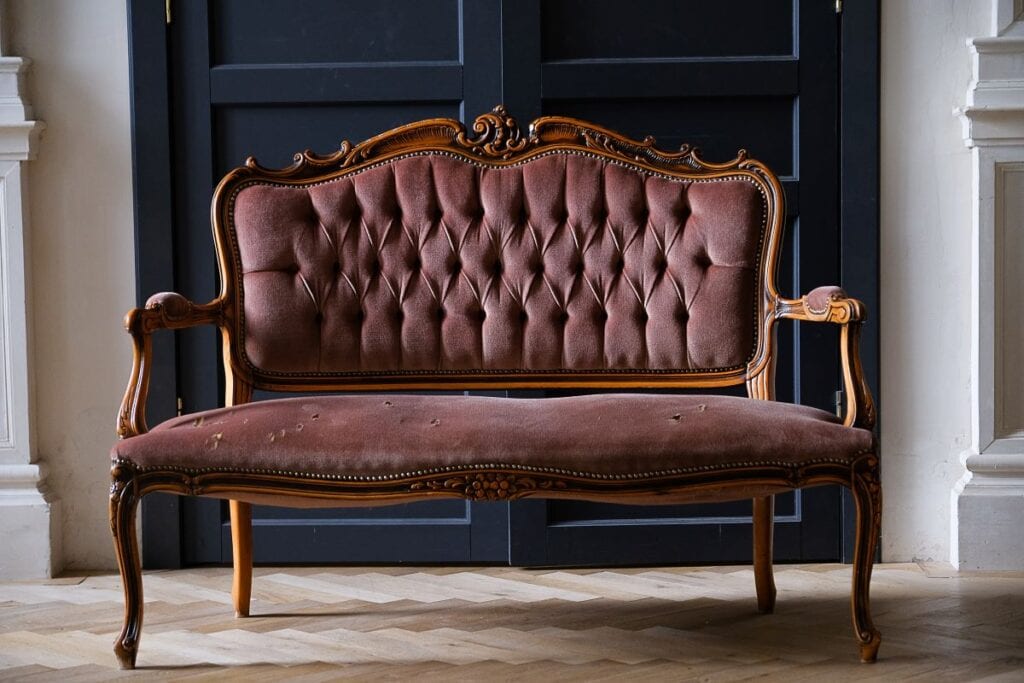 Depending on how old the furniture is and the type of wood, removing musty smells can be a challenge.  The source of how the furniture received the smell will also dictate what process will work or not.  You may have to try more than one method to ensure your remedy works.  Here are 5 tips to help you remove the musty smells from your wood furniture.  Be patient when working with your wood furniture, it has a history that you want to preserve and enjoy for years to come.
How to remove the musty smell from your wood furniture
1. Dehumidify
Wood is porous and therefore will take in moisture, air, and smells of its surroundings. If your piece of furniture has been housed in an old house, attic, basement or garage most likely it has taken in a musty order from one of these. Try moving the piece of furniture into a conditioned room in your home with relatively low moisture in the area.  Use a dehumidifier and close the door and leave the piece of furniture for a few hours daily.  After a few days, see if this process has helped.
2. Sand & refinish
Another way to remove musty smell odors is to sand down the original finish and allow the wood to breathe for a few days.  Once again, leave the furniture in a conditioned space so it doesn't absorb new odors and moisture.  Choose a stain and refinish the surface with 2-3 coats, allowing the stain to fully dry in between coats.  Apply a clear coat finish over the stained furniture to seal in color, and seal out moisture and air.
3. Wood soap
Often times the culprit of musty smelling wood is germs and bacteria inside the wood.  This is especially true if wood was left in a moisture rich environment for an extended amount of time.   Use a wood soap product that is meant for cleaning and killing bacteria inside wood. Read the manufacturer's directions on use and care for the wood before using. Use soap on all edges, corners, under handles and underside of furniture to ensure all wood has been well covered. Let furniture dry and see how successful this method was for you.
4. Sit outside in the sun
The premise behind this is the same as the dehumidifying step. The sun rays will help dry out the wood and will remove the musty smells. If you live in a dry climate with very little relative humidity you can try keeping the wood outside.  Under a covered or screened porch would be ideal, and preferably not for days on end.  If the musty smell of your furniture isn't severe this tip may work well.
5. Odor fighting substances
If you have a large armoire or dresser with drawers, it may be hard to reach all surfaces with some of the other tips.  Try placing coffee grounds or charcoal in an open container inside of the drawers and close.  Check back after a few days and replenish with new coffee or charcoal as needed. Similarly to charcoal filters, charcoal is a natural substance that may bring the musty smell out of your furniture. Once the smell has been removed you can paint furniture like new and no one will have a clue as to the history of your beautiful furniture!
The bottom line
Don't avoid your favorite antique stores or yard sales because of the fear of musty wood furniture.  There are countless ways you can acquire an old piece of furniture, and you would hate for smell to be the culprit of getting rid of it.  Use any of the above 5 tips and see if the smell that repelled you before is now just a notion of the past!
Freshome readers, have you ever been deterred from buying furniture because of its odor? Did you buy it anyway and find a way to get rid of it? We'd love to hear what method worked for you.