A Sculptural, Simple Prefab Home in Sweden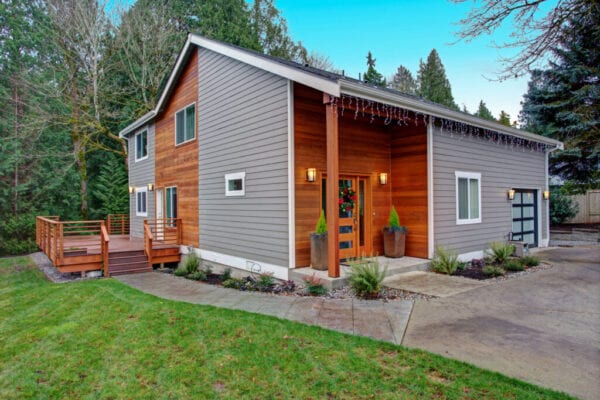 alabn / Getty Images
Think low-cost homes are boring and lacking inspiration? Think again! The Happy Cheap prototype for inexpensive prefab homes proves that affordable home design can look attractive and use space wisely. Not only that, but they can be integrated beautifully into the landscape. Created by Swedish architect Tommy Carlsson, this low-cost prefab home is located in a suburb of Stockholm, Sweden.
The Happy Cheap prototype assembles quickly on site. This particular home spreads over 65 square meters on an 110 square meter property. Ground-floor living, cooking, and dining areas are interconnected, while the upper story shelters two irregularly shaped bedrooms and a lounge space.
The prefabricated modular frame of laminated plywood allows for easy transport and assembly. Clad in galvanized, corrugated iron and pierced by light through the cut corners, the affordable prefabricated home is also space-efficient, offering its owners an aesthetically pleasing alternative to standard prefab houses.
Inside, ceilings and floors showcase painted plywood that contour the warmth and depth of interior spaces, be they social or private. With a total cost of 170,000 euros, the fab prefab home rests on a sloping site that enhances its bold architecture and irregular roofline. These
Want more prefab goodness? These 13 fabulous prefabs will inspire you even further to live in the home of your cost-friendly dreams.