Keep It Cool with These 16 Gorgeous Modern Ceiling Fans
We hope you like the products we recommend. Just so you are aware, Freshome may collect a share of sales from the links on this page. 
Though traditionally they've been eyesores, a ceiling fan is one of the most energy-efficient ways to keep your room cool. Luckily, things have changed: These 16 gorgeous modern ceiling fans manage to keep it cool and look cool, too. The best part? They're reasonably priced, falling between $250 and $800.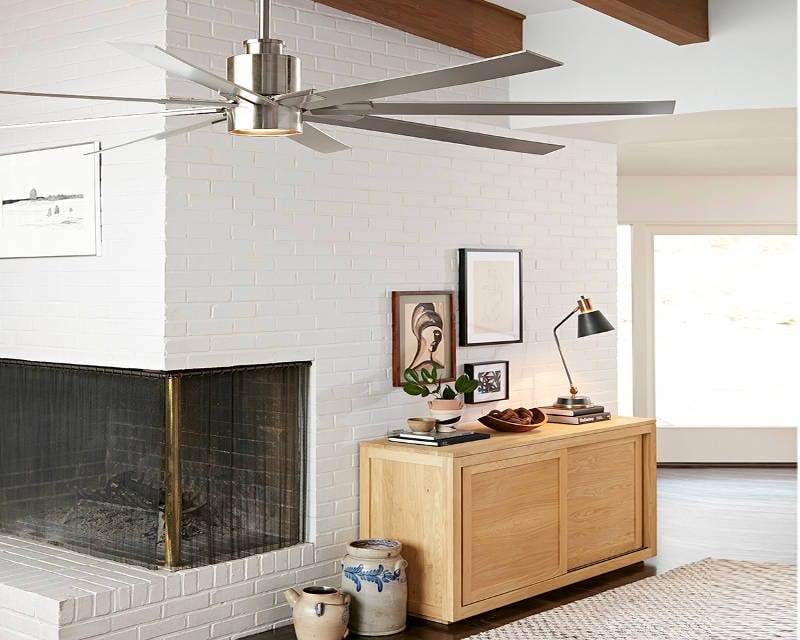 If you're in the mood for a showstopper, the Raven has you covered. It's large and dramatic, with eight blades and a 72-inch diameter spread. The size alone is enough to get a room downright breezy, but there are 31 available speeds to keep things at the perfect temperature. Image: RejuvenationShop These Products Now: Ceiling Fan – Console Storage Table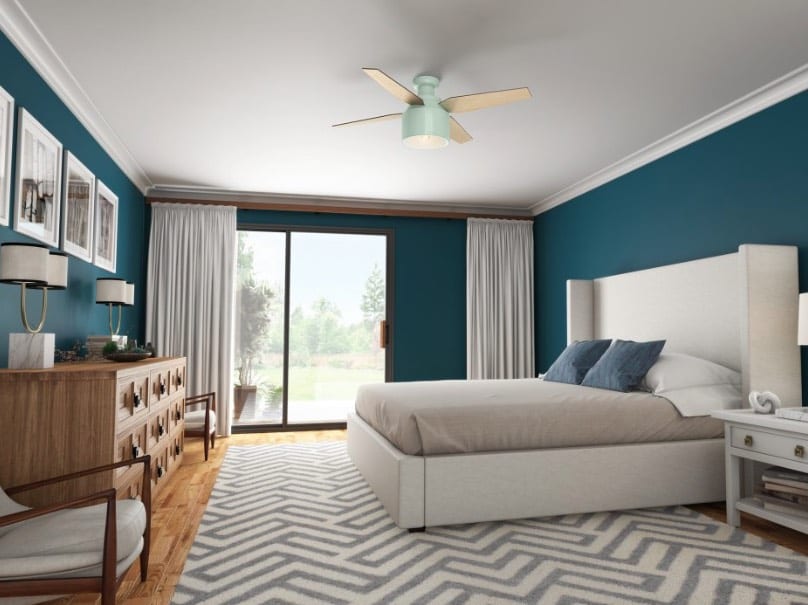 Add a little mid-century color into your life. The light maple-toned blades give this fan a vintage Scandinavian look that would work perfectly with several styles. Image: Hunter FanShop These Products Now: Mint Ceiling Fan – Curtains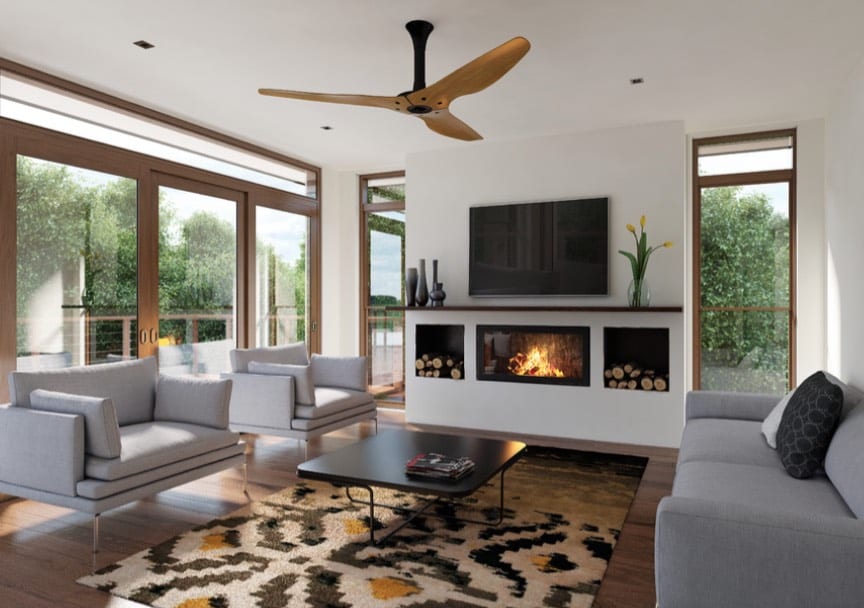 The Haiku is a striking fan, and the only smart fan in the group. Not only does it have built-in Wi-Fi, but it can be voice-controlled by Alexa and linked to a smartphone app for operation. Image: Haiku HomeShop These Products Now: Smart Fan – Textured Rug
Fresh Fact: All fans come with a small switch on the motor so you can change the direction the fan spins. In the summer, blades should rotate counter-clockwise to cool a room. In the winter, flip the switch to clockwise so the fan can push the warm air that has risen back down into the space.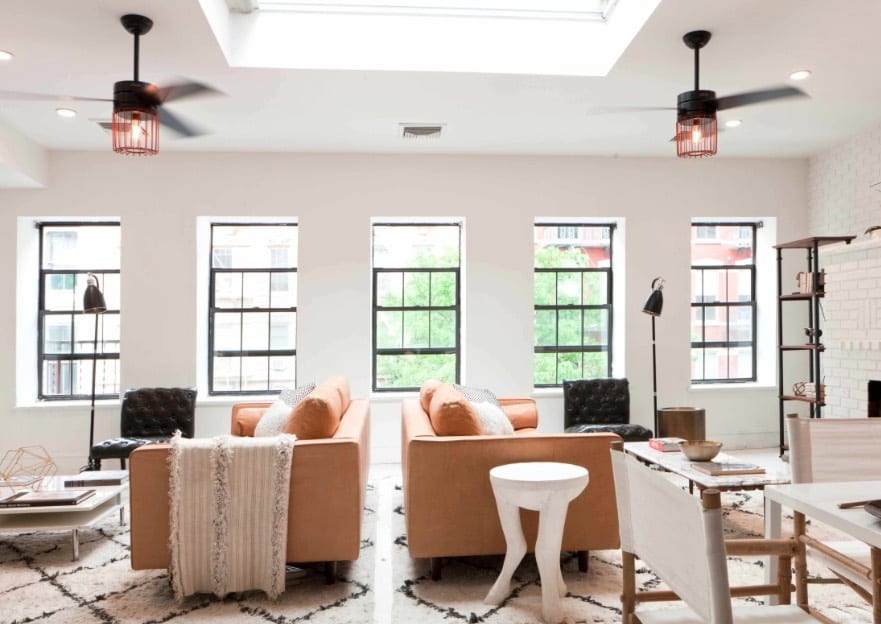 The Ronan's stylish caged lighting feature displays a warm, vintage filament lightbulb for a cool industrial vibe. It may have an old-world look, but the Ronan tops the list of modern ceiling fans for quiet operation. Image: Hunter FanShop These Products Now: Industrial Ceiling Fan – Couch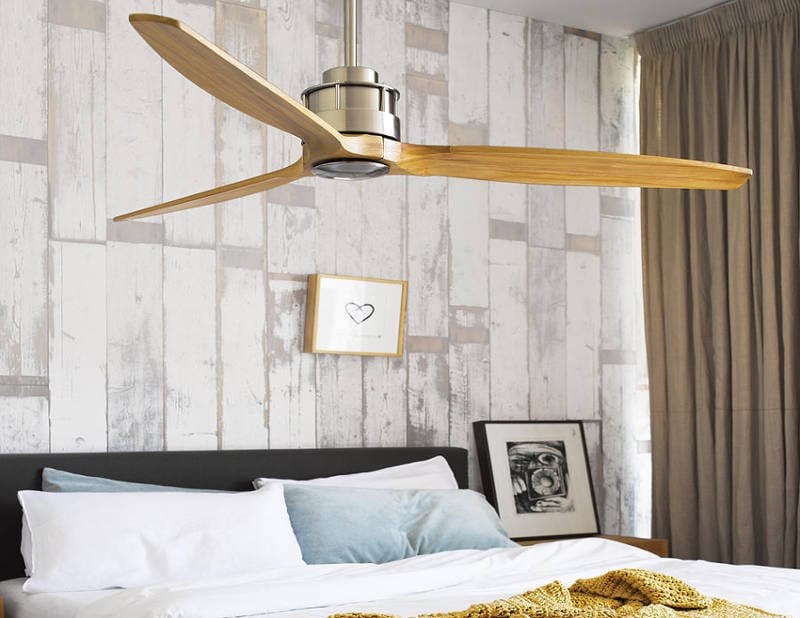 Hand-finished in teak and brushed chrome, the blades of this fan are big — 60 inches in diameter. This provides a lot of air circulation and gives the dramatic design the attention it deserves. Image: Beacon LightingShop These Products Now: Lighting Fan – Sleep Pillow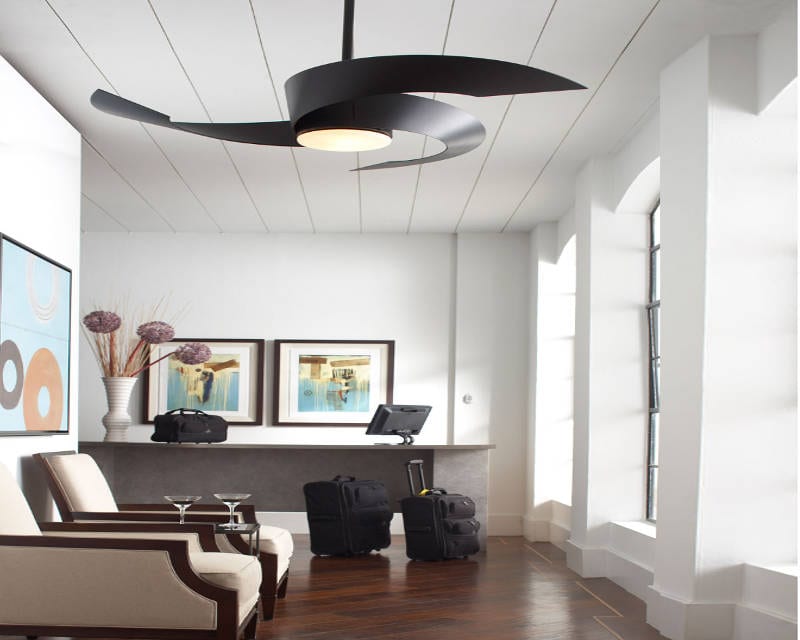 The curve of the blades makes this modern ceiling fan a work of art. It's available in several finishes to go with nearly any decor. Image: FanimationShop These Products Now: Torto Ceiling Fan – Lounger Chair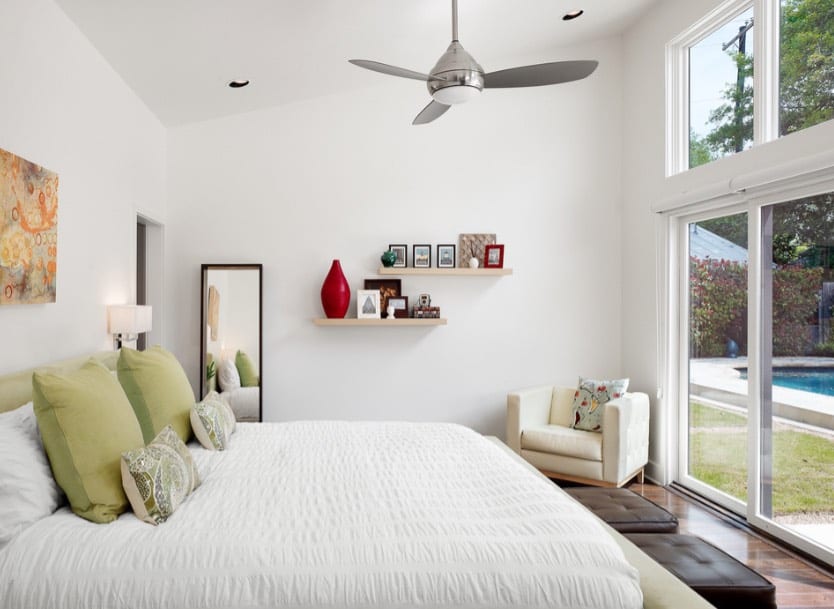 A sleek, brushed metal finish ceiling fan works very well in a modern white space. Image: Clayton and LittleShop These Products Now: Accent Mirror – Ceiling Fan
Fresh Fact: A 42-inch or 36-inch fan is best for most rooms under 12 by 12. But a larger fan will cool a room faster and, in the case of a beautiful modern design, showcase the fan better. When in doubt about ideal fan size, check the CFM (cubic feet of air per minute) rating on the box.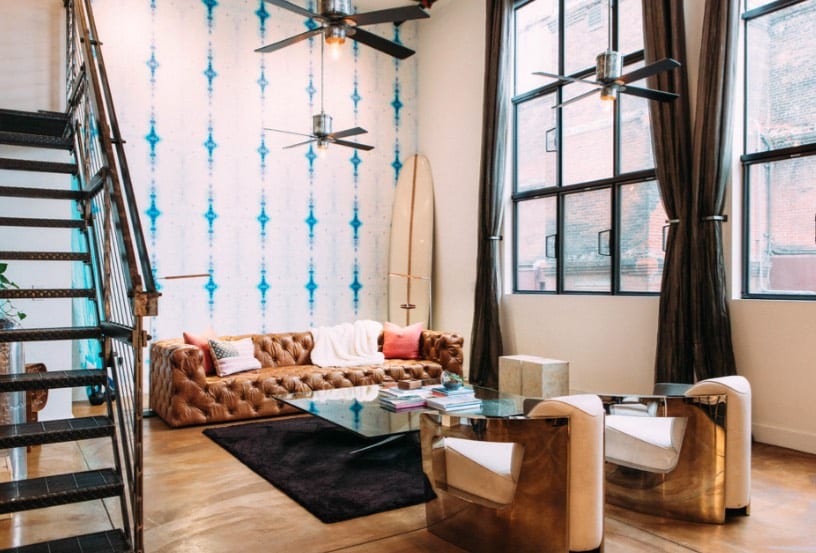 Looking for a steampunk or industrial vibe? The Industry fan in a galvanized finish, inspired by an old milk can, could be the perfect fit. Image: Daphne SteinbergShop These Products Now: Industrial Ceiling Fan – Tufted Couch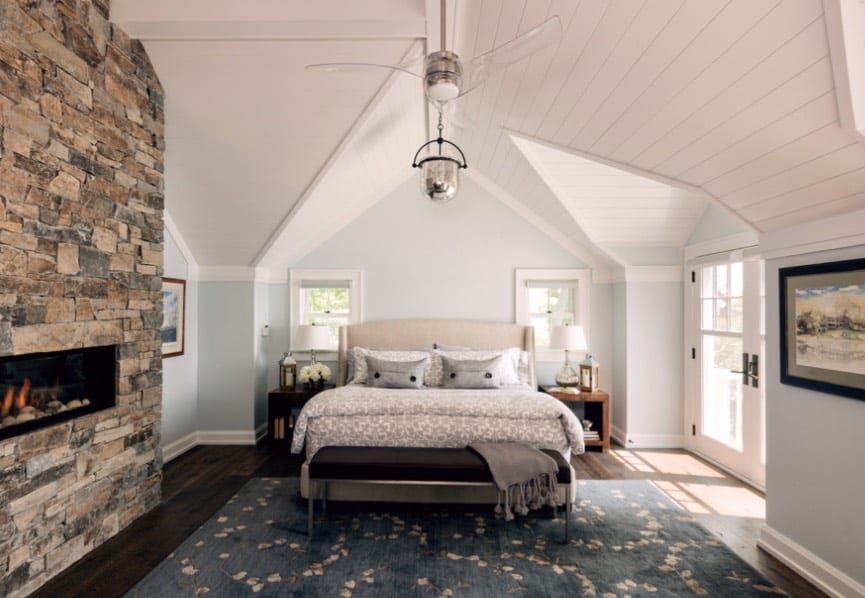 The clear blades make this fan unique and minimalist in styling. The blades literally disappear into the backdrop. Image: Barenz BuildersShop These Products Now: Transparent Ceiling Fan – Tufted Bench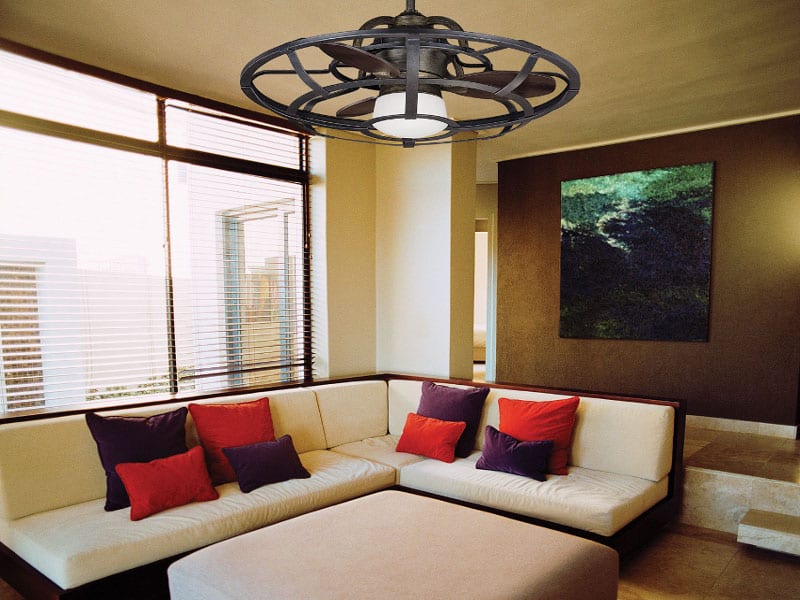 This is one of the priciest of our modern ceiling fans, but it makes quite the statement. The design conceals the reclaimed-wood finish fan blades, but the room will definitely feel cooler in no time. Image: Bannister Custom HomesShop These Products Now: Covered Ceiling Fan – Throw Pillow Covers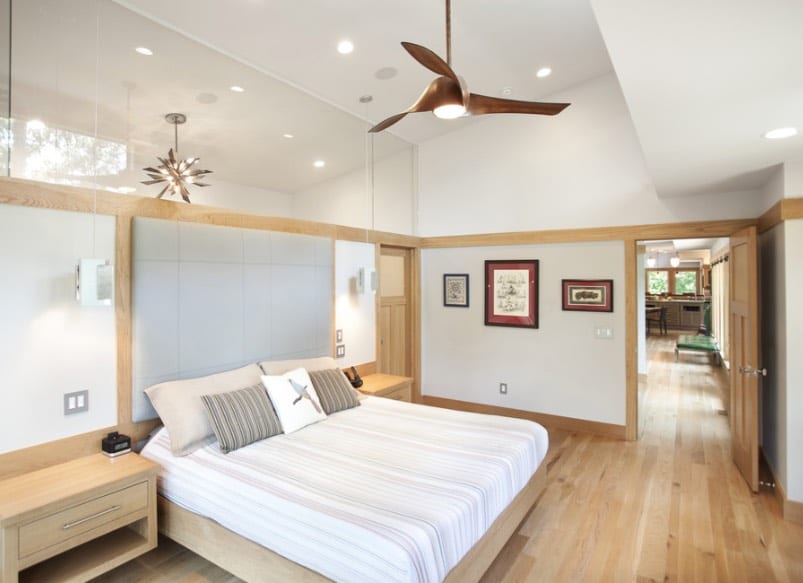 The darker color of this fan brings attention to the sculptural lines of the blades. Image: iSpace DesignersShop These Products Now: Modern Ceiling Fan – Bed Sheet
Fresh Fact: Running modern ceiling fans takes less than a 100-watt light bulb of energy, saving you almost half of your cooling bill.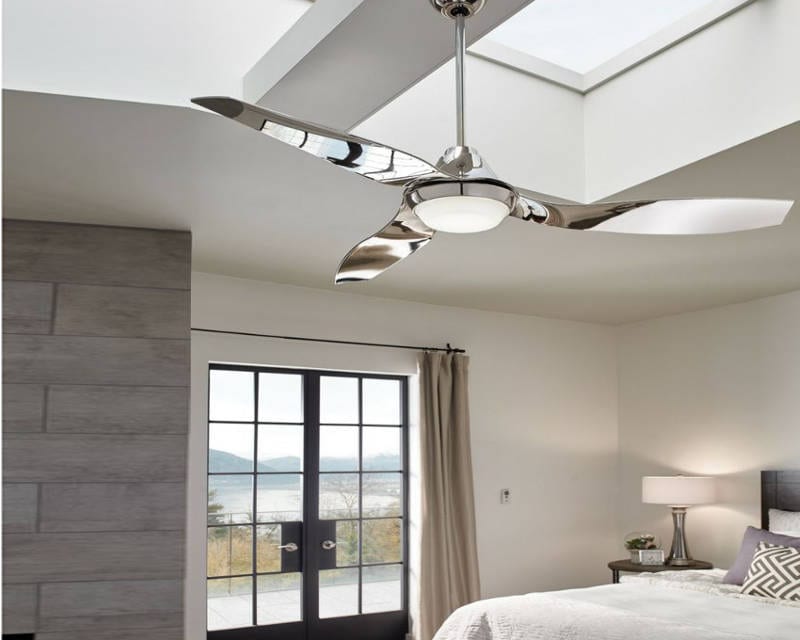 The Avvo is a unique ceiling fan because of its polished finish, which adds a bit of bling to a room. Image: Monte Carlo FansShop These Products Now: Monte Carlo Fans – Table Lamp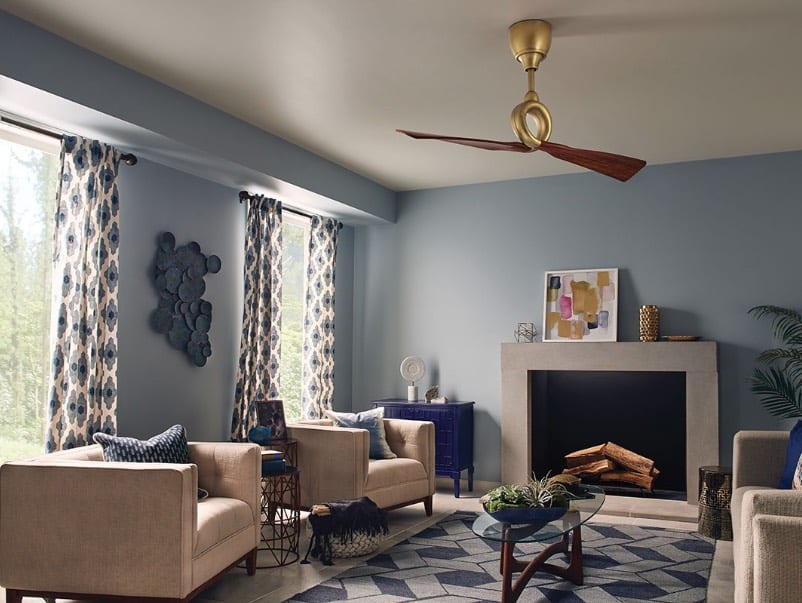 This unusual ceiling fan needs a second look. Is it a ceiling sculpture or a fan? Also available in brushed chrome, the twin blades are surprisingly efficient. Image: KichlerShop These Products Now: Antique Ceiling Fan – Colorful Curtains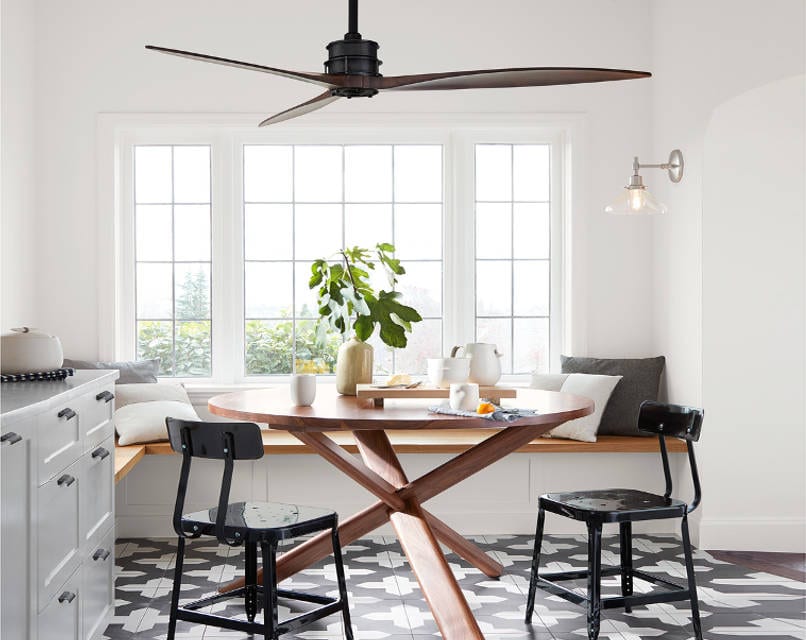 The sleek propeller blades have a generous diameter of 64 inches to get air flowing quickly and efficiently. There's also a model with an LED light to illuminate the breakfast table. Image: RejuvenationShop These Products Now: Round Table – Falcon Ceiling Fan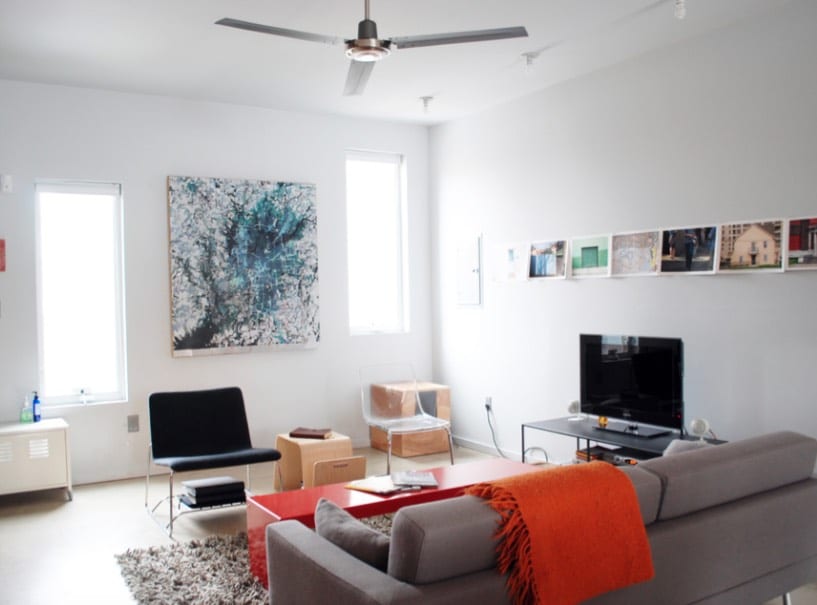 A contemporary living room gets a touch of industrial design with the brushed nickel ceiling fan. Image: Postgreen HomesShop These Products Now: Simple Ceiling Fan – Throw Blanket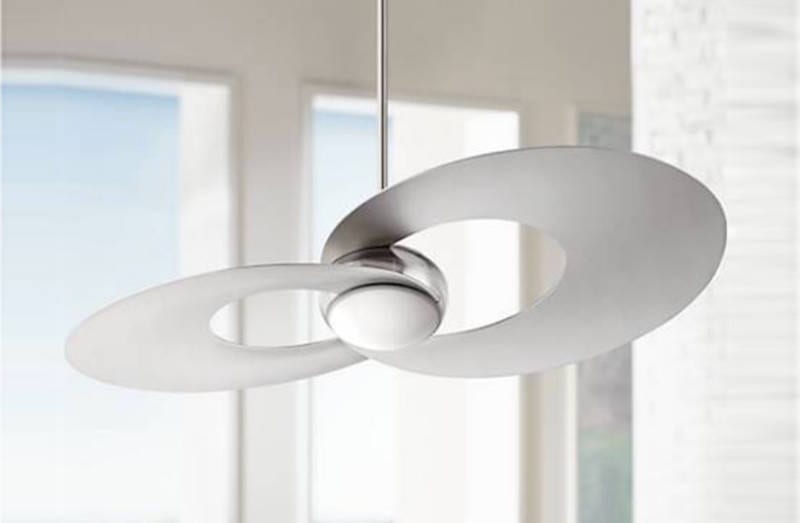 Two elliptical orbs spin to circulate a room's air. The LED light fixture uses little energy and creates nearly no heat. Image: Amazon Shop This Product Now: Innovation Brushed Nickel Fan
Open your window, then run the fan and let it do what it does best: circulate the air. Any of these modern ceiling fans will do the job perfectly — and stylishly! Which one of these fans do you want for your house?
---
Everything for your move, all in one place
Curate your personalized moving checklist, set up TV & Internet, and more with a free MYMOVE account.
Save on your move and tackle upcoming to-dos with your free MYMOVE account.