EasyClosets: Could Getting a Quality, Custom Closet Really Be That Easy?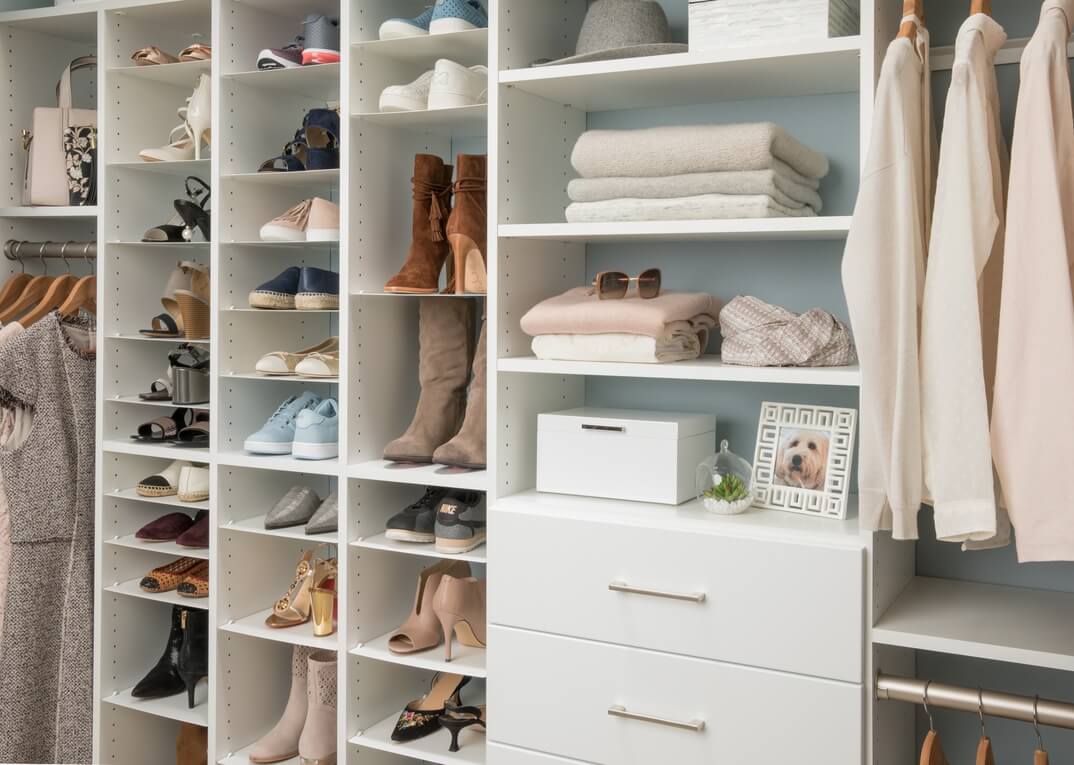 This article is sponsored by EasyClosets. The opinions and statements below are those of our writer's experience. Freshome may collect a share of sales from the links on this page.
Is there anything as luxurious as a spacious, beautifully organized closet? Okay, sure, diamonds and Lamborghinis are up there. But for homeowners and renters alike, an easy-to-use, nice-to-look-at closet is one of the finer things in life. And, like many of life's higher-end delights, getting your dream closet has historically come with a hefty price tag and an intensive process. EasyClosets is setting out to change that.
What is EasyClosets?
Simply put, they're a custom closet company. But they're a little bit more than that. EasyClosets gives you access to high quality, durable, custom closet organization pieces. And that's true of many closet companies, but they allow you to leverage your own DIY experience to make the process as affordable as possible.
For starters, they offer a free online planning tool (more on that later) so you can design your closet yourself. Then, they offer free design review from their professional team to double-check that everything you're ordering will work in your space.
Once you know what you want, your order ships to you. And shipping will most likely be free, as all orders over $100 ship free. Then comes the installation. Again, your DIY abilities are going to help you save big on this project. EasyClosets are designed to be installed by the homeowner and they estimate that this self-installation saves you 40 percent over hiring a local closet company.
Installing EasyClosets
And, good news, all EasyCloset pieces are designed for self-installation. That means they ship pre-cut and pre-drilled (yes!) with an installation guide. You'll need your basic household tools, nothing more, to get your closet up and running. EasyClosets also offers videos to guide you and their customer support team is ready to answer any questions you might have.
Oh, and all their products come with a Lifetime Limited Warranty, too.
So, in short, if you've been dreaming of upgrading your closet but have steered clear for fear of the expense, this could be a good option for you. At the very least, you get total control over the cost of your project because you pay to order pieces from EasyClosets — and that's it. Eliminating the all-too-often fluctuating labor costs like design and installation helps you stick to your budget.
What EasyClosets has to offer
EasyClosets offers some pretty impressive features. Their composite panels made of thermally fused laminate come in 10 finishes, from white to lava to espresso, a rich, dark wood finish. They're sturdy and durable; I had a sample shipped to me to test and I couldn't scrape up the finish or bend the board with a considerable amount of effort.
They've also got four hardware finishes, four drawer and door styles and a wide range of knobs and handle styles. Whether you want to go traditional or sleek and modern, EasyClosets almost definitely has what you need to bring your vision to life.
As far as the actual brass tacks, EasyClosets can give your closet a boost with almost any combination of elements including:
Hanging space
Shelving
Drawers
Baskets
Shoe organizers
Ironing boards
Hampers
Plus, they've got a number of nice-to-have features, including:
Tie and belt racks
Shelf and drawer dividers
Plush-lined jewelry trays
Hooks
Standard EasyClosets are 14 inches deep, but they also offer 19- and 24-inch depth. When properly designed and installed along their durable steel rail, these systems can support 1,200 pounds per eight-foot section.
EasyClosets isn't just for your bedroom, either. They have systems for your pantry, laundry room and more.
Ready to create your dream closet?
Getting started with EasyClosets is super easy. Even if you just want to do some dreaming about what your closet could look like someday, their free online planning tool is fun and easy to use.
I tested it out with my own reach-in closet and was surprised by how helpful I found the tool. For example, I kept trying to put drawers in the middle of my closet. The tool reminded me that, because I have sliding closet doors, the drawers would be rendered unusable. It's the little things, you know?
Alternately, they have an expert team of designers you can use to create your perfect closet for you.
If you've been thinking about a closet upgrade for years, EasyClosets is the perfect opportunity to shop your options and accurately budget your project. And, hey, if it's in your price range, you could be just one weekend of elbow grease away from the closet of your dreams!
Now, if only you could get your closet pared down to the clothes you actually like. But, then again, with all the extra storage space you could create with EasyClosets, you might not need to go through the hassle. Sorry, Marie Kondo!