7 Small Bathroom Ideas That Combine Function and Style
Africa Studio / Shutterstock
Small bathrooms may seem like a difficult design task to take on, but there are so many small bathroom ideas to make the space sing. These spaces may introduce a clever design challenge to add to your plate. Creating a functional and storage-friendly bathroom may be just what your home needs.
Every design element in a small bathroom should have a purpose and be functional in some way or another to create a space-saving sanctuary. Don't let that small bathroom layout scare you! Before you dive in, if you are looking for space-saving furniture ideas, be sure to check out our top products for small bathrooms and get started on your small bathroom remodel! Remember, the name of the game here is cozy minimalism for your small bathroom décor ideas.
7 Small bathroom design ideas
1. Add storage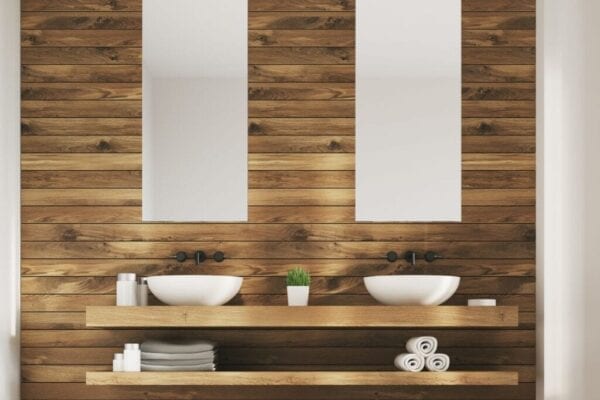 One of the simplest small bathroom ideas is to add storage. Instead of stuffing them in large cabinets, showcase your colorful, textured towels in open shelving. This will add warmth and playful colors to your space and eliminate unwanted large furniture pieces. Other small bathroom decorating ideas:
Stack floating shelves to add storage in a fashionable way.
Colorful storage ladders showcase personality and are a great place to store containers.
Sink skirts add flair and hide cleaning products.
Wooden crates can be stacked, drilled into the wall, or placed on the ground for accessible storage in a small bathroom design.
2. Be functional
Functionality is key for a small bathroom. Small rooms can easily lead to unwanted clutter, so make sure you're adding only design elements that are functional. Don't add knick-knacks or objects that don't serve a purpose.
3. Plan your palette
When it's time to paint your bathroom, make sure you have planned your color palette. Keep in mind that painting a wall an accent color takes time. Use neutral colors to make your bathroom feel calm and aesthetically pleasing. If this is your master and it's disappointingly small, don't worry, you have options. Try letting your color palette guide you with the small master bathroom ideas.
Create a neutral color palette to form the base theme of your bathroom.
Utilize textures and patterns in neutral tones to add creativity and depth.
Remember that the color white is associated with cleanliness.
4. Add pops of color
An alternative to painting is to add pops of color by showcasing colorful hand towels, bathroom tile, rugs or even robes to create your own ambiance and flair.
Display stylish soap dishes and accessories for a designer touch.
Paint your mirror frame an accent color.
5. Think vertically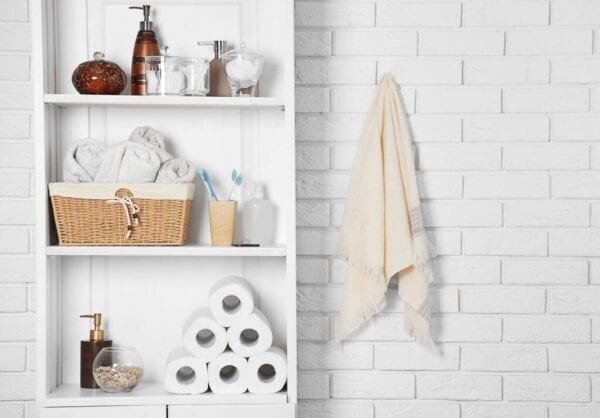 There are so many small bathroom designs that feature vertical space. When you don't have a lot of space, you have to use all of it that you can, and that means going up. Use the vertical space in your bathroom as much as possible to open up the space and give you more storage.
Install shelves all the way up the walls.
Hang hooks or storage from the ceiling so you're not taking up floor space or wall space.
Hang curtains that are longer than the window to give the illusion that it's larger and thus in a larger room.
6. Bring in plants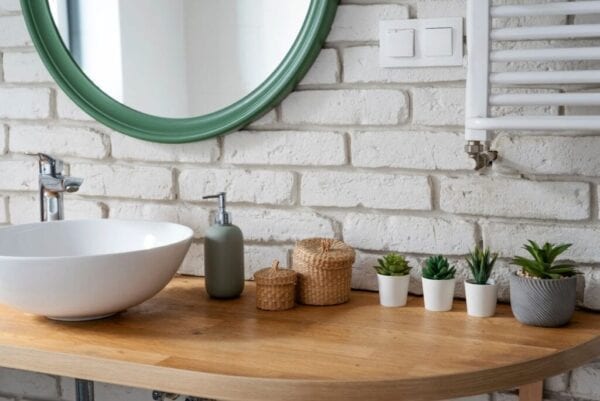 If you've considered small bathroom remodel ideas and you just don't want to do anything big quite yet, do something smaller to cozy up the space. Give your small bathroom some life by adding a little bit of greenery. It may take some creativity because of the small space, but it'll give the room some tranquility.
Hang plants from the ceiling to keep them off the counter and floor.
Put small succulents on floating shelves.
Opt for tall, thin plants that don't take up much space.
7. Get a bigger mirror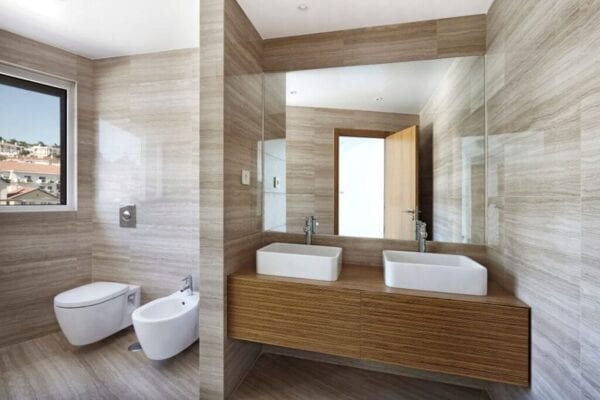 Mirrors automatically open up a space and make it feel larger, so if your small bathroom has only a small mirror, it's time to change that! This is one of our favorite small bathroom ideas to really make the space feel bigger without doing a whole lot of work on the room.
Install a floor-to-ceiling mirror on one wall to make the room feel endless.
Hang mirrors on multiple walls to make the room feel more open.
Use geometric-shaped mirrors in a pattern to not only open up the space but add another design element to the bathroom.
The bottom line
It's not the end of the world if you have a small bathroom in your home. It's actually a chance for you to get creative and flex your decor skills by trying out these small bathroom ideas! Using color, texture, and the space in the right way can make your bathroom cozy without being cramped. There's nothing to fear when you have a small space. Instead, try any of these tiny bathroom ideas to make the space your own — whether it's with a small remodel or just a few decor changes. The options really are endless.