How to Decorate a Bathroom for the Holidays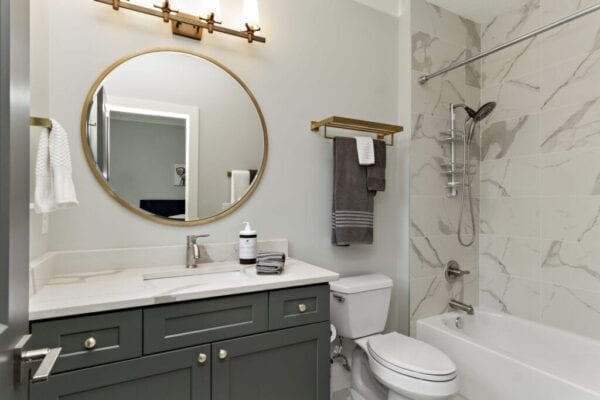 Mark Lopez / Getty Images
Nothing helps you get in the holiday spirit quite like decking your own halls with all of your seasonal decor. Whether you do the full-blown tree and garland on every mantel and railing or just set out a few cherished items, getting your home ready for the holidays is part of the fun of the season. Don't miss your opportunity to expand that experience to every room in your house. When you decorate a bathroom for the holidays, you make sure each corner of your living space is filled with cheer.
But how do you decorate what is usually a smaller, very established space? You most likely can't move around furniture to make room and, between a shower and mirrors, your walls are probably already fairly full. That doesn't mean you should give up this festive opportunity, though. We've gathered up a few quick and easy ways to decorate a bathroom for the holidays.
Use the whole space
As we've already discussed, bathrooms are more compact than most other rooms you'll be decorating. This is where making use of every square inch is critical – including the ones under your toes. Some holiday-themed bath mats are a great way to get your bathroom ready for the season in seconds. Plus, because they're made to stand up to wear and moisture, they pack well when they're not in use.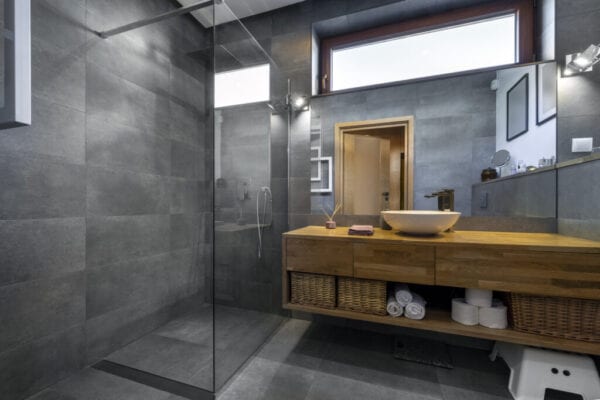 Jacek Kadaj / Getty Images
Embrace what you've got
If your bathroom is already red, white or green, setting it up for the holidays is probably going to be a snap. But what if it's black or blue? You could try to shoehorn the traditional holiday colors in, but you'll probably just make yourself crazy trying to get the colors to meld in such a small space.
Instead, work with what you already have in place. A beachy, blue bathroom works well with snow-inspired accents in white and silver. A minimalist, dark bathroom can get a holiday update with a gathering of evergreen branches on the counter or some simple black and white holiday decor. If you let your current space inform your design choices when you decorate a bathroom for the holidays, getting your house holiday-ready becomes much easier.
Michael Hall / Getty Images
Use your leftovers
Do you have extra holiday decor that just doesn't seem to fit anywhere else in the home? Find it a space in the bathroom! Even seemingly unconventional bathroom decor can work with a little creativity. Say you have an extra stocking. Left on its own, it might look out of place. But if you stuff it with some seasonal greenery, it becomes a perfect addition.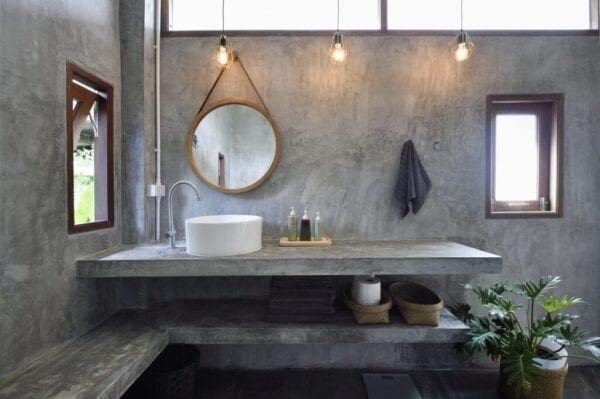 Carlina Teteris / Getty Images
Keep a clean palette
Bright, cheerful colors are a signature of the season. That doesn't mean you should try to incorporate them all in your bathroom, though. Because it's a relatively confined space, saturated color can quickly feel like too much of a good thing. It's a good idea to pick one accent color that melds with the elements already existing in the space and build from there.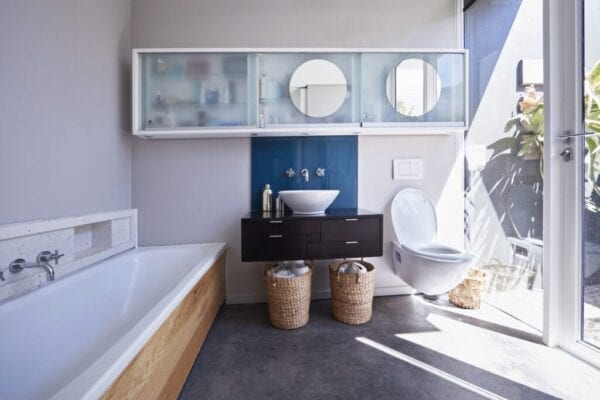 Klaus Vedfelt / Getty Images
Mix your metals
Most bathrooms have their fair share of hardware. Your faucet, drawer pulls and shower curtain rod are all design opportunities. Integrate metal holiday accessories on your countertop to quickly and easily create a cohesive look. The hard textures of metal decor work well in a space where you don't want things to trap moisture. And mixed metals give your holiday bathroom decor a glam feel.
Keep it simple
Decorating a bathroom for the holidays should be fun. If it feels like a burden, you're probably doing too much. Simply draping some garland over the bathroom counter, adding a small vase of evergreen branches or hanging an ornament from a wall sconce is plenty. This is a small space so you don't need to do much. If you're still looking for inspiration, we've got 10 easy holiday decorating tips that should help.
Happy holidays from our family at Freshome to yours!