Cool, Sleek Bathroom Remodeling Ideas You Need Now
Shop These Products Now: Modern Bathtub – Floating Toilet
The hottest tech products like the Apple Watch or iPhone 6, the Tesla S sportscar or a Bang and Olufsen BeoVision TV all have something in common: the latest in innovative, modern design. Take the features that make them sexy, like minimalist fluid lines and the latest tech — and use them for your bathroom remodeling ideas. According to Remodel Magazine's annual report of cost versus value remodel projects, the bathroom remodel is one of the top projects that brings a good return on your financial investment. Getting your remodeling expenses back when you sell your home is important, but enjoying a design-forward bathroom is better.
The most valuable remodel projects have three important features. Keep them in mind when considering bathroom remodeling ideas:
1. Low Maintenance Selecting finishes that are easy to keep looking clean and new not only saves you money and time in maintenance but also extends the life of your remodel by looking new and fresh longer. Consider the following ideas for a low maintenance bathroom:–Quartz counters instead of marble–Quality faucets that are built to last a lifetime–Glass shower doors treated with water anti-spotting agents
2. Energy Efficient One of a home's biggest selling points today is energy savings. Water shortages and rising utility bills make this a priority for home buyers. Energy efficiency is also big from an environmental standpoint. When planning your bathroom remodel, these items maximize energy efficiency:–Tankless water heaters–Low flow toilets and faucets–LED lighting instead of traditional incandescent–Radiant floor heating–Insulated windows.
3. A light, bright bathroom All homeowners look for bright, open spaces. The brighter your bathroom, the larger it looks. And if you're investing time and money into upgrading your bathroom, don't let your design choices go unnoticed in a dark, shadowy room — lighting will showcase your bathroom remodel investment beautifully. Three ways to create a brighter bathroom:–Add windows and skylights–Use lighting for different purposes throughout the bathroom–Choose finishes and surfaces that are reflective and light when thinking about remodeling your bathroom, be sure to ask yourself if each item fits the three features above. Luckily, the latest high-design trends not only look beautiful but address these points. Here are our favorite bathroom remodeling ideas to incorporate now:
High-Tech Lighting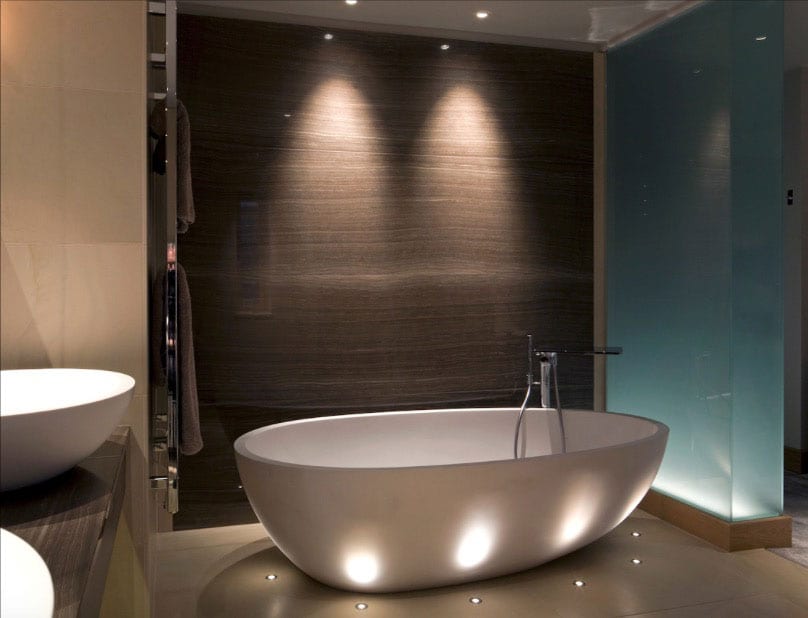 Shop These Products Now: Ceiling Light – Modern Bathtub
The largest energy efficiency you can add to your bathroom is through LED lighting. According to the US Department of Energy, LED lights use at least 75% less energy, and last 25 times longer, than incandescent lighting. Besides savings energy, LED lighting adds a beautiful design element. They can be programmed to change colors and can be used safely near water. Because they're easy to install in any bathroom, they are perfect for DIY projects. Besides task lighting, some innovative ways to use LEDs include:–To add color to the water in a tub or sink–As a color wash effect on a wall–To backlight wall mirrors–To light counters or shelves
Metallica
Shop These Products Now: Metallic Bathroom Backsplash – Wall Mirror
The latest design trends in Europe translated the latest in consumer electronics like the gold iPhone 6 into a beautiful, metallic tile. Metallic wall tiles lend a bathroom a fashion-forward look while adding the illusion of more space to a bathroom, thanks to the tile's eye-catching and reflective qualities. Another way to add the metallic element to your bathroom is by painting the walls with metallic paints from Ralph Lauren or Benjamin Moore.
Add Bold Flooring To Your Bathroom Ideas List
Shop These Products Now: Bathroom Flooring – Freestanding Bathtub Faucet
The trend for color in the bathroom remains neutral or white in order to showcase elements like a beautiful free-standing tub or a wall of gorgeous metallic tile. But a bathroom needs a graphic dose of pattern somewhere and bold flooring is the latest.If you're not ready for a bold floor, add a large, graphic floor rug in your bathroom. You can also read more about bathroom tile ideas here.
Sexy, Ergonomic Design
Shop These Products Now: Floating Shelve – Modern Bathtub
The fluid and seamless curvy design of computers and electronics today is also coming to your bathroom. Boxy angles are out, while beautiful curvy shapes are becoming more available in the bathroom product market. You don't have to add curves to the entire bathroom — pick two or three elements for balance. Some good bathroom remodeling ideas to go ergonomic are:–Add a curve to one bathroom wall–Choose faucets or fixtures that are a bit more rounded and refined–Hang wall decor that highlights circles and curves. One of the top requested design elements in bathrooms today is a free-standing tub. If you have the space for one, choose a tub that cocoons you in its curves.
A Floating Vanity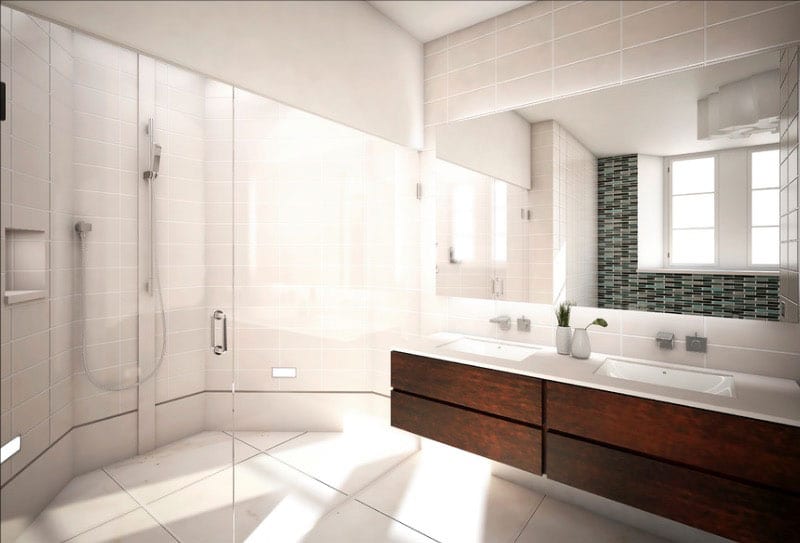 Shop These Products Now: Floating Vanity – Bathroom Shower
To make a bathroom appear larger, skip wall-to-wall cabinets and open up the space. A good way to do this is by building a bathroom counter or vanity that appears to float. Another way to get the look is by skipping the traditional cabinet vanity base and using a sofa table with open shelving below. Make sure the table is a minimum of 16" deep to fit your sink(s).
Integrated Sinks
Shop These Products Now: Integrated Sink – Modern Sink Faucet
Integrated sinks are built into, and of the same material, as the bathroom counter. They create a minimalist and seamless look that's low maintenance since there are no seams that dirt or water can get under. You can also create an integrated-sink look by choosing an under-mount sink in the same color as your countertop.
Bathe as One With Nature
Shop These Products Now: Freestanding Bathtub Faucet – Stylish Bathtub
The hottest bathroom remodeling idea is an indoor/outdoor bathroom. Don't worry about privacy, the latest bathroom tech includes electric privacy glass — glass that instantly switches from clear to frosted at a flick of a switch. Window manufacturers have also designed windows and skylights with built-in shades between the glass panels that can open and close electronically. Ways to add the indoor/outdoor look to your bathroom include:–An outdoor shower with a glass door for access from the bathroom–A large glass wall or window in front of a tub or shower with a beautiful garden outside–Skylights that bring the view of the sky into the bathroom–A wall of plants in the bathroom that bring the outdoors in–A zen shower with low maintenance succulent garden and river rock bedding surroundings.
---
Everything for your move, all in one place
Curate your personalized moving checklist, set up TV & Internet, and more with a free MYMOVE account.
Save on your move and tackle upcoming to-dos with your free MYMOVE account.