7 Contemporary Shower Ideas for Your Bathroom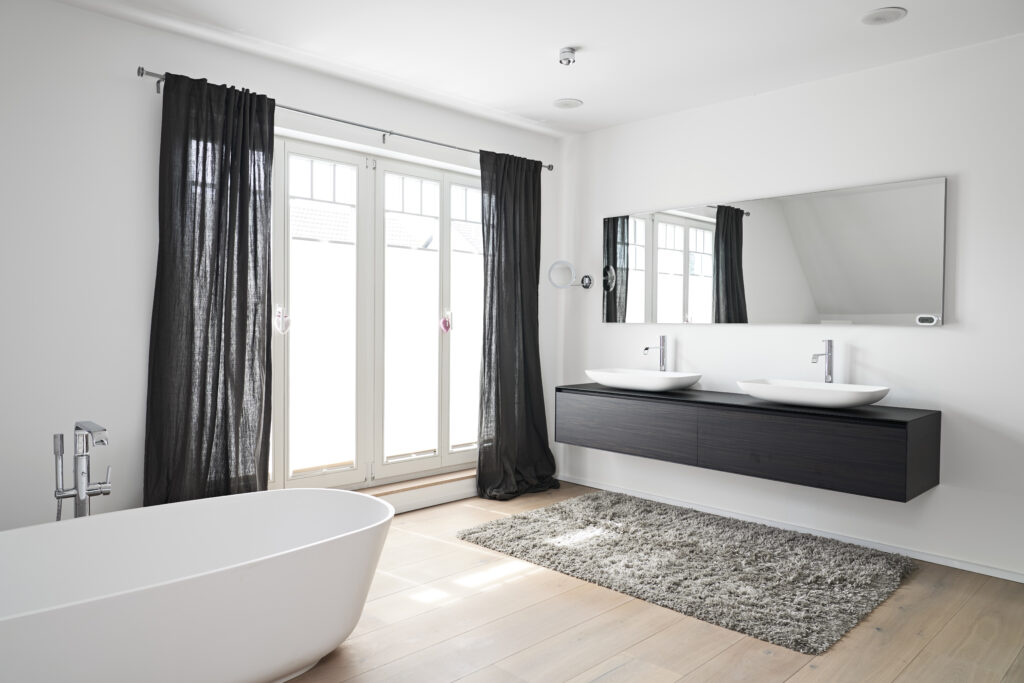 Remodeling Magazine's Cost vs. Value report, the average cost of a bathroom remodel is $16,000, with an average return on investment of 72.5 percent.Focusing on a shower when upgrading your bathroom is vital; most adults 45 or older prefer a shower to a bathtub. According to a survey by the National Association of the Remodeling Industry, the top universal design feature consumers want in their homes is a barrier-free shower — essentially one that is easy to access without having to climb in and out.Our shower ideas are both practical and likely to pay off in the future; they'll also bring some fresh, contemporary style to your bathroom to enjoy today.
Here are some contemporary shower ideas.
Focal Wall
The latest bathroom trend involves the use of a focal wall. Homeowners often make a big investment in beautiful fixtures and finishes; a bold focal shower wall draws the eye to all the beautiful details in a shower space.To create a bold wall, try grain-matching stone, selecting an intricately detailed tile pattern or using backlit, printed glass as the backdrop to your shower.[deals-hub-ad]
Colorful Shower
There are times when a crisp, all-white bathroom feels a bit lifeless and cold. Don't be afraid to infuse your shower with bright, vibrant color. The wide selection of tiles and finishes that are available in rich, saturated colors makes a colorful shower a no-brainer.
Shower Seating
Today's most-wanted showers create the sense of a spa space. A built-in seating area adds the finishing touch to your shower spa. If you're not willing to commit to creating a built-in shower bench, add a simple teak or water-resistant bench to your shower.
Shower Lighting
Lighting is an overlooked bathroom feature, but it's among the most important. The best part of adding lighting to your shower area is that it can be inexpensive.When thinking about how and where to add lighting, consider which spots you want to highlight and what mood you want to set. For example, you might try a wash of light on a beautifully tiled wall. Some showerheads even have built-in LED lights.
His and Hers
Many homes have his and her closets and bathroom sinks. Take the idea a step further and make the shower a memorable space by installing his and her showerheads.
Mixing Tiles
Give your bathroom a custom look by mixing tiles and patterns. This adds layers and texture to the room. Foolproof ways to achieve this look include:
A contrasting stripe of tile.
Installing tiles vertically.
Tiling the shower wall in a different pattern or color than the rest of the bathroom to create a focal wall.
Alternative Finishes
For the ultimate memorable shower, consider the use of alternative materials. Teak wood flooring tiles, corrugated aluminum walls or colored (instead of clear) glass doors make for some unique shower ideas.Many homeowners are looking for contemporary shower ideas to create their dream bathroom. Regardless of what inspiration you take, remember to choose the best-quality materials you can afford, and keep your batoom simple, uncluttered and low-maintenance.
If you're considering upgrading your shower, the decision not only will breathe new life into your bathroom but also will be a wise investment. According to