10 Ways to Bring Tudor Architectural Details to your Home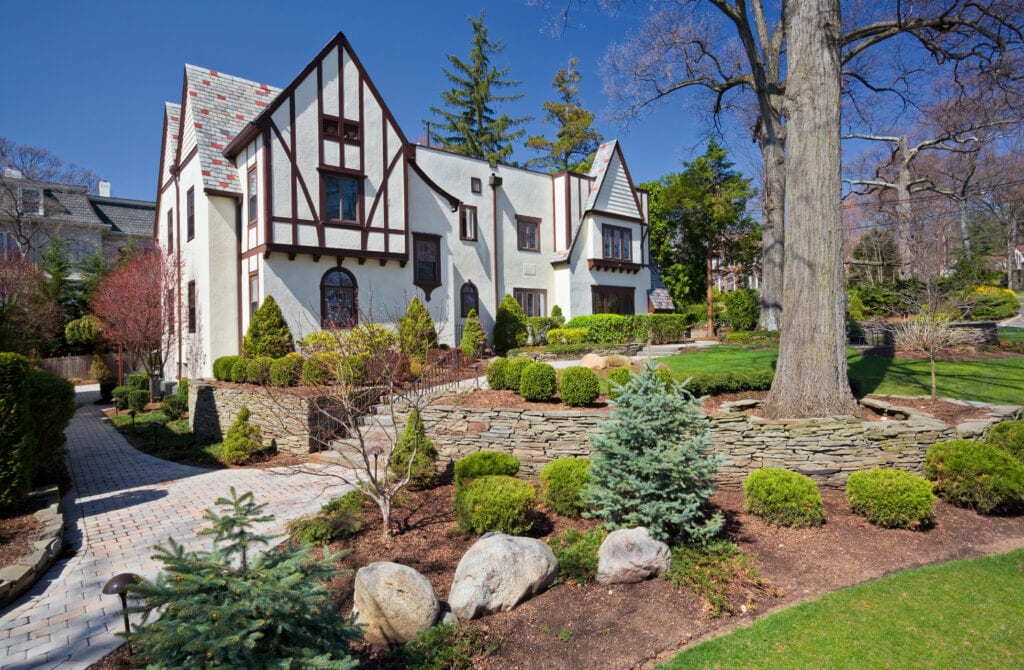 If you're a fan of romantic movies, children's fairytales and architecture that feels like it's right out of your favorite novel, Tudor style homes are probably the epitome of these memories.
Tudor architectural details are not necessarily from the Tudor England style of buildings in the 16th century. When most homeowners refer to this style of architecture they are referencing the style made popular in the United States in more modern times. The 19th and 20th centuries had beautiful examples of this nod to medieval English architecture as well as the details that made cottages and early century mansions what they are today.
If you'd like to bring Tudor architectural details into your exterior and interior home, here are a few ideas.
1. Bringing the iconic half-timbered structure to your exterior home
Perhaps there is no more recognizable detail than the half-timbered facades of Tudor style architecture. Half-timbered refers to the timber structure staying exposed to the exterior and being filled, creating a "false" idea of what the structure is really made from. Whether stone, stucco or wood this feature is taken from medieval European homes that featured this iconic style. Use can imitate this style by using timber or exposed structure on the façade of your home to recreate the look.
2.  A series of steep gable roofs create a "gingerbread home" appeal
Tudor homes all share a common architectural detail – their steep gable roof pitch. These rooflines create a cottage or gingerbread home aesthetic that is loved by many. The Tudor architectural style can mix an eclectic mixture of material facades to produce a mixture of beautiful curb appeal ideas for your architectural taste.
3.  Cross gable roof lines give architectural appeal from multiple facades
In addition to the high pitch slope rooflines, Tudor style homes offer feature cross gable roof lines for added height and architectural appeal from the exterior and interior spaces. The ability to see rooflines on the each side elevation is a treat for many homeowners who love Tudor architectural details.
4. Modern-day Tudor Revival mimics the Tudor Dynasty of the 1500's
Similarly to many American architectural styles passed through from generations, is also called Medieval Revival style. Characterized also by the tall, narrow windows and small window panes, Tudor Revival style in modern-day homes are often mixed with modern day cladding such as brick, flagstone and stucco for a modern nod to old world Tudor style.
5. Tudor architectural details in your outdoor landscaping
While you may only think about Tudor style details on the façade of your home, don't forget about your exterior amenities such as fencing, pool houses, and stone or brick walkways.  Well-manicured hedges and shrubbery often line stone driveways and outdoor entertaining areas of Tudor homes. If you're trying to bring this outdoor living style to your home, try some of these hard and soft scape ideas.
6. Bringing interior details into your Tudor-style home:
Once your outdoor home has the Tudor exterior aesthetics what about the interior of your home? In the early 1920's – 1940's in the United States, Tudor style homes graced some of the most palatial estates across New England and northern states. Interior amenities such as high ceilings with exposed heavy timber ceiling beams, small windows and attention to detail in woodworking was paramount. Look to these finishes when trying to incorporate inspiration into your Tudor-style home.
Shop These Products Now: Modern Table Lamp – Bookcase
7. Kitchen details featuring old world style
The kitchens in the early nineteenth century had craftsmanship details such as custom cabinetry with wrought iron and wood being the primary choice of materials. In modern day Tudor homes several cabinetry manufacturers mimic the style of these cabinet details with custom islands, wrought iron lighting fixtures. The Gothic arch was flattened and made into a more rounded arch and became a signature shape in many Tudor style details in everyday kitchens.
8. Interior Tudor-style cues for your modern day home:
If you are considering renovating an older Tudor home or just like the appeal of certain details – here are a few details to include:
Oriel windows are like floating bay windows that extend past the face of the exterior home.
Plenty of windows to allow natural light in. Rectangular windows with small lites and mullions were the most common.
Lead glass windows also used diamond shape or grid patterns on them to keep up with the geometric symbolic shapes throughout Tudor period design.
9. Tudor materials to incorporate into your home
Architectural materials were a big part of Tudor interiors and exteriors. Natural materials such as rock, plaster, oak wood, stone were amongst those for the exterior and metals like copper, wrought iron and walls were often covered with wood 2/3 of the way up the wall with plaster above. Try adding these gorgeous finishes into your home to feel the warmth of the Tudor-style period in your home.
10. Add warmth to your home with Tudor influences
Reminiscent of the fairy tales, Tudor style homes reflect a historical period where craftsmanship and quality of building was at its pinnacle. From exposed timber ceiling beams to fireplaces with rustic stone surrounds, there is nothing quite like a Tudor home! Use these 10 ideas to bring this sought after style to your home. Freshome readers, what do you love most about the Tudor-style period?