Comfort Aire Heating and Cooling
Comfort Aire offers a variety of HVAC systems for residential and commercial applications. The brand was established by Heat Controller Inc. to manufacture air conditioners and dehumidifiers. The company expanded over the years, acquiring Century and Aiton brands in the process. In 2013, MARS, one of the oldest companies in the HVAC market acquired Heat Controller Inc. Today, MARS sells the entire suite of Comfort Aire products.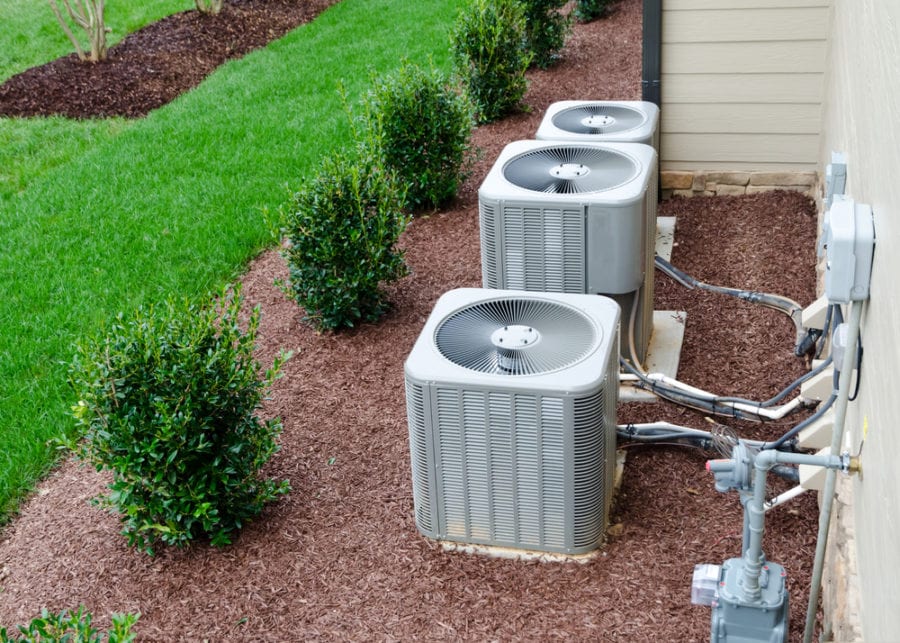 Image: Shutterstock/ Konstantin L.
Comfort Aire products
Comfort Aire offers an exhaustive line of products for heating, cooling, and dehumidification. We list some of the top products the company offers below.
Comfort Aire Furnaces
The company sells both gas and oil furnaces, which are energy-efficient and reliable in performance. These furnace models are available in different heating capacities, AFUE (Annual Fuel Utilization Efficiency) ratings, and feature sets that will keep you warm even during the coldest days. Learn about the top Comfort Aire furnace models below.
Gas Furnaces
GUH97M
This variable-speed gas furnace from Comfort Aire boasts an efficiency rating of 97% AFUE and comes in unit sizes ranging from 3 ton to 5 ton. The furnace model uses a modulating gas valve which ensures consistent temperatures no matter how cold it is outside. The unit is also dual-fuel compatible, which means you can pair the furnace with an electric heat pump to switch between electric and gas fuel for greater energy-efficiency and comfort. The furnace also comes with a self-diagnostic system that continuously monitors internal components to prevent faults.
GUH95T
Another energy-efficient furnace from Comfort Aire, the GUH95T series models deliver AFUE of up to 95%. The variable-speed motor ensures even temperatures and keeps the operation quiet. This two-stage furnace model comes in heating capacities that range from 3 ton to 5 ton. The prices for these models range from $1,300 to $2,500, depending on the unit size.
Oil Furnaces
Highboy 84% Efficiency
The oil furnaces from Comfort Aire offer energy efficiencies below the recommended standards. This Highboy model delivers AFUE of up to 84% and comes in unit sizes ranging from 3 ton to 5 ton. This oil furnace comes with a multi-speed direct drive blower that delivers optimum heating while helping you save on utility costs. The furnace costs between $1,500 and $1,800, depending on the unit size.
Comfort Aire air conditioners
RSG16-S1M
The RSG16 series AC condensers from Comfort Aire offer SEER (Seasonal Energy Efficiency Ratio) of up to 14.0. These units use heavy-duty two-stage scroll compressors that offer outstanding cooling performance while keeping the operation quiet, with sound levels as low as 74 dBA. Available in sizes ranging from 2 ton to 5 ton, the prices for these units fall between $1,400 to $2,400, depending on the cooling capacity.
RSG13-S1M
RSG13 is another series of energy-efficient air conditioners that deliver SEER of up to 13.0, which will keep your energy bills low. The units come in different sizes, ranging from 1.5 ton to 5 ton, and use single-stage scroll compressors that ensure quiet operation, with noise levels as low as 74 dBA. The air conditioner model costs between $1,100 and $1,700, depending on unit size.
Comfort Aire heat pumps
HRG16-S1M
HRG16-S1M series heat pumps come with a high-efficiency two-stage scroll compressor that offers optimum heating and cooling. With noise levels as low as 70 dBA, these heat pumps are also some of the quietest on the market. The heat pump model offers efficiencies up to 16 SEER and 9.0 HSPF (Heating Seasonal Performance Factor) and ranges in size from 2 ton to 5 ton.
HRG14-S1M
The HRG14-S1M delivers efficiencies of up to 14 SEER and 8.0 HSPF, which are well above the federal energy-efficiency standards. The heat pump uses a single-stage scroll compressor that keeps the operation silent while delivering optimum cooling/heating year-round. Depending on the unit size, which varies from 2 to 5 tons, the sound ratings range from 80 dBA to 74 dBA.
Comfort Aire packaged systems
TGRG Gas/Electric
The TGRG series packaged systems combine an electric air conditioning system and gas furnace in a single unit to offer optimum comfort throughout the year. These easy-to-install packaged systems are ideal for homes with limited space. The units come in sizes ranging from 2 to 5 tons and offer efficiencies of up to 14 SEER and 81% AFUE. With sound levels as low as 71 dBA, these self-contained systems are also quiet.
TARG & TPRG
Comfort Aire's TRAG & TPRG is a packaged unit series comprising an electric air conditioner and a heat pump that offers reliable cooling/heating performance season after season. This self-contained system boasts a SEER of 14.0 and HSPF of 8.0, which will keep your energy bills low. The packaged system is ideal for space-challenged homes and comes in different heating/cooling capacities, ranging from 2 ton to 5 ton.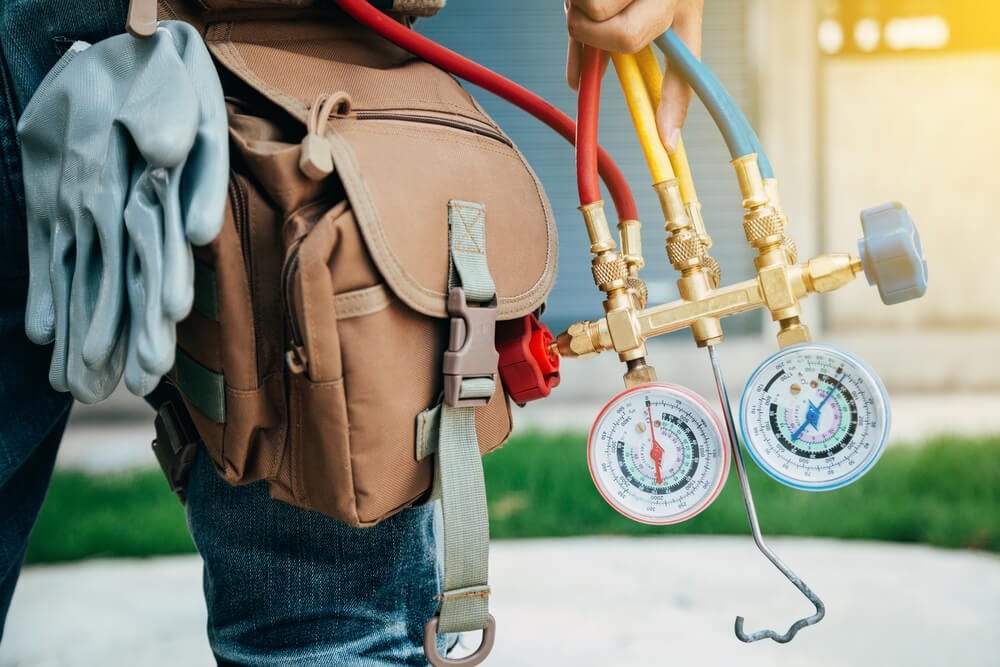 Image: Shutterstock/ I AM NIKOM
Comfort Aire warranties
Warranties differ based on the Comfort Aire product you choose. For example, the RSG and HRG models for AC and heat pumps come with a limited six-year parts warranty. However, if the unit is part of a complete AHRI-matched system, you'll get an additional six-year warranty on the compressor and all other parts, amounting to 12 years.
The GDD and GUH series furnace models from Comfort Aire come with a limited five-year warranty on parts that extends to an additional seven years upon product registration. The company also provides a limited 20-year warranty on the heat exchanger. All oil furnace models come with a limited five-year warranty on parts and lifetime warranty on the heat exchanger.
For Comfort Aire packaged units, the company offers a limited five-year warranty on parts. Upon product registration, the warranty extends five years, totaling 10 years. You'll also get a limited 20-year warranty on the heat exchanger for TGRG series models.
Comfort Aire reviews
Installing or replacing your heating and cooling system can be an expensive task. Before you invest in a new Comfort Aire HVAC system for your home, learn what existing customers have to say about the products that the company offers. Read unbiased Comfort Aire reviews from customers on Freshome.com.
Make sure to check what people have to say about the installation and service experience. Find out how well the product is performing in terms of cooling or heating efficiency as well as reliability. Also, look for reviews that talk about parts failure and repair costs to get a better understanding of maintenance requirements.
Finally, compare these details with what the company advertises and plan your purchase accordingly. If you're still hesitant, consult with a local HVAC professional too.
---
Everything for your move, all in one place
Curate your personalized moving checklist, set up TV & Internet, and more with a free MYMOVE account.
Save on your move and tackle upcoming to-dos with your free MYMOVE account.