Clever Ways to Hide an Ugly HVAC Unit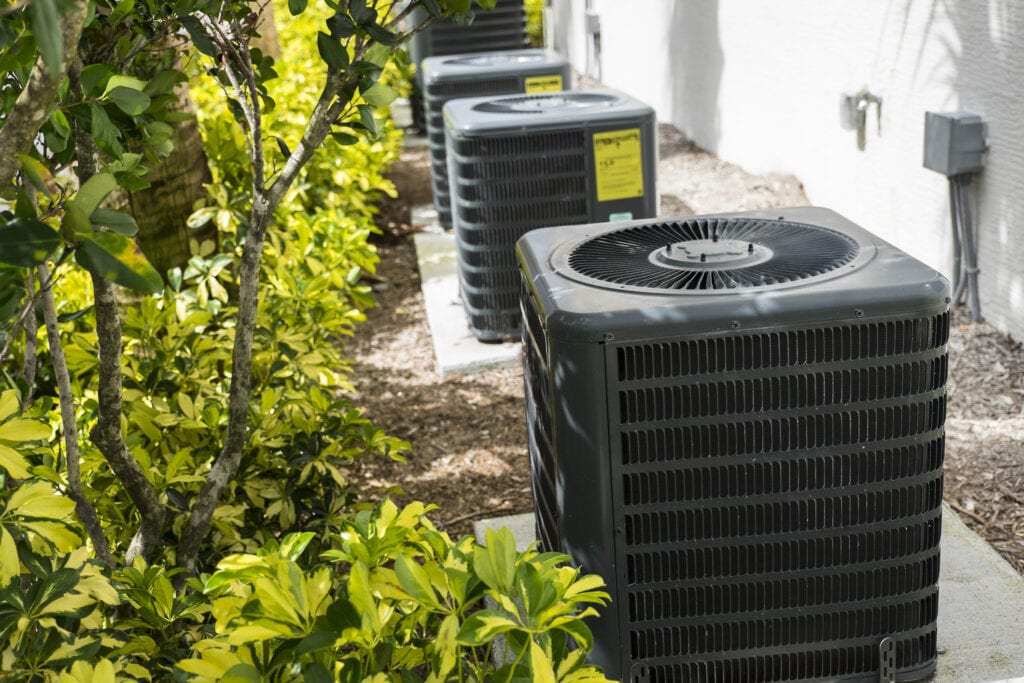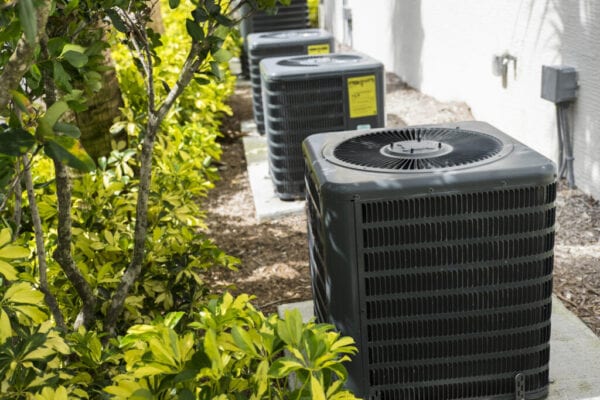 Tetra Images / Getty Images

[deals-hub-ad]

We hope you like the products we recommend. Just so you are aware, Freshome may collect a share of sales from the links or submissions on this page. 

Don't let an unsightly HVAC unit or pool pump ruin your home's outdoor aesthetic. There are plenty of great materials and ideas available to help your air conditioner blend in with the rest of your home. While we like to think design first, your HVAC system needs to be clear of leaves and debris and placed far enough away from any obstructions that could compromise airflow and efficiency. Your local HVAC specialist is your best bet for guidance on these issues.
Talk to the Experts at Trane
Here are five options that can help hide your air conditioner without sacrificing style.
Wicker
A charming wicker screen can give your backyard a cottage garden feel and keep your HVAC unit tucked out of sight. Flexible and versatile, you can arrange them in multiple ways to fit your home's exterior. Most are also freestanding so you don't need to attach it to another structure. The clean white lines make an eye-catching addition to any garden or backyard.
Greenery
One smart way to hide your HVAC unit is to use the greenery or shrubbery around your home. Taller plants, flowers or hedges offer a natural solution that not only disguises your air conditioner but also adds extra color and texture to the exterior of your home. If you don't have a garden or shrubbery, faux ivy leaf netting can also mimic tall hedges. Keep in mind that you'll need a fence to attach it to.
Lattice Panels
If you're handy enough, pre-assembled panels might be perfect for your home. Natural wood materials, like cedar or fir, blend well into natural settings. You can also easily paint them to match your style. The design doesn't have to be traditional lattice.  This will make your screen stand out — in a good way. Panels are sometimes sold individually, so you can order as many as you need to fit your space.
Privacy Screen
Geometric designs, like the horizontal stripes on this outdoor privacy screen, work perfectly in a modern outdoor living space. There are a variety of colors and designs to choose from depending on your home and landscaping theme. The only snag is that you'll need a fence or wooden structure to hang the plastic mesh screen on. It may work best as a decorative element on top of one of the other wooden screen options.
Bamboo
A bamboo screen, or planting bamboo itself, is a visually interesting and design-forward way to cover your HVAC unit. Bamboo is ideal for outdoor spaces with a zen garden or tropical design. It pairs well with stone pathways, water installations and garden statues. When planting actual bamboo, however, know that it does grow quickly and can require more maintenance than other plants.
What are the best materials you've found for outdoor design or hiding an HVAC unit? Let us know in the comments.
Heating & Cooling Must Reads
Want to learn more about how to keep your home comfortable for your family this summer? Check out some of our other top heating and cooling related articles:
Contact a Local HVAC Dealer
Keeping Cool: How to Choose the Right A/C Unit
Building Your Energy-Efficient Dream Home
Why Isn't My Air Conditioner Working?
HVAC Basics: What's a Good SEER Rating?