TracFone promo codes and deals
We do our best to take the stress out of moving while providing resources to help save you money on necessary items by offering deals like these TracFone coupons. Some exclusions may apply and all offerings are subject to change by the retailer, but we update our system daily so you are up-to-date on the latest deals.
How to redeem your TracFone deals
Click "Continue to store" to navigate to the TracFone website.
Choose what items you wish to purchase and add them to your cart.
The website will ask if you're a current customer with an already existing phone number or if you're a new customer. If new, enter the ZIP code in which you will be most using the mobile device.
Choose whether or not you want to bundle mobile protection with your purchase.
If you are a new customer, it will then ask you which plan you would like to purchase with the mobile device. Choose the appropriate plan, or select "Service plan not needed at this time." Click "Continue" to checkout.
The code should already be applied at checkout but if you don't see it, enter your copied Tracfone promo code in the "Have a promo code?" dropdown.
TracFone customer support
Click here for all customer support options.
Customer support number: 1(800) 867-7183. Available from 8 a.m. - 11:45 p.m. EST, 7 days a week.
Live chat support available online. Available from 8 a.m. - 11:45 p.m. EST, 7 days a week.
Text the number 611611 with a keyword that matches inquiry/need.
Mail correspondence: TracFone Wireless, Inc. Attn: Executive Resolution Department, 9700 N.W. 112th Avenue Miami, FL 33178.
TracFone delivery options
Free shipping on all orders except free orders. Offer is valid until 1/2/2021.
Choose between FedEx Next Day or PO Box/Rural Route Delivery.
All orders are usually processed within 1-3 business days. This excludes weekends and holidays.
TracFone return policy
TracFone's return policy depends on where you purchased the device from. If you purchased it from a separate retailer or wireless dealer, the return policy is subject to that specific retailer's requirements.
If you purchased directly from TracFone, online or in-store, all purchases are eligible for return within 30 days from the date of delivery.

Phone must be in like-new working condition, returned in original packaging, have all original accessories (batteries, headphones, etc...), and user manuals.
You are responsible for the shipping cost when sending the returned item back to TracFone.
If you're exchanging for a new item, you must pay the difference between the two if the new item is more expensive.

TracFone does not offer refunds/returns on any SIM kits or phone plans purchased with them.
TracFone trade-in policy
TracFone does not offer a trade-in policy at this time.
TracFone price matching
TracFone deals do not include a price matching program at this time.
How it works
We have discounts and coupon codes from top brands across a number of categories. If you're searching for a Wayfair coupon, look under "furniture" or "home improvement and decor." To get your hands on an Amazon coupon, look under "top retailers."
Find deals for whatever you need and explore offers from popular retailers like Home Depot, Kohl's, Walmart, Dollar General, and Nordstrom. And get insider information on sales, free shipping, BOGO deals, and more!
How do I get a coupon code?
Once you find the offer you want, simply click "get deal" on the bottom right corner. The offer will be a promo code that you can manually copy, or that automatically saves to your pasteboard. Simply apply your deal at checkout!
Do coupons and promo codes expire?
We show you the latest offers from your favorite brands. But once you access your offer, don't dally! Some deals don't last forever, so check the top right corner of the offer and make a note of the expiration date.
But if your deal does expire, have no fear! Our system updates coupons daily, so you can find the latest discounts on the things you want and need.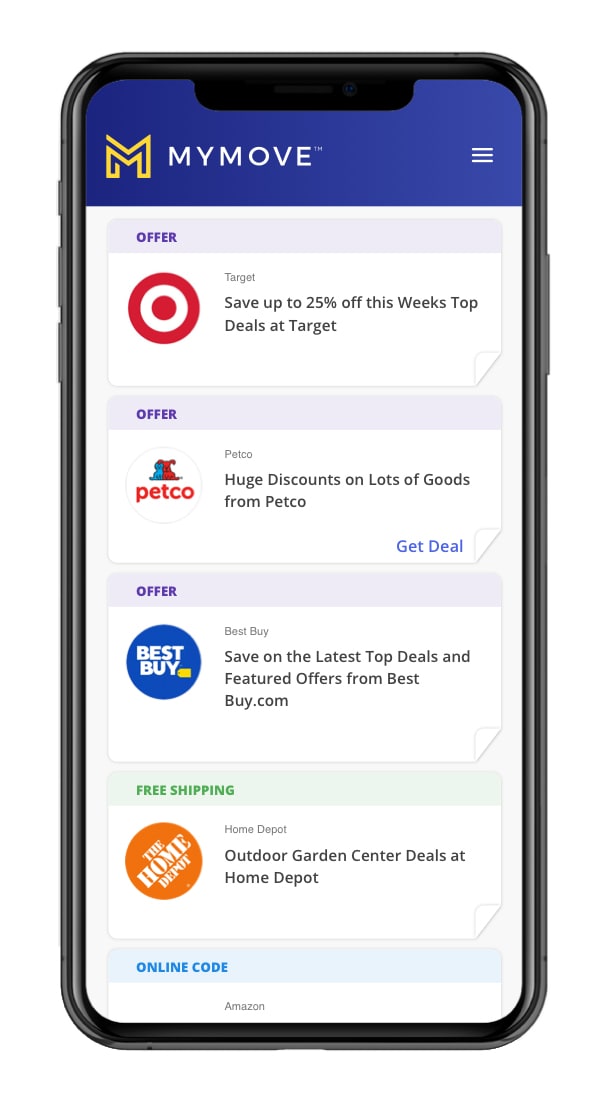 Learn money-saving tips and tricks