AT&T discounts
Searching for some relief from the boxes and unpacking? At MYMOVE, we want to help. These AT&T coupon codes will bring a smile to your face (and to your wallet). Our system updates deals daily, so grab your favorite discounts before they go. Retailers have the right to change offerings or apply exclusions.
How to redeem your AT&T promo codes
Click "Continue to store" to navigate to the AT&T website.
On the company's site, select the items and add them to cart. Once you've finished your retail therapy, access your cart to complete the purchase.
The code should already be applied at purchase, but if you don't see it, enter your copied AT&T promo code in the "have you got a promo code?" dropdown.
AT&T customer support
As an AT&T customer, you can sign in on their website to receive personalized support. If you prefer to speak to an agent over the phone, then you can use the following details:
AT&T delivery options
Delivery options may vary depending on your purchase item and whether you will need help setting it up. For wireless online orders, here are your options:
Free Pickup at your local AT&T store. You will be able to see if this option is available when you check out your item online.
Free Shipping is so quick, sometimes same-day. Choose the AT&T Right to You option if you see it on checkout. If you cannot see it then, unfortunately, same-day delivery isn't available in your area. If you're eligible for AT&T Right to You, then delivery is free.
Free Express Shipping takes 2 to 3 business days for select items.
Free Standard Shipping takes 3 to 5 business days.
AT&T return policy
The AT&T return policy is valid for services and equipment bought directly from AT&T through an AT&T retail store, telephonically from AT&T, or online at att.com.
Returns can be requested up to 14 days after purchase (or, for online purchases, the shipping date) of device or accessory. Devices must be in like-new condition, returned in the manufacturer's original packaging in like-new condition, and accompanied by original parts (battery, charger, manual, software). Customers must also present a copy of the invoice or receipt. A restocking fee of up to $55 for returns may incur.
For a signed service, customers have 14 days after the purchase to cancel their contract. After that period, an early termination fee of up to $325 applies.
AT&T trade-in policy
The AT&T Trade-in program is simple and rewards customers for old or unused products. The best way to do this online by following these steps:
Learn the value of your device by answering a few questions. You will then receive a quote for the value of your items.
AT&T will send you prepaid shipping supplies. This way, you can send devices at no cost to you.
Finally, once AT&T receives your item, you will receive a device offer via credits or an AT&T promo card by mail. The promo card can be used online or at your local AT&T store.
A phone trade-in can incur a reward as credit towards new tech services, a donation to U.S. troops, or credit towards your AT&T bill.
AT&T price matching
AT&T does not offer a price-match guarantee. However, with your AT&T coupon code, you may get the price you're looking for.
How it works
We have discounts and coupon codes from top brands across a number of categories. If you're searching for a Wayfair coupon, look under "furniture" or "home improvement and decor." To get your hands on an Amazon coupon, look under "top retailers."
Find deals for whatever you need and explore offers from popular retailers like Home Depot, Kohl's, Walmart, Dollar General, and Nordstrom. And get insider information on sales, free shipping, BOGO deals, and more!
How do I get a coupon code?
Once you find the offer you want, simply click "get deal" on the bottom right corner. The offer will be a promo code that you can manually copy, or that automatically saves to your pasteboard. Simply apply your deal at checkout!
Do coupons and promo codes expire?
We show you the latest offers from your favorite brands. But once you access your offer, don't dally! Some deals don't last forever, so check the top right corner of the offer and make a note of the expiration date.
But if your deal does expire, have no fear! Our system updates coupons daily, so you can find the latest discounts on the things you want and need.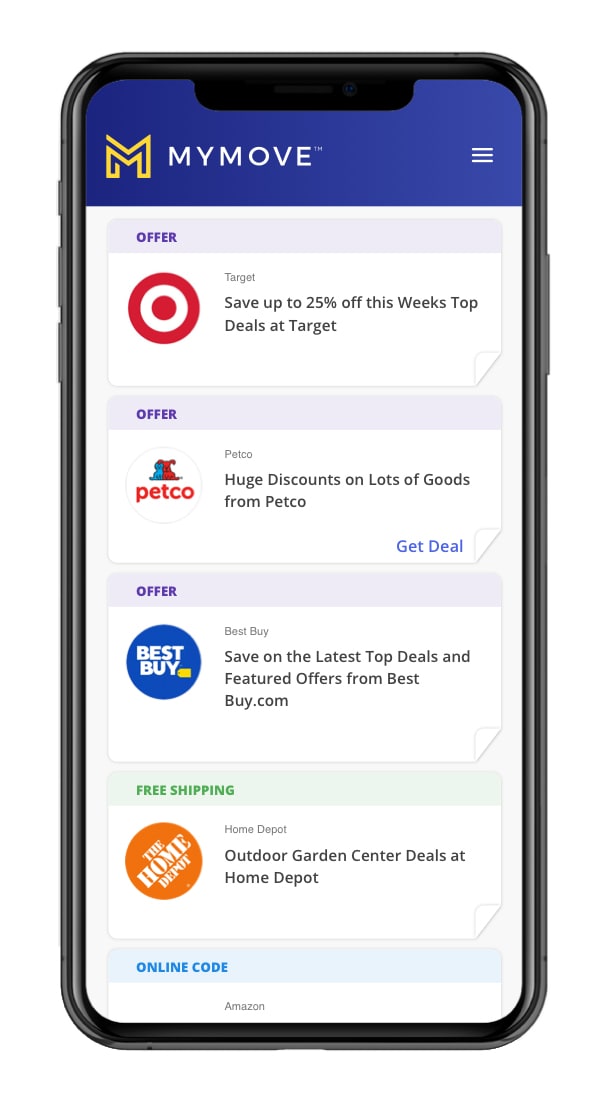 Learn money-saving tips and tricks