Your Guide to Moving to San Antonio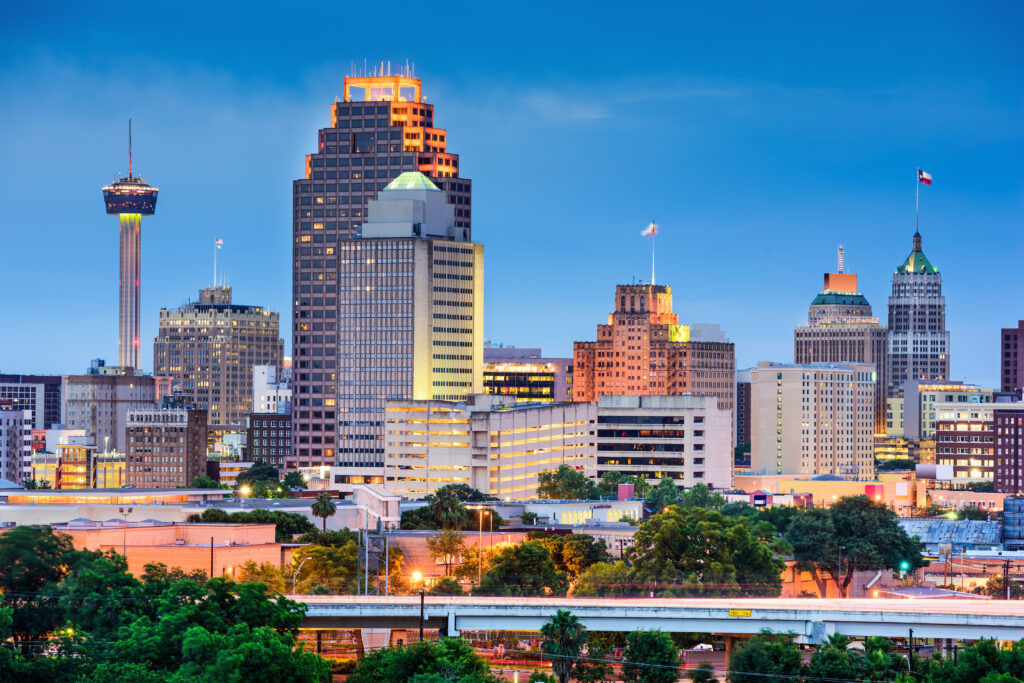 Moving to San Antonio at a glance:
Home to the famous San Antonio River Walk, The Alamo, and some of the best Tex Mex food in the world, San Antonio is one of the most visited cities in Texas.
For nearly a decade, San Antonio has ranked as one of the fastest-growing cities in the country. Today, it has a population of around 1.48 million people.
People are moving to San Antonio for the affordable cost of living. According to Payscale, the cost of living in the city is 10% lower than the national average across the board.
San Antonians love to drive. The average ratio of people to cars is 1:1, and most residents depend on their cars to get around and commute to and from work.
If you love the sunshine, you'll love San Antonio; the city sees 220 sunny days per year.
Moving to San Antonio: The Basics
What's the population of San Antonio?
The 2018 census estimates that the total population of San Antonio is around 1,486,521. However, that number continues to grow year after year, with thousands of people moving to San Antonio every month. This rapid migration makes San Antonio the second-fastest growing city in the nation, behind only Phoenix.
As a city, San Antonio has a slightly younger population than the rest of Texas, with a median age of 33. Located in south-central Texas, San Antonio is culturally diverse, with a large Hispanic population (about 65%). About 56% of adults living in San Antonio are single, and there's a pretty even ratio of males to females.
What's the cost of living in San Antonio?
Compared to other large cities, the cost of living in San Antonio is definitely reasonable. In fact, the cost of living is 10% lower than the national average.
Housing costs are a whopping 24% lower than national numbers (which could be one reason why the city is seeing rapid growth). According to recent Census data, the median home price of owner-occupied homes in San Antonio is $136,800, and the median rent is $958/mo.
The lower cost of living is also reflected in day-to-day essentials. If you're walking down the supermarket aisle, expect to pay around $3 for a loaf of bread, $1.60 for a half gallon of milk, and $1.60 for a dozen eggs.
According to the Census, the median household income for professionals in San Antonio falls right around $50,980 — a number that has increased steadily over the past decade — and the average salary is $38,493
To get a true idea of the cost of living in the area, you need to compare it to other U.S. cities. Here's how San Antonio stacks up:
| | | | | |
| --- | --- | --- | --- | --- |
| City | Cost of Living (Compared to National Average) | Average Salary | Median Home Price | Median Rent |
| San Antonio, TX | -10% | $38,493 | $258,354 | $1,229 |
| Philadelphia, PA | 11% | $51,340 | $419,753 | $1,489 |
| Phoenix, AZ | -0.2% | $42,119 | $348,929 | $1,464 |
| New York, NY | 141% | $53,996 | $2,105,921 | $5,063 |
*Data sourced from the Council for Community and Economic Research's Cost of Living Index
Look up the data for all of the cities you mention using this page: https://www.mymove.com/cities/
How's the San Antonio job market?
Top industries in the city include manufacturing, education and health services, government, and professional business services — so if you're job searching, companies in those areas are a good place to start. You can also look at some of the most popular companies that employ a large number of San Antonians. Those companies include USAA, U.S. Air Force, Rackspace, U.S. Army, and Southwest Research Institute.
In 2019, Texas led the nation in annual job growth — adding 343,000 jobs statewide. That growth was felt on the city level as San Antonio had one of the lowest unemployment rates in the state, second only to Austin.
Prior to the global outbreak of the coronavirus, unemployment in the city was in a steady decline. In January 2020, unemployment in San Antonio was 3.2% — lower than the U.S. rate of 3.8%. As it did across the country, unemployment started to rise in San Antonio due to the economic impacts of COVID-19. By June 2020, the unemployment rate rose to 8.3%.
What do I need to know about education in San Antonio
There are 19 independent school districts in the San Antonio area. According to data from the Texas Education Agency, the top three school districts in the area include Borne Independent School District, Alamo Heights Independent School District, and Randolph Field Independent School District. The agency determines these rankings based on state assessment scores and college readiness metrics.
Where your child goes to school is determined by where you live in the city. Student assignments are determined geographically based on school district boundary maps. Typically a child attends the school district where he or she lives, but in certain instances, it's possible to make transfer arrangements between schools.
If you're not interested in going the public school route, there are  117 private schools in the area. As for higher education, options in the city include the University of Texas-San Antonio, University of Texas-Austin, Texas A&M University, and Texas State University.
Many public schools in San Antonio have resumed in-person classes on a small scale, while some are largely doing only virtual learning at this time. In-person instruction looks different district to district, with some districts taking a phased approach and others opening up their classrooms to any students who opted for in-person classes.
What are the safest areas in San Antonio?
There are several pockets in the greater San Antonio area that are considered safe, according to data reported by local law enforcement agencies and gathered by Neighborhood Scout. Based on these reports, the safest areas of the city are located outside and north of "the loop," which is what San Antonio residents call the highway that draws a circle around the city —Highway 410.
Neighborhood Scout says areas near the following crossroads are some of the safest: 
FM Road 2696 and Wilderness Oak in the northernmost part of the city
FM Road 2696 and Midnight Drive in the northernmost part of the city
Route 90 and Ray Ellison Drive in the midwestern portion of the city
For a more detailed look at crime in San Antonio, you can look into reports made public by the San Antonio Police Department and the data that the FBI has gathered on cities in Texas.
How do I get around San Antonio?
San Antonio is largely a car city, with 82% of residents driving to work each day. The average commute time in the city is about 27 minutes.
While you could choose to get around the greater San Antonio area without a car, it's not particularly convenient or recommended. The city was planned for drivers who mostly commute into the city for work and back out toward the suburbs to head home. Since parking is plentiful and highways are fairly unavoidable, the convenience of a car will make your life in San Antonio much easier.
There are quite a few transportation options for people who need to get from place to place within city limits, though, including scooter sharing, bike-sharing, and bus routes on the VIA Metropolitan Transit. The VIA Metropolitan buses operate seven days a week from 4 am–1 am with 7,913 stops and 90 lines.
What's the weather like in San Antonio?
If you're a snowbird looking to escape harsh northern winters, the warmth and sun of San Antonio is your paradise. The hot summer season lasts an average of three months and the colder winter season lasts an average of two months. Winters in San Antonio are short and cool, but not freezing since the temperature rarely dips below 40 degrees. The city experiences very hot summers with lows in the mid-70s and highs in the 90s, with relatively warm, temperate weather throughout the rest of the year.
The prime seasons to visit San Antonio are in the late fall (October through December) or spring (March through May). This is when the weather typically stays above 50, but below 80 degrees.
What are San Antonio's fastest-growing neighborhoods?
Alamo Heights
Located in central San Antonio, the population of Alamo Heights is just over 8,193, and the median home value is around $579,000. The median rent in the area is about $1,465/mo.
Known for its great schools in Alamo Heights ISD, this diverse and cozy neighborhood has won plenty of awards, ranking third as the "Best Suburbs for Millennials in Texas" and as the 13th "Best Place to Retire in Texas."
Olmos Park
Olmos Park is located very close to what is known as San Antonio's cultural corridor, which has some of the city's favorite breweries, restaurants, and hotels. It's smaller than neighboring Alamo Heights, with a population of roughly 2,000 residents. The home median home value here is on the pricier end, with a median home value of about $715,000. The median rent is $805/mo.
Terrell Hills
This moderately-sized neighborhood of 5,330 residents is located about 10 minutes northeast of downtown San Antonio. It offers easy access to some of the best attractions in town including the San Antonio Zoo, Botanical Gardens, and several museums. The median home price is around $495,700, and the median rent is about $1,750/mo.
In the greater San Antonio metro area:
Alamo Ranch
As the fastest-growing planned community in San Antonio, Alamo Ranch is a popular neighborhood for families due to its proximity to some of the best public and private schools in the area. It is located about 20 minutes driving from the downtown area in the northwest corner of the city. Loved for its friendly, small-town feel, views of the Texas hill country landscape, and conveniently close amenities, the Alamo Ranch area has something for everyone with homes starting at $150,000.
Hill Country
This picturesque area on the northwest outskirts of the San Antonio metro is home to some of the most beautiful views of the coveted Texas Hill Country. Known for its big oak trees and iconic sunsets, Hill Country has a diverse range of neighborhoods from planned communities to standalone ranch-style houses. Depending on where you live, the homes fall into one of two top-rated school districts: Comal Independent School District or New Braunfels Independent School District.
Northwest San Antonio
This well-established area is known for its luxurious neighborhoods, great shopping, and innovation. With a population of 77,445, it's home to the corporate headquarters of USAA, Valero, and NuStar energy, as well as country music legend George Strait. Some of the most popular neighborhoods in this area include Fair Oaks Ranch, The Dominion, Helotes, and Crownridge. According to Niche, the median home value in the area is around $155,000.
Living in San Antonio: The fun part
For the sports fan
Whether it's basketball or ice hockey that's calling your name, you'll have plenty to cheer for if you live in San Antonio. It's home to four professional sports teams, including the NBA's San Antonio Spurs, AHL's San Antonio Rampage, the San Antonio FC soccer team, and a AAA baseball team called the San Antonio Missions.
For the culture-seeker
San Antonio is a richly diverse city largely shaped by the city's Hispanic population. It's home to dozens of museums and a number of historical sites such as the UNESCO-designated Missions National Historical Park, Mission San Jose, and The Alamo, where Davy Crockett made his last stand. It is also known for the River Walk that snakes through the heart of the city.
For the foodie
San Antonio boasts some of the most delicious Tex Mex, barbecue, and southern comfort foods you can find. Some dishes to put at the top of your foodie bucket list include chicken fried steak, enchiladas, puffy tacos, brisket, and pozole.
For the traveler
For those who want to get away, San Antonio has its own international airport, and it's also only an hour drive from Austin's international airport. There are also plenty of weekend trips you can take by hopping in a car and driving a few hours. Popular destinations include Fredericksburg (also known as Texas wine country), Houston, New Orleans, Austin, and Dallas.
For the outdoor explorer
Located just outside the heart of Texas hill country, there are plenty of great outdoor adventures to be had around San Antonio. More than 100 hiking trails and 300 parks can be found throughout the city, which is also home to the third largest zoo (ranked by collection of animals) in the country.  A favorite activity for locals is floating on the river during the hot summer months. San Antonio is also just a road trip away from Big Bend National Park and some of the best Texas beaches.
What you probably didn't know about San Antonio…
If you're interested in moving to the area check out our city page on San Antonio!
The bottom line
If you're thinking about moving to San Antonio, this guide is a great place to start your research. But, this is only the tip of the iceberg! To really get a sense of what the city is all about, we recommend diving deeper into local resources.
To take your research a little bit further, we recommend plugging into tourism sites like the Digital San Antonio Visitor's Guide and cultural publications like San Antonio Magazine, which can help you with local festivals, events, and other events around the community. Also, tuning in to local radio stations and news sources like KSAT San Antonio, San Antonio Express-News, San Antonio Current, and the Rivard Report will help you stay informed about all of the most important happenings around the city leading up to your move.
Finally, use social media as a resource. Don't hesitate to join local Facebook groups where you can to ask questions and get connected with locals. Most neighborhoods have groups like this, and they can be extremely helpful to get a feel for a new area and start making connections before moving to a new city.
Relocating to a new city is a big and exciting decision. We hope the facts and information above serve as a solid jumping-off point for your research. With some additional research and careful planning, your move to San Antonio can be a seamless process. Best of luck!