Your Guide to Moving to Houston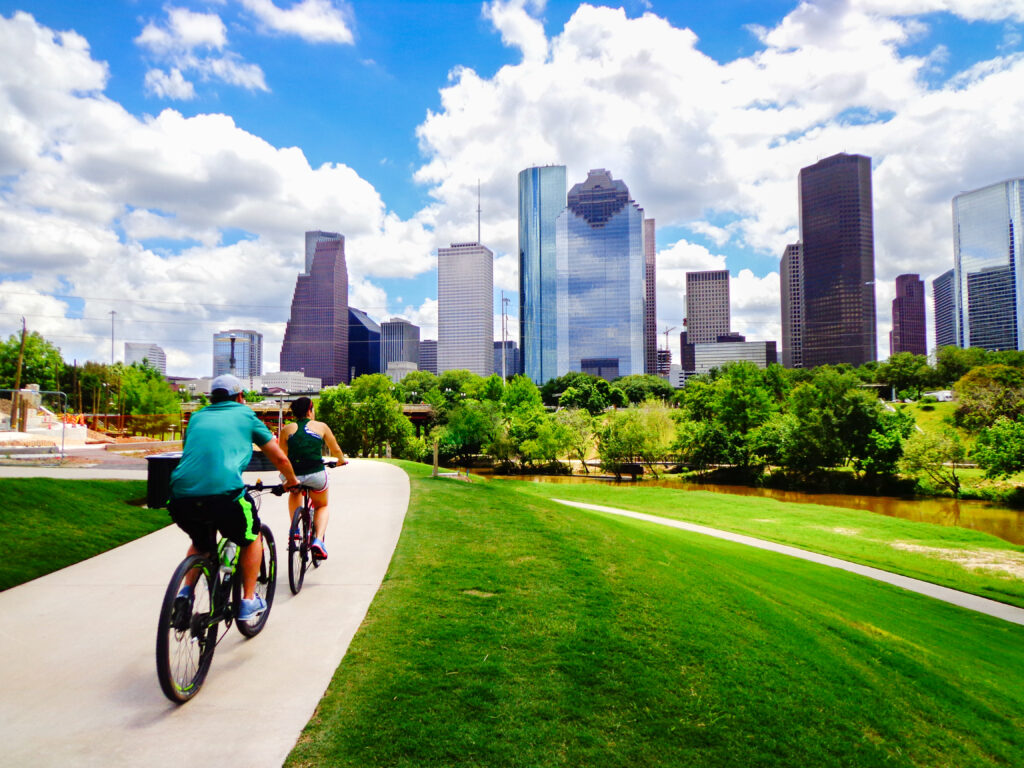 Houston at a glance:
Houston is the largest city in Texas and the fourth-largest city in the United States.
More than 250 people move to Houston each day, and the metro area's population is estimated to exceed 7.1 million people by the end of 2020.
Some of Houston's nicknames include Bayou City, Space City (thanks to NASA's Manned Spacecraft Center), and Clutch City (due to back-to-back NBA championships won by the Houston Rockets in 1994 and 1995).
Key industries include oil and gas, the Texas Medical Center, and NASA.
Houston is about 50 miles from the Gulf of Mexico and beaches of Galveston Island and about 57 miles from the Piney Woods of the Sam Houston National Forest.
Moving to Houston: The basics
What's the population of Houston?
The population of Houston proper is over 2.9 million and growing. More than 250 people move to Houston each day, drawn to the city for its low cost of living, affordable housing, and employment opportunities.
The population in the city is young, with a median age of 33. Fifty-six percent of the population is single, and there's a pretty even split between male and female residents.
Houston is a hugely diverse city thanks to several international industries. Almost a third of Houstonians are foreign-born. There's a thriving Hispanic community in the city, which makes up 45% of the total population.
What's the cost of living in Houston?
The Houston cost of living is relatively affordable — about 4% lower than the national average. The average home price in the city is $302,450, and the average rent is $1,234/mo.
You'll also see the lower cost of living reflected in goods and services, like groceries. When strolling down the supermarket aisle, expect to pay $3.16 for a loaf of bread, $1.59 for a half-gallon of milk, and $1.25 for a carton of eggs.
The average salary in Houston is $49,332.
But to get a true gauge of the cost of living in Houston, compare it to other U.S. cities. Here's how it stacks up:
| | | | | |
| --- | --- | --- | --- | --- |
| City | Cost of Living (compared to the national average) | Average Salary | Average Home Price | Average Rent |
| Houston, TX | 4% below | $49,332 | $302,450 | $1,234/mo. |
| Dallas, TX | 8.3% above | $48,358 | $385,720 | $1,603/mo. |
| Chicago, IL | 21% above | $50,755 | $518,082 | $2,154/mo. |
| New York, NY | 141% above | $53,996 | $2,105,921 | $5,063/mo. |
How's the Houston job market?
When most people think of top Texas industries, they think of oil and gas. And it's true. One of Houston's main industries is petrochemicals, thanks in part to the Port of Houston, which is a major hub for shipping oil, gas, and other goods in and out of the country. But Houston is also home to the Texas Medical Center, the largest medical city in the world. The city also has a long history of technological innovation with NASA's Manned Spacecraft Center, as well as being corporate headquarters to more than two dozen Fortune 500 companies.
Houston's unemployment rate in December 2019 was 3.6%, just above the national average at that time of 3.5%. Due to the economic impact of COVID-19, the city's unemployment rate rose to 9.4% compared to the national unemployment rate of 10.2%. The unemployment rate has been steadily decreasing in recent months.
What do I need to know about education in Houston?
The Houston Independent School District is the largest district in Texas and seventh-largest in the United States. The district is best known for a handful of specialized vocational high schools, which rank high in national polls. Those include the DeBakey High School for Health Professionals, which ranks #29 nationally, and Carnegie Vanguard High School, which ranks #44 nationally.
All Houston ISD classes are being taught virtually until October 16, 2020, and in-person classes are set to resume October 19, 2020, but this date is subject to change depending on COVID-19 recommendations from local and state officials.
In addition to the public school system, there are plenty of choices among the 166 charter schools and 86 private schools in Houston.
If you're looking for higher education opportunities, there are a number to choose from in and near the city. Houston is home to two Tier 1 universities: the University of Houston, which is public, and Rice University, which is private. The University of St. Thomas is another notable private university in the area, and Texas Southern University is one of the largest historically black universities in the country. Houston Community College has several locations throughout the city, and there are more than 50 trade, vocational, and business schools in the area.
What are the safest areas in Houston?
The safest neighborhood in Houston is Dogwood Acres and Walden Woods areas in the suburb of Kingwood, in the northern part of the city, Neighborhood Scout reports. Other areas of Houston that get top marks for safety are located on the far west side of town near the crossroads of Westheimer Parkway and South Ferry Road, and Kingsland Boulevard and Baker Road.
For more in-depth information on city safety, check out the City of Houston website.
How do I get around Houston?
Houston is very large and very spread out, with an average commute of 30 minutes. Because the city is so sprawling, most Houstonians prefer to travel by car.
Houston does have an extensive bus system, and in recent years the city has made great strides in alternative forms of transportation. They've built a growing light rail network (with more lines to come), and plan to build more than 1,800 miles of bikeways. Uber and Lyft are both prevalent in Houston, and BCycle has dozens of bike rental stations throughout the city.
What's the weather like in Houston?
If you're looking to escape from the cold, Houston should be on your list. The city is located in a subtropical zone, and its proximity to the Gulf of Mexico makes for hot and humid summers. August is the hottest month of the year at about 95 degrees Fahrenheit, and January is the coolest month at a comfortable 42 degrees.
Houston gets about 50 inches of rain a year, but the city's big weather concern is hurricane season, which lasts from June 1 to Nov. 30. Not all hurricanes are catastrophic, but not all storms need to be classified as hurricanes in order to cause major flooding and wind damage. The City of Houston has published an extensive hurricane guide, including tips on how to plan for storm season.
What are Houston's fastest-growing neighborhoods?
In Houston:
Second Ward
Once home to industrial warehouses, the Second Ward has developed into a hip, up-and-coming part of town. It now has its own light rail, the Dynamo soccer stadium, and numerous new breweries and restaurants. But it still maintains a historical feel, with street art murals and The Original Ninfa's Tex Mex restaurant on Navigation Blvd. Most new homes in the area are condos or townhomes, with a median listing price in the mid-$300,000s. The average rent in the area is $1,468/mo.
Garden Oaks
Known as the GOOF along with its sister neighborhood, Oak Forest, Garden Oaks is one of the last places in Houston where you might find an older home on a spacious lot. Median home prices are in the $700,000s, and the average rent is $884/mo.
Located just outside of the 610 Loop in Northwest Houston, Garden Oaks is home to adorable Craftsman cottages, plus some new restaurants and a handful of yoga studios. Bike trails along White Oak Bayou lead directly into central Houston, but if you have a post-WWII bungalow with a massive yard, you might not want to leave home.
Spring Branch
If you're moving to Houston to work in the Energy Corridor on the west side of town, but want to live closer to downtown, consider Spring Branch your happy medium. Houses here are in the $200,000 range and up, and average rent prices are $945/mo.
Spring Branch is home to one of Houston's largest Korean communities and includes a massive H Mart Asian Grocery store (plus numerous Korean eateries). Memorial City Mall and CityCentre offer retail shopping nearby, and the neighborhood's proximity to I-10 makes it perfect for anyone who commutes east or west for work.
Glenbrook Valley
Step back into the golden days of Space City, when astronauts were living in atomic-age MCM ranches, and Houston only had one airport. For anyone looking for a unique, historic home, Glenbrook Valley is the place. The tight-knit community has put a lot of blood, sweat, and tears into preserving this Hobby Airport-adjacent neighborhood, where the median home price is in the mid-$200,00s. The average rent for a two-bedroom apartment is $875/mo.
Northside Village
Northside Village, which is just northeast of downtown Houston, now has its own light rail line. It's similar to Second Ward in that it's transforming quickly, but unlike Second Ward, most of the older homes in Northside are still standing. If you're looking for a house with a nice yard and a decent amount of space, prices in Northside Village average around the low $300,000s. The average rent in the area is $879/mo.
In the Greater Houston Metro Area:
Cinco Ranch
Niche calls Cinco Ranch one of the best places to live in Texas, with high marks in family-friendliness, schools, housing, and diversity. It's located about 30 minutes due west of the city, making it a good commuter spot, whether you're working in the Energy Corridor or further east in Houston proper. The median home price in Cinco Ranch is in the $300,000 range, and you'll be close to amenities like Katy Mills Mall, Momentum Indoor Climbing, and The Golf Club at Cinco Ranch.
Lakemont
Located in Richmond, TX, Lakemont is right off the Westpark Toll Road, southwest of Houston in Fort Bend County. This area allows you to experience life outside of the bustle of central Houston. The median list price for homes in Lakemont is in the upper $200,000s. Entertainment nearby includes dining and retail at the Sugar Land Town Square, and minor league baseball team the Sugar Land Skeeters.
Living in Houston: The fun part
For the sports fan
Houston has teams in nearly every major league sport: The Rockets (basketball), The Texans (football), The Astros (baseball), The Dynamo (men's soccer), The Dash (women's soccer), and the Sabercats (rugby). It's also home to the Astrodome, the world's first indoor stadium, and the Houston Livestock Show and Rodeo, the largest rodeo in the world.
For the culture seeker
Houston boasts 49 museums, making it a culture lover's dream. Plus, Houston has resident companies in theater, ballet, symphony, and opera, and much of the Theater District is walkable. Houston is also home to some niche museums, like the Museum of Funeral History and the Art Car Museum.
The city offers a wealth of activities for families as well. The Children's Museum of Houston is often named one of the best children's museums in the country, and the Museum of Fine Arts Houston offers weekly kid-friendly "Family Zone" activities each Sunday.
For the foodie
Houston's international character and proximity to the Gulf make it one of the most diverse food cities in the South. One popular cuisine is a fusion known as Viet-Cajun — think of a fried oyster Banh mi or a Vietnamese-spiced crawfish. Tex Mex is also popular, and don't forget the barbecue. (It is Texas, after all.) And for beer lovers, the city has 30 different breweries to explore.
For the traveler
Houston has two major airports and is home to United Airlines, making it a major hub for most U.S. and international destinations. From Houston, you can drive an hour or two in almost any direction and be in the hills, forest, swamps, or the beach. Interstate 10, which runs through the city, also makes it easy to get to many of the states east and west of the city.
For the outdoor explorer
The heat makes water sports like sailing and surfing popular in Galveston and nearby Clear Lake. The Texas Hill Country, which offers camping and hiking, is a few hours away by car. For city dwellers, biking and running are popular activities, especially at centrally-located parks like Buffalo Bayou, Memorial Park, and Hermann Park. There are more than 600 parks and 84 hiking trails spread out around the Houston metro.
What you probably didn't know about Houston…
The Allen Brothers, who founded the city in 1836, originally advertised Houston as a "beautifully elevated" area. The city sits about 50 feet above sea level.
From 1837 to 1839, Houston was the capital of Texas, before it was moved to Austin.
One of Houston's oldest nicknames is The Magnolia City, named after the stately Southern blooming trees.
More than 145 different languages are spoken in Houston.
Downtown Houston is home to an underground tunnel system spanning more than six miles.
Houston has no formalized zoning laws that govern land use, adding to both the chaos and charm of the city's architecture.
New residents to Houston are often referred to as "Newstonians."
If you're interested in moving to the area, check out our city page on Houston!
The bottom line
This guide is meant as a jumping-off point, but it only scratches the surface in uncovering the scope of what Houston has to offer. For more in-depth information about the city, be sure to check out local sources such as Houstonia Magazine, The Houston Chronicle, and Houston Public Media. For real estate resources, HAR is a great place to start, as well as the archives of Swamplot. Houston is a very large city, but it's the kind of place that rewards exploration. If you decide on living in Houston, well howdy!
Claire Ballor contributed to this article.