Your Guide to Moving to Dallas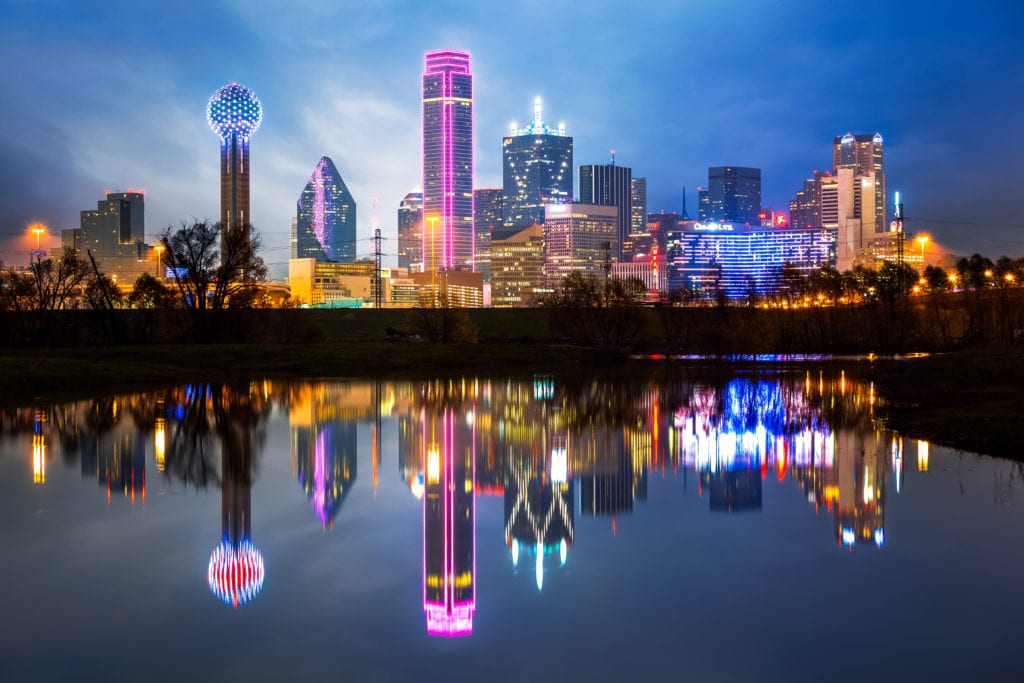 Moving to Dallas at a glance
Dallas is the ninth-largest city in the U.S. Its diverse population of nearly 1.2 million people has grown rapidly for the last decade.
With an average salary of $48,358 and a cost of living that's near the U.S. average, Dallas delivers a lot of big-city amenities without the hefty price tag.
Ten Fortune 500 companies have headquarters in Dallas.
From DFW International Airport, you can reach any city in the U.S. in four hours or less.
Job creation in the Dallas area is growing at a faster rate than anywhere else in the country. Its diversified economy has experienced strong growth in multiple job sectors, including professional and business services, education and health services, leisure and hospitality, and construction.
Dallas was named Bon Appetit's 2019 Restaurant City of the Year for its fast-growing, chef-centered food scene.
Moving to Dallas: The Basics
What's the population of Dallas?
With a population of 1,263,321, Dallas is the ninth-largest city in the U.S. Its population is notably young and unmarried, with a median age of 33, and 57% single. You'll find Dallas dwellers quite diverse, with Latinx, white, and Black populations of 42%, 29%, and 24%, respectively.
Dallas is also an anchor city for the fourth-largest metro area in the U.S. — Dallas-Fort Worth-Arlington — which has a population of 7,540,371. Locals often refer to the area as "the Metroplex," which includes 19 counties covering 15,600 square miles.
What's the cost of living in Dallas?
Dallas is moderately affordable. According to MYMOVE's city guide, the average salary in Dallas is $48,358. If you go shopping for the essentials in a Dallas supermarket, you'll find that a loaf of bread costs $3.61, a half-gallon of milk around $1.59, and a dozen eggs goes for $1.20.
The cost of living in Dallas is close to the national average, but how does it compare to other cities? Take a look at how the differences stack up to cities similar in size, like San Diego, California and Jacksonville, Florida. You can also compare it to much larger cities, like New York, New York:
| | | | | |
| --- | --- | --- | --- | --- |
| City Name | Cost of Living (Compared to National Average) | Average Salary | Median Home Price | Median Rent |
| Dallas, TX | +8.30% | $48,358 | $186,900 | $$1,071/mo. |
| San Diego, CA | +42.20% | $53,913 | $569,100 | $1,611/mo. |
| Jacksonville, FL | -8.30% | $62,220 | $348,100 | $1,308/mo. |
| New York, NY | +141.40% | $53,996 | $376,900 | $1,272/mo. |
*Data sourced from the Council for Community and Economic Research's Cost of Living Index
How's the Dallas job market?
From November 2018 to November 2019, the Dallas-Fort Worth metro area added over 120,000 jobs — more than any other large metro area in the U.S. If you're looking for work in the area, research the city's growing industries: professional and business services, education, health services, leisure and hospitality, and construction.
From May 2019 to May 2020, Dallas employment fell just 6 percent compared to the national decline of 11.8 percent.
The area's major employers are from a range of industries and include American Airlines, AT&T, Bank of America, and Baylor Scott & White Health. No other region in the U.S. has a higher concentration of Fortune 500 company headquarters.
What do I need to know about education in Dallas?
Dallas Independent School District (DISD) is the 13th largest public school district in the U.S. While DISD schools are mainly location-based, there are a number of school choice options. The district has more than 30 magnet schools, including the highly ranked School of Science and Engineering and Booker T. Washington High School for the Performing and Visual Arts.
If you're a parent of young children, you'll be happy to know that DISD has a thriving Pre-K education program. In an effort to slow the spread of COVID-19, DISD is currently closed.
The metro area also offers 142 charter schools and 98 private schools. For higher education, Northern Texas offers about 50 colleges and universities, including the University of Texas at Dallas, Southern Methodist University, and others.
What are the safest areas in Dallas?
According to Neighborhood Scout, the three safest neighborhoods in Dallas are along Northaven Road in the northern part of the area. So, if neighborhood safety is high on your list when house shopping, search for places near Northaven and Inwood Road, Cox Lane, or Hillcrest Road.
As in many large cities, the crime rate is on the high side. Neighborhood Scout says Dallas is only safer than 7% of U.S. cities.
This only gives you a brief snippet about safety in the area. For up-to-date information and citywide trends, the Dallas Police Department maintains a call, crime, and arrest dashboard that's available to the public. The FBI's Dallas field office website also provides crime news and community outreach information.
How do I get around Dallas?
The car is king in Dallas. Fewer than 5% of households in Dallas don't own one, and more than 60% of households have two or more. The average commute time is about 28 minutes, though a good number of commuters spend 45 minutes or more driving to work each day.
For public transit, Dallas Area Rapid Transit (DART) provides bus service, light rail, and commuter rail. Taxi service is available, but rideshare companies, like Uber and Lyft, are more prevalent. If you want a fun way to get around town, Dallas has scooters. Just know that they are heavily regulated.
What's the weather like in Dallas?
The good news about Dallas weather is that there are plenty of sunny days year-round. Winters are mild, with low temperatures rarely dropping below the mid-30s. Spring brings very pleasant weather, but sometimes it also brings severe storms, tornadoes, and hail. Summer can be pretty hot, with average highs remaining in the mid-90s or higher for several months. It is Texas, after all.
What are Dallas's fastest-growing neighborhoods?
In Dallas proper:
Lake Highlands
With close proximity to White Rock Lake, Lake Highlands in the northeast part of Dallas lets residents enjoy the best of both urban and suburban life. With a population of 16,260, the family-friendly neighborhood is part of the Richardson Independent School District. The median list price for a home in Lake Highlands is $400,000 as of May 2020, and the median rent is $1,495/mo.
Oak Lawn
Two miles north of Dallas's city center, Oak Lawn is an eclectic neighborhood with a population of 31,246. Situated between the Dallas North Tollway and Central Expressway, its restaurants, shops, and bars serve as a center for the LGBTQ community in Dallas. Properties range from cozy duplexes to luxury high rises with a  median home listing price of $389,000. The median rent in the area is $2,000/mo (higher than the city median of $1,700/mo.)
Uptown
Adjacent to downtown Dallas, the Uptown neighborhood, population 17,304, was named the top neighborhood in Dallas for young professionals by Niche.com. Despite being a dense urban area, Uptown is situated along the Katy Trail, where residents can enjoy the outdoors along the path of a historic railroad line. Served by the McKinney Avenue Trolley Authority, affectionately called the M-Line, and the DART rail system, commuting from Uptown is a breeze. The median list price for homes is $515,000. Rental prices vary by home type but range from about $700/mo. (for a studio) to $3,000/mo. (for a home).
North Oak Cliff
Updated historic houses and the vibrant Bishop Arts District appeal to new residents of North Oak Cliff, which has a population of 16,174. This urban neighborhood five miles southeast of downtown Dallas offers great diversity and a strong sense of community for those who want to settle down. Families will love taking their children to Kidd Springs Park, while the historically significant Texas Theatre offers a variety of programming for the grown-ups. The median list price for homes is $366,500. The median rent in the area is $1,430/mo.
Old East Dallas
Roughly two-and-a-half miles northeast of the city center, Old East Dallas, with a population of 43,098, is anchored by historic homes. Some of Dallas's best restaurants, bars, and shops are in Old East Dallas or adjacent neighborhoods, and Niche.com gives it an A+ for diversity. The median list price for homes is $403,900. Rental prices can vary by home type but range from about 800/mo. to $3,500/mo.
In the Greater Dallas Metro Area:
Frisco
With an estimated population of 201, 248, Frisco was among the top five fastest-growing cities in the U.S. as of May 2019. This large suburb 30 miles north of Dallas has a median home listing price of $473,400. The median rent is $2,250/mo. Residents enjoy highly-rated public schools, professional and semi-pro sports teams, a variety of museums, and a great selection of restaurants and retail. Locals say the commute from Frisco to downtown Dallas is about 40 minutes.
McKinney
Just 30 miles north of Dallas, McKinney has been growing rapidly for a couple of decades. The Census Bureau shows it as the sixth-fastest-growing city in the U.S., with a population of 191,645. With a tagline of "Unique by Nature," its abundant parks and nature areas are as much of a draw as its charming, historic downtown. The median list price for homes is $370,000, and the median rent is $1,895/mo. The commute to downtown is about 37 minutes.
Rowlett
This lakefront community has a population of 67,711 and is about 16 miles northeast of Dallas. It connects commuters to the city center via the DART light rail. Public schools in Rowlett belong to the Rockwall Independent School District and the Garland Independent School District. The median list price for homes is $287,000, and the median rent is $1,850/mo. The commute from Rowlett to downtown is about 30 minutes.
Living in Dallas: The fun part
For the sports fan
Head to a home game for Dallas Mavericks basketball or Dallas Stars ice hockey at the American Airlines Center in the aptly-named "Victory Park." Cheer on the Dallas Cowboys, or catch some Texas Rangers baseball. Dallas also offers WNBA basketball, horse racing, XFL football, and NASCAR.
For the culture-seeker
The city of Dallas has 71 history, science, and lifestyle museums. Kids will love the interactive exhibits at the Perot Museum of Nature and Science, and the whole family can enjoy a day at Dallas Heritage Village.
For art lovers, there are nine museums, four cultural centers, and numerous galleries. In the Deep Ellum neighborhood, you'll find nearly 100 murals, plus 30 bars, nightclubs, and other venues for live music.
For the foodie
The bucket list for a food lover in Dallas is long, but checking off that list will be great fun. Try some of the Tex-Mex tastes the city is known for and sample some of the best barbecue in Texas at Pecan Lodge or Cattleack BBQ. Dallas has amazing French and Italian restaurants, but it also has Laotian, Burmese, and Ethiopian cuisine. Those are just some of the reasons why Bon Appetit magazine named Dallas the 2019 Restaurant City of the Year.
For the traveler
From DFW International Airport, you can reach any major city in the U.S. in four hours or less, and 52 international destinations worldwide, seeing the world is easy, too. Flights from Love Field Airport make getting to South by Southwest or Padre Island beaches a snap. You don't have to be a jet-setter to plan fun travel from Dallas. In-the-know locals drive to Oklahoma's largest waterfall, Turner Falls, in the Arbuckle Mountains — just a couple of hours away.
For the outdoor explorer
Landlocked Dallas lacks beaches and mountains, but you can hike the trails at Cedar Ridge Preserve, count the bird species at the Trinity River Audubon Center, or zip line through the trees at Trinity Forest Adventure Park. Whether you're looking for a pond to fish in or a playground for the kids to romp in, you'll find it at one of the 397 public parks in Dallas. One local favorite is Klyde Warren Park, a deck park built on top of a freeway and situated right in the "backyard" of the Dallas Arts District.
What you probably didn't know about Dallas…
Dallas isn't really anything like the long-running TV show "Dallas," but J.R. Ewing's character was based on Dallas billionaire H.L. Hunt. Once the richest man in America, Hunt left his impression on Dallas — even if it doesn't look at all like Southfork Ranch.
People who live in Dallas are called Dallasites. "Big D" is a popular nickname for Dallas, and when people say DFW, they usually mean the entire Dallas-Fort Worth area — not DFW Airport.
The world's first convenience store, 7-Eleven, got its start in Dallas in 1927, and the worldwide chain still has its headquarters here.
Dallas is a great place to get a margarita, and we're not just saying that. The frozen margarita machine was invented here. Download an app called Margarita Mile to help you find the best margaritas in town.
Dallas is home to the world's largest art district, spanning 19 continuous blocks!
You really haven't "lived" in Dallas until you've been to the State Fair of Texas. Take a selfie with 55-foot-tall Big Tex and eat a Fletcher's corny dog for the full experience.
If you're interested in moving to the area check out our city page on Dallas!
The bottom line
Consider this guide your orientation to Dallas 101, but if you're moving here, you'll want a deeper dive. Get the essentials from DallasCityHall.com and find the fun side on VisitDallas.com.
For local news and comprehensive lifestyle coverage, turn to the local daily paper, the Dallas Morning News, or the weekly independent paper, the Dallas Observer. For radio, tune to the news on WFAA, KXAS, or KTVT. There's also a public television network, KERA, and a Spanish-language network, KUVN.
Deciding whether Dallas is the right place for you and your family will take some time and research. Learning all you can ahead of time can make moving to Dallas something to look forward to.