Your Guide to Moving to Austin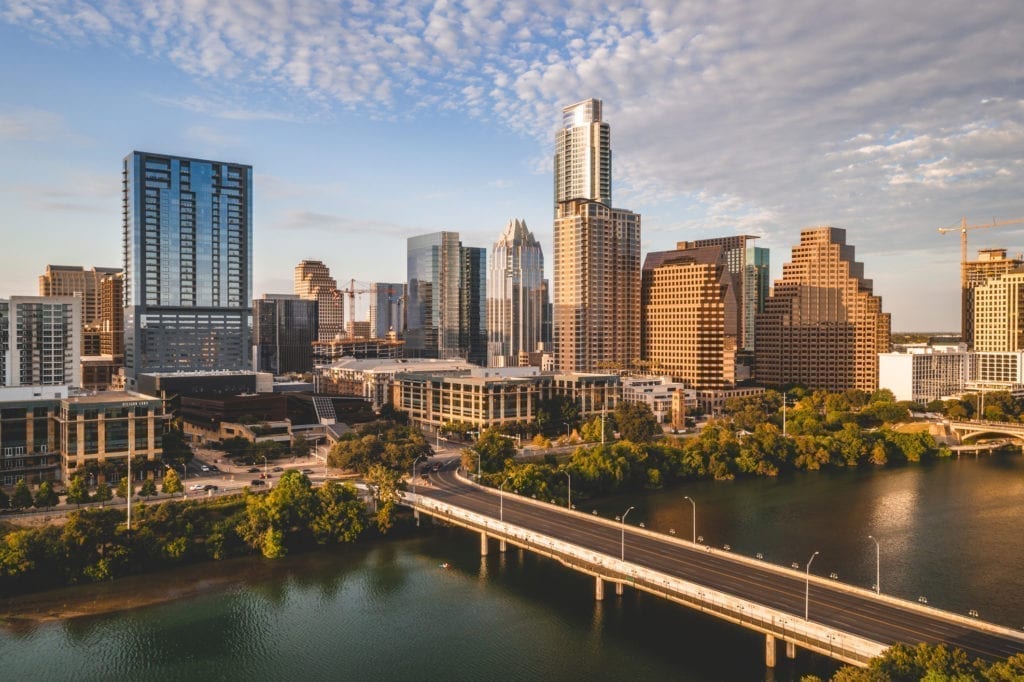 Moving to Austin, Texas, at a glance:
Austin is the state capital and is named for Stephen F. Austin, the "Father of Texas."
It's a great city for singles. There's an even 50/50 split of men and women, and about half of the population is single.
The median home price in Austin is $293,400.
The average salary is $48,556.
Austin is known as "The Live Music Capital of the World" and is home to the South by Southwest Conference and Festivals and Austin City Limits.
"Keep Austin Weird" is the unofficial slogan of the city and is often used on bumper stickers, t-shirts, and coffee mugs around town.
Austin is known for its cliffs, canyons, and rolling hills. The city's unique look is due to its location between the coastal plain and the Balcones Escarpment.
Moving to Austin: The basics
What's the population of Austin?
Austin has a population of 940,359. The city is young, with a median age of 34, and there's an even 50/50 split of men and women, and approximately 51% of the population of Austin is single.
If you're moving to Austin, you won't be the only newcomer. The city ranked seventh out of the top ten metropolitan areas in growth from 2017 to 2018.
What's the cost of living in Austin?
The cost of living is right on par with the national average, just 0.20% over, in fact. The average salary in Austin is $48,556. As for housing prices, the median home value is $293,400, and the median rent runs $1,214/mo.
When shopping for groceries, you can expect to pay around $3.11 for a loaf of bread, $1.59 for a half-gallon of milk, and $1.65 for a dozen eggs in the city.
The cost of living in Austin is more expensive than living in the fellow-Texan metropolis of Houston. However, it's significantly less expensive than living in similarly-sized Chicago, Illinois, or a bigger metropolis, like New York City.
A look at how Austin stacks up to these other cities:
| | | | | |
| --- | --- | --- | --- | --- |
| City | Cost of Living (Compared to National Average) | Average Salary | Median Home Value | Median Rent |
| Austin, TX | +0.2% | $48,556 | $293,400 | $1,214 |
| Chicago, IL | +21.00% | $50,755 | $210,700 | $995 |
| Houston, TX | -4.10% | $49,332 | $177,300 | $1,049 |
| New York, NY | 141.40% | $53,996 | $376,900 | $1,272 |
*Data sourced from the Council for Community and Economic Research's Cost of Living Index
How's the Austin job market?
According to the Wall Street Journal, Austin took the top spot for the hottest job market in 2019. Austin enjoyed record unemployment rates in 2019, and Texas consistently ranks as one of the nation's strongest business environments due to a competitive regulatory environment and its low tax burden.
The Bureau of Labor Statistics reported in February 2020 that Austin's unemployment rate was 2.6, but due to the coronavirus pandemic and spiking unemployment rates nationwide, it jumped to 12.2 in April. That said, the unemployment rate continues to improve month over month in 2020.
Jobs in professional and business services, the trades and utilities sector, and government workers make up the largest components of Austin's workforce. Multiple tech companies have moved to Austin, earning it the nickname, "Silicon Hills."
If you're looking for a new position after moving to Austin, there are a number of major corporate and regional headquarters. Those companies include Apple, Charles Schwab, Dell, eBay, Indeed, VISA, Whole Foods, and Yeti, to name a few.
What do I need to know about Austin education?
Living in Austin offers a wide range of options in education. With 29 public school districts, 27 charter school districts, and over 100 private schools, the area is well-equipped to meet the needs of its citizens. In 2019, 21 Austin area high schools, representing seven different districts, ranked in the top 10% nationally.
One of the largest universities in the nation, The University of Texas, is located in Austin. There are also 15 other public and private universities and colleges in the greater Austin area.
What are the safest areas in Austin?
Neighborhood Scout collects data from local law enforcement agencies across the country, as well as FBI crime data. According to the site, the top three safest areas in Austin are located on the west side of the city near the following cross streets and neighborhoods: North Quinlan Park Road / FM 620 Road North, The High Road / Encinas Rojas Street, and Shady Hollow.
When compared to communities throughout the nation, Neighborhood Scout ranks Austin as safer than just 8% of U.S. cities. Its crime rate is higher than the rest of the state, but when you compare Austin to cities of a similar size, its crime rate is actually significantly lower than most.
These numbers only give a snapshot of safety in the city. For more detailed information, check out the Austin Police Department interactive crime map.
How do I get around Austin?
Over 75% of the workforce living in Austin uses their own cars to commute to and from work. The average commute time in the city is 27 minutes.
Public transportation is available to Austin residents, too. Capital Metro is Austin's multimodal public transit system. Single rides start at $1.25 (transfers not included), while day passes run as little as $2.50. You can buy tickets online, at most grocery stores, or through the CapMetro app. While buses typically stop running around midnight, Capital Metro offers Night Owl and E-bus services. Night Owl buses run every 20-30 minutes from midnight until 3:00 am, Monday through Saturday.
The MetroRail is a 26-mile line running between Leander and Downtown Austin during the week. On Saturdays, it runs from Lakeline to Downtown Austin. Costing $3.50 per ride, the Metro drops off outside the Austin Convention Center on Fourth Street between Neches and Trinity streets.
While ride-share companies Uber and Lyft do provide services in the city, RideAustin is a locally based option serving the area in a unique way. RideAustin is a local nonprofit which supports other local nonprofits. You can choose to round up your fare to the nearest dollar and donate to a local charity of your choice.
If you want a fun and trendy way to get around town, Austin has multiple scooter vendors. The city is also a bike-friendly town, if that's your transportation mode of choice.
What's the weather like in Austin?
If cold weather isn't your thing, Austin could be a great fit for you. The average high temperature in the area is 79 degrees, and the average low is 55 degrees. Also, colder weather tends to be brief, rarely lasting more than a couple of days. Austin gets about 34.9 inches of rain annually, and rainfall is fairly evenly distributed throughout the year.
What are Austin's fastest-growing neighborhoods?
In Austin:
Zilker
Dotted with historic homes by architect A.D. Stenger and located in the 78704 zip code, Zilker is within walking distance of Barton Springs, Barton Creek Greenbelt, and Zilker Park. Close proximity to special events like the Trail of Lights and Austin City Limits Music Festival offers additional appeal. Downtown Austin is just across the lake, and South Congress is easily accessible.
The median home value of a home in Zilker is in the mid-$800,000s, and the median rent is $1,370/mo.
Old Enfield
Old Enfield is the oldest and southernmost neighborhood in the historic district of Old West Austin. Conveniently located close to downtown and Lady Bird Lake's hike-and-bike trails, this small community of a little over a thousand residents has been the home of four Texas governors and two mayors. The neighborhood includes some of Austin's oldest colonial-style homes and original bungalows, as well as many remodeled estates. The Pease Mansion, the largest of the four remaining two-story Greek Revival mansions built in the 1850s by Austin's master builder, Abner H. Cook, is located on Niles Road.
The median home value in Old Enfield is $965,000, and the median rent is $1,231/mo.
Gateway
With a population of 1,121, Niche ranks Gateway as the second-best neighborhood in Austin. Living in Gateway offers residents an urban feel, and most residents rent their homes. Hotspots like bars, restaurants, and coffee shops make it great for young professionals, and the public schools in Gateway are highly rated.
Zillow listings in the area show homes ranging from $400,000 to $700,00, depending on house size and type. The median rent in the area is $1,270/mo.
Allandale
Allandale offers a family-friendly environment of mid-century ranch-style homes with large lawns full of oak and pecan trees. The area is walkable, with access to popular outdoor areas, like the Northwest District Park. When partnered with the emerging food district on Burnet Road and highly-rated schools, the area has definite appeal for young singles and families alike.
The median home value in the area is in the mid-$600,000s, and the median rent is $1,195/mo.
Shady Hollow
Located just south of downtown, Shady Hollow homes are a mix of old and new. Shady Hollow's walking and biking trails, established tree-lined neighborhoods, and nearby parks help the community feel like a suburban oasis. Three of Austin's top-rated schools are located in this community of over 4,000.
The median home price in Shady Hollow is around $337,000, and the median rent is $1,195/mo.
In the Greater Austin Metro Area:
Round Rock
Round Rock is a fast-growing suburb of Austin, located north of the city. This area offers family-friendly parks, hiking and biking trails, and highly-rated schools. With a community of 120,157, Round Rock's housing market is competitive, though most people buy homes. The median home value in the area is in the low-$300,000s. Nearby employer Dell Computers draws many families to the area.
Living in Austin: The fun part
For the sports fan
Want a bandwagon to hop on come game day? Well, Austin has a choice of 14 teams for you to cheer for in sports ranging from football and soccer, to rugby and roller derby. If college football is your thing, be prepared to bleed burnt orange with the University of Texas Longhorns. Soccer fans can enjoy an Austin Bold FC game, and rugby followers can follow the Austin Gilgronis (the Major League Rugby team) or the Valkyries (Austin's premier women's rugby club).
For the culture-seeker
Living in Austin means access to a world-famous live music scene (with 65 must-see venues) and other exciting events in the creative and performing arts. Austin is home to not only musicians, but painters, sculptors, writers, photographers, filmmakers, and dancers, too. Artists in all mediums showcase their work in a variety of fun and eclectic venues.
Austin also has 49 museums that pay homage to this city's art and culture. And if you're looking for cultural options that are fun for the entire family, Austin won't disappoint. From pioneer farms to nature and science centers, Austin has a wide variety of choices.
For the foodie
If you would like to explore Austin in all its gastronomic glory, be prepared to spend some time. Austin.eater.com offers a list of the 11 Hottest Restaurants in Austin as of March 2020. To hit some local highlights, be sure to stop by Franklin Barbecue for brisket, grab a taco from Veracruz All Natural's food trucks, get a cup of queso from Torchy's Tacos, ramen from Ramen Tatsu-ya, and cool off with some gelato from Dolce Neve.
For the traveler
Need to jet-set and fulfill that sense of wanderlust? Not a problem in Austin. Hop on a flight at the Austin-Bergstrom International Airport (non-stop flights to a large number of major cities are available).
Need a romantic weekend getaway? Check out some of these cute towns, inns, and B&Bs — all located a short drive from Austin.
For the outdoor explorer
Austin is an outdoor enthusiast's dream. Although Austin isn't near the coast or the mountains, the scenery is memorable in its own right. The Texas Hill Country's limestone ridges, creeks and streams, and curvy mesquite trees give the area a unique visual appeal. The topography draws a slew of mountain bikers, hikers, and rock climbers to the area every year.
What you probably didn't know about Austin…
From a city whose unofficial motto is "Keep Austin Weird," you should expect some unusual quirks. While every city has its own unique history and fun facts, it's possible that Austin may be among the most unusual.
If you're interested in moving to the area, check out our city page on Austin!
The bottom line
If you want to move to Austin and explore what living in "The Live Music Capital of the World" is like, hopefully, this guide is a solid start. However, to dig deeper and learn more about the area, you'll want to stay up-to-date with local resources.
Check out the websites of the Austin Chamber of Commerce and the Austin Convention and Visitors Bureau. Local newspaper, the Austin American Statesman, is also a great resource.
Local news affiliates can update you on what's happening in the community.
It can be both exciting and overwhelming to consider moving to a new place. Getting as much information as possible will help you evaluate your options and make the right decision for you and your family.
Virginia Brown contributed to this article.