Your Guide to Moving to Nashville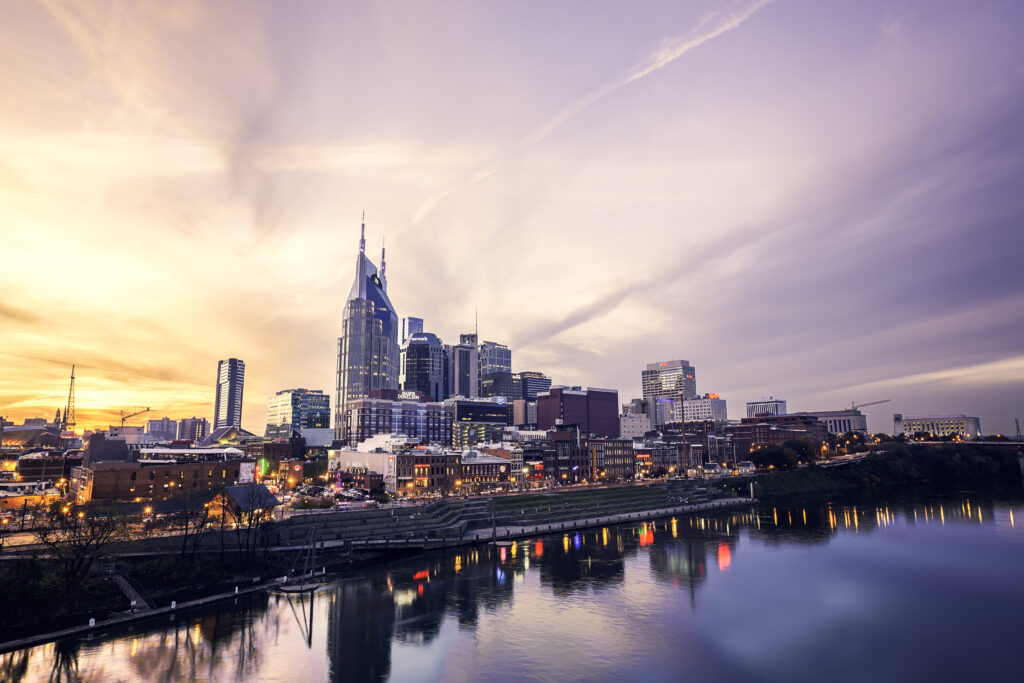 Nashville at a glance:
Nashville is the largest city in Tennessee, with 669,053 people currently calling the area their home.
The cost of living in Nashville is 3% lower than the average in the United States.
The median household income for individuals in the city is $55,873, which is slightly lower than the national average.
As of February 2020, Nashville's unemployment rate was 2.8%, which is lower than the nation's 4.4% rate.
Known as "Music City," lovers of country music (and, really, all types of music) will surely be at home in Nashville.
Moving to Nashville: The basics
What's the population of Nashville?
Nashville is the capital of Tennessee. It's known for its thriving arts, vast cultural attractions, and a successful country music scene that earned it the name "Music City." An average of 83 people moved to Nashville every day in 2018, making it the seventh fastest-growing American city that year. The most recent Census estimates say Nashville's population is about 670,000, and its greater metropolitan area boasts over 1.9 residents.
With a burgeoning business hub and a booming tech scene, many young professionals are making their way to Music City. In fact, 20- to 39-year-olds make up the largest age group in the metropolitan area, with a median age of 37 years old. There's a near-even gender split in the area with females representing 51% of the population. And if you're single, you're not alone: 49% of residents in metropolitan Nashville are as well.
What's the cost of living in Nashville?
According to a 2018 study, residents need to earn $80,548 annually in order to comfortably live in Nashville, which makes the city more expensive than comparable areas like Atlanta, New Orleans, and Dallas.
Census data indicates that the median home value is $216,500, and the median rent is $1,033/mo. — which are slightly higher than the national medians. But according to estimates by Payscale, when you aggregate factors like housing cost, utilities, and transportation, the overall cost of living in Nashville is 3% lower than the average in the United States.
When walking down the supermarket aisle, Payscale estimates that you'll see grocery costs that are also 3% lower than the national average. So, expect to pay $3.23 for a loaf of bread, $1.88 for a gallon of milk, and $1.75 for a carton of eggs.
Census data indicates that the median household income in Nashville is $56,507, which is slightly lower than the national average of $61,937.
To get a true idea of the cost of living in Nashville, see how the city stacks up against other areas of a similar size, like Detroit and Boston, and bigger metropolises, like New York City.
| City Name | Population | Cost of Living (Compared to National Average) | Per Capita Income | Median Home Price | Median Rent |
| --- | --- | --- | --- | --- | --- |
| Nashville, TN | 669,053 | -3% | $33,139 | $216,500 | $1,033/mo. |
| Detroit, MI | 672,662 | -3% | $17,338 | $45,700 | $798/mo. |
| Boston, MA | 694,583 | +48 | $42,010 | $487,300 | $1,539/mo. |
| NYC, NY | 8,398,748 | + 129%  | $37,693 | $570,500 | $1,396/mo. |
*Data sourced from U.S. Census Bureau & PayScale
How's the job market in Nashville?
Nashville's bustling economy is home to three Fortune 500 companies: HCA Healthcare, Genesco, and Louisiana-Pacific. Other top employers include Vanderbilt University and Nissan. But the city boasts a diverse range of industries — from healthcare to advanced manufacturing — making it the second-best city for job seekers in the United States, according to local news affiliate News Channel 5 Nashville.
The U.S. Bureau of Labor Statistics reported that metropolitan Nashville had total non-farm employment of 1.063 million in 2019, which is an increase of about 1.7% from the previous year. Industries in trade, transportation, and health services helped with the city's growth.
Prior to the global outbreak of the coronavirus and its subsequent economic impact, Nashville reported a February 2020 unemployment rate of 2.8%, which was lower than the nation's 4.4%.
According to PayScale, the average salary in Nashville is $61,000, and the minimum wage is $7.25 per hour.
What do I need to know about education in Nashville?
Nashville ranks as the top 35th state for its education system. The Metro Nashville Public School has more than 160 schools available to families in the metropolitan area, including Pre-K programs. While school assignments are location-based, parents have the option to choose a specific school outside of their zone. In this case, school choice selections are made based on a lottery system.
Nashville also offers 31 charter schools, 71 private schools, and 14 higher education institutions, including Vanderbilt University — the top 15th university in the country.
What are the safest areas in Nashville?
According to NeighborhoodScout, the top three safest areas in Nashville are near the southwest portion of the city. The site, which gathers data from thousands of local law enforcement agencies, says the neighborhoods surrounding the cross streets of McCrory Lane / Poplar Creek Road, McCrory Lane / Russell Road, and Pasquo / Linton are the safest in the city.
NeighborhoodScout reported that Nashville has "one of the highest crime rates" in the country, and it also has a higher-than-average crime rate compared to other cities of its size. But that's just a high-level view of safety in the area. If you're considering moving to Nashville and want a deeper look, learn more about the local crime statistics by visiting the websites of the Metropolitan Nashville Police Department and the FBI.
How do I get around Nashville?
Nashville's downtown area is pedestrian-friendly, and it has more than 28,000 parking spaces for those who want to bring their cars. But fair warning: If you drive into the city, be prepared for traffic jams. As Nashville continues to grow, commuting times are getting longer, with many residents saying it can take them anywhere from 30 minutes to an hour to enter the city.
For those who would rather take public transportation, Nashville's bus system — WeGo Public Transit — offers more than 50 routes. The bus fare is $2 per ride, but the system offers discounts to youth and seniors. Passengers can also opt for the commuter rail that runs between Nashville and Lebanon. Fares are $5.25, but there are discounts you can take advantage of.
Still want more ways to get around town? You're in luck. Ridesharing services, such as Uber, as well as bike and scooter rentals, are easily available in Nashville.
What's the weather like in Nashville?
Nashville is for adventurers who want to experience all four seasons, but without extreme winter frosts or scorching summer heat. Spring lasts from March to May, bringing with it rain and temperatures ranging from 57 to 78 degrees Fahrenheit. And while middle Tennessee experiences about 17 tornadoes annually, such severe weather is rare in Nashville.
The city's summers bring temperatures in the high 80s from June through August, but autumn brings the temperatures down to around the 60s from September through November. The winters in Nashville, which last from December to February, rarely bring snowfall, as temperatures reach an average high of 47 degrees Fahrenheit.
What are Nashville's fastest-growing neighborhoods?
In Nashville:
East Nashville
Located right across the Cumberland River from downtown, East Nashville is one of the city's fastest-growing neighborhoods with a population of more than 60,000. Its diverse atmosphere, easy access to public transportation, and numerous dining options are just a few of the elements that draw people to this part of the city. The location is also a hot spot for artists and musicians, who enjoy the historical vibe of houses that date back to the 1900s.
The median home price in the area is $312,500, and the average rent is $1,973/mo., which is higher than Nashville's average rent of $1,033/mo.
The Nations
Located west of downtown and a10-minute drive to the city center, The Nations is one of Nashville's oldest neighborhoods. If you're considering moving to Nashville, you won't be the only newcomer: Brimming with retail shops, restaurants, and modern apartment buildings, The Nations draws new and young professionals alike. It currently has a population of 35,997 and continues to grow rapidly.
The median home price in The Nations is $366,680, and renters can expect to pay an average of $2,213/mo.
Germantown
A five-minute drive northwest of downtown will take you to Germantown, which was established by European immigrants in the 1850s. The neighborhood is listed on the National Register of Historic Places and is home to the Tennessee State Museum, Nashville Farmers' Market, and the Bicentennial Capitol Mall State Park. Award-winning dining venues and trendy boutiques are scattered across the community, which currently has a population of over 600.
The median home price in Germantown is $570,650, and the median rent is $2,295/mo.
The Gulch
The Gulch is a five-minute drive south of downtown. It has transformed from an abandoned industrial space into an urban, upscale neighborhood full of live music entertainment venues, bars, hotels, and a diverse culinary scene. It's the first LEED Certified neighborhood in the south, and about 530 people call this community home.
According to Niche, the median home value in the area is $331,113. The median rent in The Gulch is $2,098/mo.
Green Hills
If you're moving to Nashville, Green Hills is a great option that's just 14 minutes south of downtown. The public schools in this neighborhood are highly rated, and locals consider Green Hills one of the top places to live in Tennessee. The diverse boutiques and stores also make the area one of the best places to shop in Nashville.
With a population of more than 58,000, locals call Green Hills "a city within a city." The median home price is $667,500, and the median rent is $1,400/mo.
In the Greater Nashville Metro Area:
Mount Juliet
Over the past decade, Mount Juliet has seen rapid population growth and business development. Currently, more than 31,000 people call this area home. Located 30 minutes east of downtown Nashville, Mount Juliet offers various outdoor activities, shopping and dining experiences, and a highly-rated public school system.
The median home price in the area is $320,000 — which is significantly cheaper than areas in and around downtown. The median rent is $1,650/mo.
Spring Hill
In terms of its population, Spring Hill is one of the fastest-growing areas in the state. Almost 38,000 people live in this suburb, which is a 40-minute drive south of downtown Nashville. Spring Hill is rated as one of the top places to live in Tennessee, and offers highly-ranked schools and higher education opportunities. There's a wide range of shopping and dining experiences, outdoor trails and parks, and affordable living costs in this area.
According to Niche, the median home value in the suburb is $257,800, while the average rent is $1,357/mo.
Nolensville
Nolensville is not only one of the fastest-growing suburbs in Nashville, but also in the U.S. Located about 30 minutes southeast of downtown Nashville, Nolensville has a population of about 7,000 and sees an average of 200 houses being constructed in the area each month. Young families and young professionals move to the suburb for its highly-rated school system, low property taxes, and close proximity to other desirable locations — such as Smyrna and Murfreesboro.
The median home price in Nolensville is $434,896, and the median rent is $2,200/mo.
Living in Nashville: The fun part
For the sports fan
If you're a sports fan moving to Nashville, get ready to cheer for Music City's four professional sports teams: the Tennessee Titans (NFL), the Nashville Predators (NHL), the Nashville Sounds (MiLB), and the Nashville SC (MLS).
For the culture-seeker
The abundance of world-renowned venues makes Nashville a music-lover's dream. If you're not sure where to go first, here's a list of music venues in the heart of downtown. We also recommend checking out the honky tonks on Lower Broadway.
But that's not all that Music City offers — it also has an abundance of museums to ignite curious minds. From the Musicians Hall of Fame and the Tennessee State Museum, people moving to Nashville can experience more than a dozen diverse museums.
Nashville also doesn't disappoint those searching for historical sites. Dive deep into the history of Belle Meade Plantation, which dates back to the 1840s, or visit Centennial Park to check out The Parthenon, which was built in 1897 and is a replica of the original Parthenon in Athens, Greece. We also recommend visiting the world-famous Grand Ole Opry to see a live show. Click here for a full list of the historical site markers in Nashville.
Want to get the kids involved? No problem! There are a plethora of family-friendly options. Explore the Adventure Science Center where children can experience "more than 175 hands-on exhibits" about science and technology, or take a trip to the Nashville Zoo at Grassmere to meet critters and animals.
For the foodie
Hot fried chicken, sweet potato fries, chicken and waffles: These are just a few of the southern foods the Music City has to offer. Foodies moving to Nashville will be able to experience the city's international cuisine scene, including delectable dishes from Asia, Europe, and the Middle East. Germantown, East Nashville, and 12 South are just some of the neighborhoods where you can discover global fare.
To sample several of the best local foods, consider taking a Walk Eat Nashville tour, which was ranked as one of the top food tours in the country.
For the traveler
Nashville residents seeking travel don't have to venture too far to catch a flight. The Nashville International Airport is just a 15-minute drive from downtown. It's served by 15 airlines and provides 460 daily flights to more than 65 destinations.
If you're seeking a weekend getaway, there are plenty of destinations and activities to explore, such as browsing the Battle of Franklin Civil War Museum that's 30 minutes away from the city. For outdoor enthusiasts, canoeing on the Tennessee River in Chattanooga is only two hours away.
For the outdoors explorer
Whether you want to walk, hike, or bike, Nashville's outdoor attractions are vast. Nine miles from downtown, the Edwin and Percy Warner Parks offer trails that overlook wildlife. Fifteen minutes away is Percy Priest Lake, which spans 14,000 acres and provides boating, camping, and fishing activities. Horseback riders can also travel 40 minutes to Lebanon State Park's stables.
What you probably didn't know about Nashville:
If you're interested in moving to the area check out our city page on Nashville!
The bottom line
From unforgettable music to global fare and historic sites, Tennessee's capital has something for anyone who wants to call it home. This guide provides a glimpse into the opportunities waiting for you in Nashville. To discover more of what the city has to offer, Nashville's Official Guide and The Tennessean, the city's daily newspaper, will give you a deeper sense of what you can expect in the Music City.
---
Everything for your move, all in one place
Curate your personalized moving checklist, set up TV & Internet, and more with a free MYMOVE account.
Save on your move and tackle upcoming to-dos with your free MYMOVE account.