Your Guide to Moving to New York City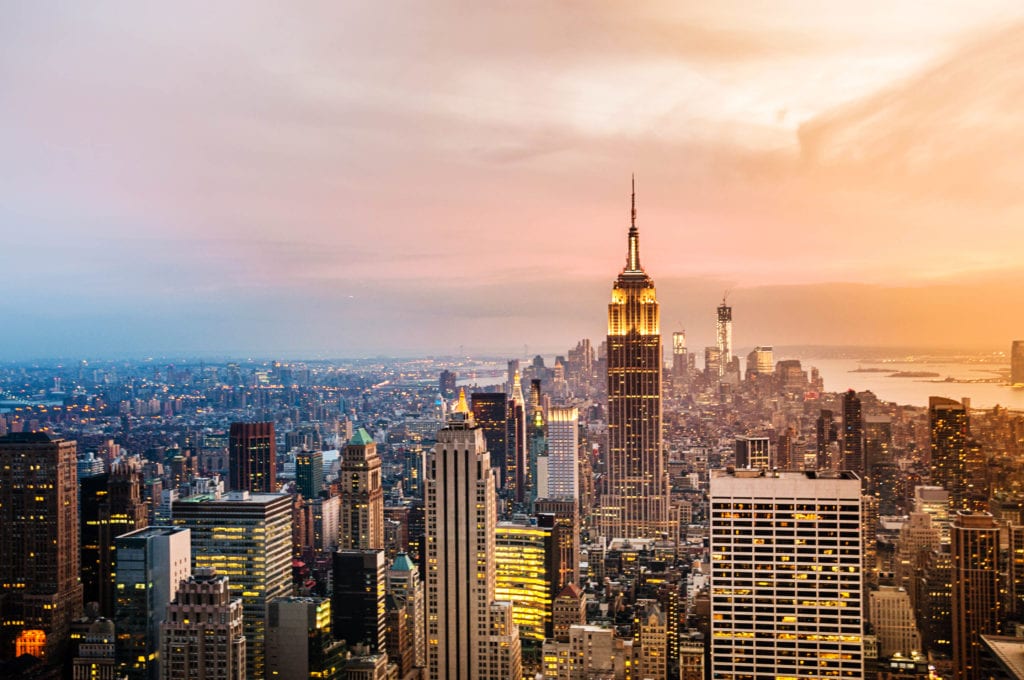 New York City at a glance
The population of Manhattan is over 1.5 million, with millions more people living in the overall New York City area.
The average home price is over $2.1 million, and the average rent is $5,063/mo.
Public transportation is the most popular way to get around New York City; the Metropolitan Transport Authority provides convenient 24-hour bus and rail service that's often faster than traveling by car.
Four out of 10 New Yorkers were born abroad, so the city is a melting pot of culture and diversity.
New York City is home to several major sports teams, including the Mets, Yankees, Knicks, Nets, Giants, and Jets.
Moving to New York City: The basics
What's the population of New York City?
One of the first things you're sure to notice upon moving to New York is that there are a lot of people — over 8 million residents in the greater metro area and over 1.5 million in Manhattan alone. When people describe New York City as a cultural "melting pot," they're not exaggerating. Nearly 40% of the city's residents were born outside of the U.S. Census data indicates that the gender split in New York City is pretty even, with about 44% of the population married. A large chunk of the population is between the ages of 20 and 40.
What's the cost of living in New York City?
It may not come as a shock to those of you who are familiar with NYC, but the Big Apple consistently tops the list of most expensive cities in the country. The cost of living in New York City is 141% higher than the national average.

[deals-hub-ad]

And when you think of the cost of living in NYC, the first thing that comes to mind is probably real estate — and with good reason. New York City's high housing costs are well known. The average home price in the city is $2,105,921, and the average rent is $5,063/mo. Sixty-seven percent of NYC residents are renters — or to put it another way; there are more people who pay rent in NYC than there are residents of Los Angeles as a whole.

Day-to-day expenses in New York City aren't the cheapest, either. A loaf of bread costs $4.18 on average, a half-gallon of milk is $1.59, and a dozen eggs are usually priced around $2.44.

Let's see how the cost of living in New York City compares to that of Los Angeles and Chicago:
| | | | | |
| --- | --- | --- | --- | --- |
| City Name | Cost of Living (Compared to National Average) | Average Salary | Average Home Price | Average Rent |
| New York, NY | +141% | $53,996 | $2,105,921 | $5,063/mo. |
| Los Angeles, CA | +47% | $47,242 | $816,174 | $2,820/mo. |
| Seattle, WA | +57% | $60,258 | $824,117 | $2,650/mo. |
*Data sourced from the Council for Community and Economic Research's Cost of Living Index
How's the New York City job market?
The first step in moving to New York City is usually finding a job. Unfortunately, with COVID-19 still sweeping the city, many jobs have been eliminated in 2020. Unemployment rates are at an all-time high, and though jobs are starting to come back to the market, there are still far fewer jobs available than usual.
But if you're on the job hunt, it's good to know that NYC is home to 54 companies on the Fortune 500 list. Some of the city's largest employers are in the financial sector and include Ernst and Young, J.P. Morgan Chase and Company, and Morgan Stanley. Other types of popular jobs include executive assistant, project manager, and software engineer.
What do I need to know about New York City's education?
If you're moving to New York with kids, you might decide to enroll your little ones in the New York City public school system. They'll join over one million other students in more than 1,800 schools spread out over about 30 districts. The graduation rate for high schoolers is nearly 76%, which is a bit lower than the national average of 84.6%. If you prefer a private school, you have a choice of over 220 options.
The 2020-2021 school year looks a bit different for students in New York City amid COVID-19. The Department of Education is planning a blended learning experience with in-school and virtual learning and will continue to evaluate the safety of kids being in schools.
Public school zoning in New York City works a bit differently than other cities. The city's Pre-K for All program grants any family in the city with a three- or four-year-old access to a free full-day program hosted in either an early education center, district elementary school, or Pre-K center. This is extremely helpful for working parents who move to New York City and can't afford to pay for childcare.
For kindergarten through fifth grade, children are assigned to the zoned school in their neighborhood as usual, although they may be sent to a neighboring school if the nearest one is overcapacity. Placement changes for middle school and high school, switching to an application-based system. If a student is accepted to a school that's not within walking distance, they'll be eligible for a free MetroCard.
The New York City public school system also includes charter schools. Places in these privately run, publicly funded schools are filled by a random lottery from pre-kindergarten all the way through high school, although preference is given to returning students and their siblings.
As an alternative option, you might also choose a Montessori school for your child. This is an educational model that focuses on self-directed learning in multi-age classrooms. The American Montessori Society currently lists dozens of schools in New York City.
Many people end up living in New York City to attend college. The city has over 120 higher education institutions, including renowned schools like Columbia University, Fordham University, the Juilliard School, and the Manhattan School of Music.
What are the safest areas in New York City?
According to Neighborhood Scout, the three safest areas in the city are West 218th Street and Broadway at the very top of the island, Madison Avenue and East 50th Street in Midtown, and Roosevelt Island.
But before choosing a place to live in New York City, you should check crime data for the neighborhood. In some areas of the city, dangerous areas and safe areas are only a few blocks away from each other, so it's important to get as specific information as possible. The New York City Police Department makes crime data available through its CompStat 2.0 online portal.
How do I get around New York City?
One of the best perks of living in the Big Apple is that public and private transportation is plentiful. In most cases, you won't need your own car, and having one may actually be a burden due to heavy traffic and limited parking. The average commute time for a New Yorker is 37 minutes.
Many New Yorkers prefer to use the city's buses and subways as their primary form of transportation; not only is public transportation more affordable than traveling by car, it's often much faster with traffic. Google Maps estimates that a commute from Lower Manhattan to Rockefeller Plaza only takes 15 to 20 minutes by subway during morning rush hour, while the same journey can take up to an hour in a car or taxi.
If you purchase an Unlimited Ride MetroCard, you can use the Metropolitan Transportation Authority (MTA) buses and subways as many times as you'd like for a flat weekly or monthly fee. The cost of a 7-day pass is $33, while a 30-day pass is priced at $127.
If taking the subway isn't your thing, ridesharing apps and taxis are also readily available. Prices for each can vary, and each charges riders in different ways. For example, Uber uses surge charging when things get busy, while taxis instead charge a higher rate if the vehicle is moving slowly in traffic.
The city has also teamed up with Citi Bike to create a bike-sharing system with over 13,000 bicycles.
What's the weather like in New York City?
New York City experiences four distinct seasons, ranging from hot, humid days in the summer to chilly snow showers in the winter. The average high reaches a peak of 85 degrees Fahrenheit in mid-July and drops as low as 39 degrees in late January. Rainfall typically totals just over three inches a month.
What are New York City's fastest-growing neighborhoods?
If you're moving to NYC, you know that the city has five boroughs, but you may not realize that within those borders are hundreds of individual neighborhoods that each offer their own unique personalities and amenities. Not sure where you'll land when you get to the Big Apple? Consider one of these fast-growing neighborhoods.
In New York City:
The neighborhood's name is an acronym for its location, "Down Under the Manhattan Bridge Overpass," placing it right on the East River. It's a quiet, laidback neighborhood of over 60,000 people where apartments are priced between $2,500 and $5,000/mo. The subway is the easiest way to get around, with commute times to Manhattan just 20 minutes on the F train. While the neighborhood doesn't have much of a nightlife, it makes up for it with stunning natural views.
Located on the western tip of Queens, Long Island City has developed into a modern neighborhood. Once filled with warehouses and rail yards, the neighborhood is now home to high-rise apartments and condos. It's serviced by eight nearby subway stations and has a population of over 47,000. Zillow lists rent prices starting at $1,400/mo. and going up to $4,000/mo.. While this may sound expensive, it's actually not a bad deal for the area and proximity to Manhattan.
You'll find Downtown Brooklyn just south of the Manhattan Bridge and right in the heart of the borough that shares its name. Nearly 63,000 people call this bustling neighborhood home, thanks in part to rezoning rules in 2004 that allowed for new residential spaces. However, demand is still high, so you can expect to pay $1,600/mo. to $3,200/mo. in rent to live in this area. There are nearly a dozen subway stations nearby, so getting around Brooklyn and the greater metro area is easy. If you're commuting to Manhattan, give yourself at least 30 minutes to get to work.
With a population of over 73,000, Forest Hills is a booming neighborhood in Queens that still offers a small-town experience. It's located east of Grand Central Parkway and south of the 495 interchange, and it offers a unique mix of architecture, including Art Deco, Rustic, and Tudor. The neighborhood is also pretty inexpensive compared to other fast-growing areas; rent is typically around $1,500/mo. to $4,500/mo. This is a neighborhood where a car can come in handy, though there's plenty of foot traffic and one subway station. Getting to Manhattan takes just under an hour on the subway.
Once known as Brooklyn Village and sometimes called "America's original suburb," Brooklyn Heights is located south of the Manhattan Bridge on the East River. It's a beautiful place to walk around thanks to its gorgeous historic architecture, river views, and tree-lined streets. Its 62,000 residents have plenty to do during the day and on weekends, but nights are generally quiet. Even better is that this urban paradise is a breezy 25-minute commute from downtown Manhattan on the A, 2, or 4 train. Rents in the area average $1,700/mo. to $6,500/mo.
In the New York City Metro Area:
Located northeast of the hustle and bustle of NYC proper, Port Chester, NY, has a population of nearly 30,000. Its downtown area is walkable with lots of restaurants and shops. The train station is also located downtown, and it will get you to Penn Station in just over an hour. Rent starts around $1,500/mo. and goes up to $3,500/mo.
If you're a transplant from a coastal town or want to live near the city and the beach, Long Beach is a wonderful compromise. Located along the south shore of Long Island and home to just over 33,000 people, the city is only an hour from Penn Station when you take the Long Island Railroad. The average rent prices in Long Beach range from $1,800/mo. to $6,000/mo.
Living in New York City: The fun part
For the sports fan:
Living in New York gives sports fans something to do all year round. The city is home to major league teams in every major sport. You can catch a baseball game with the Mets or Yankees; sit courtside for the Knicks or Nets; or cheer on the Giants or Jets in football. You can also attend the U.S. Open tennis tournament, follow college basketball, find a favorite soccer team, or even partake in the NYC Marathon.
For the culture-seeker:
New York City may be known for many things, but its arts and history scene is a major attraction. It's home to 215 world-famous museums such as the Metropolitan Museum of Art and the Museum of Modern Art (MoMA), as well as educational destinations like the American Museum of Natural History and the Museum of the Moving Image. For fun family days out, make sure to visit the Children's Museum of Manhattan and the Bronx Zoo. Short on cash? There are tons of free options to check out, too. Time Out and Thrillist are great resources for upcoming activities if you run out of ideas.
For the foodie:
New York City has countless options for foodies, and a simple internet search of your favorite kind of dish will yield dozens, if not hundreds, of restaurants to try out. However, if you're looking for something that's quintessentially NYC, it has to be pizza. The city even has its own New York-style pizza, featuring large slices and thin, foldable crusts. But even if you're looking for something different, such as Neapolitan or Sicilian, you'll find them and more scattered throughout every borough. Check out Eater for the latest hotspots to try across all cuisines.
For the traveler:
New York City is the perfect hub to live in for those who love travel. There are three international airports within an hour of downtown Manhattan: LaGuardia, John F. Kennedy, and Newark Liberty. Skiplagged regularly lists flight deals starting at $50 round trip to domestic destinations and $130 to fly internationally. You can also take the train or rent a car to visit some great weekend getaways within a couple of hours of the city, such as the Hamptons, the Hudson River Valley, and Shelter Island.
For the outdoor explorer:
Lots of people associate living in NYC with bustling sidewalks, never-ending traffic, and tall buildings, but the city has quite a bit to offer in terms of outdoor recreation. Central Park is the area's most well-known green space with 843 acres of gardens, lawns, walking trails, water features, and more. On the west side of the city, the High Line is a 1.45-mile elevated trail with more than 500 different types of greenery to enjoy. There are also more than 70 hiking trails to enjoy and 2,314 city parks.
What you probably didn't know about New York City
If you're interested in moving to the area, check out our city page on NYC!
The bottom line
New York City has something for everyone, from food to culture to outdoor activities. Many who inhabit the city couldn't imagine living anywhere else. Despite high living costs, NYC offers a sense of diversity and community that many other major cities just don't possess.
While this guide is intended to give you an overview of living in New York City, it barely scratches the surface. For more in-depth information on specific aspects of moving to NYC, check out local resources such as NYC Go, New York Magazine's The City, and the City of New York official website.
Hedy Phillips contributed to this article.