Your Guide to Moving to Charlotte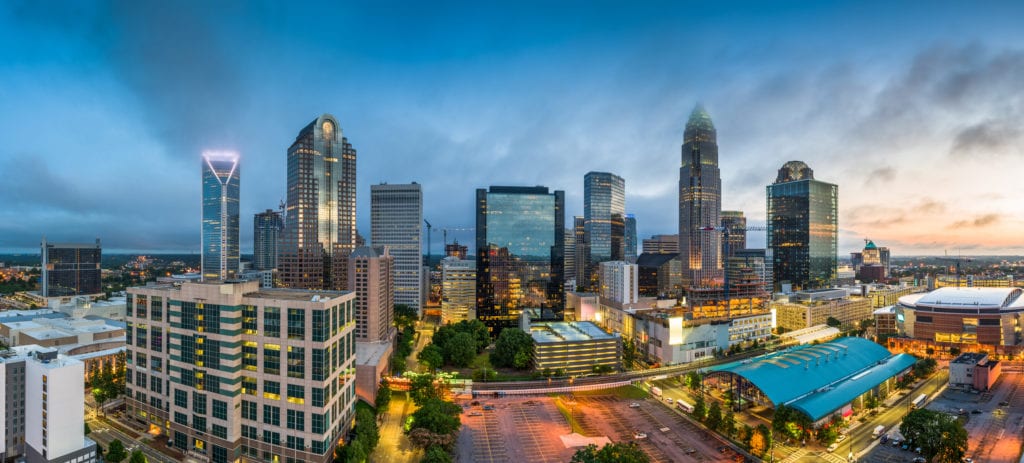 Charlotte at a glance:
Charlotte is one of the fastest-growing cities in the country, with roughly 60 people moving to the area every day. It's a great city for young professionals, with a median age of 34.
The cost of living in Charlotte is 5% lower than the national average. Housing prices also fall well below the national average.
The median income for an individual working in the city is around $38,000.
Charlotte is known as a bank town, but it's also home to six Fortune 500 companies and 14 Fortune 1000 companies.
Some of Charlotte's top industries include finance, technology, and healthcare services.
Whether it's southern staples like barbecue and Cheerwine, or dishes from around the world, you won't go hungry in Charlotte.
For you outdoor adventurers and weekend vacationers, Charlotte is perfectly positioned. You can get to the mountains in about two hours and to the beach in about three.
Moving to Charlotte, NC: The Basics
What's the population of Charlotte, NC?
Charlotte has a total population of 872,506 as of the last census count in 2018. It's a relatively young population with a median age of 34. About 55% of the population in the city is single, and there's a pretty even split of women and men.
If you're moving to Charlotte, you're not alone. It's one of the top five fastest-growing cities in the country, with roughly 60 new people moving to Charlotte every day. About 17% of the population is foreign-born, leading to a diverse cultural community.
What's the cost of living in Charlotte, NC?
Charlotte is a relatively affordable city in the U.S., with a cost of living that's 5% below the national average. Payscale says housing costs in the city fall 14% below the national average, with a median home price of $296,685 and a median rent of $929.39/mo.
If you're buying groceries in the city, Payscale says you can expect to pay around $3.12 for a loaf of bread, $1.82 for a gallon of milk, and $1.70 for a carton of eggs. For those of you who don't frequent your kitchens often, expect to pay around $3.98 for your hamburger out.
The median household income in Charlotte is $60,764, while the per capita income is $37,913. That's comparable to the national numbers — $60,293 (household) and $32,621 (per capita).
Payscale reports that the average salary in Charlotte, NC, is $65,000.
The cost of living in Charlotte is slightly more expensive than a city like Indianapolis, IN, which is similar in size. However, Charlotte is significantly cheaper than other fast-growing cities, like Seattle, WA, and big bustling cities, like New York, NY.
Here's a look at how Charlotte compares:
| | | | | | |
| --- | --- | --- | --- | --- | --- |
| City | Population | Cost of Living (Compared to National Average) | Per Capita Income | Median Home Price  | Median Rent |
| Charlotte, NC | 872,506 | -5% | $37,913 | $296,685 | $929.39/mo. |
| Indianapolis, IN | 864,131 | -8% | $27,860 | $280,376 | $878.30/mo. |
| Seattle, WA | 744,949 | +49% | $60,625 | $673,874 | $2,111/mo. |
| New York, NY | 8,398,748 | +129% | $39,589 | $1,628,124 | $5,100/mo. |
*Data sourced from Census Reporter and Payscale. 
How's the Charlotte job market?
While Charlotte has a slightly higher unemployment rate of 4.1% compared to the national average (3.5%), the city continues to attract businesses that generate new job opportunities.
A growth report from Charlotte Regional Business Alliance says the city's overall job growth rate sits at 2.1%, outpacing the national average of 1.4%.
As the country's second-largest banking city, Charlotte's known for jobs in finance. But a 2019 report from the U.S. Bureau of Labor Statistics shows that jobs in the transportation and technology sectors, along with hospitality, education, and healthcare services, are on the rise.
In your job hunt, it's important to note that Charlotte is home to six Fortune 500 companies and 14 Fortune 1000 companies.
The top employers in Charlotte include Bank of America, Carolinas Healthcare Systems, Duke Energy, and Wells Fargo. In the greater Charlotte-metro area, you can find jobs with top employers like Lowe's Home Improvement (in Mooresville, NC) and Red Ventures (in Fort Mill, SC).
What do I need to know about education in Charlotte?
Charlotte-Mecklenburg Schools (CMS) is the 17th largest public school system in the nation, teaching children from Kindergarten to high school. CMS also offers a pre-Kindergarten program that's application-based and determined by need.
With most schools in CMS, your address determines what schools your child will attend. However, CMS does offer a school choice lottery for magnet and other programs.
Out of 116 school districts in North Carolina, Niche ranks CMS 9th for athletics, 12th for diversity, and 35th overall. CMS high schools Harding University and Myers Park also rank on Newsweek's list of Top 100 Best High Schools in the U.S.
But beyond the public school system, there are around 85 private schools in Charlotte to choose from, along with more than 40 charter schools. There are also 40 colleges and universities in the area.
What are the safest areas in Charlotte?
The top three safest areas in Charlotte are all located in the southeast portion of Mecklenburg County, according to Neighborhood Scout. The site, which pulls data from thousands of local law enforcement agencies across the country, considers neighborhoods surrounding Darby Chase Drive, Commons Creek Drive, and Weddington Road the safest in the city.
Neighborhood Scout says when compared to communities of all sizes across the country, Charlotte is safer than just 6% of U.S. cities. But, the site says, Charlotte's crime rates are comparable to cities of a similar size. To get a deeper idea of the crime rate in Charlotte, you can take a look at Charlotte-Mecklenburg Police Department numbers and FBI data.
How do I get around Charlotte?
Most Charlotteans still rely on their cars to get to and from work. And with driving commutes that can reach over an hour for people who live near or past city limits, it's worth looking at alternative ways of getting around town.
Public transportation in Charlotte is collectively known as the Charlotte Area Transit System, or CATS. It consists of a light rail line known as LYNX Blue Line, a (free) streetcar line known as the CityLYNX Gold Line, and a bus rapid transit line called Sprinter. All of these services can take you straight into the city center, or to some of the popular hang-out spots, like South End.
There are also several taxi services, with average cab fare starting from $2.50 plus $0.50 for every half mile. Ride-sharing services such as Uber and Lyft are also operating in the area. Alvia reports that an UberX in Charlotte has a base fare of $1.10, with a per-mile cost of about $0.75 (surge pricing notwithstanding).
You can also get around on rented bicycles and scooters, with several different services operating throughout the city.
What's the weather like in Charlotte?
If you're looking to escape harsh northern winters, Charlotte's the place for you. But don't worry — you'll still get your fix for every season.
Winters in the city are mild, with highs in the mid-50s and lows in the 30s. Summers can get hot, averaging highs in the upper 80s and lows in the 60s. Springs and falls maintain moderate temperatures in the city, with highs in the 70s and lows in the 40s to 50s.
You can experience the great outdoors all-year-round in Charlotte, with mostly sunny days and mild temperatures.
Charlotte's inland position does help somewhat to shield it from the worst damage caused by hurricanes that hit the coastal areas of the Carolinas. But, it does experience severe weather when these events occur. It's important to know that the Charlotte region can also experience tornadoes.
What are Charlotte's fastest-growing neighborhoods?
Your new home can be an opportunity to find a new you. In a city that's growing as fast as Charlotte, you have the liberty of identifying the popular neighborhoods that would suit both your lifestyle and budget. You can also get an idea of the population distribution in the city by looking at the fastest-growing areas in and around Charlotte.
In Charlotte:
Sunset Road
Located north of Uptown Charlotte, Sunset Road is turning out to be one of the most popular neighborhoods and has a population of 8,502. Redfin dubbed this area one of Charlotte's "hottest neighborhoods of 2019."  The neighborhood has several parks and is in close proximity to I-77, making commuting to the city center easy.
This area is also more affordable than other parts of Charlotte. Realtor.com says the median list price of homes in Sunset Road is $193,000. Compare that to another popular neighborhood Plaza Midwood, where the median list price of homes there is $594,200.
Madison Park
Madison Park is another Charlotte neighborhood that's rapidly attracting new residents. Located south of Uptown Charlotte, this area has a population of 6,269 and is close to the popular Park Road Shopping Center. The median home value in this neighborhood is around $368,900, according to Zillow.
From restaurants, bars, and coffee shops to schools and parks, Madison Park has everything within a radius of four miles. This area was also dubbed one of Redfin's "hottest [Charlotte] neighborhoods of 2019."
Madison Park residents have access to the light rail via the Woodlawn and Scaleybark stations, providing an easy commute to the city center.
Elizabeth
Elizabeth is one of the historic neighborhoods of Charlotte and has a population of 4,927. Located just outside of Uptown, Elizabeth caters to urbanites with its close, walkable proximity to businesses, restaurants, and retail stores. Commuters to the city center also have access to a free service from the CityLYNX Gold Line streetcar.
The median list price for homes in Elizabeth is $337,500. This neighborhood is also close to some highly-rated public schools.
Plaza Midwood
Situated just a mile northeast of Uptown, this vibrant neighborhood has a population of 4,317. The area is famous for its art galleries and restaurants, and is ideal for those who prefer to stay close to the city, but enjoy a quaint and quieter day-to-day life.
Plaza Midwood is also well-connected. Residents can use buses or the light rail to commute to the city center.
The median list price of homes in Plaza Midwood is $594,200.
Dilworth
Dilworth is just a few miles from Uptown Charlotte and is home to 8,542 people. In this neighborhood, you'll find tree-lined streets with an urban feel.
It was the first streetcar suburb in Charlotte. Today, it's connected to the city by bus and light rail. Dilworth has a great restaurant scene, with specialty food and clothes shops in the Kenilworth Commons and Park Square retail plazas.
The median list price for homes in Dilworth is $494,000.
In the Charlotte Metro Area:
Tega Cay, South Carolina
Tega is one of the fastest-growing suburbs in Charlotte, with a population of 10,863. It grew by 5.2% in the last year alone. The median list price for a home in Tega Cay is $369,900, Realtor.com reports.
The area has its own golf course for those looking for a few hours of leisure. If golfing is not your thing, you can go out boating in Lake Wylie.
Tega Cay is located 20 miles south of Charlotte — a half an hour drive (without traffic) to the city center via I-77 N.
Waxhaw, North Carolina
Waxhaw is a growing area south of Charlotte that has a population of 16,181, with a growth rate of 6.4% last year. The median list price for a home in Waxhaw is $419,900.
It's a leisurely community, where you can enjoy walks in the quaint downtown or explore local breweries.
The neighborhood is about 30 miles from the city center, or a 45-minute drive (without traffic) via I-485.
Fort Mill, South Carolina
Fort Mill is the fastest-growing township in Charlotte, with a population of 19,848. The area grew by 13.2% in the last year, with particularly fast growth around the Baxter Village area. The median list price for a home in Fort Mill is $352,000.
Living in Fort Mill allows you to maintain the small-town feel while giving you easy access to Charlotte's city center. It's located about 25 minutes (without traffic) south of Charlotte off I-77.
Living in Charlotte, NC: The fun part
Options for the sports fan
The sports-lover in you will get a fair share of action in Charlotte, with the city boasting teams in most major leagues. Charlotte is home to the professional football team, the Carolina Panthers, and the professional basketball team the Charlotte Hornets (which is owned and chaired by Michael Jordan). Bank of America Stadium and Spectrum Center are their own home grounds. A major league soccer team is also in the making.
The Charlotte area is also a major center for motorsports in the U.S. If you're a motorsports fan, you can't miss the annual NASCAR All-Star Race.
For the culture-seeker
Whether it's fine art, history, or live performances, Charlotte's got it all. Culture fanatics can choose between six art museums and nine history museums, all showcasing the city's diverse communities and backgrounds. Motorsports fans can nerd out about famous drivers at the NASCAR Hall of Fame or check out restored cars at the Backing up Classics Museum.
The kiddos will love the scientific marvels and hands-on learning at the Discovery Place and ImaginOn.
Music-lovers of all genres can catch live shows and top artists at venues like the Spectrum Center, the AvidXchange Music Factory, and other smaller venues. Charlotte also has its own symphony and ballet, which offer various series (ranging from beloved classics and cutting-edge innovative works) every year.
For the foodie
No matter the palette or preference, Charlotte has food for you. The city is known for its southern barbecue, making it a haven for meat-lovers. Pulled pork has traditionally been the name of the game, but some restaurants are offering wider selections (like brisket and smoked wings). Now, be careful about the barbecue sauce you choose: Claiming a side on the tomato-based sauce vs. vinegar-based sauce debate is serious business in the south.
Charlotte is also known for its Cheerwine, nicknamed the 'nectar of the Tar Heels.' It's a sweet soda with strong cherry notes, and it's served at most restaurants.
Walk around the city, and you'll see Charlotte's diverse communities echoed in the restaurant selection. You can bring the world to your dinner plate at places serving international staples like sushi, ramen, falafel, bánh mì, and more.
For the traveler
If you're the jet-setting type, Charlotte's got you covered. With Charlotte-Douglas International Airport, you have access to 37 international flights (eight of which are direct to Europe!).
Weekend getaways are a breeze, with both mountains and beaches just a few hours away.
For the outdoor explorer
With over 200 parks and facilities in the county, you're not short of ways to spend a Saturday. You can pack a picnic and enjoy city views from Freedom or Marshall Park. You can try your green thumb at one of the 19 community gardens, or take your kids to a football-themed Panthers Play 60 playground.
Additionally, Charlotte is home to the  U.S. National Whitewater Center. It's one of the best getaways for adventure-seekers looking for thrilling outdoor activities such as zip-lining, ropes courses, and whitewater rafting.
What you probably didn't know about Charlotte…
Every city has its own quirks, history, and inside information that make it unique. Get the inside scoop on obscure fun facts that will, without a doubt, have you talking like a local Charlottean:
The bottom line
If you want to move to the Queen City and get a sense of what living in Charlotte, NC, is like, this guide is the perfect place to start. But it can only scratch the surface. To really understand Charlotte and what it's like to be a local, you should explore local resources.
Tourism sites like charlottesgotalot.com can keep you updated on current events. Culture sites like the Charlotte Agenda and CLTure.org can help inform what to do, see, and eat. Lastly, local news affiliates like the Charlotte Observer, WFAE, and WBTV, can keep you up-to-date on everything happening in the community.
At the end of the day, you have to determine if moving to Charlotte is the right step for you, your family, and your career. The facts and figures above can help you make that big (and exciting) decision.
This article was originally published on 1/27/2020. Updated on 2/24/2020. 
Kashyap Vyas contributed to this article. Kashyap is an engineer and a science and technology writer with more than eight years of experience. He specializes in developing well-researched articles and how-to guides for homeowners on maintaining and improving their homes. 
---
Everything for your move, all in one place
Curate your personalized moving checklist, set up TV & Internet, and more with a free MYMOVE account.
Save on your move and tackle upcoming to-dos with your free MYMOVE account.