When Moving to Texas, Millennials Choose Dallas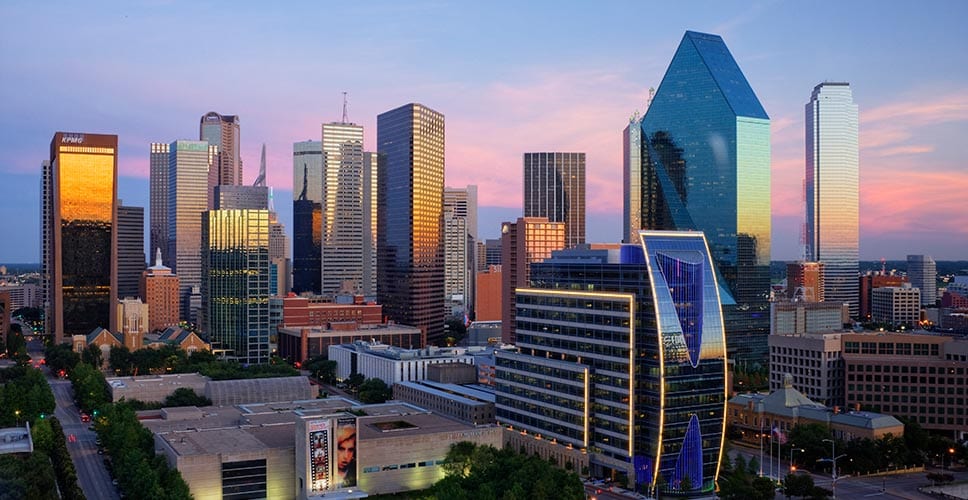 When millennials move, it's often for a job or in pursuit of a new lifestyle, according to a Mayflower analysis.
In Texas, Dallas is the most popular destination for millennials, and the city is working to change its priorities and image to better appeal to that younger generation.
What makes Dallas popular?
Dallas has been working to promote a healthy lifestyle for residents – a big draw for millennials who seek outdoor adventure. The area has one of the largest park systems of any municipality.
There are more than 400 parks spread out over about 21,000 acres of land. The nearby River Legacy Parks and Arbor Hills Nature Preserve add to that number.
Some popular destinations in Dallas include the Bishop Arts District, Klyde Warren Park, NorthPark Center, Parliament bar and Uncle Uber's Sammich Shop.
Dallas has growing career opportunities
If most millennials are moving for a job, Dallas makes sense.
According to the Bureau of Labor Statistics, the unemployment rate for the Dallas-Fort Worth area in February was 4.3%, below the national average of 4.9%.
Looking at the individual counties that make up the Dallas area, Denton County's unemployment rate sits at 3.9% while Dallas County was 4.5% – the highest in the region, and still below the national average.
And net growth of employment in the area between February 2016 and February 2017. The results show non-farm employment in the Dallas area increased 3.5% during this time span, while the national average was only 1.7%.
Stanley W. Suchman, an assistant commissioner for regional operations for BLS's Southwestern Information Office, noted Dallas was second in the number of jobs added and the rate of growth among the 12 largest metropolitan areas in the nation.
The area outpaced job growth in every industry included on the report. The rate of growth by industry for the time span:
Education and health services – 3.0%
Financial activities – 3.7%
Government – 1.8%
Information – 1.5%
Leisure and hospitality – 6.1%
Manufacturing – 0.5%
Other services – 4.9%
Professional and business services – 4.2%
Trade, transportation, and utilities – 3.6%
According to the latest statistics, millennials moving to the Dallas area in search of a job are likely to find one.
City reinventing itself
The city has a goal of attracting more millennial residents and is taking steps to spur community development, according to a recent press release from the Dallas Regional Chamber of Commerce.
Convenience is a major draw for millennials, and the city aims to make living in Dallas more convenient by encouraging areas where residents can live within walking distance of entertainment, restaurants, and shopping.
This is one area in which the city could use some improvement. According to WalkScore.com, Dallas is largely car dependent and ranks as the 24th most walkable large city in the nation. The University of Texas is helping the city research the situation to make recommendations for pedestrian-friendly improvement.
Millennials also tend to seek out places that are socially progressive.
The city aims to be not only progressive in its policies but also to foster a culture of inclusion. Dallas has a committed to increasing diversity and the atmosphere of inclusion throughout the area.
Booming Housing Market
The housing market in the Dallas area has experienced substantial growth over the last several years. This is good for those who own homes and benefit from rising equity, but it has been more problematic for buyers looking for a good deal.
According to the Home Buying Institute, the market is beginning to stabilize. While prices will likely continue rising, it should be at a slower rate throughout 2017.
Builders are focusing on filling the need for homes in the $300,000-$500,000 range, which has been underserved. This could mean a greater selection of homes for young professionals interested in moving to the area and looking to buy in an affordable range.
The Dallas area already has a lot to offer millennials, and with the city's commitments to planned growth, it is likely to stay at the top of their relocation list.