Your Guide to Moving to Minneapolis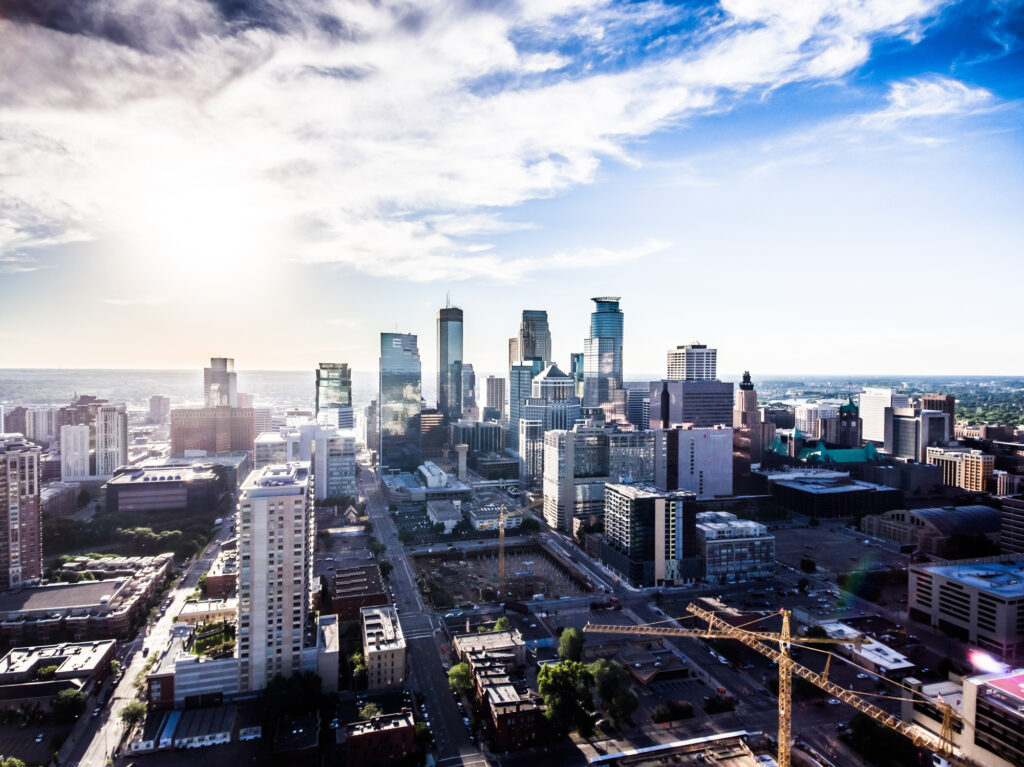 Minneapolis at a glance
The greater Minneapolis metro has a population of over 1 million people.
Residents in the city are pretty well educated: 91% of citizens age 25 and older graduated high school, and 51.3% of citizens age 25 and older have a bachelor's degree or higher.
The cost of living in the city is 6.5% higher than the national average.
Minneapolis is famous for its invention of Juicy Lucys — burgers where the meat patty is filled with cheese.
The Minnesota State Fair is the second-largest state fair in the country and was ranked #1 by Insider.com in 2018.
There are 16 Fortune 500 companies located in the Twin Cities, which is likely part of why Minneapolis is ranked #8 on Niche.com's list of Best Cities for Young Professionals in America.
Minneapolis is the home of the Mall of America, which is the largest retail shopping center in the United States.
Moving to Minneapolis: The basics
What's the population of Minneapolis?
The Minneapolis-St. Paul metro area is a diverse urban center in southeastern Minnesota, with a total population of over 1.02 million. The population in the city is young, with a median age of 32, and about half of the people living in the area are between the ages of 20 and 49.

The gender split in Minneapolis is even. If you're single and ready to mingle, this is the city for you! About 64% of residents in Minneapolis are unmarried.

[deals-hub-ad]
What's the cost of living in Minneapolis?
The Minneapolis cost of living overall is 6.5% higher than the national average. Some living expenses are also higher than the national average, while some are lower. For example, general housing costs are 5% higher, transportation costs are 8% higher, but utility costs are 9% lower than the national average.
If you're shopping for food staples in the city, expect to pay about $2.31 for a loaf of bread, $1.59 for a half-gallon of milk, and $1.83 for a carton of eggs.
The median home price in Minneapolis is $375,054, and the median rent is $1,191/mo. The average salary in the city is $51,523.
To see how the cost of living in Minneapolis stacks up compared to other U.S. cities, here's a look at Minneapolis compared to Colorado Springs, CO, Los Angeles, CA, and New Orleans, LA.
| | | | | |
| --- | --- | --- | --- | --- |
| City Name | Cost of Living (compared to National Average) | Average Salary | Median Home Price | Median Rent |
| Minneapolis | 6.5% higher | $51,523 | $375,054 | $1,191 |
| Austin | 0.2% higher | $48,556 | $339,470 | $1,497 |
| Colorado Springs, CO | 1.7% higher | $46,268 | $349,948 | $1,325 |
| New Orleans, LA | 6.7% higher | $41,015 | $463,424 | $1,530 |
*Data sourced from the Council for Community and Economic Research's Cost of Living Index
How's the Minneapolis job market?
If you're job hunting in the area, know that there's a wide range in Minneapolis's main industries, which include health care and medical equipment, high technology, finance and insurance, and forest products. The city is also home to many Fortune 500 companies, including UnitedHealth Group, Target, Best Buy, 3M, and CHS.
The average annual salary in Minneapolis is $51,523, and the minimum wage is $10/hour for larger companies and $8.15/hour for smaller companies.
The job growth rate of Minneapolis has been decreasing over the last couple of years. In 2017, the growth rate was 1.4%. In 2018 the growth rate went down to .9%, and it went down even further to .5% in 2019.
That said, the unemployment rate in the city has been steadily decreasing. Prior to the global outbreak of the coronavirus and the economic impact that followed, the January unemployment rate was at 3.1% (lower than the national rate of 3.6%). The unemployment rate jumped to 10.1% in May 2020, mirroring trends across the country. The latest numbers from July 2020 are 8.2%, a slight decrease from post-COVID highs.
What do I need to know about Minneapolis education?
The area's main system is Minneapolis Public Schools, which offers Pre-K through 12th grade. MPS is starting the 2020-21 school year by doing distance learning. All MPS schools have started the year fully remote.
If you don't want to go the public school route, you have a ton of great options. Minneapolis currently has 48 charter schools and 29 private schools. As for higher education, the opportunities are vast, with over 50 schools available in the area.
What are the safest areas in Minneapolis?
According to Neighborhood Scout, the safest neighborhoods in Minneapolis are all in the southwestern corner of the city near Edina. The site, which aggregates data from thousands of local law enforcement agencies, says the safest areas in the city are located near the following crossroads: West 49th Street and Xerxes Avenue South, West 50th Street and Xerxes Avenue South, and West 50th Street and France Avenue South.
If you want to learn more about safety in the area, the City of Minneapolis Government website has a lot of helpful information and statistics.
How do I get around Minneapolis?
You don't need a car to get around the city, but a majority of people drive themselves to work each day. As of 2018, 62% of people drive alone to work, while 13% take public transportation. The average commute to work for a local is about 25 minutes.
If you want to ditch your car when you move, there are plenty of public transportation options available to you. With Metro Transit, there is the light rail, ample local bus routes, METRO Bus Rapid Transit (BRT), and the Northstar Commuter Rail.
Rideshare apps, like Uber and Lyft, are also popular in the city. If you want to take a fun, alternative method of transportation, try scooters with Lime and Spin, or bike-sharing with Nice Ride.
What's the weather like in Minneapolis?
Weather in Minneapolis can be somewhat unpredictable throughout the year. Minnesota experiences all four seasons, but depending on the year, some seasons will last longer than others.
Fall in Minneapolis is very beautiful, with the leaves on all the trees changing into bright colors all over the state. Winter in Minneapolis is extremely cold and full of snow. Winter typically lasts from November to March. The sparkling, white snow on the ground is almost picturesque — but on many days, you'll have to enjoy it through the window from the warmth of your home. Minneapolis averages 54 inches of snow a year, so a blizzard or two is definitely a possibility.
Once spring finally comes around after the long winter, it's much needed and typically lasts from April through May. Summer in Minneapolis is absolutely beautiful in the land of 10,000 lakes, and lasts through June, July, and August.
The annual high temperature is around 57 degrees, and the annual low is around 38 degrees.
What are Minneapolis's fastest-growing neighborhoods?
In Minneapolis:
Downtown West
Located in the heart of downtown Minneapolis, this part of the city is walking distance to bars, restaurants, breweries, sporting events, and concerts. The population in Downtown West is about 5,700 people. The median home value in the area hovers around the mid-$200,000 range, and the average monthly rent is $1,276/mo.
North Loop
Located north of downtown Minneapolis, but south of the Mississippi River, this is one of the newer neighborhoods in Minneapolis, and it's surrounded by a lot of unique restaurants, bars, and coffee shops. The population of North Loop is around 4,300. The median home value is in the low $400s, and the average monthly rent is $1,761/mo.
Downtown East
Located east of downtown Minneapolis and south of the Mississippi River, Downtown East's population is around 1,300. The median home value in this area is in the mid-$500,000 range, and the average monthly rent is $1,797/mo. This is one of the more expensive Minneapolis neighborhoods, and it's located next to some of Minneapolis's most famous landmarks, such as U.S. Bank Stadium, Mill City Museum, the Guthrie Theatre, and Stone Arch Bridge.
Loring Park
Located southeast of downtown Minneapolis, this neighborhood is located right next to the iconic Basilica of St. Mary, a lot of pubs and restaurants, and the Minneapolis Convention Center. The population in Loring Park is around 8,000. The median home value is in the upper $200s, and the average rent is $1,065/mo.
CARAG
Located right next to Uptown and southwest of downtown Minneapolis, this neighborhood is walkable to many restaurants, bars, famous lakes, and the beautiful Lakewood Cemetery. The population in this area is around 5,600. The median home value is in the upper $200s, and the average monthly rent is $1,067/mo..
In the greater Minneapolis metro area:
Blaine
Located 17 miles north of Minneapolis, the commute from Blaine to downtown Minneapolis is only 19 minutes without traffic.  This city grew 14.3% from 2010 to 2017 and has a population of more than 65,000.
The median listing price for homes is around $300,000, and the average monthly rent is $1,218/mo. Blaine is close enough to the city so that it is still easy to go to restaurants, events, and bars downtown, but it's also far enough away that it's safer and the home prices are a bit lower.
Woodbury
Located 19 miles east of Minneapolis, the commute from Woodbury to downtown is about 24 minutes without traffic. The city grew 12% from 2010 to 2017, and now has a population of about 69,000.
The median listing price for homes is in the mid-$300,000 range, and the average monthly rent is $1,495/mo. In this area, you get to enjoy the pleasures of daily suburban life, while still being close to the hustle-and-bustle of the city.
Lakeville
Located 25 miles south of Minneapolis, the commute from Lakeville to Minneapolis is 32 minutes without traffic. This area grew more than 10% from 2010 to 2017, and now has a population of around 63,000.
The median listing price of a home in Lakeville is in the mid-to-high-$300,000 range, and the average monthly rent is $1,432/mo. Lakeville has lots of its own entertainment, such as Buck Hill (ski hill) and Lebanon Hills Regional Park, but is still very close to the city and all its perks.
Living in Minneapolis: The fun part
For the sports fan
If you're looking for a sports bandwagon to hop on, Minneapolis has it all. You have the Minnesota Vikings (the professional football team), the Minnesota Twins (professional baseball team), and the Minnesota Timberwolves (professional men's basketball team).
Across the river, you have the Minnesota Wild (professional hockey team) and the Minnesota United FC (professional soccer team).
There are also lots of college sports to cheer for in Minneapolis. Most notably, the University of Minnesota Golden Gophers have teams for almost every sport.
For the culture-seeker
There are 93 museums in Minneapolis and 53 different music venues in Minneapolis, if you include sports arenas. The most well-known music venues are First Avenue and the Armory.
If you're a history buff, you'll have your fill at one of the 15 historical sites in the city. Some of the most popular sites include the James J. Hill House, Fort Snelling, and the Minnesota History Center.
There are many family-friendly and kid-friendly activities, too. Some kid favorites are the Minneapolis Sculpture Garden, the Science Museum of Minnesota, one of Minneapolis's 15 libraries, or the Mill City Museum.
Want to learn more? Get to know all things art and culture in Minneapolis here.
For the foodie
You can't claim to be a local without trying a Minneapolis Jucy Lucy. This favorite, which consists of burgers stuffed with cheese, was invented in the city. Minneapolis is also known for its Tater Tot Hotdish (or as you might call it, casserole).
The point? You won't be out of comfort food options in this city! If you're a beer buff, check out one of Minneapolis's 62 breweries.
Learn more about Minneapolis food must-haves here. 
For the traveler
The Minneapolis – St. Paul International Airport is located about 20 minutes south of downtown Minneapolis, which makes traveling out of the city very easy. If you don't want to fly and are just looking for a weekend trip, there are quite a few options. Minnesota is the land of 10,000 lakes, so there's plenty of beaching, swimming, boating, and fishing options available everywhere during the summer. Some popular weekend trips year-round include Duluth, Brainerd, and Wisconsin Dells, all of which are under a four-hour drive away.
For the outdoor explorer
Minneapolis is surrounded by parks and lakes. You only have to walk a max of six blocks to find one of 269 parks or 92 hiking trails in the city. Some of Minneapolis's most notable outdoor and nature getaways include Minnehaha Falls (very Instagram-worthy), Theodore Wirth Park, Nicollet Island Park, and the Minnesota Landscape Arboretum.
Learn more about Minneapolis's nature and outdoor options here. 
What you probably didn't know about Minneapolis…
If you're interested in moving to the area, check out our city page on Minneapolis!
The bottom line
While this guide will be helpful in your transition to Minneapolis, it only scratches the surface. Minneapolis is a beloved city in the Midwest, and it has a lot more to offer than most people realize. You'll need to brace yourself for some very cold winters, as those are almost a guarantee, but don't forget that (once the weather allows it), Minneapolis is a bustling and lively city with endless entertainment options. Whether you prefer history and museums, culture and art, music and live shows, or world-class sports, Minneapolis truly has it all.
To explore more information about Minneapolis, visit Minneapolis.org.
Dan Miller contributed to this post.