Your Guide to Moving to Boston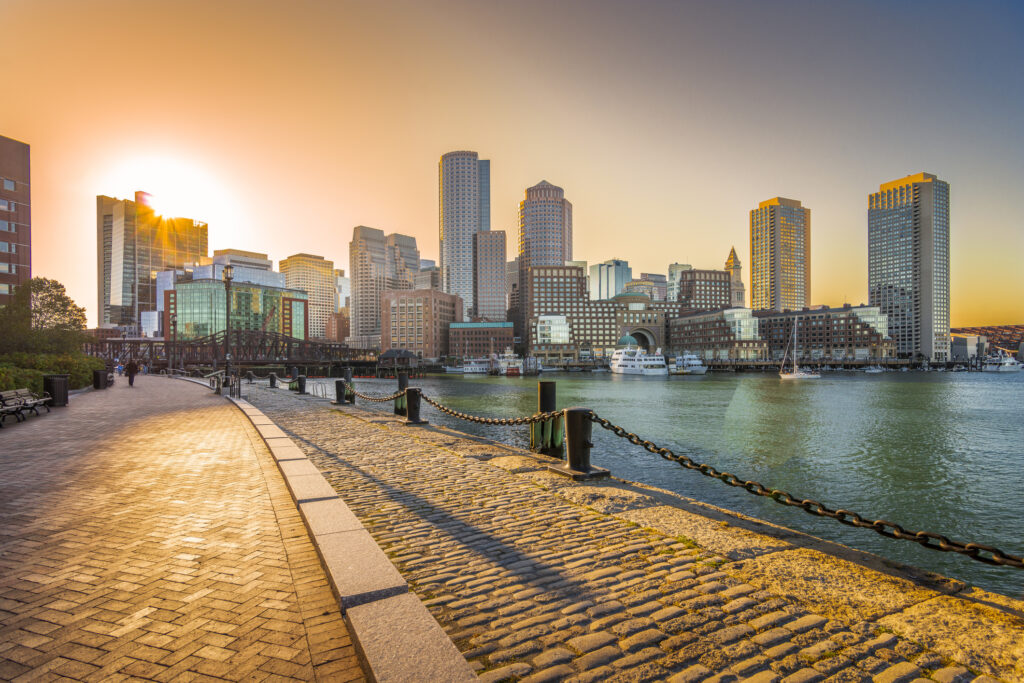 Moving to Boston at a glance
Boston has 23 distinctive neighborhoods, each with its own unique flavors, such as the vibrant college community in Allston, the history filling the streets of Beacon Hill, and the artsy draw of South End.
Bostonians LOVE their sports teams. If you're looking for a team to cheer for, you can join the bandwagon for the New England Patriots, the Boston Celtics, the Boston Bruins, and the Boston Red Sox (who play their games at the legendary Fenway Park).
Signature foods include Boston baked beans and New England clam chowdah, although Boston is a diverse city of many cultures and culinary choices.
The city is known for its premier healthcare facilities, with Massachusetts General Hospital and Brigham and Women's Hospital ranking in the Top 20 in U.S. News and World Report's Best Hospitals list.
Moving to Boston: The basics
What's the population of Boston?
The city of Boston, with a population of 215,443, is a young, bustling, and vibrant city. The gender split is pretty even, giving a slight edge to female residents, who make up 52% of the population. 67% of the city's inhabitants are single, while 33% are married.

Due to the high number of college students in the city (152,000 students in 2010) and the city's status as having the 5th highest proportion of immigrants in the U.S., Boston is very culturally diverse. There are more than 140 languages spoken. Leading countries of origin include China, Haiti, El Salvador, Dominican Republic, Jamaica, Cape Verde, Vietnam, Ireland, Brazil, and Colombia.

[deals-hub-ad]
What's the cost of living in Boston?
Boston offers many draws and amenities, but with higher incomes and home values, it can be expensive to live in. The Boston cost of living is 50.8% higher than the national average, according to the Council for Community and Economic Research's Cost of Living Index. That reflects in the city's housing market, where the average home price is $721,231, and the average monthly rent is $3,386.
The average salary for a Bostonian is $55,036.
As for groceries, MYMOVE's Cost of Living Calculator gives you an idea of the prices of food staples in Boston. When walking down the grocery aisle, expect a loaf of bread to cost $3.41, while a carton of eggs and a half-gallon of milk are $1.91 and $1.59, respectively. If you're going out for a bite, you'll pay around $5.40 for a burger.
Want to see how Boston stacks up against other U.S. cities? Check out cost of living information below:
| | | | | |
| --- | --- | --- | --- | --- |
| City | Cost of Living | Average Salary | Average Home Price | Average Rent |
| Boston, MA | 50.8% | $55,063 | $721,231 | $3,386/mo. |
| Detroit, MI | 0.2% | $48,986 | $339,937 | $1,127/mo. |
| El Paso, TX | -11.7% | $32.946 | $251,978 | $935/mo. |
| New York, NY | 141.4% | $53,996 | $2,105,921 | $5,063/mo. |
*Data sourced from the Council for Community and Economic Research's Cost of Living Index
How's the Boston job market?
Before world economies took a hit due to the effects of the coronavirus, Boston had been enjoying an economic boom, with a 2.7% unemployment rate for January 2020 (lower than the U.S. unemployment rate of 3.5%). The unemployment rate spiked at the onset of the COVID-19 pandemic, hitting 17% in June, but has steadily decreased in recent months.
If you're looking for a job in the Boston metro area, you'll be happy to know that the city is home to several Fortune 500 companies like General Electric, Liberty Mutual Insurance Group, State Street Corp., American Tower, and Wayfair. Fortune 1000 companies located in Boston include LPL Financial Holdings, Iron Mountain, Alexion Pharmaceuticals, Cabot, Vertex Pharmaceuticals, and Boston Properties.
Boston's largest industry is healthcare and social assistance, and ten of the largest employers in the city are hospitals — including Massachusetts General Hospital, Brigham & Women's Hospital, and Boston Children's Hospital. Other important Boston industries are professional, scientific, and technical services, as well as finance and insurance.
What do I need to know about education in Boston?
The Boston Public School System (BPS) is currently doing remote learning for students during the coronavirus pandemic, with plans to slowly phase students back to in-person schooling.
But as far as normal school assignment goes, BPS is location-based, so students in kindergarten through eighth grade can attend schools in the neighborhoods where they live.
If families want more options besides their neighborhood school, Boston Public Schools (BPS) does offer school choice through a Home-Based student assignment policy. It works on a lottery-like system, so first choices aren't guaranteed. High schools are open to all students, even the city's public exam schools, which are selective public schools for academically gifted students and require students to pass an exam for entrance.
Of America's 11,838 school districts, Niche ranks Boston public schools as #99 in most diverse school districts. Within Suffolk County, BPS is the most diverse school district and the second safest. Nearly half of the state's high schools ranked in the top 25 percent in a recent study by U.S. News and World Report.
There are 28 charter schools, 217 private schools, and 35 higher education institutions in the greater Boston area. BPS offers kindergarten and pre-K options, including their Universal Pre-K program that provides quality preschool for every 4-year-old who lives in Boston, free of charge.
What are the safest areas in Boston?
According to Neighborhood Scout, which gathers information from thousands of U.S. law enforcement agencies, six of the ten safest Boston neighborhoods are located southwest of downtown Boston. The three safest residential neighborhoods listed are Jamaica Plain, West Roxbury, and Roslindale.
According to the analysis of FBI crime data, Boston is safer than just 17% of all U.S. cities. However, while Boston's crime rate is higher than the national average, when compared to other cities of the same population size, its crime rate is significantly lower.
For a more detailed look at the Boston crime rate, refer to FBI data for Massachusetts and to the Boston Police Department's Crime Report, which lists different types of crimes by city district.
How do I get around Boston?
Although Boston is a very walkable city with various transportation options like mass transit, bicycle rentals, Uber, Lyft, and taxi services, 38.5% of Bostonians still drive themselves to work — and face an average commute time of 31 minutes.
Boston's public transportation system is the Massachusetts Bay Transportation Authority, also known as the MBTA. Locals call it "the T." The system includes subway lines, bus routes, commuter rail lines, ferry routes, and the RIDE, a door-to-door shared-ride service for people with disabilities. The subway's green line, red line, orange line, blue line, and silver line cover virtually all of Boston and nearby cities. The commuter rail has several lines that serve Boston suburbs and beyond.
What's the weather like in Boston?
Boston enjoys four distinct seasons, and with its location in the northeastern part of the U.S., the city gets its share of nor'easters and wild winter weather. Average temperatures in Boston can vary greatly throughout the year. The coldest winter month is usually January, with lows in the 20s and highs in the mid-30s. Spring temperatures are in the 40s to 60s, while summer temperatures are usually mid-60s to mid-80s, with the warmest month in July. Autumn in New England attracts tourists from around the world with a wonderland of colorful trees and temperatures in the 40s to low 70s.
The city of Boston has sunny days 50% to 65% of the time each month. The wettest month tends to be November, and there's an average of 44 inches of rainfall every year.
What are Boston's fastest-growing neighborhoods?
With 23 unique neighborhoods, Boston offers a wide choice of environments to fit every personality, lifestyle, and budget. If you're moving to Boston, you can immerse yourself in the culture of your new Boston neighborhood and its people — and discover yourself in the process! Here are the fastest-growing areas in and around Boston.
In Boston:
Allston
Allston, which is located west of downtown Boston and has a population of 29,233, has long been known as a mecca for students thanks to its location near Boston University. However, this unique Boston neighborhood is also home to a large immigrant population from South America, South Asia, and Eastern Europe. It's an ethnically diverse neighborhood with many restaurants, several music clubs, and a thriving commercial area that includes the bohemian Allston Village. Allston is one of the best neighborhoods in Boston if you love live music, with legendary music digs like Great Scott, Brighton Music Hall, and Paradise Rock Club all nearby.
The neighborhood of Allston offers subway service to downtown Boston via the Green Line along Commonwealth Avenue, which travels out to Boston College in Chestnut Hill, Cleveland Circle in Brookline, and Riverside in Newton. There are also several bus routes that connect Allston with surrounding cities.
According to Zillow numbers for April 2020, the median home value in Allston is in the low-$600,000 range.
Brighton
Allston's more subdued western neighbor, Brighton, is a popular home for Boston College students, young professionals, and families. The area also has a strong Chinese and Russian influence. Traffic can be heavy with parking at a premium, but there are many conveniences — such as a wide selection of restaurants and retail shops.
Brighton has a population of 45,787, with a median home value in the mid-$500,000s. For mass transit into Boston, there's the Green Line that runs the length of Commonwealth Avenue, in addition to bus routes throughout the neighborhood.
Dorchester
Located south of the downtown area, Dorchester is the largest Boston neighborhood with 114,298 residents. Dorchester, which Niche ranks as the most diverse neighborhood in Boston, is made up of smaller close-knit communities. While some parts of Dorchester have a higher-than-average crime rate, others, like Ashmont Hill, Neponset, and Savin Hill, are highly desirable.
Nearly a quarter of Boston's residents call Dorchester home. This includes Polish, Irish, African American, and Vietnamese residents, in addition to a Cape Verdean and Caribbean community. Mass transit includes the MBTA Red Line and Ashmont-Mattapan High-Speed Line. The median home value is in the upper $500,000 range.
Jamaica Plain
With its hipster hangouts, public parks, and stately old Victorian homes, Jamaica Plain (or "JP") is an eclectic neighborhood that appeals to activists, artists, professionals, and young families. Located south of Brookline and west of Roxbury, JP boasts a lot of nature, such as the Arnold Arboretum, Franklin Park, Olmsted Park, and Jamaica Pond — all with walking and bike paths. There are also many independent shops, restaurants, and art galleries.
The population of JP is 37,536, with a median home value in the mid-$600,000s. The neighborhood gets an "A" from Niche for ethnic and economic diversity. Both the MBTA Orange Line and Green Line have stops in JP, and there is a bus line as well. The commuter rail stops at the Forest Hills station.
In the Greater Boston Metro Area:
Chelsea
Boston Magazine highlighted five Boston-area cities that are experiencing major growth, and Chelsea is at the top of that list. This waterfront community is just 4.2 miles northeast of downtown Boston and is equally close to Boston Logan International Airport. Chelsea is on the silver line of the "T," which
connects with the Red Line at South Station, allowing easy access for downtown commuters.
For those who enjoy a taste of the past, Chelsea boasts many historic buildings and older shops in its mid-century town center, along with convenient dollar stores and Latin American restaurants. The population is 39,852, and it has a median home value in the low-$400,000 range.
Medford
For years, this Boston suburb has attracted residents trying to escape the ever-increasing housing costs of popular residential areas like Cambridge and Somerville. Medford, which borders Somerville, has a population of 57,771, with a median home value in the mid-$600,000s.
Another big plus for Medford is the planned MBTA Green Line Extension (GLX) that will extend train service to College Avenue for a faster, more direct commute to downtown Boston.
Living in Boston: The fun part
For the sports fan
The rabid loyalty of Boston sports fans is legendary. Whether it's cheering on the Boston Red Sox at Fenway Park, the New England Patriots at Gillette Stadium in Foxboro, or the Boston Celtics and Boston Bruins at TD Garden, you can always find an enthusiastic crowd supporting the city's favorite teams. Boston also has its own soccer team, The New England Revolution, who compete in the Eastern Conference of Major League Soccer.
For the culture-seeker
Boston is overflowing with culture — starting with its 80 museums and 42 music venues. The Museum of Fine Art (MFA), Isabella Stewart Gardner Museum, and Institute of Contemporary Art (ICA) are just a few of Boston's world-class museums. There are many important sites for history buffs, from the Paul Revere House and the USS Constitution Museum, to the site of the Boston Tea Party. The Freedom Trail is a 2.5-mile walking tour that links many of them together.
Boston is a music lovers' paradise, with larger venues like TD Garden and the Rockland Trust Bank Pavilion. You also have the choice of countless theaters, concert halls, and rock clubs — like the Orpheum, Symphony Hall, and House of Blues.
Families with young children have many fun Boston activities for kids to choose from, like the Museum of Science and Charles Hayden Planetarium, the New England Aquarium and Simons IMAX Theatre, historic forts, Public Garden Swan Boats, and Franklin Park Zoo.
For the foodie
Famous Boston foods include Boston baked beans, New England clam chowder, and the lobster roll. However, Boston is an international city with a large immigrant population, blessed with great food from all over the world. Boston.com publishes its Ultimate Boston Neighborhood Restaurant Guide with culinary delights from every part of the city — Italian food in the North End, Asian delicacies in Chinatown, seafood on the waterfront, Caribbean dishes in Roxbury, and many more.
For the traveler
For frequent flyers, Boston Logan International Airport is conveniently located a few miles east of downtown. But you don't have to go far to "get away from it all." Within a 2-hour drive and/or ferry trip from Boston, you can visit the mountains and music of the Berkshires; the beach communities of Martha's Vineyard, Nantucket, and Provincetown; the ski resorts of New Hampshire; or the historic and cultural centers of Newport and Newburyport. Even closer to home are popular destinations like Thoreau's Walden Pond in Concord and the Charles River Reservation.
For the outdoor explorer
Outdoor recreation is plentiful in and around Boston. The city of Boston maintains more than 2,300 acres of parkland and open space throughout the region. There are 930 city parks in the greater metro area. The historic Emerald Necklace is the "backyard for city residents" that extends from Boston to Brookline and Back Bay to Dorchester. Feel like putting on your hiking boots? Go explore one of Boston's 30 trails in the area.
What you probably didn't know about Boston…
Check out these fun facts about Boston to learn more about the city so you can feel like a true Bostonian.
If you're interested in moving to the area, check out our city page on Boston!
The bottom line
If you're thinking of moving to Boston, this guide is a great place to start. But since Boston offers so much, this only begins to scratch the surface. To get the inside scoop about Boston and what it's like to live here, you should explore local visitors' guides and resources.
Tourist sites such as the Massachusetts Office of Travel and Tourism list many popular Boston attractions by city/town, as well as places to stay and to eat. The City of Boston's Visiting Boston site also talks about local attractions and provides helpful information so you can plan and enjoy your trip.
Boston newspapers and magazines include The Boston Globe, Boston Herald, Boston magazine, and for the LGBT community, Boston Spirit Magazine. Boston.com is a great resource for Boston residents, with local news, weather, sports, food, culture, and arts listings. DigBoston is the city's alternative weekly paper, while Do617 features area concert listings. Boston's NPR stations WGBH and WBUR offer local news programming and information. WBZ News Radio 1030 broadcasts local news, sports, traffic, and weather. Local TV news affiliates include WBZ (CBS 4), WCVB 5 (ABC), NBC Boston, and WHDH TV 7News.
Only you can decide if a move to Boston is the right choice for you and your family. Use the information in this Boston guide to help you make this important and exciting decision.
Kristina Byas contributed to this report.