Your Guide to Moving to Chicago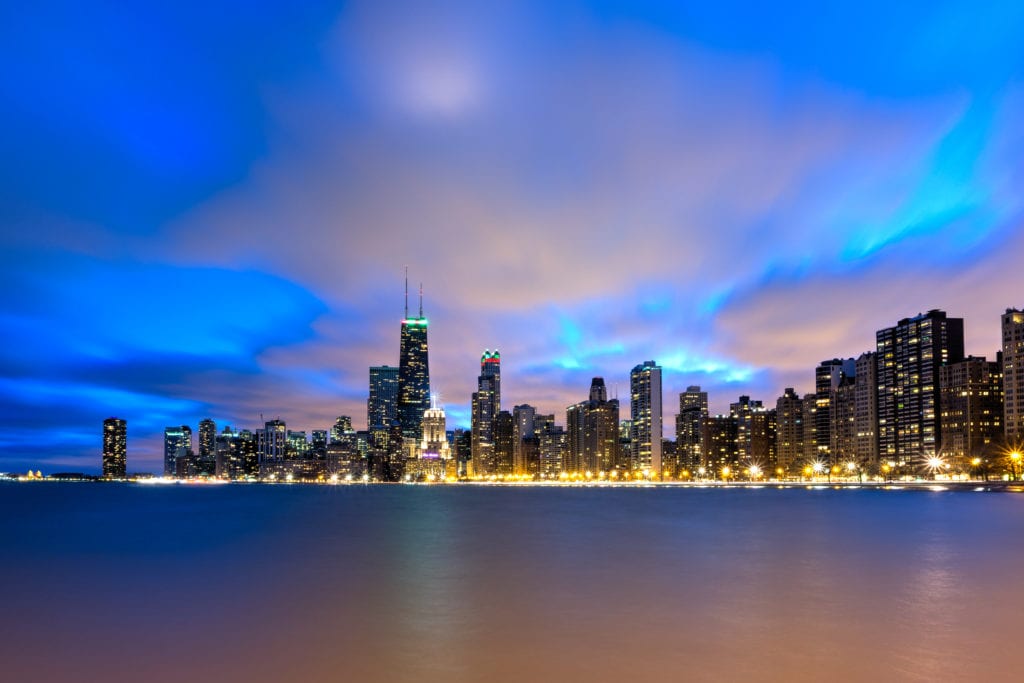 Chicago at a glance:
Chicago is the third-largest city in America, with a population of over 2.7 million.
The cost of living is 23% higher than the national average, with a median household income of $57,238.
The city's public school system is the second biggest in the United States.
The Chicago "L" is the country's first elevated railway and is the foundation of the city's public transportation system.
Chicago is located on the shore of Lake Michigan, providing ample opportunities to set sail, fish, or swim.
Moving to Chicago: The basics
What's the population of Chicago?
Chicago is America's third-largest city with an estimated population of 2,705,994 residents, according to the latest data from the U.S. Census. The median age in the city is 35, making it a popular hub for young professionals. The population has a nearly even gender split, and about 63% of the city's residents are single.
Chicago's population has been mostly static over the last eight years, with only slightly more people moving in than moving out. Since the last Census, the population has grown by just 0.4%.
What's the cost of living in Chicago?
Living in the city isn't cheap. The Chicago cost of living is about 23% higher than the national average, according to Payscale. The biggest contributor is housing, which is 56% more expensive than the rest of the country. The Census reports that the median value of a home in the city is $271,600, and the median rent is $1,077/mo.
The median household income in Chicago is $55,198, which is less than the national median of $60,293 per year. Individuals fare a bit better with a per capita median income of $34,775 per year compared with $32,621 nationwide.
The chart below compares Chicago with the country's biggest city, New York, and the next two smallest cities after Chicago: Houston, TX, and Philadelphia, PA:
| | | | | | |
| --- | --- | --- | --- | --- | --- |
| City Name | Population | Cost of Living (Compared to National Average) | Per Capita Income | Median Home Price | Median Rent |
| Chicago, IL | 2,705,994 | +23% | $34,775 | $271,600 | $1,077/mo. |
| Houston, TX | 2,325,502 | +2% | $31,576 | $161,300 | $990/mo. |
| New York, NY | 8,398,748 | +129% | $37,693 | $570,500 | $1,396/mo. |
| Philadelphia, PA | 1,584,138 | +17% | $26,557 | $156,800 | $1,007/mo. |
*Data sources from Census.gov, Census Reporter and Payscale.
How's the Chicago job market?
The Chicago job market lags behind the rest of the country, relatively speaking. The metro area job market grew just 0.8% from December 2018 to December 2019, an increase of 29,000 jobs. For comparison, the national average growth rate during that time was almost double, at 1.4%.
On the other hand, Chicago had a relatively low unemployment rate of 2.8% in December 2019 — compare that to the national average of 3.4%.
But if you're on the job hunt, there are many exciting employment opportunities in the Windy City. Chicago is home to 10 Fortune 500 companies, including Boeing, Archer Daniels Midland, United Continental Holdings, and McDonald's.
Chicago's biggest employers are in the public sector. The federal government, public schools, city government, and county government have the largest number of employees in the city, according to Crain's. And some of the biggest local industries include trade, transportation, utilities, education, healthcare, and professional services.
What do I need to know about education in Chicago?
Chicago Public Schools is the second largest public school system in America, with over 370,000 students enrolled. The system serves students in grades K-12, plus Pre-K and other early education programs. The system is location-based, but students can also apply to attend a different school other than their neighborhood school.
The school system operates 514 schools, 93 of which are high schools. Chicago Public Schools has a graduation rate of 78.2%, which is only a few points below the average national rate of 84.6%. The public school system has an overall B- grade from Niche, with the highest marks for diversity, teachers, and clubs and activities. If your student is active in sports, you'll be happy to know that Niche ranks the school district 19th in the state for athletes.
For those looking for an alternative to the public school system, there are about 118 charter schools that operate on a lottery system in Chicago. These schools are approved by the Board of Education but operate independently. There are also more than 250 private schools in Chicago, giving parents plenty of options when it comes to their children's education.
For those looking to continue their education, the Chicago area is home to about 76 colleges, universities, and career schools, including Northwestern University, University of Chicago, and Wheaton College.
What are the safest areas in Chicago?
Criminal activity in Chicago is typically concentrated in certain areas, and you will quickly find that some neighborhoods are safer than others. According to Neighborhood Scout, some of the safest neighborhoods are located on the north side of Chicago, including:
Sauganash
West Devon Avenue and North Central
North Western Avenue and West Grace
North Caldwell Avenue and North Lehigh
The safest neighborhood of all, however, is located in Beverly, in the southwestern section of the city near South Western Avenue and West 99th Street.
Overall, Chicago is about 7% safer than other U.S. cities. Chicago has an overall crime rate of 43 per 1,000 residents, which is higher than the average for similarly-sized cities, according to Neighborhood Scout. But these numbers only give a brief snapshot of safety in the city. For a more detailed look at crime by district, you can view statistics from the Chicago Police Department.
How do I get around Chicago?
Chicago is known around the world for its elevated train system, known by locals as the "L." The Chicago Transit Authority operates the train system, which offers some 140 stations throughout the city and suburbs.
But there are many other ways to get around Chi-town, including taxis, rideshares, or bike rentals. Rideshare services like Uber and Lyft are widely available, but they will cost you. Topping out at $3.00 per ride, Chicago is home to the highest tax in the country on rideshare services, with a tiered structure that charges based on where you get picked up and where you're going.
Then, of course, there is always the option of owning a car — but be forewarned, the city has one of the worst commutes in the country, with an average of more than 58 minutes round trip. Chicago has a relatively high percentage of households that own cars, with only 27.5% of households going without.
What's the weather like in Chicago?
Yes, it's true: Winters are brutally cold in Chicago, and you may wish you could hibernate for a few months until the spring thaw in April. But, if you've got polar bear blood in you and love a winter wonderland, this is the city for you. On average, Chicago gets about 37.5 inches of snow each year. The coldest month is typically January, with an average low of 18 degrees and an average high of 32 degrees.
But if you can survive the harsh winter, you'll be rewarded with beautiful and sunny summers. High temperatures soar to an average 81 degrees in July — perfect for frolicking along the lakeshore. The city gets an average of 108 days of sunshine annually, so don't forget the sunblock.
What are Chicago's fastest-growing neighborhoods?
In Chicago
The Loop
The Loop is pretty much the heart of Chicago. It houses the central business district, as well as the spacious and iconic Millennium Park and Grant Park. With close proximity to shopping, cultural destinations, and the shore, The Loop is in the center of it all, drawing 35,880 residents. The median list price for residential property is $385,000, according to Zillow, which is what you might expect to pay for a condo here. Single-family homes in the Loop are in the millions. The median rent price is $1,958/mo., which is higher than the city's median rent of $1,761/mo.
Near North Side
Located immediately north of The Loop, Near North Side is still close to everything. It's also the oldest part of the city — the first permanent settlement was built here in the 1780s. Near North Side has several neighborhoods, including Old Town, River North, and the Gold Coast. This part of town is also home to the Magnificent Mile, a stretch of North Michigan Avenue lined with luxury retailers, boutiques, and restaurants. There are roughly 88,893 residents here, and the median list price for residential property is $550,000, according to Redfin. Rent Jungle reports that the average rent in the area is $2,568/mo.
Near West Side
Directly west of The Loop on the other side of the Chicago River, you'll find Near West Side and its 62,872 residents. The median list price for residential property is $485,000, according to Redfin. The average rent is 2,429/mo., according to Rent Jungle. You'll find culturally rich neighborhoods such as Little Italy and Greektown here, in addition to West Loop and Tri-Taylor. Sports fans will love the proximity to the United Center, where both the Bulls and the Blackhawks play their home games.
In the Chicago metro area
Huntley
Huntley is one of the fastest-growing suburbs in the Chicago area, doubling in size in the past two decades to reach a population of 26,265 residents. Despite its growth, this village located about an hour from the city, in the far northwest section of the Chicago metro, still has a rural vibe and is known for its top-notch schools. Huntley homes go for a median list price of $290,000, a relatively affordable entry point for Chicago. Median rent is $1,186/mo.
Oswego
Located southwest of downtown Chicago and the bigger suburb of Aurora, Oswego is a bustling village in Kendall County with a population of more than 33,000. The median list price here is about $290,000 as well, making it a prime pick for homebuyers. The average rent in the area is $1,293/mo. Like Huntley, it's about an hour and 15 minutes from downtown Chicago. But Oswego also has its own historic downtown full of restaurants and shops that aren't to be missed.
Living in Chicago, IL: The fun part
For the sports fan
Chicago has a reputation for some of the most notoriously rabid sports fans (Da Bears!). This is true whether its teams are winning championships or in a losing streak. Chicago has a wealth of professional sports teams including:
Chicago Cubs (baseball)
Chicago White Sox (baseball)
Chicago Bears (football)
Chicago Bulls (basketball)
Chicago Blackhawks (hockey)
Chicago Fire (soccer)
Come game day, you certainly won't be without a team to cheer for!
For the culture-seeker
Chicago is the cultural epicenter of the Midwest, with some of the world's best museums, including The Field Museum, the Art Institute of Chicago, the Museum of Science and Industry, and the Museum of Contemporary Art Chicago. The city's distinctive high-rise architecture is also a highlight.
If you need to plan something fun for the kiddos, don't worry. Chicago has a ton of fun, kid-friendly options, including the Chicago Botanic Garden, The Kohl Children's Museum, and the Peggy Notebaert Nature Museum. You can also take the whole family on a riverboat tour to see buildings like the Willis Tower, the Tribune Tower, the Wrigley Building, and many more.
For the foodie
Don't worry, Chicago cuisine is more than just hot dogs and deep-dish pizzas (even though those are FAN FAVORITES). Chicago is recognized as one of the top cities in the country for international cuisine. Its many ethnic neighborhoods make for a world tour of flavors, from fresh gyro in Greektown to tasty tandoori chicken in West Ridge. For a true Chicago experience, however, nothing beats a hot sandwich from Al's Italian Beef and maybe a shot of Malort later if you're feeling brave.
For the traveler
Flying in and out of the city is common, given that Chicago is home to five major airports, the busiest of which is Chicago O'Hare International. But you don't have to go up in the air for a getaway. Chicago's prime perch on Lake Michigan allows for ample cruises and private charters. You can even sail as far away as Montreal if you're so inclined.
For the outdoor explorer
With more than 12,000 acres of parks (about 8.5% of the total area), Chicago is very outdoor-friendly. For a unique experience, check out the downtown climbing wall in Maggie Daley Park. Just outside the city, explore Skokie Lagoons, Waterfall Glen Forest Preserve, Camp Bullfrog Lake, and the Midewin National Tallgrass Prairie.
What you probably didn't know about Chicago
Chicago has a seemingly endless number of secrets to discover for the uninitiated. Here are just a few fascinating facts about the Second City that can make you sound like a local:
The bottom line
From its dizzying architecture to stunning lakefront views, Chicago really must be seen to be believed. While its icy cold winters might keep some folks away, Chicago offers such a bounty of career opportunities, entertainment options, and cultural attractions that the frosty temps are a small price to pay.
This guide is just a small glimpse of what this magnificent city has to offer. If you're serious about calling Chicagoland home, take a deeper dive by reading some local publications such as Curbed Chicago, DNA info, and the Chicago Tribune. You can even stream WBEZ Chicago — the city's public radio station — live from wherever you are. Learn more about services and local ordinances on the City of Chicago's official website.
---
Everything for your move, all in one place
Curate your personalized moving checklist, set up TV & Internet, and more with a free MYMOVE account.
Save on your move and tackle upcoming to-dos with your free MYMOVE account.