Your Guide to Moving to Atlanta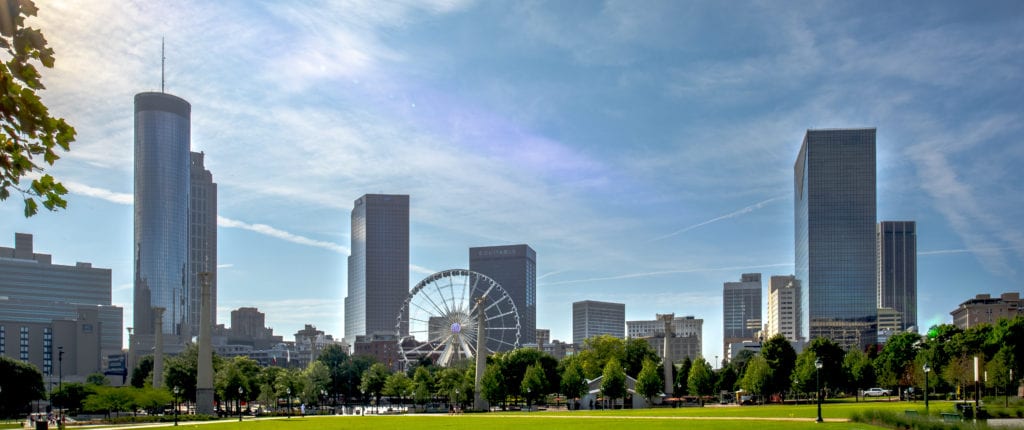 Atlanta, Georgia, at a glance:
Atlanta is the ninth-largest metro area in the country, with 5.9 million residents.
The cost of living in Atlanta is relatively affordable, 1% lower than the rest of the country.
If you're on the job hunt, you'll be glad to know that 10 Fortune 500 companies call Atlanta home, including Coca-Cola and Home Depot.
Atlanta is home to five professional sports teams, so you won't be left hanging come game day!
Hartsfield-Jackson Airport is the busiest airport in the country and has flights to over 75 destinations in more than 50 counties.
Moving to Atlanta: The basics
What's the population of Atlanta?
The city itself has a population of 498,073 residents, according to the most recent estimate from the U.S. Census. That's an increase of more than 16% from the 2010 census. The Atlanta metro area as a whole is one of the fastest-growing in the nation. The metro grew 1.29% from 2017 to 2018, reaching 5,949,951 people.
The median age in Atlanta is 33 years old. The city has a relatively high concentration of single people at 69%, with a pretty even gender distribution. If you're a young single professional, you won't be alone in Atlanta!
What's the cost of living in Atlanta?
You might be pleased to hear that Atlanta has a relatively affordable cost of living, which is 1% lower than the rest of the country, according to Payscale.
House-hunters should know that housing is 6% lower in Atlanta. The median value for a home in the area is $261,400, the Census reports. For renters, the median rent is $1,099/mo.
Groceries in the city are about 5% more expensive, compared to the national average. If you're stocking up on essentials, expect to pay $3.50 for a loaf of bread, $2.04 for a gallon of milk, and $1.90 for a carton of eggs.
Atlanta residents overall enjoy higher incomes than the rest of the nation. The per capita income for Atlantans is $48,869, well above the national average of $32,621. Household incomes are higher as well, with Atlanta households earning $65,345 annually, compared to the national average of $60,293.
But how does Atlanta stack up against other cities? The chart below compares Atlanta's numbers with a few other cities:
| | | | | | |
| --- | --- | --- | --- | --- | --- |
|  City Name |  Population |  Cost of Living (Compared to National Average) |  Per Capita Income |  Median Home Price |  Median Rent |
| Atlanta, GA | 498,044 | -1% | $43,468 | $261,400 | $1,900/mo. |
| Kansas City, MO | 491,918 | 0% | $31,143 | $148,500 | $899/mo. |
| Miami, FL | 470,914 | +14% | $27,078 | $27,900 | $1,120/mo. |
| New York, NY | 8,398,748 | +129% | $37,693 | $570,500 | $1,396/mo. |
*Data sourced from Census Reporter and Payscale
How's the Atlanta job market?
Good news for job seekers: Atlanta's job market continually outperforms the U.S. as a whole. For example, total non-farm employment grew 2.1% in October 2019 compared to the previous year. Compare that to national job growth of 1.4% during the same period. Atlanta has enjoyed year-over-year gains in job opportunities each month since July 2010.
Atlanta has a low unemployment rate as well, coming in at 2.7%, as of December 2019. That's a big improvement from the previous year when unemployment sat at 3.5%. The U.S. overall had an unemployment rate of 3.4% in December 2019.
Southeast Atlanta is a major business hub and is home to 10 Fortune 500 companies, including The Home Depot, UPS, and Coca-Cola. Delta Airlines is the region's largest employer, with 34,500 employees. Other top employers include Emory University (and its healthcare system), The Home Depot, Northside Hospital, Piedmont Healthcare, and Publix Supermarkets.
What do I need to know about Atlanta education?
Atlanta Public Schools enrolls more than 47,000 students annually in grades Pre-K through 12. The location-based system includes 58 elementary schools, 19 middle schools, and 18 high schools, according to Niche. The school system has a graduation rate of 79.9%, coming short of the national graduation rate of 84.6%.
The Atlanta area has a robust selection of charter schools that operate independently of the school system. Interested students must apply to attend. There are also more than 100 private schools in Atlanta, with an average tuition of $18,833 for high schools and $11,041 for elementary schools.
The region is a hub for higher education as well, with 57 colleges and universities in the metro area. Notably, Atlanta is home to four Historically Black Colleges and Universities: Morehouse College, Morehouse School of Medicine, Spelman College, and Clark Atlanta University. Other top universities include Emory University and Georgia State University.
What are the safest areas in Atlanta?
Admittedly, Atlanta is not the safest city in the United States. According to Neighborhood Scout, it's just 2% safer than other U.S. cities with a crime rate of 58 per 1,000 residents.
That said, crime varies from neighborhood to neighborhood. Some of the safest neighborhoods are clustered in the southwestern and northeastern parts of the city. If you're looking for the safest part of the Atlanta metro, check out areas near Campbellton and Cedar Grove in the far southwest part of Fulton County. Other areas topping Neighborhood Scout's safest areas list are near Brookhaven and South Fulton.
If you'd like to deep-dive on specific parts of the city, the Atlanta Police Department has a ton of local data and incident reports you can look at online for free.
How do I get around Atlanta?
First, the good news: Atlanta has a public transportation system connecting the city, Fulton County, and DeKalb County by light rail and buses. Passengers take more than 420,000 trips with MARTA every week.
The bad news? Atlanta tied with Los Angeles for the worst public transit in the country, according to a recent study. That's because it takes an average of 53 minutes to get to work by public transit. Fewer than 10% of commuters have a 30-minute or shorter trip. By car, the average journey takes about 35 minutes.
If you want a fun way to get around town, there are 12,000 dockless vehicles, including electric scooters and bicycles, in the city. There are also plenty of rideshare services like Uber and Lyft, and ATL's homegrown Autter, which is geared toward riders under 18 years old.
But at the end of the day, Atlanta is an extremely car-centric city, with more than 83% of households owning at least one car.
What's the weather like in Atlanta?
Atlanta is known for its hot and muggy summers — hence the endearing nickname "Hot-lanta." If you're not one for the cold, this is the place for you. The short and mild winters average just two snow days a year. Atlanta has about 117 days of sunshine each year on average, and about the same number of rainy days as well.
The hottest month of the year is typically July when average temperatures reach 87 degrees. The coldest month is usually January when temps plunge to an average of 35 degrees. All in all, though, Atlanta's climate is fairly mild, with an average annual temperature of 61 degrees.
What are Atlanta's fastest-growing neighborhoods?
The rapidly expanding Atlanta metro population is expected to increase more than 56% by 2050 — reaching a population of more than 8.6 million people. Most of the growth is expected within the city, northern suburbs, and near the Hartsfield-Jackson International Airport. Here is a closer look at the areas that are already starting to boom in Atlanta:
In Atlanta
Summerhill
Located directly south of downtown, in between the Atlanta Zoo to the east and I-85 to the west, Summerhill is on its way to becoming a big deal in Atlanta. The 80-acre master-planned neighborhood is a redevelopment of the former Olympic village. Developers are transforming the area into a mixed-use extension of downtown to include shops, restaurants, and apartments. Already 5,937 folks live here with many more expected to come. The median list price for a house in Summerhill is $400,000, and the average rent in the area is $1,455/mo.
Midtown
Midtown is a bustling commercial and residential area north of downtown and east of I-85. It's one of the most vibrant parts of the city, with its popular boutiques, coffee shops, green spaces, and music venues. Housing options range from lofts and apartments to single-family homes. Midtown has about 23,211 residents. The median home price is about $385,000, and the average rent is $1,932/mo.
East Atlanta and East Atlanta Village
Considered one of the hippest neighborhoods in ATL, East Atlanta Village serves as a gateway to the rest of East Atlanta, which is quickly becoming one of the most sought after areas for homebuyers. As a major hub for arts and music, East Atlanta is one of the most rapidly transforming parts of the city. It has a population of about 11,408 people and growing. East Atlanta has a more suburban vibe than Midtown, but still has plenty of shops, bars, restaurants, and one of the best farmers markets in town. Its position along I-20 makes getting in and out relatively easy. The median list price in East Atlanta Village is $545,000, while East Atlanta as a whole comes in at about $398,000. The average price for a rental in the area is $1,273/mo.
In the Atlanta metro area
Chamblee
About 14 miles northeast of downtown, the suburb of Chamblee is one of the fastest-growing parts of the metro area. Case in point, the number of renters here has ballooned 156% over the last five years. With its own historic downtown full of unique stores and eateries, parks, and events, Chamblee has much to offer families and young professionals alike. Chamblee is also home to Atlanta Chinatown, offering a rich array of Chinese, Taiwanese, Cantonese, Vietnamese, Laotian, and Korean restaurants and shops. With a median home value of $231,900, Chamblee offers a more affordable option for its 28,000 residents. The average rent in the area goes for $1,376/mo. The commute into downtown takes about 45 minutes.
Norcross
A bit further east from Chamblee is Norcross, another suburb of Atlanta growing in popularity. Norcross has its historic downtown as well, in addition to highly-rated schools and parks. This dense suburban village has a population of 16,747 and counting — it's seen a 148% increase in renters over the last five years. The average rent in the area is $1,028/mo. For home buyers, the median list price is $299,000. If you're planning on commuting into the city proper, know that you can usually get downtown in less than 45 minutes, even in heavy traffic.
Living in Atlanta, GA: The fun part
For the sports fan
Atlanta has everything a sports fan could ask for, with five professional sports franchises calling The Big Peach home, including major league soccer and women's basketball. College sports are just as big, with Georgia State and Georgia Tech participating in NCAA Division 1 sports. The Atlanta Motor Speedway also fields several NASCAR and other racing events throughout the year.
Atlanta's pro teams include:
Atlanta Braves (baseball)
Atlanta Falcons (football)
Atlanta Hawks (basketball)
Atlanta United FC (soccer)
Atlanta Dream (women's basketball)
For the culture-seeker
Atlanta has a bounty of museums that pay tribute to the city's deep cultural roots and its business legacy. Several explore Atlanta's connection to the civil rights movement, including The Martin Luther King Jr. National Historical Park, The King Center, and the National Center for Civil and Human Rights.
Other top attractions include the Delta Flight Museum, the Jimmy Carter Presidential Library, the Museum of Design Atlanta, the World of Coca Cola, the Georgia Aquarium, and the High Museum of Art. Kids will especially love the Center for Puppetry Arts, where they can enjoy daily puppet shows and more than 500 retired muppets on display.
For the foodie
Sweet tea, fried chicken, and biscuits are the southern staples that Atlanta does better than just about any other city below the Mason-Dixon. One of Atlanta's lesser-known signature staples is lemon pepper wet wings, which are covered in clarified butter or buffalo sauce, depending on your wing shack of choice. Atlanta is home to a whole world of flavors, including the savory chicken liver tart at Staplehouse and the Korean BBQ pork sandwich from Heirloom Market BBQ.
For the traveler
The Hartsfield-Jackson Atlanta International Airport is the busiest in the world, with more than 2,700 departures and arrivals each day. The airport flies to over 75 destinations in more than 50 counties. It's about a 20- to 30-minute drive to the airport from downtown, or you can take a MARTA train.
But you don't have to jump on a plane to get away for a spell. The mountains are only an hour away and offer stunning hikes, camping, and small towns like Dahlonega and Helen. Three major interstates, I-75, I-85, and I-20, converge in Atlanta, making the city a crossroads of sorts for travelers in the Southeast.
For the outdoor explorer
If you love the great outdoors, you'll love Atlanta. That's because the city boasts more green space per resident than any other city in the country, with 1,023 square feet of parks and forests per person, according to GeoTab. The surrounding area offers even more activities, such as hikes up Arabia Mountain, waterfalls at Warwoman Dell, and watercraft rentals from Shoot the 'Hooch.
What you probably didn't know about Atlanta
There's a whole lot to learn about Atlanta once you live there. The more you know before you go, the better. Here are a few facts that might surprise you:
If you're interested in moving to the area check out our city page on Atlanta!
The bottom line
Atlanta is the shining jewel of the Southeast, offering a diverse stew of cultures, cuisines, and activities that have made the city one of the fastest-growing places to live in America. Of course, this guide is only a brief snapshot. To get fully acquainted, read the Atlanta Journal-Constitution, the region's only major newspaper. Other quality, in-depth resources include the Atlanta Tribune and Atlanta Magazine, as well as the city's public radio station, WABE. For information about city services and regulations, check out the official website for the City of Atlanta.
---
Everything for your move, all in one place
Curate your personalized moving checklist, set up TV & Internet, and more with a free MYMOVE account.
Save on your move and tackle upcoming to-dos with your free MYMOVE account.