Your Guide to Moving to Orlando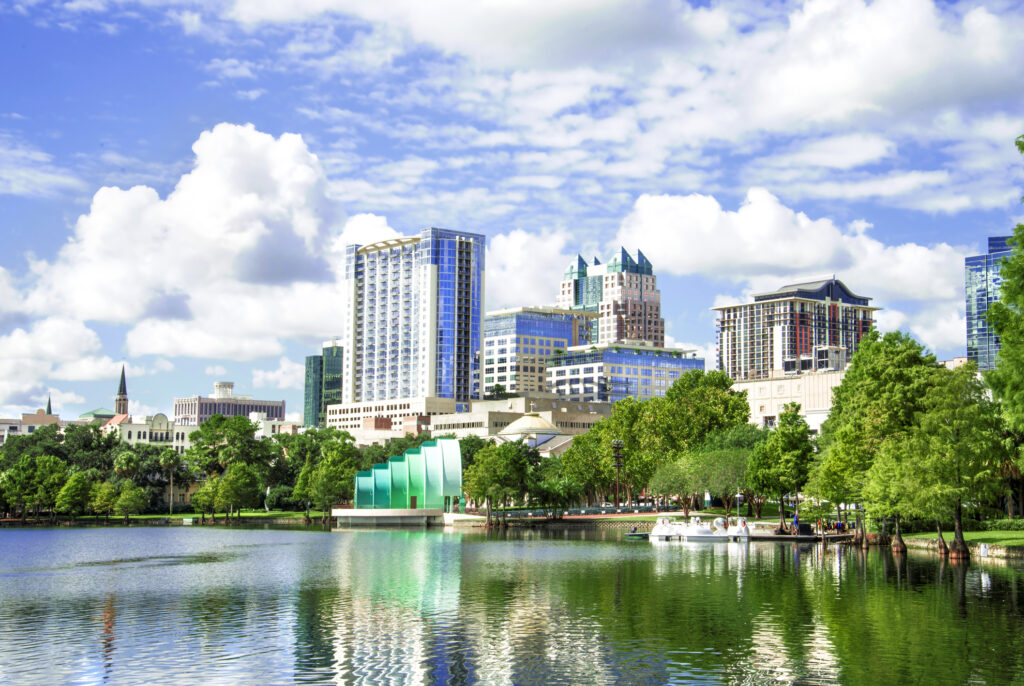 Orlando at a glance:
Moving to Orlando: The basics
What's the population of Orlando?
Orlando has a population of 878,217. But the greater metro area has a population of over 2.5 million. The median age is pretty young, about 34 years old, and 55.4% of the population is female. Singles will find themselves in good company, as only 39% of Orlando residents are married. Slightly more than 23% of people living in Orlando were born in another country, most commonly Latin America.
What's the cost of living in Orlando?
The overall cost of living in Orlando is below the national average. But if you're house shopping in the area, know that the median home value is $278,563, which is slightly above the national average. Orlando's median rent is $1,138/mo. (which is also slightly above the national average of $1,023/mo.)
The median household income in Orlando is $51,820, coming in below the national average of $61,937. But per capita income is on par in Orlando, at $33,569 compared to a national median of $33,831.
When you walk down the aisle at the grocery store in Orlando, you can expect to pay $3.22 for a loaf of bread, $1.59 for a half-gallon of milk, and $1.60 for a carton of eggs.
To get a true look at the cost of living in the area, take a look at how Orlando compares to a similarly sized city, as well as a larger metro like New York City.
| | | | | |
| --- | --- | --- | --- | --- |
| City Name | Cost of Living (Compared to National Average) | Average Salary | Median Home Price | Median Rent |
| Orlando, FL | -7.9% | $39,752 | $278,563 | $1,138/mo. |
| Lincoln, NE | -6.9% | $40,552 | $284,666 | $859/mo. |
| New York, NY | +141.4% | $53,996 | $2,105,921 | $5,063/mo. |
*Data sourced from the Council for Community and Economic Research's Cost of Living Index
How's the Orlando job market?
The city was ranked the #1 area in job growth by the Bureau of Labor Statistics from 2015-2018. With COVID-19 wreaking havoc on the job market, though, many in Orlando found themselves out of work, especially those who worked in amusement parks. However, the job market is slowly recovering and more people are heading back to work. Prior to the coronavirus outbreak, and the economic impact that followed, Orlando had a record-low unemployment rate. Numbers from February 2020 boasted 2.9%, which was well below the national rate. As of July 2020, the coronavirus pandemic has raised that rate to 15.3%
World-renowned amusement parks, like Disney World and Universal Studios, call the area home. But besides tourism, key industries focus largely on defense, aviation and aerospace, healthcare, and technology.
With that said, wages are surprisingly low. Florida's minimum wage is $8.56/hr., and greater Orlando's median hourly wage across all industries is $15.94/hr., for an average annual salary of $33,155.20 — ranking 50th out of the top 50 metro areas with 550,000 or more employees.
Although mega-employers Disney and Universal are on the Fortune 100, both are actually headquartered in California, not Orlando. The only Fortune 500 company that calls Orlando home is the Darden restaurant group, with $8 billion in revenue and more than 180,000 employees.
What do I need to know about education in Orlando?
Orange County Public Schools (OCPS) is the eighth largest school district in the United States, serving more than 215,000 students from kindergarten through high school. The graduation rate for students in OCPS reached 96% in the 2018-2019 school year, a record that surpassed the Florida state average. Niche.com ranks OCPS first place in Florida school districts for athletes, seventh for diversity, and 23rd overall.
Florida schools are in session as usual in fall 2020, despite COVID-19, however, schools are following CDC guidelines to keep students and educators safe.
Although the majority of students attend schools based on their home address, the district is a strong proponent of school choice, allowing families the opportunity to select programs at charter schools, magnet schools, and alternative programs.
Not sure where to start on your school hunt? The district has a guide on how to choose the best school for your child.
If you don't want to go the public school route, there are dozens of both faith-based and independent private schools in the metro area. And post-secondary options run the gamut from two-year community colleges and trade schools, to highly-ranked four-year and graduate institutions such as the University of Central Florida and Rollins College.
What are the safest areas in Orlando?
According to Neighborhood Scout, which aggregates data from local law enforcement agencies, the best neighborhoods in Orlando for safety are Lake Hart in the southeast part of the city, Sunflower Trail in the east, and Bay Hill in the west.
Orlando has a high crime rate, both in comparison to the United States as a whole and in relation to other cities of similar size. Data shows that this is true for violent crimes and property crimes. Still, like most cities, it depends on where you are within the city. For more details, dig into the local FBI data and the Orlando Police Department's Crimes Data Lens.
How do I get around Orlando?
If you're moving to Orlando, plan to bring your car. The average commute time is just 29 minutes, but that can increase drastically if you rely on the city's public transportation system, which is sparse. Lynx buses are an option, along with the limited SunRail train, but neither is a recommended solution for commuting.
Rideshare apps Uber and Lyft are plentiful, though Orlando's sprawling nature means that they can be expensive. A sample cross-town Uber trip from Universal Orlando in the southwest to the University of Central Florida in the northeast is nearly $40 one way, without surge pricing.
There are several bicycle rental companies across the city listed on Yelp, though again, Orlando is so spread out that biking may only make sense if you're sticking to one part of town.
What's the weather like in Orlando?
Orlando is known for its warm weather, with an average annual temperature of 72 degrees. Summer temperatures regularly climb into the 90s, and rainy afternoons are the norm throughout the summer months. Winter averages are mild, with highs in the 70s and lows in the 50s, but it's common to experience a few days in a row of freezing temperatures.
Hurricane season lasts from June 1 through Nov. 30. Central Florida also experiences an average of 66 tornadoes each year, though they're usually smaller than those that touch down in the Midwest. In addition, the Interstate 4 corridor, which runs right through Orlando, is known as Lightning Alley, and Florida is the lightning capital of the United States.
Needless to say, moving to Orlando means preparing for anything — except snow, which falls very rarely.
What are Orlando's fastest-growing neighborhoods?
In Orlando:
Lake Nona
A new, planned community next to the Orlando International Airport, Lake Nona is known for its medical research community, its Town Center shopping and entertainment district, and its highly-rated golf course. Homes in Lake Nona are listed for around $400,000, while the average rent is around $1,535/mo.
Audubon Park
Centered around the indie shopping district along Corrine Drive, Audubon Park is a great choice for bohemians, hipsters, and foodies. Audubon Park homes average $300,000 to $400,000. The average rent in this neighborhood is around $1,601/mo.
Thornton Park
Located just outside downtown near Lake Eola, Thornton Park bills itself as "Downtown for Grownups." You'll find a highly diverse collection of shops, restaurants, and events in the neighborhood, along with a friendly local vibe. Home prices start around $300,000 and can easily top $600,000. Median rent for the Thornton Park area is around 1,228
Milk District
A highly diverse enclave just moments from downtown, the Milk District took its name from the dairy farm that's been in residence since 1925. It's less expensive than many parts of Orlando and is a fantastic choice for music lovers and independent thinkers. Home prices are generally in the mid-$200,000s, and it's possible to find a decent rental in the $1,500/mo. range.
UCF
Located in northeast Orlando, the University of Central Florida area is packed with things to do both on campus and off. Whether you're a nature lover, a patron of the arts, or a fan of cheap eats, you'll find it all near UCF. Home prices run the gamut from the mid-$100,000s for an older, more modest place, to the $400,000s for newer and bigger styles. The average rent is around $1,927/mo.
In the Greater Orlando Metro Area:
Winter Park
Located just north of Orlando and founded in the 1880s as a winter retreat, Winter Park is known for its natural beauty and its focus on the arts. Commuting to downtown Orlando takes approximately 30 minutes, though rush hour traffic can be tough. The median home value is around $325,304, and the median rent is $1,675/mo.
Maitland
Just outside Winter Park, Maitland is an upscale arts community in its own right, and home to the Enzian, the Orlando area's only arthouse theater. It's a nice choice for educated professionals, with more than 90% of the workforce employed in white-collar jobs. It's about 30 minutes from downtown Orlando, depending on traffic. The median home value in this area is around $377,362, and the average rent is $1,460/mo.
Windermere
A tiny lakeside town southwest of Orlando near Walt Disney World, Windermere is pricey, but the artists and families who call it home consider it worth the cost. Commuting to downtown Orlando can take nearly an hour, but the majority of Windermere residents work in or near their community. The median home value in Windermere is around $464,553, and the median rent is $2,200/mo.
Living in Orlando: The fun part
For the sports fan
If you're a sports fan, Orlando has professional basketball with the Orlando Magic and pro soccer with the Orlando City Soccer Club. Additionally, a variety of football games are played each year at Camping World Stadium, including the NFL Pro Bowl and the collegiate Citrus Bowl.
For the culture-seeker
Culture-seekers will never run out of things to do in Orlando. Whether you're into science, fine art, Shakespeare, or improv, Orlando is known for its wide variety of museums (21, to be exact), galleries, and live performance venues. Don't miss the Orlando International Fringe Theater Festival, Creative City, or any of Orlando's many other festivals and events. To stay in the know, be sure to consult the Orlando Weekly.
And, of course, you're only 20 minutes away from the magical Walt Disney World Resort and Universal Studios Florida! Whether you have kids or are still a child at heart, your family will love the nearby access to some of the world's premier theme parks.
For the foodie
From the World's Largest McDonald's to a thriving local foodie scene, Orlando's food culture truly runs the gamut. There's no single cuisine that defines Orlando. Instead, the city writes its own rules through independent eateries, food trucks, and food-based events of every description.
For the traveler
Orlando International Airport is on the east side of the city, connecting Orlando residents to destinations around the world. For a short getaway closer to home, consider heading northeast to St. Augustine, the oldest city in the United States, or visit Daytona Beach on the stunning Atlantic coast. If you're really motivated, watch the sunrise over the ocean in Daytona, then drive across the state (about 165 miles) to watch the sunset over Clearwater Beach.
For the outdoor explorer
Orlando is also known for its 150 golf courses, its excellent fishing, and its collection of parks and running trails — not to mention its stunning array of mini-golf courses! Visit Orlando's outdoor recreation and ecotourism page has all the information you need on traditional outdoor activities. There are 238 city parks and 61 hiking trails to enjoy as well.
What you probably didn't know about Orlando
If you're moving to "The City Beautiful," you may be curious about its quirks, fun facts and other details:
Orlando's gorgeous Lake Eola is actually a giant sinkhole.
Nobody knows for sure how Orlando got its name, but the county in which it sits used to be called Mosquito County. Now, it's named for its lush orange trees, with the more tourism-friendly name, Orange County.
Before the theme parks came to town, Orlando was a sleepy farming community known for oranges and cattle.
Orlando's former city hall was imploded for the film "Lethal Weapon 3."
The oldest tree in Orlando, located in Big Tree Park, is between 350 and 400 years old.
If you're interested in moving to the area check out our city page on Orlando!
The bottom line
While we hope you find this guide helpful, we acknowledge that it can only scratch the surface. When considering moving to Orlando, it's important to learn as much as possible about your new home. From tourist sites such as Visit Orlando to local publications like Orlando Weekly and the Orlando Sentinel, we encourage you to get to know the resources that can guide you through your move and your new life as an Orlando resident.
Hedy Phillips contributed to this article