Your Guide to Moving to Jacksonville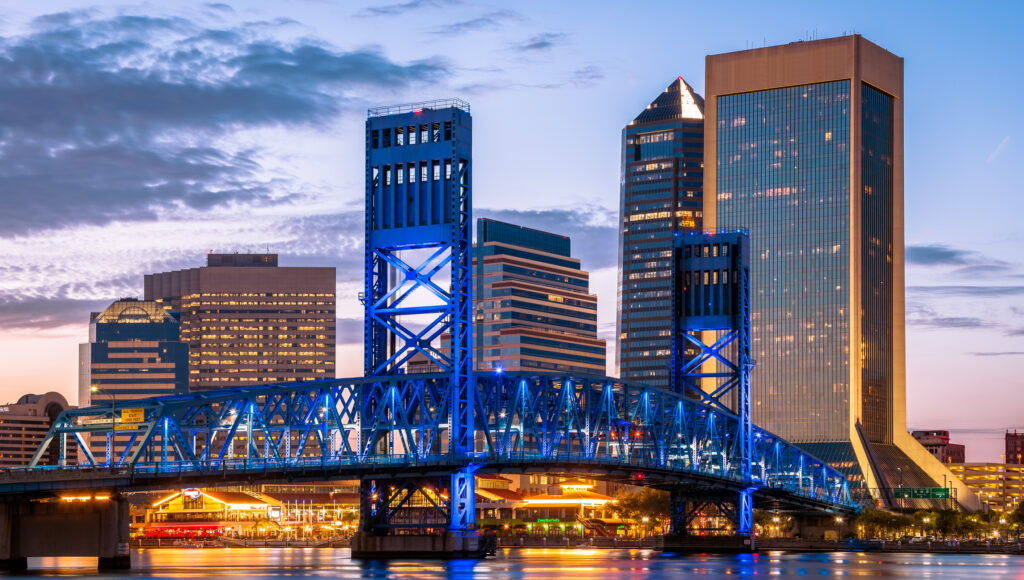 fMoving to Jacksonville at a glance:
Jacksonville is Florida's most populous city, with more than 800,000 residents.
The cost of living in Jacksonville is 8.3% lower than the national average.
The median household income in the city is $54,269, and the median per capita income is $30,632.
Jacksonville's Duval County Public Schools is one of the largest public school systems in the United States, according to Niche.
Jacksonville is home to over 80,000 acres of parks, according to Visit Jacksonville.
Moving to Jacksonville: The basics
What's the population of Jacksonville?
Nestled along the Atlantic Ocean in northeast Florida, Jacksonville features white sandy beaches, lush blue coastlines, and outdoor attractions to keep you busy for days. Along with a thriving cultural scene and business hub, it's no wonder people are always seeking to move to Jacksonville (which is already Florida's most populous city).
According to the latest U.S. Census Bureau data, approximately 12,153 people moved to Jacksonville between 2017 to 2018, increasing the city's total population to 810,184. The population boom has resulted in housing construction developments across the city, with about $270 million in projects already being planned around the downtown area.
Jacksonville has a relatively young population with a median age of 36. Fifty-six percent of the city's residents are single, and there's a pretty even gender split, with females representing 52% of the population.
What's the cost of living in Jacksonville
Jacksonville is a relatively inexpensive city, with a cost of living that's 8.3% lower than the average in the United States. The biggest expense in the city is housing, with the average home costing $283,075, and the median rent is $1,260/mo.
Excluding housing, a resident can expect to spend slightly over $980 each month for necessities. When strolling down the grocery aisle, the Cost of Living Calculator says it costs about $3.59 for a loaf of bread, $1.95 for half a gallon of milk, and $1.55 for a carton of eggs.
While the median household income in Jacksonville is $54,269— which is a bit lower than the national average at $61,937 (2018) — one of the perks of living in this southern city is that you won't have to pay state income tax.
Sinking your feet in sandy beaches and basking under the sun in one of Florida's most affordable cities sounds like a great deal, but take a look at how Jacksonville stacks up against other cities of comparable size, like Austin, Texas, and Columbus, Ohio, and bigger metropolitan areas, like New York City.
| | | | | | |
| --- | --- | --- | --- | --- | --- |
| City Name | Population | Cost of Living (Compared to National Average) | Average Salary | Median Home Price | Median Rent |
| Jacksonville, FL | 810,184 | 8.3% lower | $62,220 | $283,075 | $1,260/mo. |
| Austin, TX | 940,359 | .2% lower | $48,556 | $339,470 | $1,497/mo. |
| Columbus, OH | 782,285 | 7.5% lower | $41,337 | $270,536 | $1,113/mo. |
| NYC, NY | 1,577,385 | +141.4% | $53,996 | $2,105,921 | $5,063/mo. |
*Data from MyMove's Cost of Living Calculator sourced from the Council for Community and Economic Research's Cost of Living Index
How's the job market in Jacksonville?
Prior to the global economic impact of the coronavirus, Jacksonville had a record low unemployment rate. December 2019 numbers were 2.6% — lower than the nation's rate of 3.5%. The latest numbers from July 2020 show Jacksonville's unemployment rate at about 8.8% — an increase that's being felt around the country during COVID-19.
But job growth has been happening in this city. Within the past few years, Jacksonville added incentives to entice businesses and keep existing ones in the area, which has resulted in more than 18,000 "new private-sector jobs" since 2018.
According to Governor Ron DeSantis, Jacksonville saw its highest growth in the leisure and hospitality industry, which added 5,100 jobs over the year, followed by education and healthcare services with 4,500 new jobs, and construction at 4,000 new jobs.
If you're on the job hunt in the area, it's important to note that some of the top employers in the area include Bank of America, Amazon, Wells Fargo, Aetna, and Northrop Grumman. The city is also home to five Fortune 500 companies.
The city's average salary is $62,220, and the minimum wage is $8.56 per hour.
What do I need to know about education in Jacksonville?
Jacksonville's Duval County Public Schools (DCPS) is one of the largest public school systems in the U.S, with more than 129,000 students across 190 schools. While school assignments are location-based, DCPS offers a school choice lottery for magnet and special transfers.
Jacksonville also offers 35 charter schools, 171 private schools, and 20 higher education institutions. The University of North Florida is ranked as the number one university in metropolitan Jacksonville.
What are the safest areas in Jacksonville?
According to NeighborhoodScout, the top three safest areas in Jacksonville are near the south and southeast portion of the city. The site, which aggregates crime data from thousands of local law enforcement agencies, says the suburb of Greenfield and the neighborhoods surrounding the cross streets of Greenland Road / Tierra Verde Lane and Allegheny Road / Mayfield Avenue are the safest in the city.
When compared to the rest of the country, Jacksonville does have a higher-than-average crime rate. But when you compare it to cities of similar population size, you find that the city's crime rate is significantly lower than average. If you're considering moving to Jacksonville and want to dive deeper, learn more about local crime statistics and information by visiting the websites of the Jacksonville Sheriff's Office and the FBI.
How do I get around Jacksonville?
A majority of Jacksonville residents rely on their vehicles to commute to work, which takes about 27 minutes.
But if you want to stay car-free, you're in luck. The Jacksonville Transportation Authority's buses provide more than 30 routes throughout the city. Fares vary from $1.75 for a single trip to $20 for a 7-day pass.
Additionally, ridesharing services like Lyft and Uber operate in the area, and several places allow you to rent bikes and scooters to get around.
What's the weather like in Jacksonville?
If you're an outdoor enthusiast and can't get enough of relaxing on the beach, Jacksonville is the perfect place for you. With about 221 sunny days annually, the temperatures in the city rarely dip below 40 degrees or hit above 95 degrees Fahrenheit. There's a lack of snow during winters in Jacksonville, with the temperatures averaging in the mid-60s. But the trade-off is that summer temperatures will climb into the low 90s. In spring and autumn, temperatures hover in the 80s.
While Jacksonville has a low risk of directly getting hit by hurricanes, the city can be affected by the storm's landfalls. If you're thinking of moving to Jacksonville, inform yourself of what actions to take during a hurricane emergency.
What are Jacksonville's fastest-growing neighborhoods?
In Jacksonville:
Southside Estates
Located 13 minutes east of downtown, Southside Estates is the fastest-growing neighborhood in Jacksonville. The community experienced a 12.45% year-over-year growth and currently has a population close to 9,000. Out of 169 neighborhoods in Jacksonville, Niche ranks Southside Estates 54th as the top neighborhood for young professionals, 58th for the most diverse community, and 63rd for the lowest cost of living.
According to Niche, the neighborhood has a median home value of $111,144, and the average rent is $1,104/mo.
South Riverside
South Riverside is another neighborhood in Jacksonville that is growing rapidly. Located seven minutes south of downtown, the community experienced an 11.66% year-over-year growth and currently has a population of over 2,000. Families and young professionals dominate the area, which is close to five parks and is a six-minute drive to the Museum of Science & History.
According to Niche, the neighborhood has a median home value of $156,641, and the average rent is $1,057/mo.
Riverside
Located just eight minutes southwest of downtown, Riverside has experienced an 8.96% year-over-year growth and currently has a population of about 10,000. The neighborhood is listed in the National Registry of Historic Places and offers residents an abundance of dining options, coffee shops, parks, and the Cummer Museum of Art and Gardens.
According to Niche, Riverside has a median home value of $284,247, and the average rent is $1,053/mo.
Avondale
Located 12 minutes southwest of downtown, Avondale has experienced a 6.87% year-over-year growth and currently has a population of over 5,500. The neighborhood is full of history and culture, plus trendy bars, diverse restaurants, and vintage stores.
According to Niche, the neighborhood has a median home value of $376,770, and the average rent is $1,285/mo.
Holiday Hill
Located 11 minutes southeast of downtown, Holiday Hill has experienced a 10.08% year-over-year growth and currently has a population of over 6,800. According to Niche, this neighborhood is affordable and diverse, and is number 55 on the city's list of "best places for young professionals." It's a foodie paradise, boasting a number of restaurants specializing in global cuisines.
The median home value in Holiday Hill is $124,043, and the average rent is $1,050/mo.
In the Greater Jacksonville Metro Area:
Settlers Landing
Settlers Landing ranks 8th as the fastest-growing neighborhood in Jacksonville metro. Located approximately 25 minutes southwest of downtown, Settlers Landing has a population of almost 4,000. Most residents in the area own their house, with a median home value of $140,742. The average rent in the area is $1,389/mo.
Out of 169 neighborhoods in Jacksonville, Niche ranks Settlers Landing as the 32nd most diverse community. The area is sparsely urban and has a lot of parkland for outdoor adventuring.
Isle of Palms
This is one of the fastest-growing neighborhoods in metropolitan Jacksonville with an 8.1% year-over-year growth. Isle of Palms is also said to be one of the top places to live in Florida. The suburb is about 25 minutes east of downtown and has a population of over 4,300, with many of the residents being young professional homeowners.
According to Niche, the neighborhood has a median home value of $418,391, and the average rent is $1,400/mo. Isle of Palms is minutes away from the Jacksonville Beach and the Intracoastal Waterway, and while the area is pedestrian-friendly, almost 77% of residents depend on their cars to get around.
The Cape
Located 27 minutes northeast of downtown, The Cape has a population of more than 7,000. Many families live in the neighborhood, which dates back to 1969. Families in the area can enjoy nearby attractions, such as The Catty Shack Ranch Wildlife Sanctuary and the Mink Creek.
According to Niche, the median home value in The Cape is $204,454, and the average rent is $1,672/mo.
Living in Jacksonville: The fun part
For the sports fan
Sports-lovers moving to Jacksonville will see plenty of action since the city is home to several professional teams: The Jacksonville Jaguars (NFL), Jacksonville Jumbo Shrimp (MiLB), Jacksonville Icemen (ECHL), and the Jacksonville Sharks (NAL).
Metropolitan Jacksonville also offers a number of highly-rated golf courses. Fun fact: The PGA TOUR tournament, THE PLAYERS Championship, is held half an hour away from downtown.
For the culture-seeker
From art galleries to history museums, Jacksonville has a vast cultural scene. Almost 20 museums exist in the city, like the Cummer Museum of Art & Gardens and the Museum of Science & History. The city's art scene ranges from public art murals to the South Light Gallery. Families will also enjoy the Hands-On Children's Museum, where kids learn through role-playing and problem-solving, and trips to the Jacksonville Zoo.
Additionally, Jacksonville is a great place for music lovers. Catch live performances at venues like Times-Union Center for the Performing Arts, VyStar Veterans Memorial Arena, and the Florida Theater (where Elvis Presley performed in 1956).
For the foodie
You can enjoy southern favorites, like shrimp and grits or biscuits and gravy, in the city. But if you're a foodie who enjoys trying dishes from around the globe, you'll be in heaven in Jacksonville. Whether you want southern BBQ, Korean beef short ribs, Cuban sandwiches, Szechuan fish, or local seafood, Jacksonville has a little something for everyone.
To sample some of the best local food, take a journey to several restaurants with Taste of Jacksonville Food Tours.
For the traveler
Jacksonville has you covered if you're eager to travel. Only 15 minutes away from downtown, Jacksonville International Airport (JAX) is one of the fastest-growing airports in the U.S. The airport has service through nine airlines that provide more than 200 daily flights to 33 destinations. Or if you prefer a getaway on the water, you can book a cruise from the port of Jacksonville to the Bahamas.
Need a weekend getaway? Beautiful escapes to beaches and islands are also close to home, as are popular destinations like St. Augustine and Orlando.
All this considered, it's important to look at travel rules and/or restrictions due to COVID-19 before making travel plans.
For the outdoors explorer
If you're seeking to escape city life and immerse yourself in nature, there are plenty of opportunities in Jacksonville, which is home to over 80,000 acres of parks, including three national parks, seven state parks, and more than 400 city parks.
A 22-minute drive east from downtown will take you to Timucuan Ecological & Historic Preserve, which offers hiking, biking, and kayaking to explore the natural beauty of the 46,000-acre area. If you would rather be closer to the water, half an hour northeast of downtown is Little Talbot Island State Park, which has five miles of beaches. Outdoor enthusiasts can also hike, bike, fish, and surf on the island.
What you probably didn't know about Jacksonville:
If you're interested in moving to the area check out our city page on Jacksonville!
The bottom line
Jacksonville has a special feature for anyone and everyone — whether you want to just relax by the beach or explore the area's wildlife. While this guide helps you get a sense of what it's like to move to the area, it only scratches the surface.
Get to know what it's like to live in the southern city by exploring local resources. Visit Jacksonville provides insights on events, attractions, and information on neighborhoods, while local news affiliates like News4Jax, WJAX-TV, and The Florida Times-Union will keep you updated on current relevant news in the community. All these resources will assist you in deciding whether to make the exciting move to Jacksonville.
Hana LaRock contributed to this article